Here's bits of news as they come to hand (and archived). For Event News (past, present and future), check out the Events Page.
Support TEAM KIWI!
In early 2014, the PDGA and the World Flying Disc Federation agreed to the development of a new jointly-sanctioned World Championship Disc Golf event, the format of which will be a national team competition. A "World Cup" for disc golf, so to speak.
This new competition brings forth one of the most competitive, unique and under-utilized formats in disc golf; team play. As we have witnessed with the National Collegiate Disc Golf Championship in the United States, team disc golf allows the spectator to build an association with a team instead of just one player, creating almost instant fandom. Think about it; if Team Brazil is playing against Team Canada in the Finals and you are Canadian, who are you going to root for? You don't even have to understand disc golf to get excited about a World Championship for your country!
Through this event, the hope is to capture the excitement of a disc golf World Championship and combine it with the important traits of being a team member, such as cooperation, trust and pride. These teams will represent their country, which is something that has never been done before. Team play allows for different styles of play throughout the competition, such as match play and doubles, to name a few. It also emphasizes the important attributes of cooperation, teamwork, trust and friendship.
The 2016 PDGA & WFDF Team Disc Golf World Championships to be held in beautiful Vancouver, British Columbia from August 18-21, 2016.
New Zealand has a team competing in this inaugural event and as part of their fundraising have released a limited run collectors disc. If you would like to support out team and grab one of these collectors discs flick an email to team captian Simon Feasey: simon@rpmdiscs.com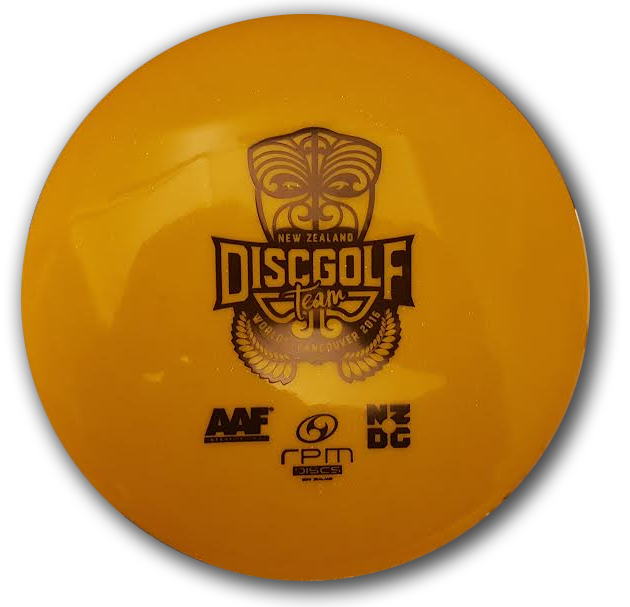 NEWS - Jumpin' Jacko in the News
Son of a gun it's a Sullivan!
Powerhouse golfer Jackson Sullivan and his dynamic sister sidekick Gemma are well known in the NZ Dic Golf scene along with Eagle-ite Dad Shano and faddy caddy Jill. And now Jumpin' Jacko is in the news as he promotes the NZ team to the Worlds and this sport we love.
Reporter Colin "Write at Home" Williams states: "Jackson Sullivan liked Upper Hutt's Harcourt Park disc golf course so much he moved from Levin .
Two years and plenty of "home ground" practice later, the 27-year-old is set to represent New Zealand at the sport's world championships in Canada in August... "
2016 Nationals and AGM Roundup

from Nigel Hailstone, NZDG President

Good morning disc golfers

First things first, thanks to Hemi, Lisa and those who assisted them in putting on a fantastic Nationals on the banks of the Shotover River this last weekend. Results will be posted very shortly but you should know now that the Overall and Masters titles went to frequent German visitor Martin "Moe" Doerken. His mighty sidearm flick was all he needed to clear out from the field in the super six eventually winning by some six shots. The scene of some 40 odd players and supporters following what was a great display of golf (and the effects of pressure) whilst hunting shade in the baking heat was great to be part of.

Other titles went to Ben Wiel-Lake for Open showing signs of his undoubted potential, Hayley Flintoff of Wanaka overcoming the North Island challenge from Gemma Sullivan in Women's Open, Ming Menzies in Women's Masters, local legend James "Jaguar" Smithells in Senior Grand Masters and yours truly in the Grand Masters Division.

The AGM was held alongside the Saturday players dinner at Smiths Craft Beer House ( a new must visit in Qtown for beer lovers). Secret ballots were held for the contested positions of President and Tour Director of NZDG. The outcome of those saw myself as incumbent retain the presidency and Martin Galley join the board as Tour Director. Brady Kuech remains on the board of NZDG in the role of Communications Director. The board is rounded out with the retention of our Membership and Results secretary, Mario Cerniar and our Development Officer Simon Feasey.

The minutes of the meeting will be posted on our site at NZDG.org.nz when finalised but until then the big news saw the arrival of bag tags in New Zealand disc golf. This new informal competition system will see players of all levels having the opportunity to challenge any other player for their tag and climb the ladder outside of (as well as within) tournament play.

The meeting also passed the resolution that will see NZDG pay the US$800 entry fee to send a team to represent NZ at the WFDF/PDGA Worlds Team Event to be Held in Vancouver Canada on August 18-21, if a team can be formed. Luckily, there is a price war in the airlines at the moment so travel will be as reasonable as it has ever been and friends of NZDG are looking to aid us with accommodation so if you have an interest in representing New Zealand let Simon Feasey know and we will begin a selection process. Please don't let finances stop you if you want to be part of this great opportunity. We will do our best as an organisation to secure support for any players who want to represent us and get selected but who are otherwise prohibited by cost. We need to confirm our participation in the event by mid March so get your name to Si as soon as possible so we know we have a team.

The meeting also heard that three more events will be added to the already published tour this year at Waiheke, National Park and McLaren Falls. Keep an eye on the tour calender at NZDG.org.nz for updates.

Its going to be a great year for Disc Golf and the big numbers at the first three tourneys and the new courses going into the ground show we have much to be pleased with. Enjoy your golf, get involved with clubs and dream big! You could be a NZ rep! Speaking of reps, The NI and SI reps are to be appointed soon. These reps will be your conduit to the board and will be team captains for the upcoming Island of Origin Challenge. Chris Davies has the inside running for the SI position, who will be the NI rep?

Best wishes for your day and your game.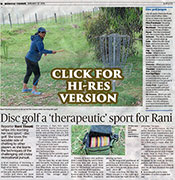 Disc Golf a 'therapeutic' sport for Rani
Our sport features in local news
This very cool article did the rounds of Auckland suburban newspapers through the beginning of 2016.
Written by reporter Rani Timoti, current disc golfs will recognise the addictive power of the sport that has enveloped Rani and her husband Trevor.
Click on the image for a hi-res version or simply click here.
Christchurch disc golfer Chris Davies was in Auckland for the 2012 NZ Disc Golf Match Play Championships and took time out to chat with recent Hall of Famer Bob Gentil about what is in his bag. Great viewing.
Chris' words:
In Bob's Bag: DX Aviar, Star Coyote. DX Stingray. DX Condor. Lightweight Champion Mamba. Champion Sidewinder, DX Orc, 3 Destroyers: 2 DX 1 Star. Star Vulcan. Star Max.

Bob Gentil was inducted into the Disc Golf Hall of Fame in 2012, along with Jeff Homburg and Tim Willis. Bob has been the driving force behind New Zealand Disc Golf for almost four decades, winning every competition in every category except Senior Grand Masters, and based on form he'll win all those starting in 2013...

The Innova agent in New Zealand, Bob has ceaselessly striven to promote Disc Golf throughout the country, and tirelessly travels to pretty much every tour event each year, and organises far more than his fair share of tournaments.

A "Complete Golfer", there's no throwing style Bob can't confidently play, as evidenced by his performance in the 2012 New Zealand Matchplay Champs, which will be available on this channel shortly.

Always quick with a huge smile, a hearty laugh, a classic story, and a kind word, Bob has arguably done more for Disc Golf in New Zealand than everyone else combined. His extraordinary generosity and hospitality have been enjoyed by golfers from around NZ and the world.

It's a proud moment for New Zealand Disc Golf to have him inducted into the Disc Golf Hall of Fame, and a fitting tribute to his total dedication to the sport we all love. Congratulations Bob!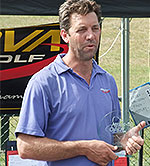 Kiwi takes out Australian Championship
The Fease dominating Australasian circuit
New Zealand disc golfing icon Simon Feasey has just taken out the 2012 Australian Disc Golf Championships in Melbourne over the weekend. Well done Fease! Our very own Grand Master Bob Gentil also faired well with a second placing in his division and rising Kiwi star Bad Brad Muir got his first taste of international competition. Simon has written a piece for us on the lad...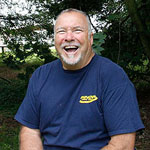 Bob Gentil Inducted to Disc Golf Hall of Fame
First Hall of Famer in the Southern Hemisphere Announced
Word just through that New Zealand's very own Bob Gentil has been inducted into the Disc Golf Hall of Fame! Well done Bob, and to wife Sheree for starting the ball rolling on Bob's nomination back in 2011. We can now let you see the web page we built as part of Bob's nomination.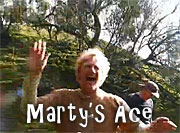 Marty's Ace
$285 in the bank for madman leftie
From our cobweb files we uncovered this footage from Auckland's Crater Cup where long haired leftie lout Marty de Haas had for the previous 3 rounds been enticed to go for a short 60m ace and paid the price each time scoring 6, 7 and 6. But on the final round as the sun broke through the drizzle and birds a-chirping, de Dev's shot flies true and sweet to claim the $285 Ace Kitty.

With the councils seeming to block any progress of a permanent course in Auckland City, it is pleasing to see some golfers taking matters into their own hands.
Presenting the Woodhill Forest Disc Golf Course courtesy of Bike Parks...
Dusty says thanks
The GM never hesitates to welcome travellers and show them disc golf in Aotearoa. Dusty was one of those travellers...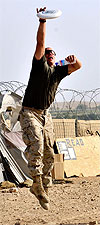 "Hey Bob, This is your American buddy you showed around back in 2006, you may not remember me but i have since joined the US Army and am now currently deployed in Afghanistan.
Of course I brought my bag out here and have been throwing as much as possible. I still have the NZ disc you gave me and was just telling my buddies how much fun I had while I was touring NZ and that discing with you guys was a major highlight to my trip so i just wanted to say thanks again.
I still have another year and a half in the army but when I'm out I plan to take some personal time and come back out your way.
BTW its pretty cool seeing my name on the official roster of PDGA NZ. Thanks for posting that. Well anyhow back to the grind and please tell Simon and the rest of the guys I threw with it was a real pleasure!
Take care and hope to see you around the course, your pal, Dusty."
Good luck Dusty and we hope you stay safe.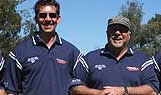 Kiwis at the 2011 World Championships
The GM and The Fease get it on in Santa Cruz - and not a sinlge mountainbike to be seen!
The World Professional Disc Golf Championship were recently held at the iconic location of Santa Cruz California where New Zealand was once again represented by the capable duo of Simon Feasey [Masters] and the evergreen Bob Gentil [Grand Masters]
The event is run over a week and this year attracted a top field of about 500 players in what seemed idyllic conditions and what must have been very challenging courses where even the top pros are throwing 80's and 90's on some off the courses.
Both Bob and Simon got off to slow starts in the 1st couple of rounds but both managed to improve over the week especially Simon who after being midfield early finished a very credible 20th equal out of a field of 102 and also earned himself a tidy US$405.
Bob also played solidly at the business end of the competition to finish a respectable 42 out of a field of 71.
A couple of other players well known here in NZ were Mark Dakiv who amazingly finished 7th in the Masters and Scott Ceaser 79th in Masters.
The new World Champions were Nat Doss in the Mens and Paige Pierce for the Ladies.
Online registrations are now available for the South Island Masters Games. Early Bird rego discounts are still available until the 1st July, so get in there!
If you're not going to be in Gisborne on the 15th October, and you fancy a round or two, then Nelson is the place for you. We can't promise any of the usual disc golf tournament 'celebrities' will be there or give you any tour points. But we can promise you some great rounds on a (mainly) basket course that you haven't played before. To register, visit: http://www.simasters.co.nz/nelson/sports.htm or contact for more info.
PDGA Rule changes for 2011
The PDGA Rules Committee has modified several rules that went into effect January 1, 2011. There are a few that will make a difference to what we have been playing for a while now including Holing Out and Obstacles and Relief. Please read and take in the changes so you can't say no-one told you.
DROP ZONE: 800 & 803.11
Added the option for TDs to designate a drop zone for a lost disc. This might be done on big downhill holes where lost discs are common and identifying a drop zone farther down the hill speeds play.
HOLING OUT: 803.13
Starting in 2011, a player will not have to remove the disc to complete the process of holing out which was required under current rules. Once the group has decided the disc has come to rest, the player has holed out.
Several target related terms have been officially defined and added to the Definitions section 800 in support of the Holing Out rule. Definitions for Basket Target, Tray, Chains, Chain Support and Pole have been added.
Groups will now be responsible to make judgment calls on how discs enter the basket. Discs that attempt to enter or actually get all the way into the chains or basket thru the top of the chain support or thru the side or bottom of the basket now will not count if the group or official sees that happen. This means wedgies, most which wedge from the outside, now will not count unless it was a blind shot where no one saw how the disc wedged. Putts that are observed to properly enter the basket from above the rim and then wedge trying to get out will count as holed out like before.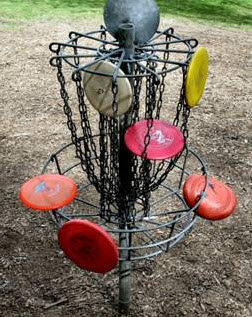 These changes for holing out mean calls for the "putting tree" photo shown to the right that was in the Rules School story on Interference need to be updated. Under the old rules, only the yellow disc would not have been considered holed out when the player removed it. Under 2011 rules, the white and red discs are holed out (IN). The yellow disc as before and the orange disc hanging on the nub outside the basket are NOT IN. The orange disc balancing on the rim, which used to be considered IN, is now considered OUT in the 2011 rules because the disc is not entirely supported by the pole, inner wall or bottom of the basket. The orange wedgie is now NOT IN if the group observed it wedge from the outside. If the group did not see it or watched it clear the top basket wire then wedge on the way out, it is IN.
OPTIONAL RE-THROW (formerly Unplayable Lie): 803.06
While changing the rule name seems cosmetic, it eliminates a potential double penalty that might occur when the 2m rule was in force and provides an alternate option for missed mandatory's. Under the new Optional Re-throw rule, players who miss a mandatory now have the option to re-throw from their original lie instead of the Mando Drop Zone if they prefer.
Essentially, the Optional Re-throw means players may re-throw from their original lie if their disc lands in any of the disc golf penalty hazards – OB, Missed Mando, above 2m and Lost (which already is handled this way) – and receive a 1-throw penalty. Of course just like the old Unplayable Lie rule, a player may choose this Optional Re-throw penalty without permission from the group no matter where their disc lands whether inbounds or a hazard location.
The old Unplayable Lie rule allowed players to either move back up to 5m on the line of play or return and throw from their original lie. The option to move back up to 5m has been eliminated. Throwing again from the original lie is now the only option as the renamed rule indicates.
GENERAL – Provisional Throws: 803.01C
Although not directly part of the Optional Re-throw rule, the new rule for Provisional Throws clarifies that a player may not later declare a throw they first called a Provisional as their Optional Re-throw. The player must go back and make an optional re-throw (if that's what they decided is the best option) and not use that provisional throw after seeing the results of the provisional and the original throw.
OBSTACLES AND RELIEF: 803.05
Significant changes here. A player is not allowed to move any obstacle on the course with the exception of casual obstacles to a stance listed below. A player is allowed to request that other people remove themselves and/or their belongings from the player's stance or line of play. This includes spectators, umbrellas, golf bags, chairs, etc…
Casual obstacles as in current rules – casual water, loose leaves or debris, broken branches no longer connected to a tree, motor vehicles, harmful insects or animals, players' equipment, people, or any item or area specifically designated by the director before the round – can be moved if they are in the player's stance or run-up, even if part of the item like a branch is in front of the lie.
If the casual item can't be moved, like water or a bee hive, the player may take free relief up to 5m back on the line of play like before. If players require additional relief beyond 5m, they may invoke either the new Optional Relief rule (803.05C) and go back on the line of play as far as they desire with a one-throw penalty. Or, decide to declare the Optional Re-throw discussed previously and return to their original lie and throw again with a one-throw penalty.
DISC ABOVE OR BELOW THE PLAYING SURFACE: 803.08
The "disc below playing surface" phrase has been moved from the Rules Q&A and added to this rule. This applies to a disc located down on a "non-playing surface" that players would not be able to play from such as a crack in the ground. The "disc below playing surface" section does not apply to a disc resting on or above a playing surface where another playing surface like a bridge might also pass above the disc. It's possible that moving vertically from the front edge of the disc closest to the target up to the level playing surface might be a point in space. If so, then mark the lie on the playing surface near the edge of the crack on the line of play no closer to the target.
NZDG makes it 18 baskets for Queenstown Gardens
November 2010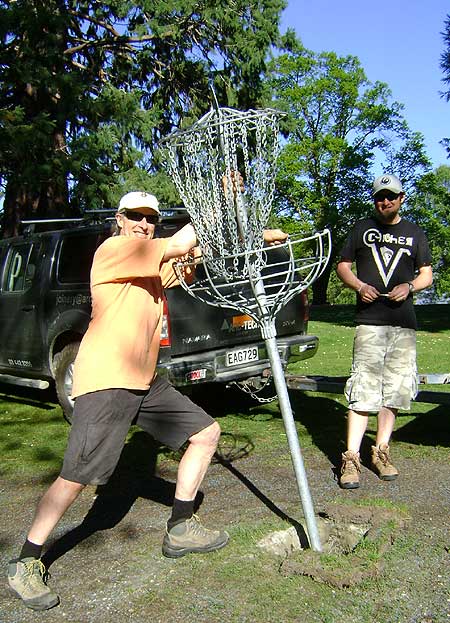 Originally set up in the early 80's the Queenstown Gardens Disc Golf Course was like most courses around the country, an 'object' course.
But after James Smithells shifted to the area in the mid 90's the disc catcher baskets started to appear.
Gentil Sport was proud to donate the first one which was one of the early NZ prototypes and from there slowly but surely as funding became available more and more have been added.
And now with New Zealand Disc Golf coming to the party the Queenstown Gardens course finally has 18 permanent baskets!
A big well done to James and his troopers, we all look forward to playing a round at The Gardens.
It's tight at the top
Sep 20 2010

9 Rounds contended and just 2 to go.
In the blue corner and wearing the Japan Open hoodie the current and multiple times New Zealand Disc Golf Champion Simon Feasey.
In the red corner, boxing well above his weight and wearing the parachute on his back the title challenger Damian Peters.
These two West Aucklander's are locked in a battle for the 2010 NZDG Championship. With Simon taking the 50 points from Waiheke, Tauranga and Taupo and Damian picking up the max from Taumarunui, One Tree Hill and Auckland, the only thing separating them is the fact that Simon picked up 49.23 for a first equal at Nationals in Rotorua and Damian nabbed 47.12 points for his second place finish in Gisborne.
Yes! Just 2.11 separates them.
Click here to see the latest 2010 NZDG Tour Points standings.
Frisbee inventor dies
Feb 12 2010
MONROE, Utah - Walter Fredrick Morrison, the man credited with inventing the Frisbee, has died. He was 90.
State Rep. Kay McIff, an attorney who once represented Morrison in a royalties case, says Morrison died at his home Tuesday. McIff is from Richfield, Morrison's original hometown.
Morrison sold the production and manufacturing rights to his "Pluto Platter" in 1957. The plastic flying disc was later renamed the "Frisbee," with sales surpassing 200 million discs.
It is now a staple at beaches and college campuses across the country and spawned sports like Frisbee golf and the team sport Ultimate.
Morrison co-wrote a book with Frisbee enthusiast and historian Phil Kennedy in 2001.
Kennedy released a brief statement about Morrison on Thursday, wishing his late friend "smoooooth flights."
Arch Rivals Partner Up for 2010 New Zealand Champs
Jan 25 2010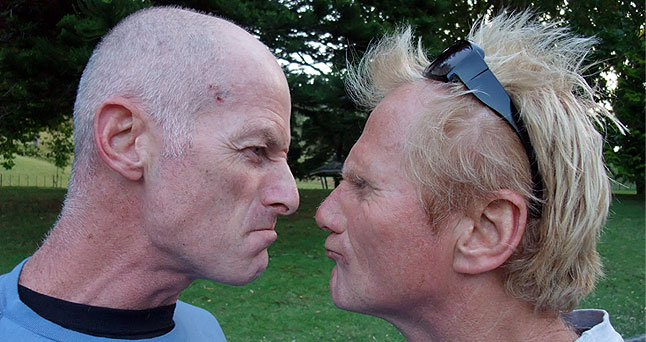 De Haas and Unda Working Together? They vowed never to again didn't they?
Yes, we couldn't believe it ourselves, so we sent roving reporter Anne Hyzer out to check the rumours. We can report that arch rivals Marty de Haas and Juan Unda have registered for the 2010 New Zealand Disc Golf Doubles Championships as partners!
As far as we can tell, neither of the firey freaksters are happy about this news - it is a freaky twist of legal fate that has forced them together again. Who can forget the last time we saw the Mighty Mexican compete alongside the Silver Surfer - it was Te Kuiti for the 2007 Champs - where they appeared to try their best to stage a self destruction. From giving each other foot fault warnings to picking up discs to force the other to use their drives, commentators were at a loss as to why these two would ever want to be in the same group again, let alone as doubles partners.
We will have to see if the two can make amends, but if this aledged quote from Unda is anything to go by, don't place too many bets: "On the course this man transforms into a monster. If it wasn't for the fact my financial future lies within the contract that requires us to join up again, I would not even share my Fajita with him!"
For more on the 2010 New Zealand Disc Golf Doubles Championships, click here.
Rotorua Permanent Course is Born
Jan 24 2010

Awesome Town, Awesome Course, Awesome Work!
Our roving reporter Iva Storee visited the Redwoods Forest in Rotorua where Simon Feasey has managed to secure a permanent disc golf course and snapped these actions shots from her mountainbike (before heading out on the awesome RotoVegas trails!).
Simon and friends have been working hard to set up the course in time for the upcoming nationals.
Big ups to Simon (and anyone else involved) for his patient and determined work over the last few years in making this dream a reality. We know the NZ Disc Golf community will get right behind it and we hope the locals will too!
An American's Perspective

In June 2009, American Disc Golfer Ross Trevor visited the 'land of the long white cloud' hunting for middle earth and disc golf courses.
Northland
After the success of the first Disc Golf course in Northland at Raumanga Reserve in Whangarei (click here for the scorecard - pdf, opens in new window) on Raumanga Valley Road there are now 3 -yes THREE - more permanent basketed courses for you to hone your skills on in the winterless north.
The first, which opened last year, is a 9 hole course at Harding Park in Dargaville, right beside the museum.
For a course map & score card click here - pdf, opens in new window.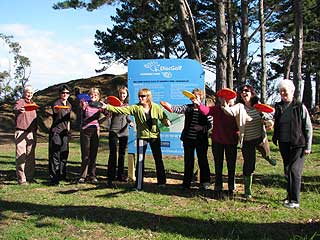 The District Council at the opening of the Harding Park Disc Golf Course in Dargaville.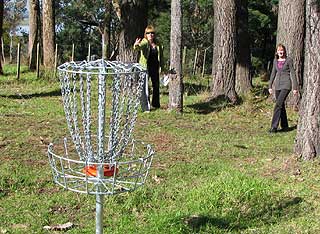 Kaipara District Council staff playing the inaugural round on opening day at the Harding Park Disc Golf Course in Dargaville.
The second is a 5 hole course at Johnson Park in Kawakawa, right beside the State Highway 1 turnoff to the township on Queen Street.
For a course map & score card click here - pdf, opens in new window.

The third new Northland course is just off State Highway 1 [Matthews Ave] north of Kaitaia in Matthews Park on Davis Street.
For a course map & score card click here - pdf, opens in new window.
Exciting news for East Cape Disc Golf
They have seen the light in Gisborne.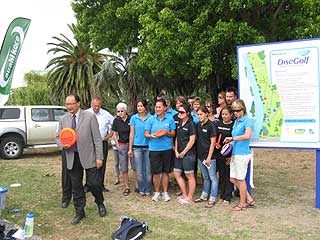 Gisborne Mayor Meng Foon, Sport Gisborne CEO, Daniel Gerrard & Chris Lankshear from Tourism Eastland along with many locals celebrate the opening of Disc Golf in East Cape.
Just before last Christmas we opened a course in Alfred Cox Park in Gisborne.
It started with 6 permanent baskets and that has just been increased to 9 thanks to a local enthusiast, but an 18 hole course has been designed and as more people play more baskets will be installed.
The course is just 1 block back from the beach right behind the information centre on your way into town on Grey Street. We can't wait for the full 18 baskets to be installed as it would be great to visit this spot annually on the NZDG Tour.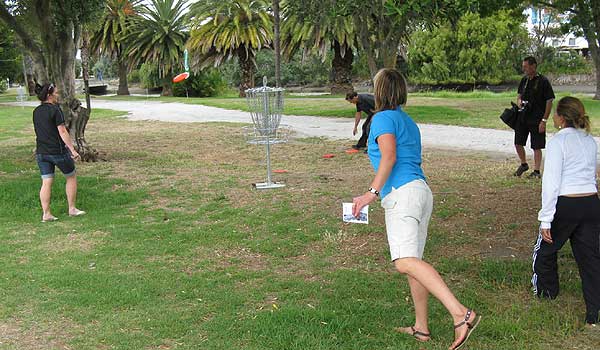 Sport Gisborne's Fiona Duncan and colleagues play Disc Golf for the first time in Alfred Cox Park.

If you are keen on establishing a Disc Golf course in your town Gentil Sport is ready and willing to help out.
We have a prop on file we can send you to start talks with your local council and we specialise in course design. For more

Wondering what was news for the New Zeland Disc Golf scene in 2008? The New Zealand Tour visited some exotic locations for disc golf in pristine and sometimes challenging conditions. Not only that, but we also visited the Australian Disc Golf scene not once but twice! We have summarised the year for you, with some of the best pictures and memories that will last for all time. Plus stories from such Kiwi Disc Golf icons as Pete Crowther, Marty 'Scratch' de Haas and more.
Click here to visit 2008 - THE YEAR THAT WAS FOR NZ DISC GOLF


Wow, what a ripper 2007 was for Disc Golf in New Zeland! We saw the creation of one of the first permanent courses in New Zealand for a long time, Kiwis at the Worlds, upgrades to the awesome Queenstown course, and of course The New Zealand Tour once again visited some exotic locations for disc golf in pristine and sometimes challenging conditions. We have summarised this fabulous year for you, with some of the best pictures and memories that will last for all time.
Click here to visit 2007 - THE YEAR THAT WAS FOR NZ DISC GOLF

New Zealand Disc Golf Match Play Championships 2006
Monte Cecilia Park, Auckland, November 25-26 2006
Congratulations to all that participated and, like so often this year, congratulations to Simon Feasey (Auckland) for a dominating performance in great conditions. Beating Blair Joines (Taumarunui) in the final, Feasey's accuracy and smooth throwing style made for a daunting challenge to any who stood up against him.
We will have the full story up soon, but meanwhile we have the results and pics already up for you...
New Zealand Champion
Simon Feasey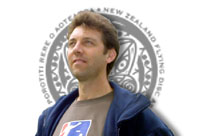 Congratulations to Simon Feasey as the 2006 New Zealand Disc Golf Champion.
He's done it again we hear you say - yep, we've lost count of how many crowns the Fease now wears, but it sure is great to watch.
Starting with a win in the first tounament of the year, the 2006 Nationals, Simon left it to the last 3 fixtures to record a trifecta of wins to finish with an unbeatable 200 points in the Tour.
Well done to runner up for 2006 Dean Marshall, Womens Champ Ming Menzies, Junior Hero Bruno Whale, Masters Champ Marty de Haas and Grand Master Guru Pete Boyle as well as the 70+ players that partook in the 2006 New Zealand Tour. Now its on to the Match Play Champs in Auckland!
Smokin Mountain 2006
October 21/22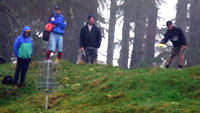 Testing conditions greeted our hardy crew of Kiwi golfers (and the odd Pom) at Discovery Lodge for the final tournament of the year.
Could Dean Marshall take it out and hope that Simon Feasey would finish low in the pack, allowing the Tauranga Terror to take the 2006 Tour out?
Would Baz survive at all? Would Bruno throw a roller? Would Routley throw at all?! All is revealed, along with results and pics (courtesy of new disgolf.co.nz lens person Meg A Pixel) right here on our special SMOKIN MOUNTAIN 2006 page.
2006 Taupo Classic

September 23-24 2006

Congratulations to Simon Feasey as the 2006 Taupo and North Island Champion.

But not without a battle from defending champ Blair Joines and the ever-top-grouped Bob Gentil.

Meanwhile, another congratulations to UK golfer Matt Cutler (pictured) for an incredible hard-struck ace on the 13th, taking away over $70 prize money from the Ace Pool - just when he needed it most!

Just as well we got this shot of the special disc - Matt lost it on the very next drive!
Auckland Disc Golf Championships

August 26-27 2006

Played at the beautiful Monte Cecilia Park Course that will be used for this year's Match Play Championships, TD and Disc Golf Legend Bob Gentil showed extreme local knowledge to take it away
Kiwi Icon Wins in Austria

We were most pleased to hear kiwi-on-the-move Dylan Cooper has been performing well discgolf-wise in his travels of Europe. So well in fact that he has taken out an entire tournament! Check out http://www.kiahgrabn.com/results.php to see that a dazzling 52, 47, 51 = 150 left him a clear 3 shots in the lead. The previous course record was 50!

Dylan was very humble in his result, "In winter its a ski field, as are the other 7 holes out in the open. 58 people playing, from Germany, Austria, Switzerland, Hungary..." was all he would say. But we are sure we will hear ALL about it when he returns to the sunny isles.

Dylan Cooper at the 2005 Crater Cup

Our very own translator Wanda Stand tells us what the Austrian sites (http://www.discgolf.at/news.php) are saying about our local hero: "Dis skeeny meen weeth a streenge throw heez beeten us all - vee are veery annoyed und vill seek revenge!". (We aren't too sure if Wanda even knows any German).

Congrats to Dylan from all your golfin buddies in the Land of the Great Long Drive.
PDGA 'European Open'
The inaugural PDGA 'European Open' took place at the end of August in Finland.
The tournament website it worth a visit http://www.opendiscgolf.com
In another first, the tournament was preceded by the inaugural Disc Golf Presidents Trophy: Team Europe v Team USA.
PDGA Professional World Championships - Ken is King Again

The 25th Anniversary of the PDGA Professional World Championships ended in Augusta, Georgia on Sunday with Ken Climo claiming his 12th World Championship.

Despite slipping out of first place on Friday morning by shooting a 65 at the same Hippodrome course where he tossed a 50 on Wednesday, "The Champ" regained his usual form at Lake Ohlmsted on Saturday afternoon to regain a one-stroke advantage over the 2005 World Champion, Nate Doss. And he would never relinquish the top-spot after that.

Ken Climo hugs the 18th basket after winning his 12th World Championship. (Photo: Matt Gillis/PDGA)
Kiwis at PDGA Am-Worlds in Tulsa.
Congratulations to the 'Lost Tribe's lost player Arthur Pengelly, his Canadian wife Dawn, and the Wellington Wild Boy Dylan Cooper.
After the six rounds of standard play Arthur came in tied for 86th with a creditable +6, and Dylan tied for 141st on +18.
The winner Paul Ulibarri posted a -34 in the 236 player field.
Well done also to Arthur's wife Dawn who after 3 rounds was in second in the Advanced Woman's section and ended up tied for 5th on +58.
Interesting to note Arthur and Dawn have been competing at numerous events on the PDGA tour over the last 3 months with some great results including 6 1st's and two 2nd's for Dawn, and a first, a 5th , a 6th and a 7th for Arthur. Great to see!
Full scores can be seen at http://www.pdga.com/tournament/tournament_results.php?TournID=5513

2006 Crater Cup - The Freaky Styley Resurrection

Auckland, June 3-4 2006

Another New Zealand Disc Golf Tour Event, this one in the metroplois of Auckland and, of course, we were there for all the fun. We sent disc golf cameraman Len Skap along and he got some wicked pics and videos, including the first tournament Hole-In-One of the year that earned golfer Marty de Haas over $250!

Results, the story, the pics and the vids right here
---
Latest Disc Shipment Has Arrived!

We've got all sorts of great discs to help improve your game - and two great styles of Disc Golf Bags from Innova. Get your orders in now!
---
If we ever find out who told Tournament Director Dean Marshall that the McLarens Falls Park course was not all that extreme, we'll give him a slap! Once rated the toughest course in Australasia, we can now confidently say this is one of the toughest courses ON THE PLANET! That being said, the beauty of this setting and the lucky weather made for a great weekend of top notch golf.
Results, pictures, videos and story - grab yourself a cuppa and CLICK HERE.
---

The 2006 The Dart River Safaris Paradise Disc Golf Experience and 11th Annual Helicopter Line Queenstown Disc Golf Classic
Its a mouthful, but saying it may enable you to get a breath in as the scenery for these 2 competitions in Queenstown is truly breathtaking. And we were there! Full story and lots of pictures by discgolf.co.nz photo genius Len Skap.
---
2006 New Zealand Disc Golf Nationals - Rotorua

A great success indeed. Awesome course in a beautiful park. And we got some superb pics. We've got them all, along with commentary on our dedciated page.

"I had fun" - Scratch de Haas
---
2005 NZFDA Match Play Champs

Thanks to the 'Lost Tribe' for hosting yet another great event in Taumarunui. Congrats to winner Steve 'The Scarb' Scarbrough.

We sent our cool cameraman Len Skap out to follow the action and we have a report from the Champ himself - CLICK HERE
---
Smokin' Mountain 2005 Results - CLICK HERE
Taupo 2005 - The Gentil Sport Classic

Magnificent weather and one of the best courses you will ever play may have played a part in a record number of entries. Our photographer Len Skap was there and has shared his pics with us.
---
Hi there,
My name is Toby and this is me in a helicopter. That's
because I played Disc Golf in the 2005 Queenstown
Classic and won the Junior Under 10 Division. I was
stoked - even if I was the only entry, I reckon I played
real good. My Dad is the man they call the Grand
Master and he did real good too. And then there's
my Mum - she did real good too.
Anyway, our friend Len Skap took lots of pictures and
Dad wrote you all a story - click here to see!
---
Harcourt Park - What's in the bag?!

Tournament course record. Best ever overall four round total. Biggest winning margin. It's always a pleasure to play at Harcourt Park, especially when it is for a Tour Event. And it was made even more special with a few all-time NZ Tour records broken by the man who has been part of this sport for over quarter of a century. We've got the story and the pics...click to see it all!
---
| | |
| --- | --- |
| | It just keeps coming. Here, we bring you some disc golf rules and the odd bit of terminology that you will hear on the course. Brought to you by the sponsors of Bob's Tips, it's the IRT Section. |
---
An Aussie Perspective...

Canberrite Richard Barratt was lucky enough to be in Auckland for the 2005 New Zealand Disc Golf Championships. He was good enough to write this little report, posted on the Australian Disc Golf Forum...read on
---
What a fantastic weekend of disc golf at one of the world's finest venues,
Monte Cecilia Park
in Auckland. We were there - so click through to our dedicated
Nationals Section
for results, analysis and, of course, pictures - just
CLICK HERE for the 2005 DISC GOLF NATIONALS
.
---
| | |
| --- | --- |
| | 2004 was a year that saw some of the best disc golf we have seen in Aotearoa. The New Zealand Tour visited some exotic locations for disc golf in pristine and sometimes challenging conditions. We have summarised the year for you, with some of the best pictures and memories that will last for all time. Click here to visit 2004 - THE YEAR THAT WAS FOR NZ DISC GOLF |
Look Out ! It's Another Feasey!

The congratulations of all kiwi golfers go out to National Champ Simon Feasey and his wife Yvette on the news of the arrival of their second daughter Caitlin Rose Feasey on June 18th.

Simon had only just retaken the Crater Cup crown and had won in Taiwan (see below), yet had time to father this tiny disc golfer-to-be.

The Feasey Family

Oldest daughter Talia is well on her way to frisbee fame - her own little disc is second favourite toy only to her cool little Funky Monkey.
Our Simon kicks some serious butt
Just in from the 2006 Kaohsiung Invitational Disc Golf Tournament in Taiwan. "Simon Feasy from New Zealand has taken away top place in an extremely close contest. Yasushi 'G' Jitsuhrio from Japan was runner up and John Ahart from the USA came in third.
This was an incredible event which I am sure people in the Disc Golf community will be hearing about shortly with more details. There was significant press and government coverage of the event due to the World Games. Thousands of photographs were taken and probably hours of video, so hopefully some will be made available for us to see.
Coverage was even broadcast on the evening news, which came on during the players party drawing huge cheers and the morning paper carried a story about the event also".
---
The Queenstown Experience
Another fabled Wakatipu tournament weekend.
As James said .. "Remember! It's the things that we don't do that we regret the most!
How right is that!
Once again the weather came to the party and Queenstown Disc Golf 'went off!! Congratulations to all who competed, and to all the locals who make it happen .. 'On Ya!'
For full details, scores and pictures click here
Already made plans for next year ..
Please take note Ultimate Tournament planners .. The 'Dart River Safaris Paradise Plate' and the 'Helicopter Line Queenstown Classic' will be, as always on the second weekend in March .. So in 2007 it will be over the weekend of the 10th and 11th.
---
The 2006 New Zealand Disc Golf Championships
Event 1 on the 2006 NZFDA Disc Golf Tour.
Congratulations to everyone involved, our 2006 Nationals we're a great success.
Great standard of play, excellent course and even the tournament dinner / AGM venue at the Rotorua Golf Course went down well..
---
The NZFDA 2005 Match Play Champs
Thanks to the 'Lost Tribe' for hosting yet another great event in Taumarunui. TD Blair, Paul, Pete, Dave, and of course Cherie and Michelle for the fantastic spreads. And of course Pete's wonderful wife Corynne who put up with golfers galore invading their house and eating the endless array of superb cuisine served up over the weekend, especially the poolside BBQ on the Saturday night. We're forever in your debt..
Great course, exceptional play and the Sunday final came down to North Harbour's Steve Scarbrough and Rotorua's Scott Caesar .. Well done to Scott who took it to the wire and congratulations to Steve who took it out 2 & 1.
Looking forward to catching up with everyone again on next year's tour..
---
The NZFDA 2005 Disc Golf Tour
Congratulations to everyone who made the 2005 NZ Disc Golf Tour the best yet. All up we had 60 tour players this year and the standard just gets better and better.
---
Great news for New Zealand Disc Golf
'The 2005 Gentil Sport Taupo Classic & North Island Champs' was the first ever 'PDGA sanctioned' event held here in New Zealand, it was a 'C' tier event on the 2005 PDGA calendar.
If you were one of the record 40 players who turned up to be part of NZ Disc Golf history .. congratulations .. In years to come you can say.. "I was there!"
---
STOP PRESS July 2005

Tragic Knee Injury Halts Top Player's Run For National Title

A knee

In an uncanny coincidence, on the very day that Warriors skipper Steve Price saw his season crumble at its peak with a horrible knee injury, New Zealand's other top sport, disc golf, also saw it's current number one succumb to the same injury.
Top of the tour points and in firey form, the Grand Master himself - Bob Gentil - suffered further damage to knee ligaments that have already seen more tears than Marty after losing the DAKAR. Speaking of The Dev, a certain unnamed red haired surfie golfer believes it may have been more than a coincidence...

The GM in happier days

"We were about to head out for a nice quiet flat round of golf when Feasey turned up."

Simon Feasey

is the current National Champion and is desperately chasing the GM's points total for 2005. "Suddenly Feasey is telling us of the changes he has made for the upcoming

Crater Cup

course and that we should check them out. So in stormy weather, we're trudging up and down soaking terrain - it was inevitable that something like this would happen!" Our reporter does, however, question this account as we all know the unnamed red haired surfie golfer doesn't know big words like inevitable.

All the same, the similarity of the injury to two of NZ's top sportmen is worth noting. Both old buggers, both ugly, yet looked up to by their peers, we cannot help but feel that both sports will be slightly less exciting for the coming months. Price is expected back for the penultimate round of the NRL - hopefully we will see the Grand Master back on course before the penultimate round of the NZ Disc Golf Tour, the

Gentil Sport Taupo Classic

in September. Stay tuned!
---
Courses in NZ
We've compiled an interactive map for you to view the various discgolf courses throughout
New Zealand
.
Click here
to start the tour.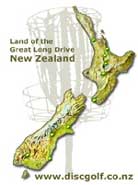 For the official PDGA rule book, click here.