add to facebook

Bella Rakha, Oratia Auckland 8 & 9 of December
New Zealand's finest disc golf plays at one of New Zealand's finest courses

Any round on the spectacular Bella Rakha course is a great and challenging experience, so playing the fun Match Play format for the New Zealand title is something not to be missed! Thanks to Simon, Yvette, Talia and Caitlin for hosting the players and friends!
Blue skies, sunshine and a Disc Golf course made in heaven, ingredients for an awesome weekend of Match Play Disc Golf.
NZDG would like to officially thank Simon & Yvette Feasey for hosting the NZDG 2012 Match Play Championships at their piece of paradise nestled on the Eastern side of the Waitakere Ranges - Bella Rakha is a stunning environment to play Disc Golf in and we all appreciated it to the max.
With just Queenstown's Elliot Menzies at number 11 not making it there was a little re-shuffle on the Saturday morning that saw Michael Proctor at number 17 being elevated into the competition 16. The top 4 Women were all there as well making for an amazing weekend of Disc Golf.
This reporter's feeling is that I should leave it to the pictures and results to tell the full story. Enjoy!
See the Final on video!
Here's some video of the big finals between Simon and Speedo, Bob and Lawton as well as snippets of the Women's battle. Thanks to this great effort by Chris Davies - great to have the action recorded for memories. You get to see the crucial edge Simon gains from Speedo's unlucky bunker drop shot on 13. "And he rolls out onto the fairway!", brilliant. And the lad's performance on 17! Best thing about that hole was the Tui's chirping!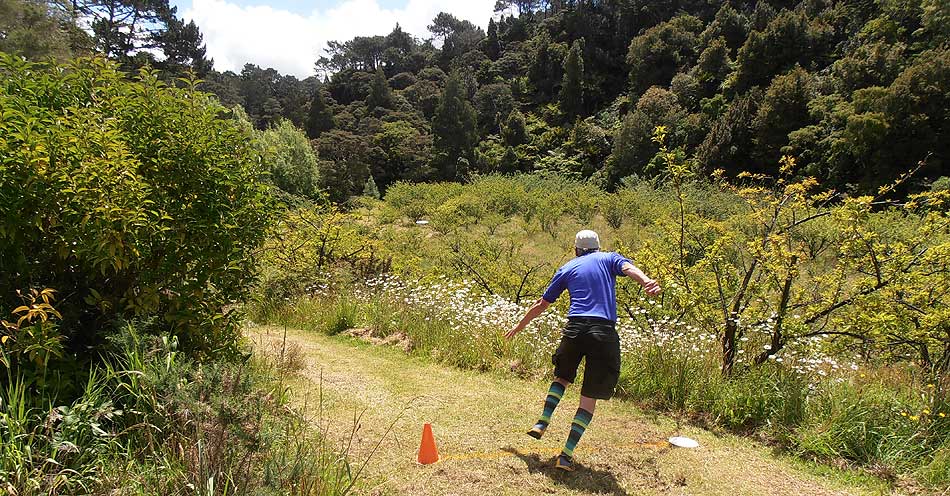 Modern Art - if you look carefully, Volcanic Plateauian Des Cooper has darned his socks to incorporate every colour seen in this vista looking down on the final basket of the 'Fruit Loop' - hole 9. This man's level of prediction is uncanny as well as his level of play, holding favourite and eventual champions Simon Feasey to even after 9 holes of the first round - great effort!


Roundhouse Flick - Queenstowner Russel King shows good technique on a crucial approach to the 18th basket after a super fine drive.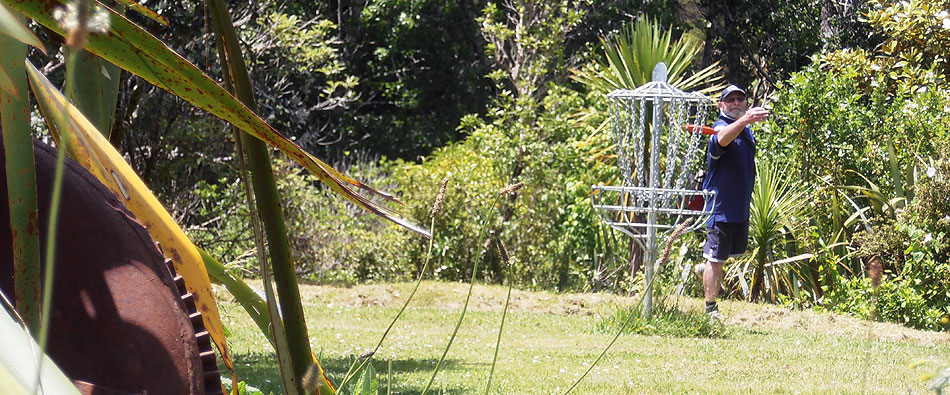 Rusty Shot - The only thing rusty about this shot is the antique rock cruching gear in the foreground as effervescent Lost Triber Pete Boyle drops in another solid par on the first hole.


Summer Magic - Levin's Jackson Sullivan stays chain high to give himself a chance of a fine birdie on the 17th.


Three Strips and you're out! - AB (Levin) is all focus, power and finesse. And then he threw.


Bend it like Peters - everywhere you looked there was a photo to be taken. Here Damian Peters powers a side-arm under the low hanging greenery protecting the basket on 13.


Good spotting needed - Epsom golfer David Keene shoots out of the rough on hole 2 of the fruit loop, and I mean rough!


Grape Player - Simon Feasey taking a little detour in the neighbours vineyard.


Tunnel of Love - for some maybe, but a harsh deflection can mean splash down on hole 18.


Pohutafrisbee - launching into what seems an inpenetrable channel flanked by New Zealand's Christmas tree, the flaming red Pohutakawa is Levin hopeful Jacko Sullivan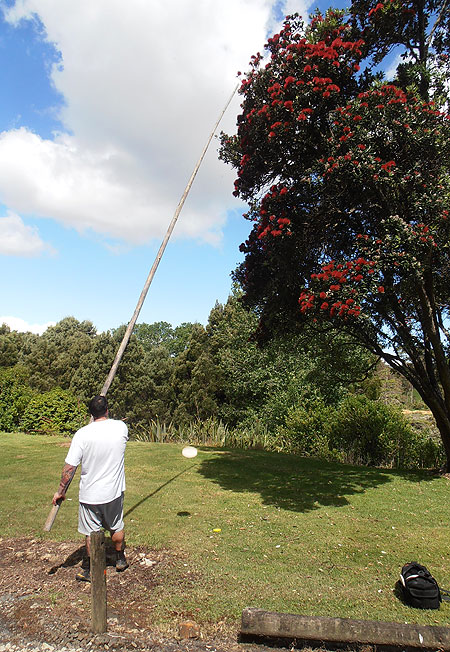 Pohutagotcha - and it was a not so Merry Chirstmas wish for Jacko from that very Pohutakawa noted above, stuck well up in the tree. But thanks a the road bunker for opponent Brett Hailstone, Jacko was able to actually win this hole!.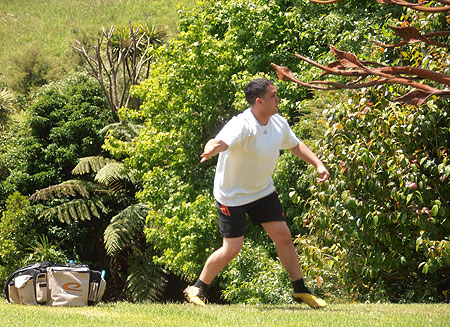 Art with Heart - Levin's Lawton Williams tiptoes his approach on hole 1 alongside one of the many pretty sculptures the Feasey's have on the course.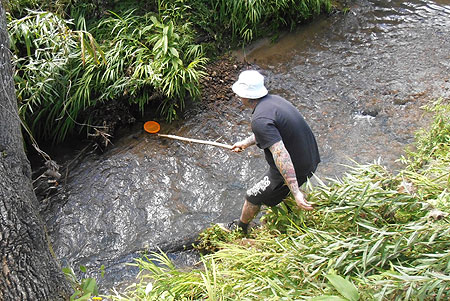 Hockey to the Rescue - We wish we had caught video of the skills of New Zealand Roller Hockey representative Jackson Sullivan as he delicately yet afirmatively scooped up his submerged disc on the nasty 18th. Still in the mood, Jacko scored three quick goals before he was reminded this was a disc golf tournament.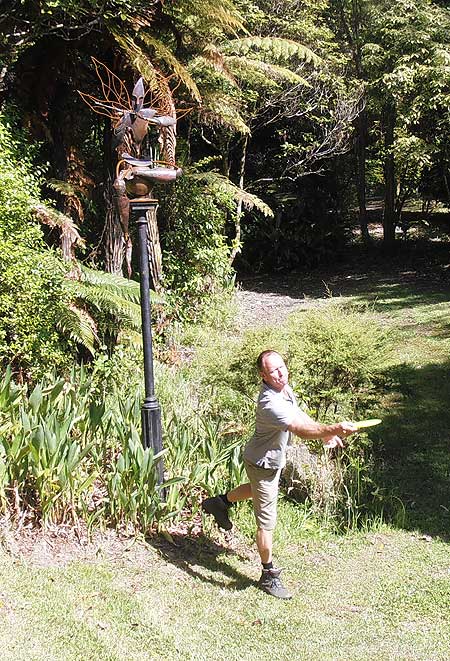 Mystic Powers - Waiheke Island player Brett Hailstoneis watched over by Yvette's latest creation for Bella Rakha, the Jetpack Mystic Flautist.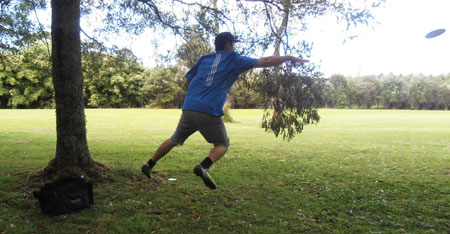 Leaping Lizards Batman! - In a trait of Levin athletisism, Abe 'Lincoln' Hartly leaps with his disc to get that extra few dead-straight metres of putting distance, reminiscent of his playing buddy Lawton.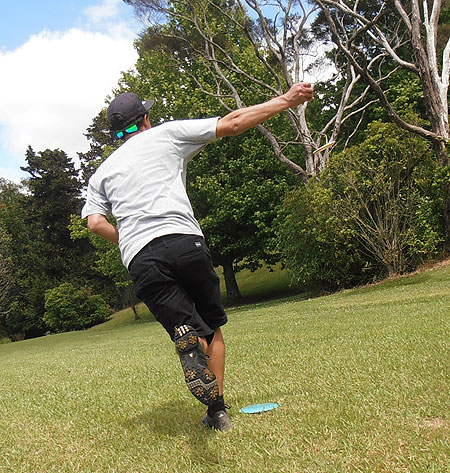 He's got a 'sprig' arm - Levinite Tricky Ric seeks to climb over some bunkers for an easy par on the 15th..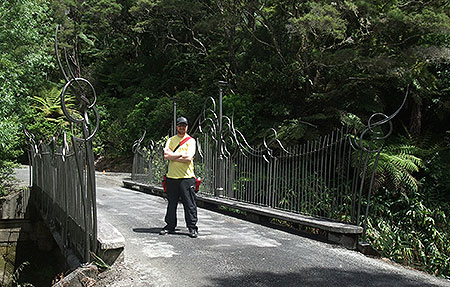 Bridge King - Queenstown's Russell King on the amazing welcome to Bella Rakha bridge.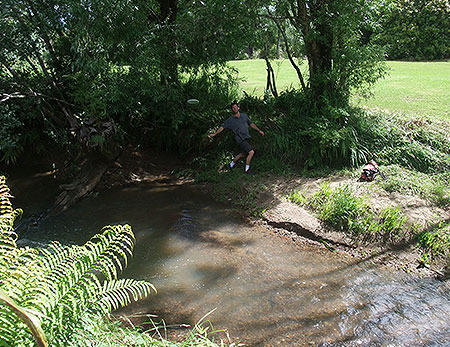 Feasey makes it easy - Even the course owner and designer Simon Feasey had some trouble with the water on #6. Mind you, note the control and sure enough this up-shot ended up under the basket to half the hole.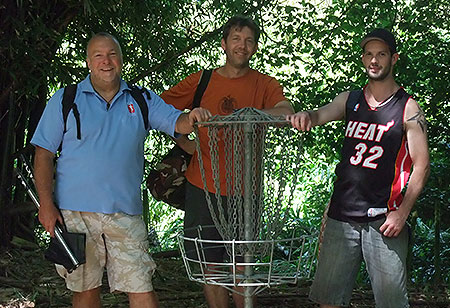 Nz's Best - Done and dusted. 1st Simon Feasey (middle), 2nd David Keene (right) and 3rd Bob 'GM' Gentil (left) on the hole 18 podium.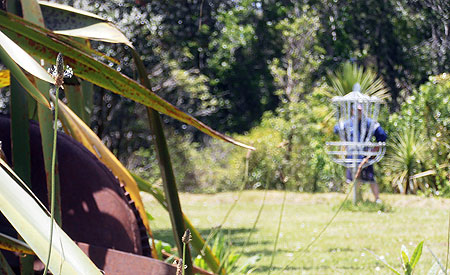 Rusty Play 2 - Lost Triber Pete Boyle relaxes by the first hole's basket framed by machinery of the past.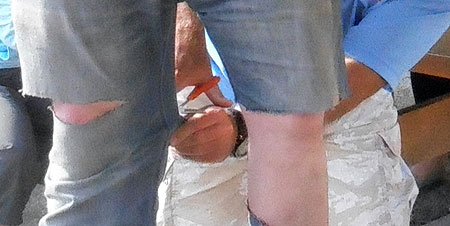 'Kneed' a quick adjustment - Just up from the cooler climes of Christchurch, Chris Davies has urgent summer surgery performed on his best strides all in the name of a good round..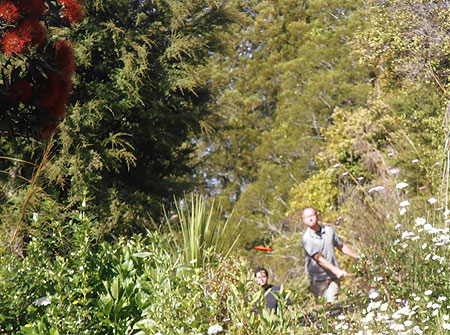 Place your Bretts - One player who always brings his game to Match Play is the uber causal Brett Hailstone here releasing a picture perfect right-to-left-to-right-over-the-road-curve-left-to-land-on-the-narrow-fairway drive. Again.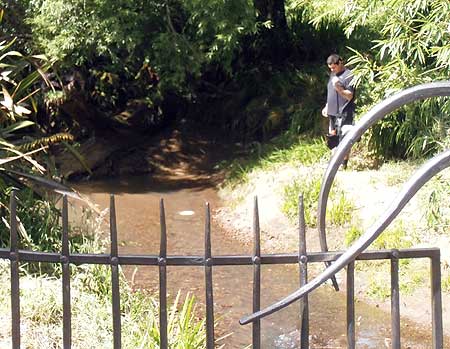 Curve Ball - We seem to be featuring Jacko Sullivan in trouble a lot. Luck was not with him for the second match but he persevered to still take it out hoping to vie for the Plate Championship win. Here we see him retrieving his disc from the river that passes under the new look bridge scultpure.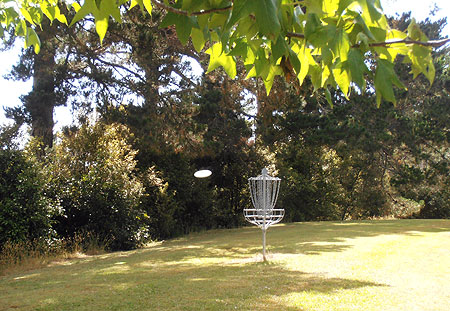 Beautiful - You just cannot get tired of the stunning property that is Simon and Yvette's Bella Rakha Retreat Centre.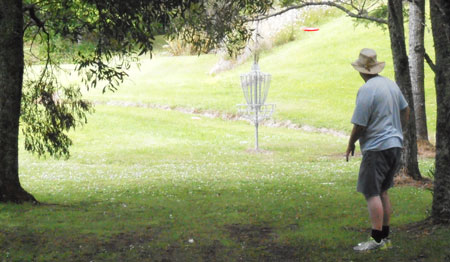 Stay Low - Chirstchurch player and sometimes TD Chris Davies enjoyed a few rounds at Bella Rakha despite not being in the running - who in their right mind wouldn't take this opportunity? We were somewhat surprised how few Aucklanders came along, did we not tell you it was a stunning setting?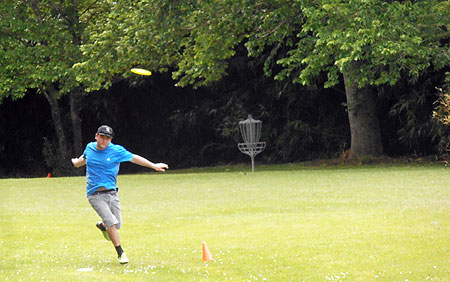 Running Start - Once again, Abe 'Lincoln' Hartly moves with his throw, this time on the drive at hole 13.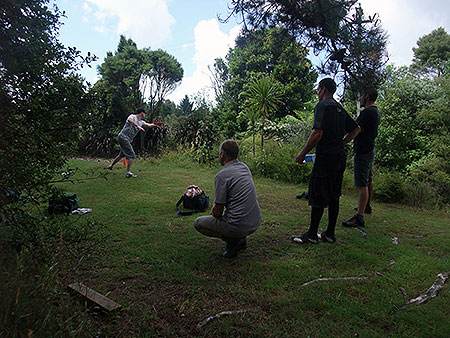 Fruity Nuts - Hole 1 of the 'Fruit Loop' and matches 4 & 5 saw One Tree Hill golfer Brad Muir against Hemi Te Awhitu who made the trip from Queenstown and Speedo Keene (on the Tee) against Waiheke Island's Brett Hailstone.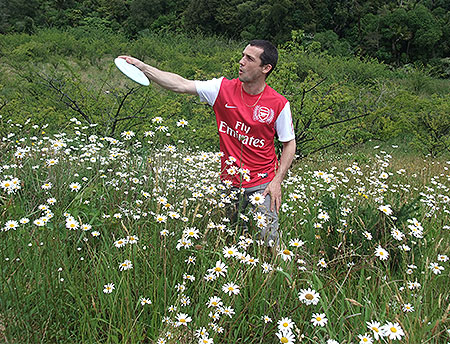 Daisy Thunder - Damian Peters seeded at number 1, in his back yard and lovin it!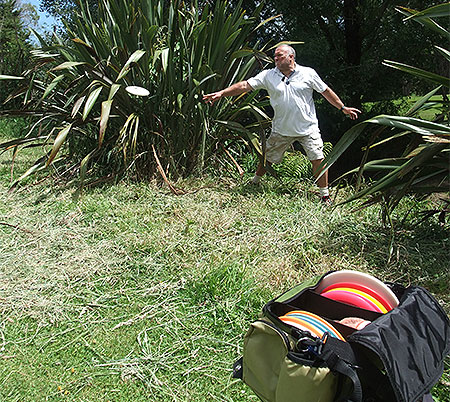 What's in your bag? - The GM Bob Gentil happy not to be wet on the tricky hole #6, on his way to taking out top seed Damian Peters on the Saturday afternoon. Click here a view the 13 minute vid on what was in that bag...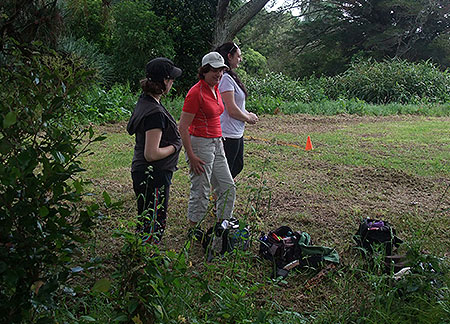 Top Gals - Lisa Te Awhitu from Queenstown, Ming Menzies from the BOP and Levin's Gemma Sullivan; three of the four girls who had a round robin competition culminating in a Match Play final Sunday afternoon.
back to top
The Results for 2012 NZDG Match Play Championships
Bella Rakha, Oratia Auckland 8 & 9 December
Results coming soon...well hopefully. Would you believe none of us recorded the results!? Anyone got a pic of the whiteboard, can you please send it to us.