2008 NZDG Match-Play Championships
December 6 & 7 Rotovegas Redwoods
2008 NZDG Match-play Championships
December 6 & 7
Rotovegas Redwoods
What a weekend .. stunning weather and 18 baskets in the Rotorua Redwoods .. the scene was set for a memorable National Match-play Championship.
With top 16 2008 Tour finishers Joe 'Fish' Seebeck and Speedo Keene not able to make the Rotorua weekend it opened the door to Andrew Taylor at 17 and

at 20 to make the competition proper (Jack Turner at 18 and Mark Hamilton at 19 had Ultimate commitments) .. We also had the top 4 Women playing their own event and 4 extras who held a match-play round robin tournament of there own as well.
Match-play is a great form of the game and sees competitors taking a totally different approach to the way they play. In previous years only a few had come to grips with the match-play format but this year pretty much everybody seemed to have a handle on it, which saw most matched going to the wire.
Congratulations to all who took part and to Simon Feasey and Fiona 'Ming Ca-ching' Menzies for taking out their respective competitions.

Pictures



Karoline, Jenny and Ming up to their knees in long grass.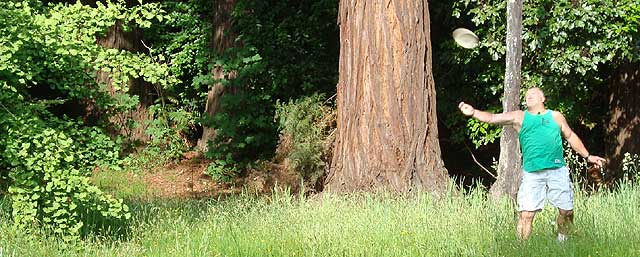 The GM sends one up and over.
| | |
| --- | --- |
| TD Martin de Haas tries to get the sun-block off his hand after shaking Simon's hand prior to the round. | The casuals who had a round-robin match play competition of their own. |


Marty impresses Brett Hailstone with a confident putt into the middle of the chains.


The 16th, aced in a warm-up round on the Friday evening by Simon Feasey.


Tauranga's Andrew Taylor and Des Cooper battle it out in the penultimate round on the Sunday morning.
| | |
| --- | --- |
| What a group. Siep v Bazz, Andrew v Des. | Done and dusted for another year. Thanks to all who brought baskets .. fingers crossed they might be permanently in the Redwoods next year. |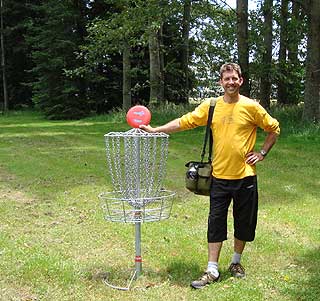 Simon Feasey, all smiles after taking out the 2008 NZDG Match Play title 3 & 2 over Blair Joines.
| | |
| --- | --- |
| 2008 NZDG Woman's Match Play Champ Ming Menzies | 2008 NZDG Match Play Champ Simon Feasey. |