add to facebook

December 3 & 4 2011
At awesome Oratia Private Course!

Most Kiwi disc golfers know Simon Feasey. He has represented the nation in various forms of frisbee sport, held the National Disc Golf title more times that Jim needs to putt the 14th at Painter..
Well the 2011 NZDG Tour has come and gone for another year .. Brilliant!
Congratulations to our 2011 NZDG Tour Champions...
Open .. Dean Marshall
Masters .. Simon Feasey

Grand Masters .. Bob Gentil

Woman .. Gemma Sullivan

Junior Boys .. Toby Gentil

Junior Girls .. Talia Feasey
Great skills everyone!
Now it's time to find our 2011 NZDG Match Play Champions.
Please check the Tour Points to see where you are sitting.
The top 4 Women who will also play for the NZ Match Play Championship are..
Gemma Sullivan

Ming Menzies

Jenny Joynt

????
Looking forward to a great weekend of Match Play at Bella Rhaka.
Saturday and Sunday Dec 3rd & 4th
Bella Rhaka Estate - 581 West Coast Rd Oratia Waitakere Ph (09) 818 8880 Fax (09) 8188871
Accomodation available (and recommended, it'll be fun!) - $20 per night per person, bring your own linen (or add $5 laundry fee). Glenn Eden is the nearest town (just minutes away).
Simon plans to crank up the 2 BBQ's and Pizza Oven and there is a full kitchen. We'll have table tennis, foozball and the general disc golf banter.
Please let Simon know ASAP if you intend staying - you can call him on 021 653653 or email him here. They can accomodate 40, first in first booked!
Course will be available for play Thu and Fri before and maybe after work, but you'll need to contact Simon for that.
Saturday players meeting at 9:15am, all other info to come - stay tuned!
Welcome - Simon welcomes competitors to his place and explains the rules. But like most Kiwi men, Carson don't need no instructions.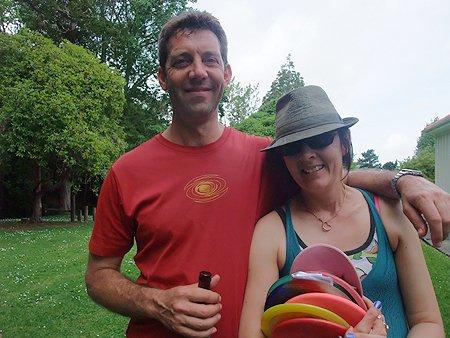 Welcome to our place - the disc golfers were very thankful to Simon and Yvette Feasey (and Talia & Katelin) for allowing them to play on the beautiful Bella Rhaka course. Bella Rakha offers excellent facilties for corporate retreats etc - see www.bellarakha.co.nz for details.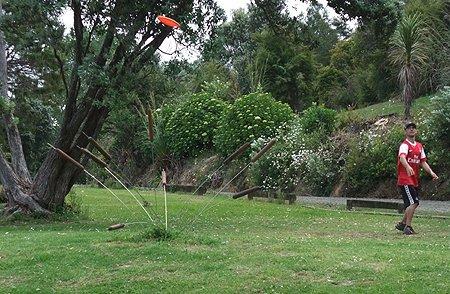 Art Everywhere - Simon and Yvette are slowly adding artwork throughout the property. Many people didn't even realise these [wot are they Bob?] were one of the pieces.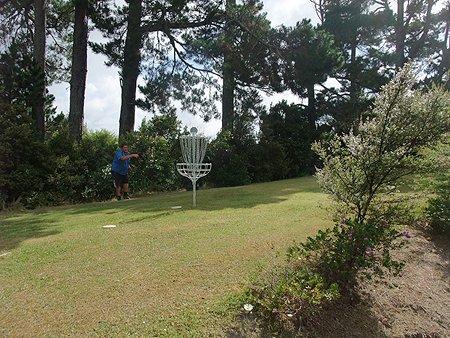 Perfect Design - And the basket looks good too. Designed by host Simon Feasey, these disc golf baskets are a work of art and we are sure it won't be long before the design is copied around the world. As for the design of top Levin golfer Shane Sullivan, that's a true work of art.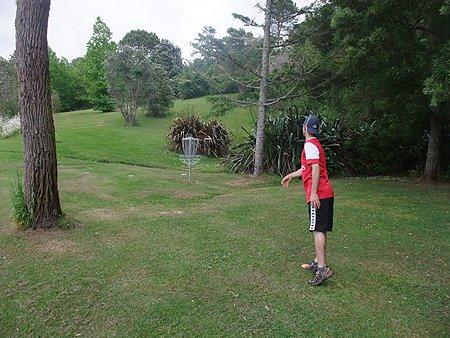 Relaxed and Accurate - Damo Peters knows this course well: he lives at the property! And therefore it should have come across as no surprise to see him in the final.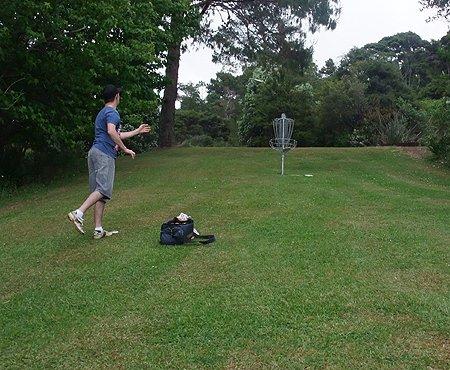 Speedos are cool - Auckland golfer Dave 'Speedo' Keene chips up to the 15th.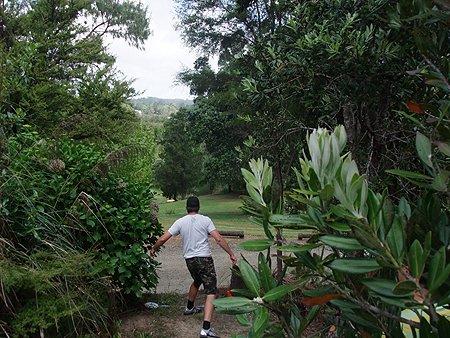 Downhill Leftie - Big arm leftie Brad Muir (Auckland) had to turn the dial down for the steep decline to the 17th.

New Balance - Appropriate gear as Lawton Williams (Levin) applies just the right power and finese on the short 17th.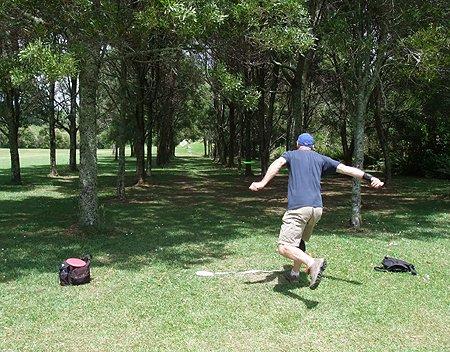 Straight As She Goes - Every course needs a hole like Bella Rakha's 14th (but just one! - ed.) where nothing other than a dead straight drive is punished.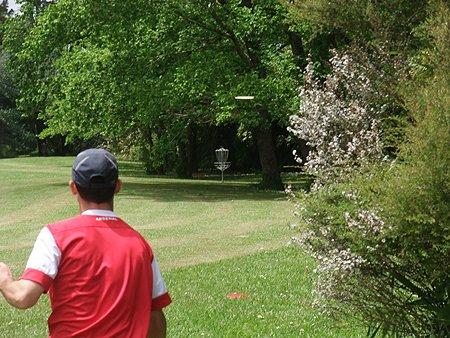 Overhang - xxxx.
back to top

Tall Timber Too - Another angle of Nick McKay's putt on the 16th.
back to top
The Results


See you there!