ASB Disc Golf Launch Raumanga Reserve
May 2007
IT IS WITH GREAT REGRET THAT DISCGOLF.CO.NZ REPORTS THIS COURSE HAS BEEN UNINSTALLED DUE TO THE HIGH RATE OF VANDELISM (what a sad state of affairs when a minority can ruin it for everybody else)
To support disc golf in Northland please contact the Whangarei District Council - your voice counts.
---
On Sunday May the 6th Sport Northland, ASB and The Pulse hosted the launch of Whangarei's FIRST Disc Golf course. It was a fabulous success which had people from all walks of life making their way around Raumanga Reserve playing Disc Golf.
The day got under way at 12:30pm as local Raumanga residents and families from all over Whangarei came for a game, kids arrived with their new Whangarei District Council 'putting discs', music was playing from the Sport Northland tent, local Raumanga Heights Frisbee fanatic John Gwillim ran some Disc Golf workshops and everyone had a smile on their face.
It was a stunning sunny day with everyone enjoying the beautiful Raumanga Reserve - one of Whangarei's hidden jewels. [For an added treat there is a short track at the end of the park that will take you up to the spectacular Raumanga Falls.]

You can access score cards from the Tourist Information Centre at Tawera Park, Sport Northland head office on Bank Street, ASB Leisure Centre (Kensington Fitness) Gym and The Pulse in Raumanga, or you can print one off from Sport Northland's website at www.sportnorthland.co.nz
"The disc golf launch at Raumanga reserve was a huge success" said Anna Batty, Active Living Manager of Sport Northland.

Sport Northland set up and ready to go


The locals are ready to play.


The par 4 hole 3 in the beautiful Raumanga reserve.


The ASB flags fly beside the new Disc Golf Course sign at Raumanga reserve.


It's a game for all ages as these two found out.


A wide range of locals came out to give Disc Golf a go.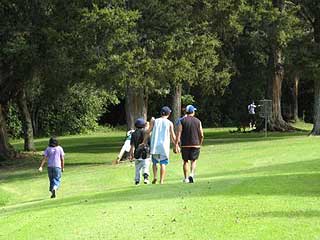 Another group head down the manicured fairway to the hole 4 basket.