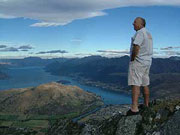 It seemed appropriate that on the same week that Bob was out teaching disc golf to school kids in Avondale in June of 2012 that word should come through of his induction into the Disc Golf Hall of Fame.
My involvement in helping maintain this website is due mainly to seeing the enthusiasm and dedication of a friend I made out on the One Tree Hill golf course many moons ago. Bob has thrown countless time and energy into the sport, including funding this website - which does a great job in promoting and informing - for well over 10 years now.
Below is the page that Sheree and I worked on as part of Bob's nomination. As you can see, we tried to make it happen without Bob knowing, that in itself was a lot of fun. Thanks to all of you who contributed to the content of this page, a great testiment to Bob's dedication.
Congratulations to Bob and Sheree, this highest of accolades for this sport is recognition of 1000's of hours in promoting the sport of disc golf in New Zealand and representing NZ well internationally.
Update July 2012 - Bob's induction has been getting quite a bit of publicity in NZ with articles in major news media and and interview on National Radio (click here for the mp3 [8.7Mb file])
Gabb
Click here to view the Disc Golf Hall of Fame website
---
This page serves to provide details for the nomination of Bob Gentil for the Disc Golf Hall of Fame.
Note that this has been done without Bob's knowledge, so please keep it hush hush if you have contact with him!
The nomination was made by Juan Unda (PDGA # 8547) on 28 February 2011. Juan (or Gabb as he is also known) has worked with Bob's wife Sheree to gain as much information about Bob's disc golf background as possible without arousing his suspicions. So far, so good.
Bob's contribution to the sport of disc golf has been enormous and in New Zealand second to none. He was involved in starting up the sport competitively in the country in the 70's and still is the major linchpin today in 2011, being the main point of contact for visitors to the country and fellow Kiwis wishing to learn about the sport. Bob has always been willing to meet players to show them around a course; he will often collect travelers from the airport and often hosts disc golfers from all around the world at his home, such is his generosity.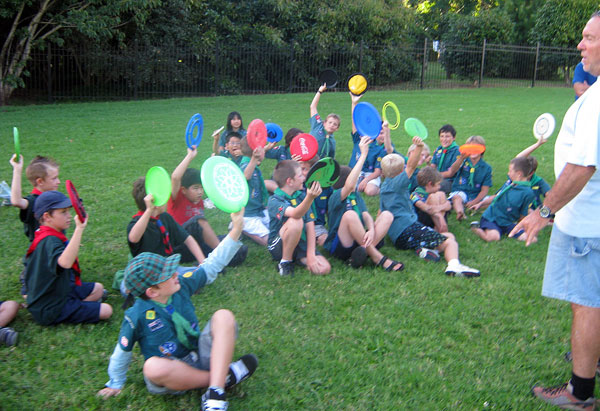 "Let's see your hardware!"
February 2011 and Bob Gentil continues his volunteer work by introducing the sport of disc golf to a group of Cub Scouts.
DISC GOLF HALL OF FAME
Biographical Information for Bob Gentil
Date Documented: February 2011 by Sheree Gentil and Gabb
NAME: Bob (Robert) Gentil
PDGA#: 8505
DATE OF BIRTH: 29 November 1953
PLACE OF BIRTH: North Shore, Auckland, New Zealand
EDUCATION: School of Life
COLLEGES ATTENDED: Avondale College, Avondale, Auckland, NZ
PROFESSIONAL EXPERIENCE: Radio Announcer and professional voice & act talent
OCCUPATION: Freelance voice talent & disc golfer
SPOUSE: Sheree Gentil
CHILDREN: Matthew, Nathan, Toby
PERMANENT ADDRESS: 50 Kauri Road, Birkenhead
E-MAIL: gentil@discgolf.co.nz
PHONE NUMBERS: +64 9 483 2900; mobile: +64 21 922 097
HOBBIES, TALENTS, INTEREST: Family, Disc Golf, Disc Golf, Disc Golf… sailing, fishing, skydiving, sport in general
AFFILIATIONS, MEMBERSHIPS:
NZFDA Inc, Life member [Membership #1]
NZDG Chairperson.
PDGA New Zealand coordinator
WFDF Disc Golf Committee
STATEMENT OF PERSONAL PHILOSOPHY AND GOALS:
Bob believes if you get something from your sport, (or anything for that matter), then put something back! His dream is to see permanent Disc Golf courses in every city around NZ.
HOW AND WHEN DID YOU BEGIN PLAYING DISC GOLF:
Bob started playing Disc Golf in the Mid 70's with locally made Frisbees he helped design and market, and then later with Wham-O moonlighters and 50 mold 141's on the beach with mates. After discovering organized Frisbee/disc sports while in Hawaii on a yacht delivery to the States in 1976, he came home and designed the first unofficial course on One Tree Hill Auckland.
DISC GOLF ACCOMPLISHMENTS:
Founding member of the NZFA Inc. [1978] which became the NZFDA Inc. Bob was the first President and is still chairperson of the board 33 years later. He also chairs the NZDG Committee.
Bob has never missed a New Zealand Championships in 33 years; in fact he's been TD for most of them and has been National Disc Golf Champion for many of those years as well.
Over the years Bob promoted Disc Golf and Disc Sports in general through his network radio shows, using his profile and position to attract sponsors for the events he ran. A great example of this would be the 2 years of Pepsi's support through the '7up' brand with an annual sponsorship package worth over $30,000. With this sort of support and publicity it wasn't uncommon for crowds of over 15,000 to turn up for the Grand Final.
From the early to mid 80's Bob was personally sponsored by 'Levis' which saw him competing annually at Tom Schot's 'World Disc Games' in Santa Cruz and also the Australian Championships.
Bob was the driving force that got a New Zealand team to Ann Arbor, Michigan in 2000 where they qualified NZ for World Games in Japan. He missed out on the playing spot but went to Akita as team coach and caddy.
While in Japan Blair Paulson and Dan Roddick asked Bob to serve on the WFDF Disc Golf committee which he happily accepted
Bob has been the New Zealand PDGA Coordinator for over 10 years. In 2005 he applied for and ran the very first PDGA sanctioned tournament held in NZ. The 2005 'Taupo Classic' was a 'C Tier' event, as has been ever since along with the other two events he organizes and TD's on the 12 stop NZDG Tour.
Bob owns www.discgolf.co.nz which has become the 'go to' web site for Disc Golf in our part of the world. Through it he keeps players and interested parties informed about the sport and local and international events. He also photographs and reports on all the events he attends and encourages others to cover the odd event he misses. www.discgolf.co.nz has pretty much become the NZDG site.
Through the site Bob has become the first point of contact not just for visiting players but also for schools, scouts, guides and corporates wanting to 'have a go'. It's not uncommon for him to be calling on mates to help take a school class or a scout group who are keen to play, or organize a day for 'corporate bonding', voluntarily just to grow the sport he loves.
Bob has put together a Disc Golf proposal that he keeps up to date and makes available to anyone who is keen to present it to their local city council. He also offers his services for anything else he can do to support the application. This has lead to him being involved in the design and installation of numerous permanent courses around the country.
To enable local golfers to play on world standard Disc Golf targets Bob made a personal investment to have a proto-type basket made from which a design was finalized. Now hundreds of baskets are gracing courses and back yards all over the country.
FAVORITE DISC: Innova's Aviar P&A & Katana
FAVORITE COURSES: Spa Park temporary course Taupo NZ; Monte Cecilia competition course Hillsborough, Auckland; DeLaveaga, Santa Cruz
FAVORITE TOURNAMENT: New Zealand Disc Golf Championships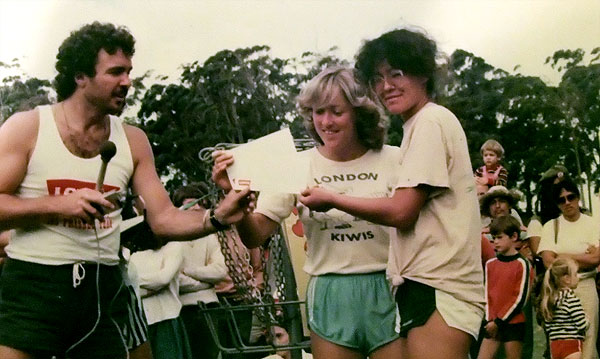 The hair styles and shorts give it away - 1979 and Bob Gentil presents prizes to a couple of disc golf gals.
---
TESTIMONIALS
We asked some of New Zealand's leading disc golf players and personalities to provide their little bit about Bob and his influence on them and the sport in New Zealand:
Having Bob Gentil inducted into the Disc Golf Hall of Fame would be an example. An example that over three decades of participating and organizing and promoting and administrating and teaching and being the nation's driving force behind our sport is not just commendable, but rightly recognized by Disc Golfers everywhere as outstanding service. - Nigel Hailstone, Kiwi Disc Golfer
James '' Jaguar " Smithells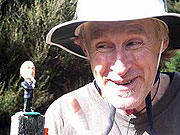 The Jag has been part of the disc golf scene for as long as Bob. Hailing from stunning Queenstown, a top tourist destination in the far south of New Zealand, James was behind the creation of our first -and still most popular - permanent Disc Golf Course at the Queenstown Gardens. James has been organising the Queenstown Classic for decades which includes playing at the spectacular Paradise Course. It is worth your while checking the story out: go to this page regards the Gardens and this page regards the Paradise tournament for 2010.
Larger-than-life, friendly, very helpful, generous, highly organised, and the most dedicated contributor to and driving force behind New Zealand disc golf; that's Bob Gentil.
Not to mention a consistently top player. Although Bob and I both started playing in 1976, we didn't meet until 1991 when I first attended Nationals.
In 1995 I led a group of friends in establishing the first permanently marked disc golf course in New Zealand, in the Queenstown Gardens. Bob generously donated a basket, which was initially the only one on this course. He became a regular attendee at our annual tournaments and has an unbroken string of titles here since 2001. As the long-standing Tournament Director, Bob has been exceptionally helpful to me in contributing to the running of these tournaments. He's always been ready and willing to help with registration, explain rules, check scores, organise groups etc.
On the national scene Bob has organised countless tournaments and assisted numerous other TDs with the running of their tournaments. In addition he has set up the go-to website for disc golf and has promoted the national tour. The increasing popularity of disc golf and the proliferation of permanently marked courses are in no small part consequences of Bob's efforts. I believe that he has done more than any other person in New Zealand to promote disc golf here.
The only complaint I have about Bob is that he's always in my Division and is virtually impossible to beat! The only question I have about him is how can a scrawny little runt like him play so well?
James '' Jaguar " Smithells
Queenstown, January 2011
---
Fiona '' Ming Kaching" Menzies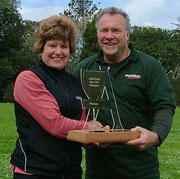 Ming 'Kaching' Menzies comes from a stalwart of Kiwi disc golf: Tauranga in the Bay of Plenty. She has won numerous titles and represented New Zealand overseas. And she can still be found top of the overall rankings despite now being in the Grand Master division. Ming's PDGA membership number is 8544.
I started playing disc golf in my late twenties when I met my husband who played. It is now more than 25 years later and I still love the game. I play at least three times a week and usually compete in at least six out of the twelve tournaments in the New Zealand disc golf tour each year. I was the New Zealand national champion from 2004 until 2009. I also attended the World disc golf championships in 2008 where I was placed second in the amateur women's grand master division. I have two sons who love the game and who play tour events very well.
To me, Bob Gentil is "Mr Disc Golf New Zealand." I first met him in 1991 when I competed in the New Zealand nationals for the first time. Bob was the organiser of all the disc golf events back then, and full of enthusiasm for the game that he loved. He gave me my first golf disc at that tournament (I was playing with the "floater" throw and catch discs until then) and I went away determined to get better.
Bob gave me lots of encouragement and advice on how to throw golf discs. I remember him suggesting I try a light weight disc and he gave me a 150g XL. It completely changed my game as I could throw it so much further. I became more competitive against the men after Bob introduced women's tees at tournaments.
Bob is responsible for developing most of the disc golf courses in New Zealand. We now have a fantastic tour comprising of twelve tournaments where we are able to earn tour points. We vie for a spot in the top sixteen so we can compete in a final matchplay format final. These tournaments take us to beautiful places around New Zealand to meet up with fellow disc golfers and to play great disc golf on great courses.
Bob is tireless in his efforts to develop the game in New Zealand and we have many new courses and players due to his passion.
I definitely support the nomination for Bob Gentil to be inducted into the Disc Golf Hall of Fame.
Fiona Menzies aka "Kaching Ming"
---
Andrew Taylor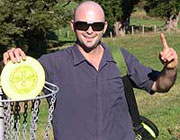 Andrew Taylor and partner Karoline Jonsson are regulars on the NZ disc golf tour and are more often than not the organisational force behind tournaments in the beautiful Bay of Plenty region. Andrew's PDGA membership number is 35771.
Without Bobs commitment and passion for the sport, Discgolf in New Zealand would still be in the dark ages. Through his input and motivation we now have a healthy and vibrant national tour with events spanning the country and hundreds of players competing.
Not only has Bob been instrumental in creating the foundations required for Disc Golf in New Zealand to flourish, he has been, and is still, a tough competitor on the tour and is can show the field a trick or two.
Andrew Taylor
---
Martin de Haas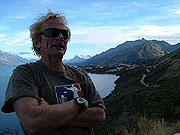 Marty is a regular feature on the New Zealand circuit and has supported Bob in running many a tournament and features up in the ranks often with his solid left hand drives and no holds barred putting ("win or go home!").
I first started playing disc golf at Morley Field discgolf course in San Diego 27 years ago and returned to New Zealand in the early 90's full off enthusiasm for discgolf and certain that no one had ever heard of the game here.
However during a casual round at a target course in Auckland with a friend we were spotted by Bob Gentil who quickly introduced himself and in the ensuring conversation I was blown away by the fact I could now get new plastic and there was a tour event happening in New Zealand.
I have since become a regular player on the New Zealand Discgolf Tour which is highly organised and the events staged in some of the most iconic and beautiful locations in New Zealand.
I have no doubt in my mind that none of this would have occurred in N Z without the drive, commitment and effort put in by Bob. Whether it's a casual round in the park where Bob will always stop play if any other park users have the slightest interest in our game and talk to them and try to get them involved. Even if it's to let them have a few throws or promote the National Championship Bob will give %100 to continually grow our sport .
It would be fantastic to see Bob inducted into the Hall Of Fame as having been involved in many different sports myself at a competitive level I have never encountered any person who puts so much time and effort into the sport he loves.

Martin de Haas
---
Pete Boyle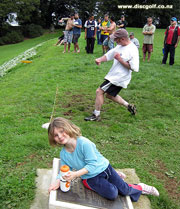 Pete is quite a legend in the New Zealand with his unique throwing style of the forehand with his bag always over his shoulder. Even for the big drives! Living in Taumarunui in central North Island, Pete has introduced the sport to many locals and so the forehand technique is predominant in many a New Zealand tournament. His influence reached the highest level in 2010 with Taumaranuian Blair Joines winning the National title which he successfully defended at Hamilton in February of 2011. Pete's PDGA membership number is 8550.
I would like to endorse the nomination of B.G into the International Disc Golf Hall of Fame as his contribution to the sport in NZ fully warrants this action. I first met Bob (in Santa Cruz coincidentally enough, in 1982) when he was over to play in the Worlds at that time and over the intervening years, have seen him work tirelessly in the promotion of D.G. in NZ.
His website is the de facto face of DG in NZ, unifying all aspects of the promotion and running of the sport and without that forum, we would be a much lesser entity than we now are.
I know it hasn't been easy for him to keep it all happening and it is to his credit that in spite of some difficult periods, has done an excellent job of trying to build the profile of DG here in NZ.
As you know, he plays in the GrandMaster division, but for many years, has also been referred to by those in the know as the GM of DG in NZ, purely on the basis of his prestige in NZ circles and not his playing division.
I hope that his nomination is accepted as he is pre eminent and without equal in NZ and fully deserves this accolade
Pete Boyle
---
Simon Feasey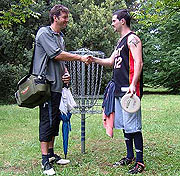 Simon is multiple times New Zealand Disc Golf Champion and has represented NZ in World Games and more, winning an exclusive competition in Japan and holding the World Mini Disc Golf Champion title in 2001. Simon's PDGA membership number is 8508.
Bob was the first real disc golfer I met. It was about 12 years ago that my Ultimate friend Shane suggested we go and play golf with our Frisbees. We headed off to One tree Hill in Auckland and started throwing around our ultimate discs and a single golf disc that we had got from somewhere - a Shark from memory.
While we were there we met a couple of older guys throwing these golf discs with great talent. I was enthralled and wanted to get hold of some of these discs. Bob helped us get some discs and we were away. Bob and Neil saw our potential as golfers and soon challenged us to matches for wine. I think they thought we would be easy meat! We played once a week for a month or so and slowly but surely we started winning a few.
Shortly thereafter we stopped playing for wine. However it got me all fired up and interested in competing, I played my first tournament the Crater Cup at the One Tree Hill course and found out that others were playing events down country.
Bob told me about the World champs and an up and coming World Games that was really going to propel the sport. He was really keen for NZ to qualify and we went about planning a trip to the US Disc Golf Worlds in a bid to qualify. Bob put a heap of work together with a group of us to run a successful team campaign and get to Japan.
Around this time we also decided to formalise a NZ Disc Golf Tour and Bob was and still is very instrumental in keeping this going together with running a number of events each year.
I have traveled to many events with Bob and competed many times against him and his love of the sport and passion for the game is unrivalled. He is one of the God parents of NZ Disc golf.
Simon Feasey
---
Barry Keene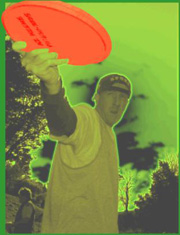 Barry has been playing the sport of disc golf for over 20 years with his band of merry men Freaky Styley. Known for his high energy run-from-hole-to-hole game, Baz - like many quoted here - met Bob through the sport.
A group of friends and I wondered up to a park one day with some beaten up old frisbees to give "frisbee golf" a go, a sport we knew nothing about but had heard through the grapevine was a lot of fun.
Whilst at the park we bumped into a couple of guys who seemed to know what they were doing so we jumped on board. One of those guys was a bloke by the name of Bob Gentil, a man now affectionately known as "THE GM" that was more than 25 years ago.
At the time we had no baskets so aimed at trees and our frisbees were dog bitten plastic floaties, now 25 years later we compete in a well organised nationwide sport more correctly known as disc golf and all this fundamentally due to the efforts of one Bob Gentil.
Bob has driven the introduction and funding of baskets to our courses, overseen the importation of official PDGA discs, hooked us up with the International PDGA organisation so we now have a global perspective on the sport, formed a national disc golf committee, driven the promotion of our sport through both radio and television, instigated and managed the promotion of disc golf into schools and ofcourse has had significent input into the design of many of our courses.
I am currently competing in a nationwide tour culminating in our season ending New Zealand matchplay championships all due to BOB. I along with a whole bunch of disc golf fanatics nationwide could not think of a more worthy recipient in regard to Hall Of Fame Status than one Bob Gentil.
Speak to anyone in the sport right across New Zealand and they will tell you that we owe so much of it to our legendary "GM" Bob Gentil.
Barry 'Baz' Keene
---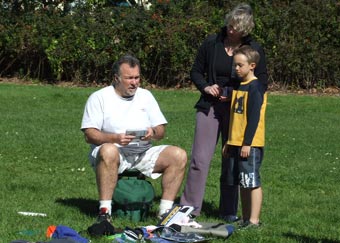 Family support - 2006 and Bob Gentil collects cards at his local Auckland Championships which he has organised since, well, ever! Bob's wife Sheree and son Toby ever ready to lend a hand.