Saturday the 17th of February saw the installation of 8 new pole holes (baskets) at the Frisbee golf course in the Queenstown Gardens, bringing an end to a series of major course upgrades which have taken place over the last 4 months.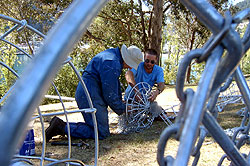 Basket Assembly
Following meetings with QLDC Parks Manager the improvements to the course are inline with the councils Queenstown Gardens Management Plan. With a lot of donated time, money and equipment Queenstown now has Frisbee Golf course that is, as one person described "very shiny".
Starting in early October with the installation of new tee pads, the course has been receiving significant improvements all summer, including the laying of Ground Guard to protect the grass areas around the tees and holes.
The 8 new pole holes mark the end of the target upgrades, which have been installed to protect the root systems of the old target trees which have been in use since the inception of the Queenstown Gardens course in 1996.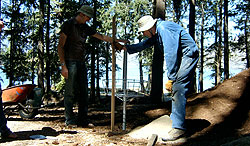 Ensuring regulation height is adhered to
"The new tees, tee markers, and extra sets of chains for the basket holes are our own initiative to improve the course," said James Smithells of Queenstown Frisbee Golf.
The first major test of the new holes will come on Saturday the 11th of march when the 12th Annual 'The Helicopter Line Queenstown Calssic'
tournament will be held. The new holes have been set up to meet the NZFDGA (New Zealand Flying Disc Golf Association) regulations, insuring that the Queenstown Classic will stay part of the national tour for years to come.
Pole Hole Construction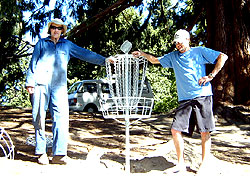 New hole - #3
A big thanks to the NZFDA for supplying the pole holes, Fulton Hogan Central, Ironwood Recycled Timbers Ltd, and Ground Guard for supplying the materials needed for upgrades, and to James Smithells, Uan Spijkerbosh, Nathan Howie, Lee Eliott and Regan Caldwell for the time and effort they have put in over the last summer helping to upgrade what has to be one of the most scenic courses in the country.
Article Written By Regan Caldwell - Courtesy Queenstown.com