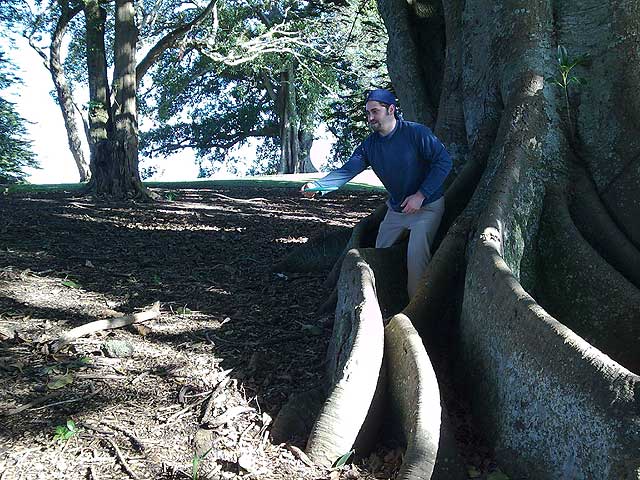 Visiting US Disc Golfer Ross Trevor tangled in the roots of a 150 year old Morton Bay Fig Tree as he putts out hole 16 at Auckland's Monte Cecilia.
After having travelled through the South Island, by myself, searching out both New Zealand disc golf courses and Lord of the Rings set locations, I actually found it a bit easier to enter Middle Earth than to find hole 1.
Of the courses I played that were outfitted with both a course map at hole 1 and permanent baskets - these being Waiheke Island, Twizel, and Queenstown - I had a superb time playing and had very little problems finding my way through.
New Zealand has some of the most beautiful scenery to play disc golf around. Going from information I found online, I also tried going to courses that were not labelled nor had baskets. While the locales were beautiful (Wanaka, Paradise, Christchurch, One Tree Hill, Tongariro National Park), I found it much too difficult to find my way around, and just didn't play. Online, under the course descriptions, were contact numbers for local players who could meet up and guide you through the course. At first, this seemed odd because I hadn't yet realized just how friendly most Kiwis are. I didn't call the contact numbers because I felt I'd be imposing by trying to get a round in on my already tight schedule. Because of this I ended up not playing the courses.
In the afternoon, on the day before my flight back to America, having just jumped off the Sky-Tower, I was extremely happy with my time spent in New Zealand, but I still felt I hadn't quite experienced NZ disc golf to the fullest. Looking online I saw that there was a weekly game at One Tree Hill in the evenings. I called the contact, Grandmaster Bob Gentil, and upon getting no answer I just assumed I would probably be imposing by looking for guides to play with me at the drop of a hat.
Bob returned my call soon after and informed me that during the winter there were no evening games but that the next morning there was a round of disc golf planned among some of the local players. My flight was at 2:30 pm and they were planning on starting around 10 am. Making me feel like anything but a nuisance, Grandmaster Bob offered to pick me up from my brother's flat in downtown Auckland, drive me to the course, and then after the round, give me a ride to the Airport.
At about this time I started wishing I'd called all those contact numbers listed online. The local players are very friendly and keen to play a round. You can't blame them; the courses in NZ are unlike anything I've ever seen. Just calling the local contact and trying to find a mutually convenient time to play a round is a much better alternative than thinking you can go out to the course and find your way around by yourself.
With Bob and Nigel, I played the Monte Cecilia Park course in Auckland. They were very friendly and very helpful with showing me the course. By the end of the round I knew every tee and object location, what kind of hazards to watch out for, local rules unique to New Zealand casual rounds, funny anecdotes about past rounds at Monte Cecilia, and even that one must grunt on a certain hole on the drive in order to not be penalized a stroke. I couldn't have asked for a more accommodating set of hosts. Again, many thanks to Bob and Nigel!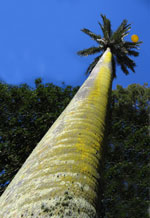 While the Queenstown Gardens course had recently taken top billing as the most beautiful course I'd ever played, Monte Cecilia Park quickly stole that title. Even having no baskets, and only playing it once, Monte Cecilia is damn close to my favourite course. Huge sloping hills with the greenest grass, and enormous, old as the hills, trees scattered all around. There are long drives down vast expanses of green valley, mixed with throws over orchard-looking patches of trees, and throws through patches of enormous old trees, giving you the feeling of navigating a tree cave. At certain times, underneath a canopy of these old trees, you literally felt like you were indoors in some kind of "natural cathedral". Pretty sure Bob used that line. The roots on these trees were unlike anything I'd seen before, rising 3 and 4 feet high out of the ground at a slope similar to New Zealand's South Island mountains. The roots actually looked like spines of mountain ranges extending off of these unreal, Jurassic looking trees.
There were also these pine trees who's abnormally large needles would grow up, creating a kind of disc catcher, making some holes that much more interesting and fun to play. The views in the distance, surrounding Monte Cecilia, were just as captivating. Just having played the course, I felt suddenly that I'd completed my trip to New Zealand.
Getting on the plane, I knew I'd have to come back at some point to play all the other courses I missed - the ones on One Tree Hill, especially. I think New Zealand could be something of a mecca for disc golf. I've travelled to a number of states in America to play disc golf, and haven't seen anything like some of the courses here. Fully basketed and identifiable holes would be an immense help to the sport in New Zealand. I talked with a number of my brother's friends at the University of Auckland who were interested in disc golf but hadn't realized that there were courses around. With the sport growing as it is, and the marginal cost of putting a course together, the unique natural features of New Zealand lend themselves handily to creating yet another great reason to visit the country.