Monte Cecilia Park. November 15 & 16 2014

The 2014 Auckland Disc Golf Championships.
With the last three events on the NZDG tour all being effected by weather (Wellington heavy rain, National Park rain, sleet and wind and Wanaka howling gales), most players had their fingers crossed that they would get to play the temporary Monte Cecilia Championship course in fine sunny conditions. Alas, they would have to wait till the Sunday to do that.
The forecast for Saturday was for winds gusting to 90kph and it didn't disappoint. At least players were able to vacate the park just before the torrential rain came down which lasted most of the night (saving on security: no one was going to be getting up to mischief in the park in weather like that!).
So as you can imagine frisbees and wind are not the best of friends so it was going to affect the scoring. And that it did. Keith 'Woody' Inwood playing Masters shared the lead after the morning round with Brad Muir equalling his one under 57. The rest of the field were all over par, including the multi time NZ Champ Simon Feasey who turned in what he called his "worst competition score ever".  This did in some ways comfort many competitors, knowing he's human.
After the second championship round things were still outta whack with the SGM GM sharing the lead with Logan Papuni. (We think he bought a lotto ticket that night on the way home - ed.)
Sunday morning and the day couldn't have been more different. The wind had dropped considerably and swung to the southwest which means most of Monte is 'out of it' - the wind that is. This helped some players but a few had trouble getting a grip on the near perfect conditions...just didn't seem right, something was missing.
Following the full 18 hole third round we cut to the 'Super 6', which looked like this; Logan Papuni [O], Hazen Simson [O], Nigel Hailstone [M], Pete Boyle [GM], Hadyn Shore [O] and The GM [GM]. Nigel decided that he was happy with 6th and really needed to rest up his damaged throwing arm ahead of heading off with the New Zealand team to the Australian Disc Golf Champs next weekend at Lake Macquarie just up the coast from Sydney so pulled out of the 6, so an intrepid '5' took on the Safari Super 6.  
Heading into the Super 6 Logan had a 3 shot buffer over our visitor from the Southern Alps Hazen Simson, after hole 1 that was cut to 2, after hole 3 it was cut to 1 and by the time hole 5 had been completed they were all tied up. On hole 6 of the disc golf display Hazen had a chance to take it with a 9 metre uphill putt, but was impeded by a solid tree trunk between his lie and the basket. An honest attempt ... a sudden death playoff was called for ... Extra hole 1 and they both par it, Hazen missing a 10 metre put and Logan missing a 12 metre run at the basket.  Two great drives on extra hole #2 saw them both with 8 metre putts to make, Hazen's up first by a whisker and to the amazement of the gallery sends his nerves put over the basket. Logan takes a few seconds to re-focus, puts his foot on the mark, takes a couple of deep breaths and goes through an exaggerated  pre-put routine ... BANG! ... nothing but chain ... and Hazen is the first to shake his hand.
Well done Logan ... We know you've taken out an Open Championship win earlier in the year at Tauranga but to clinch your first event win and a 60 pointer at that was well deserved.
Congratulations also to another first on the NZDG tour as well ... let's not over look Jenny Joynt taking out her first win over Ming Menzies by 3 shots, they'll be partying in Tokoroa all week, maybe a parade down the main street and a mayoral reception.
In other results Nigel 'The Prez' Hailstone took out Masters, Pete Boyle Grand Masters, Ian Robertson SGM, Toby Gentil J18 and Talia Feasey J12.
We also had 4 Open Rookie players and that title went to first time tournament player Tony Donaldson. Good skills all!
The Pictures
Click here to see pages for past events: 2016 | Woodhill 2016 | 2015 | Woodhill 2015 | 2014 | Woodhill 2014 | 2103 | 2012 | 2011 | 2010 | 2009 | 2008 | 2007 Matchplay Champs | 2007 | 2006


Lining Up - The J12's and chaperones ready to go on the Saturday morning.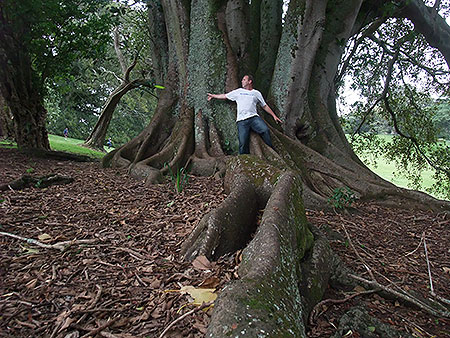 Rooted! - Christchurch Disc Golfer Chris Davies tangled up in Morton Bay Fig timber. Calendar photo shoot?

Grassy Knoll - Christchurch plains golfer Chris Davies having trouble with elevation. Bit like a NASCAR driver turning right!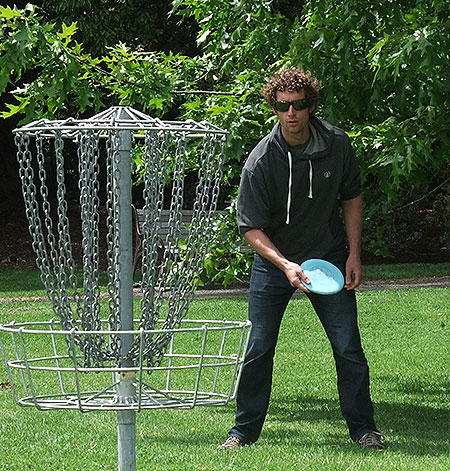 Lone Birdie - Hazen Simson. One of the few to 3 the par 4 238 meter Full Monte over the weekend.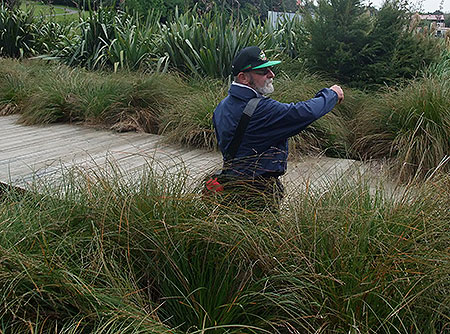 Grassy Knoll II, the shooter - Taumarunui's Pete Boyle quite at home in the tussock.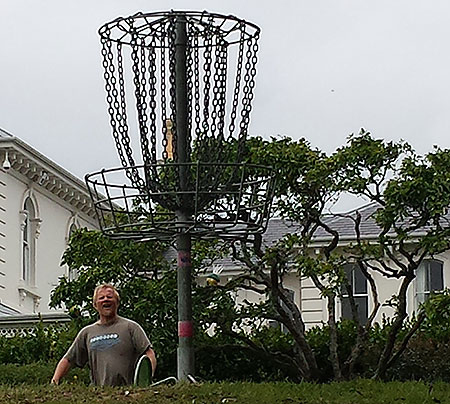 "Oh, gust of wind, someone coughed, I gotta sore elbow, basket's not regulation height, Len Skap in the way, not enough breakfast..." - Looking to blame everything but poor skill, DV Haas is gobsmacked as he misses an absolute sitter, this time in front of Monte Cecilia House under the gaze of a non-plussed statue.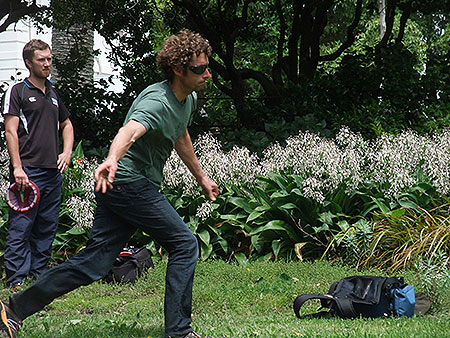 Put a rengarenga around that one - The hunter and the hunted. Hazen on the charge in the Super 6.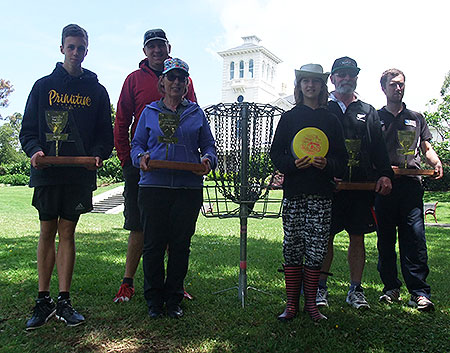 The winners - Toby Gentil J18, Nigel Hailstone Masters, Jenny Joynt Woman's, Talia Feasey J12, Pete Boyle GM's and Logan Papuni Open and overall.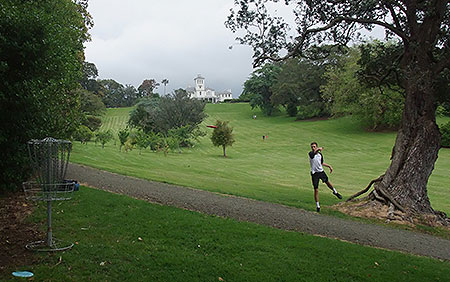 Monte Mentor - 9 time winner of the Junior title Toby Gentil outs under the gaze of the club rooms.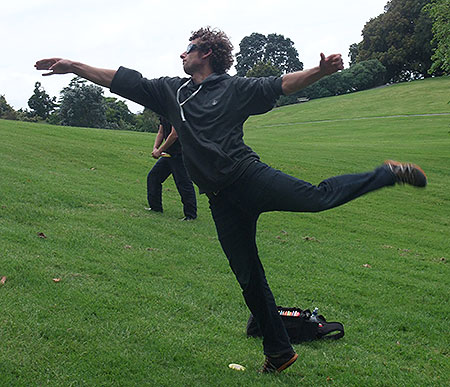 Balance, Poise - Wanaka's Hazen Simson auditioning for the Royal NZ Ballet. Pretty to watch.


Trapped - We were there to watch with Ming Menzies in disbelief as her disc stayed wedged in the tree despite the entire branch being tossed around by the wind like a marker disc in a washing machine. Alas, Ming was forced to take the penalty after DV Haas started counting her down.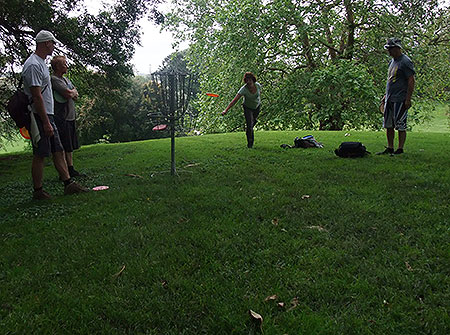 Only One Level Head Here - Juan Unda, Marty de Haas and Dave Serf watch Ming put out on the 8th.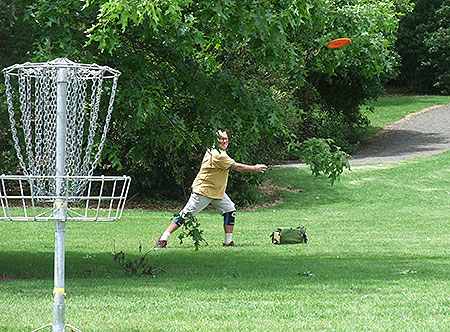 Curve and Swerve - The GM sneaking up on the Full Monte in the Super 6.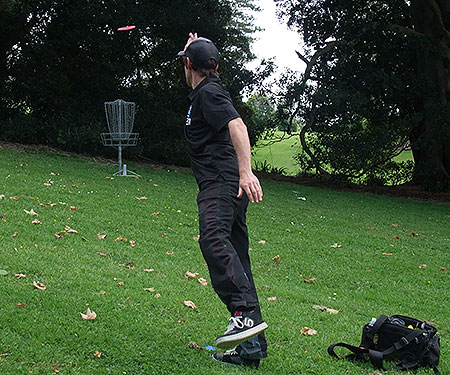 Chip & Chase - Woodhill 's Hayden Shore with a nervous up shot on hole 2 of the Super 6.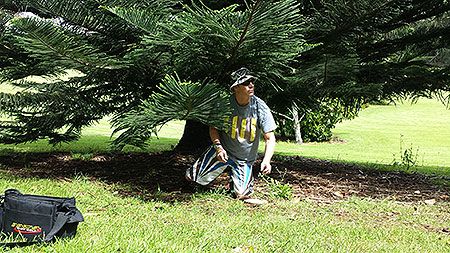 Kneel, Kneel, Orange Peel - Making one of his 1 to 2 annual appearances on The Tour was Dave Serf, an original of the circuit but this time solely focused on the coveted yet strangely absent DAKAR Trophy of Steel.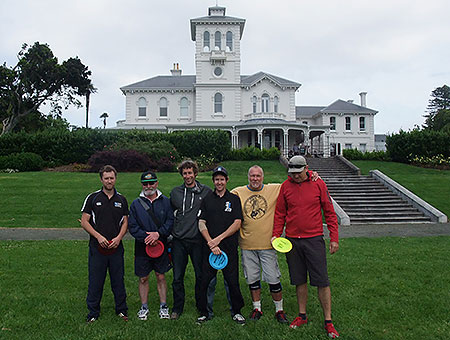 The 2014 Super 6 - Logan, Pete, Hazen, Hayden, Bob & Nigel.


Champ - The style of Logan Papuni on his way to his first Championship win and 60 points.



Waikato Upshot - Veteran Disc Golf tourer and Auckland Champ Jenny Joynt shows some of the lads how to perform the Tokoroa Toss, achieving unbeliveable uphill distance.



Getting Carried Away - Multi NZ Womens Champ Ming Menzies is wary of the strong westerly on hole 17 where even the lightest throw can see your disc picked up and carried away from the park towards Mangere Mountain pictured in the distance.



Art in the Park - TD and long time disc golfer advocate Bob Gentil dreams of seeing permanent courses in the city of Auckland like this. As current players are very aware, this sport encourages people to get outdoors and enjoy our wonderful environment with a nice competitive edge. Cheap to play, highly addictive and for all ages - disc golf.

back to top
The Results for 2014 Auckland Disc Golf Championships
Monte Cecilia Park. November 15 & 16 2014
Player
Division.
Rnd.1
Rnd.2
Rnd.3
Super6
Total
Div Place
1
Papuni
Logan
O
60
59
56
21
196
1
2
Simson
Hazen
O
59
63
56
18
196
2
3
Boyle
Pete
GM
60
62
59
18
199
1
4
Shore
Hayden
O
62
60
59
20
201
3
5
Gentil
Bob
GM
61
58
64
19
202
2
6
Hailstone
Nigel 'Prez"
M
62
58
59
179
1
7
Inwood
Keith 'Woody'
M
57
66
61
184
2
8=
Sanai
Chris
GM
60
65
61
186
3
8=
Gentil
Toby
J
62
63
61
186
1
10
Davies
Chris
M
61
62
65
188
3
11=
Cooper
Des
GM
64
64
65
193
4=
11=
Proctor
Michael
GM
66
63
64
193
4=
13
Fargher
Steve
O
66
68
63
197
4
14
Donaldson
Tony
O/R
71
69
70
210
1
15
Human
Geoffrey
O/R
74
74
64
212
2
16
Joynt
Jenny
W
73
73
71
217
1
17
Denton
Jesse
O/R
73
71
75
219
3
18
Menzies
Fiona 'Ming'
W
73
80
68
221
2
19
Robertson
Hana
W
91
80
79
250
3
20
Greer
Chris
M
86
85
81
252
4
21
Robertson
Ian
SGM
95
91
81
267
1
22
McKay
Nick
O
64
999
59
1122
5
23
Unda
Juan
GM
71
64
999
1134
5
24
Hartley
Dave 'Serf'
M
73
66
999
1138
5
25
Taylor
Zane
O/R
76
73
999
1148
4
26
Muir
Brad
O
57
999
999
2055
6
27
de Haas
Marty
GM
63
999
999
2061
6
28
Mayson
Tim
O
64
999
999
2062
7
29
Feasey
Simon
M
66
999
999
2064
6
30
Hartwell
Lance
O
71
999
999
2069
8
31
Prothero
Richard
O
74
999
999
2072
9
O/R = Open Rookie
Junior 12 & Under Competition .. 2 X 9 Hole rounds.
1
Feasey
Talia
J12
46
46
92
1
2
Smith
Kevin
J12
48
48
96
2
3
Feasey
Caitlin
J12
54
54
108
3
4
Smith
Glen
J12
50
999
1049
4