More Magic at Majestic Monte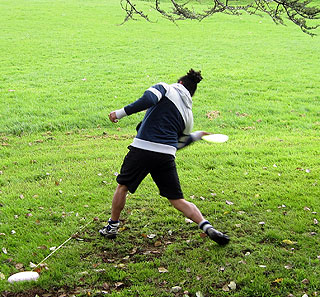 Athlete at Play - Relative newcomer to the sport Ariki has brought some great enthusiasm into Auckland Disc Golf. And a bunch of mates who are all getting into it also! Here Ariki fires a textbook forehand uphill for Hole 13.
By Nigel Hailstone
The Auckland Disc Golf Championships at Monte Cecilia saw the turnout of over 35 players over the weekend of 12 and 13 September. Probably one of the strongest fields of the year gathered to enjoy Auckland's "Premier Discgolf Park". Representation from Auckland locals, the Bay of Plenty, Hamilton, Tokoroa and Taumaranui, and travellers from the Peoples Republic of Waiheke and the Mainland arrived to lush Spring conditions and the north easterly wind transforming Monte Cecilia's slopes.
The trees in this park are so impressive that baskets become insignificant in scale which, along with the wind, may explain why so many players would find leaves before chains. The normally sheltered fairways played longer and predictable discgolf vanished for the average player. The north easterly and its attendant squalls would spice the first two rounds for most players with the green walls of leaf on the magnificent canopies turning out their silver undersides.
And so the wide spread of scoring on day one of the Championship was to prove. But control in all conditions is a fundamental of top disc golfers and the top players opened their accounts with successive sub par rounds. By days end the tourney leader Simon Feasey was 12 under par, fine form in the conditions. Also showing how to score was Baz Keene with 18 successive holes parred.
As well as low scoring, appearing on the first day was a full time caddy in support of a leading tour player. Caddies often come from the player's ranks and so was the case here when Gene Tutaki, intermittent tour player in recent years took up the lifting duties for Blair Joines, the tour's points leader going into play. Blair's enthusiasm for this arrangement saw his caddy still in attendance in the playoff where he invited the gallery to "make as much noise as you like" while Blair prepared to putt. Whether as has been suggested, the caddy was paid in amber beverages and found favourite discs less profitably lugged than favoured liquids, remains unconfirmed.
Perhaps predictably for Auckland, the weather became sufficiently balmy for sunscreen to break out on the second morning and after tales of woeful All Blacks and Arsenal performances battle resumed. The now nearly benign conditions allowed many to turn in their best rounds and restore windblown egos while deciding the afternoon finalists. Mutterings for four rounds in the big tournaments resurfaced as players reveled in their surrounds.

The now familiar super six format became a super eight over six when Grand Master Pete Boyle dropped a late two shots in an otherwise typically impressive regular play performance to allow Blair Joines and David Keene in on ties. Damien Peters with a superb 49 shot final round kept honest Bob Gentil and Marty de Haas while Mario Cernier must wonder how low he has to go as once again Simon Feasey showed his 2009 Worlds top 10 form. Leading by six shots after three rounds of regular play, Simon included in those rounds a new course record of 47 (11 under par) while leading the tournament throughout. He also took on the path less travelled on the 3rd hole and was rewarded with a spectacular skip ace. All of which explains why he has as of now taken over first place in the tour with four perfect 50 point scores.
Simon's frontrunning was not to be undone in the super six playoffs with the action being for the minor standings. Marty de Haas settled the chase for third with a birdie put of 12 meters on the final hole to edge out Damien Peters by one stroke. Mario played matchplay golf covering the chasers as after four holes of extra play he still needed a six shot turnaround to take the title. Other super-round highlights included the crowd pleasing nonchalance of Pete Boyle and the round the pin and roll away antics of any disc David Keen threw.
The tour continues to evolve with the field including all divisions between Juniors and Senior Grandmasters with a growing field competing for the Women's title. Representing the Senior Grandmasters, Nigel Barnwell's final round 60 not only made him a division winner but achieved that considerable and commendable golfing feat of shooting his age.

That Maori TV, the country's de facto public service broadcaster attended the event and played coverage later that evening (still available on their website) is to their credit. Maori TV increasingly represent the diverse interests and pursuits of New Zealanders that don't find room on the commercial broadcasters, despite the charter. New Zealand discgolf will continue to provide great pictures for any broadcaster prepared to take the effort. With our collection of some of the worlds more aesthetically impressive courses the opportunity to expose our sport is to be welcomed.
Also appearing in a kamikaze cameo was none other than Juan Unda, a.k.a. the Mad Mexican of Mangere, Discgolf NZ webmaster, and the man that took Len Skap's photos, back from his reconnaissance of the US discgolf and mountain bike scene. His Unda-hand effort to unsettle fellow Freaky Stylist, Marty de Haas on the 4th tee with a signature mountain bike drop-in was mis-timed and an unwanted handlebar enema on an unsuspecting participant was only narrowly averted . Lets hope we see action from his arm on the tour soon.

Division winners:
Womens Ming "Ka-Ching" Menzies
Juniors Toby "who are those guys that nearly beat me?" Gentil
Open Simon "constant fluke" Feasey
Masters Marty "the ginger didn't crumble this time" de Haas
Grand Masters Bob "lets get baskets in here" Gentil
Senior Grand Masters Nigel "bigger and better" Barnwell

And finally thanks indeed to Bob Gentil, TD, and all those who assisted in the successful staging of this event which showed our game to be in good heart. Or as Baz Keene was heard to earnestly intone, "there's been a great buzz this weekend". And so there was.