Lismore Park Wanaka November 1 & 2 2014

The 2014 Lords of Lismore Disc Golf Championships.
Flying into Queenstown is always a treat but better still, this time I was met by Christchurch golfer Chris Davies in his classic Porsche for the drive over the Crown Range to the stunning Southern Alps town of Wanaka. Fresh snow the night before made for an amazingly picturesque trip.
As always the day before the tournament the weather is stunning with sunshine and a slight zephyr from the North. Perfect for helping the Local Wanaka Crew mark out the course. We did the 10 metre lines around the 18 baskets at Lismore. Good chance for this reporter to have a good look at this course for the first time as well. Beautiful!
Friday ... and it's the South Island Doubles Championships on 18 temporary baskets at Eely Point right on the lake shore. No one had mentioned to me that the event was retro or I just didn't read the small print on the poster well enough so I was about the only one who hadn't stopped by the Op Shop on the way to the course to nab something appropriate to wear. Everyone, bar me, got right into the swing of things and looked amazing.

Saturday and it's time for the Lords of Lismore proper on the exposed hills of Lismore Park. I say exposed because there's very few places to hide from the gale force winds that blew from dawn till dusk over both days. It wasn't uncommon for a 2 metre putt to end up 100 metres behind you. Most players came in with horrific stories to tell but still smiles on their faces as no-one was spared the wrath of the wind gods. The good news was the wind did drop a little for the 18 holes of Mini Golf on the Saturday evening on a course specifically set up around Amigos where we all dined that night.
Come Sunday lunch time (and I must commend the locals on their damn fine catering), it was back to the course for the safari 'Super 6'. Gotta say this reporter loves the Super 6, or in this case a Super 7 with a tie for 6th. It's a great chance to watch the tournament's top performers  entertain the gallery and this exhibition was no exception with the championship outcome only being decided on the last throw of the last hole.
Congratulations to local player Hazen Simpson who came from 1 behind going in to the Super 6 to take it out by 1 over Queenstown's Hemi  Te Awhitu. Lisa Te Awhitu took out the Woman's, Dom Hayden The Masters. The GM took the GM's, The Jaguar the SGM's, Robyn Agnew the WGM division and the Junior champ for 2014 is Ben Wiel-Lake .
Thanks so much to the Wanaka Crew for hosting me and the event so well, I had a awesome time.
Oh! He's a little hint for Wanaka visitors ... when ordering coffee downtown say you're with Hazen and it's half price. He and his amazing wife Jess are local legends.
The Pictures
Click here to see pages for past events: 2013 | 2012 | 2011 | 2010 | 2009 | 2008 | 2007 Matchplay Champs | 2007 | 2006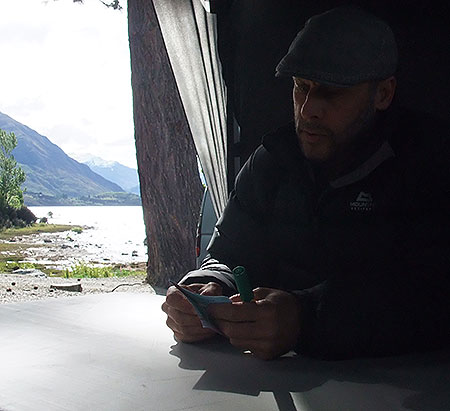 Open Misere - Nice looking office. TD Martin Galley puts the Friday doubles groups together.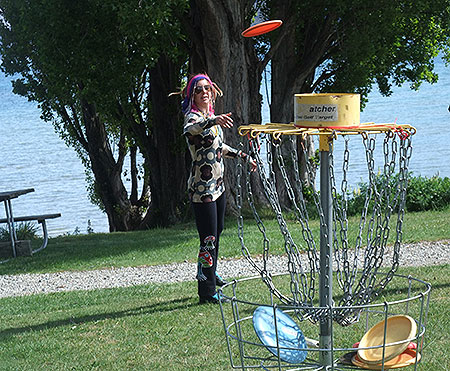 Dreadlock Holiday - Hayley Flintoft (Wanaka) getting in some practice for the doubles at Eely Point.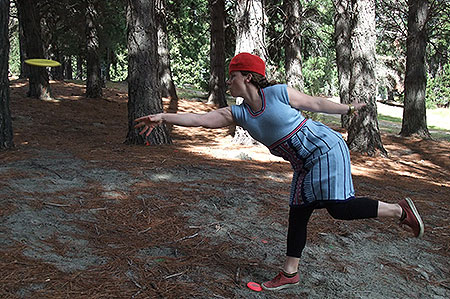 Knit One Pearl Two Par Three -  Hannah shows her style in her retro Op Shop outfit.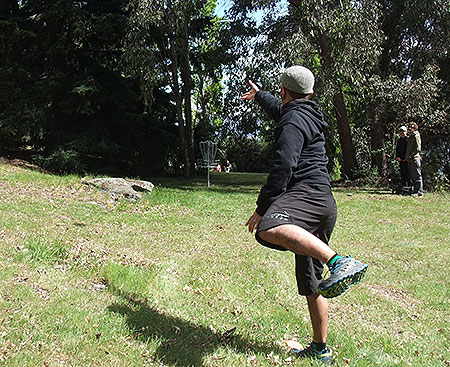 Really Eely - Akira Kuroe (Queenstown) going for the putt on hole 10 'Wishbone' at Eely Point.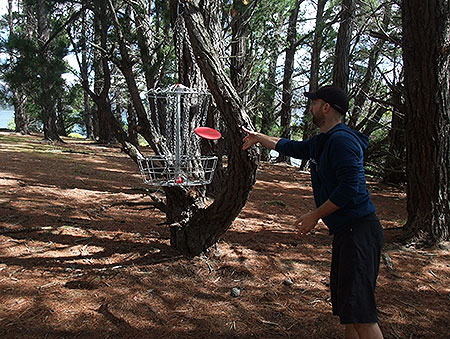 Hanging Around - Tom Mackay (Dunedin) putting out at the swaying, hanging basket on hole 11 'Treble Clef' at Eely Point.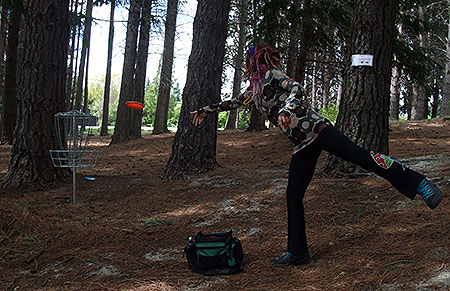 Style - Hayley Flintoft (Wanaka) in full colour, putting out.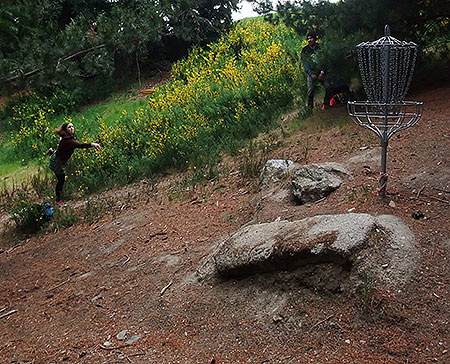 Blossoming - Hannah makes a wicked run up to the new pin placement on 17.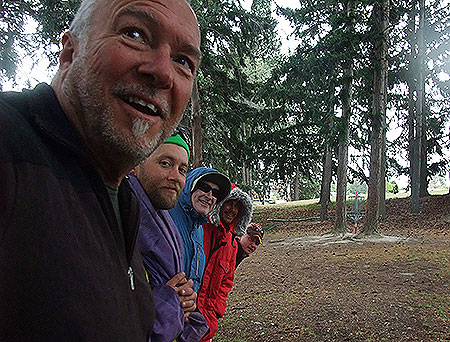 Here it comes... - The gallery all keen to watch the tee shots on Super 6 hole 2.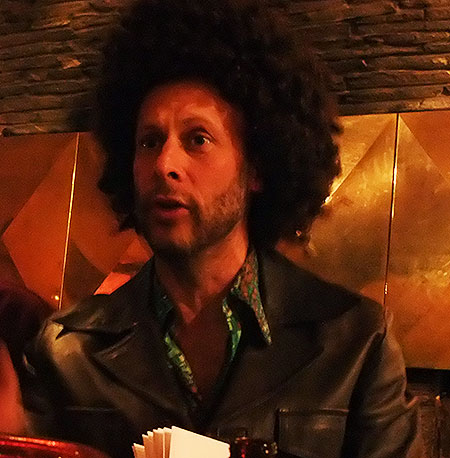 Hair raising! - TD Martin Galley looks just like he did in 78.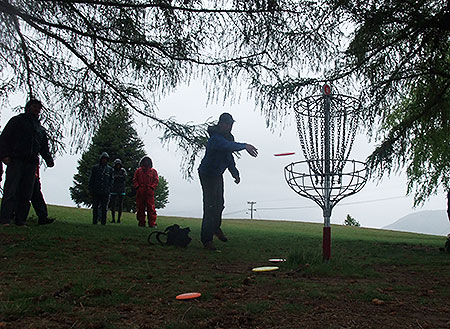 One for Wanaka - Hazen Simpson slots his gimme putt the take the 2014 Lords of Lismore title.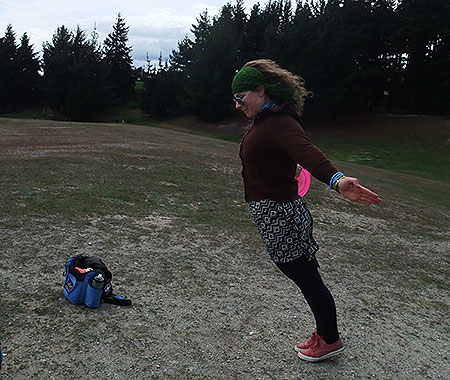 Wind Sock - Hannah Joynt (Dunedin) tests the breeze on the exposed hilltop 14 tee.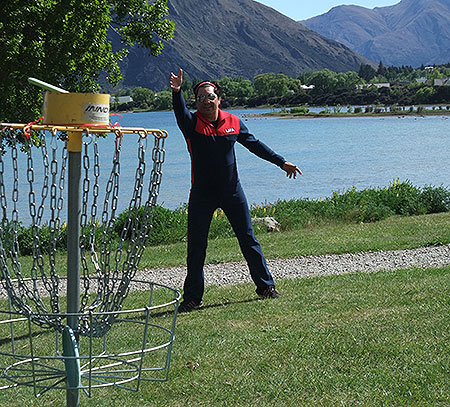 Jolley - Karl Jolley (Queenstown) in his tourney onesie.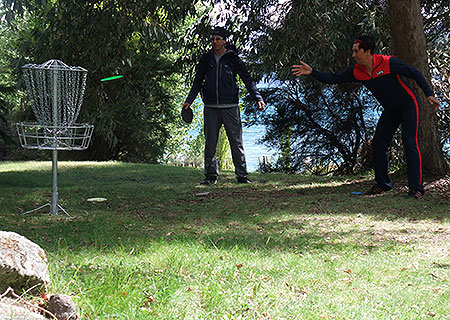 Redlining It - Karl Jolley (Queenstown) putting out with Eran Blumenthal (Queenstown) in full clench mode, looking on.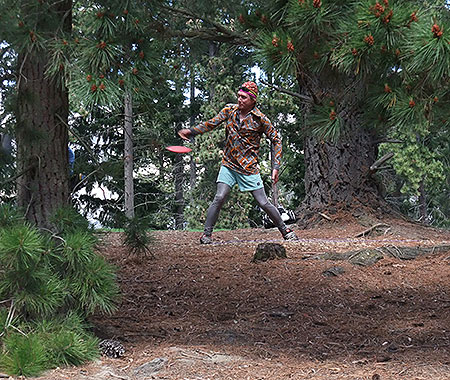 Camo - Patrick Maslen – 'Paz' (Wanaka) in full retro getup, giving it heaps.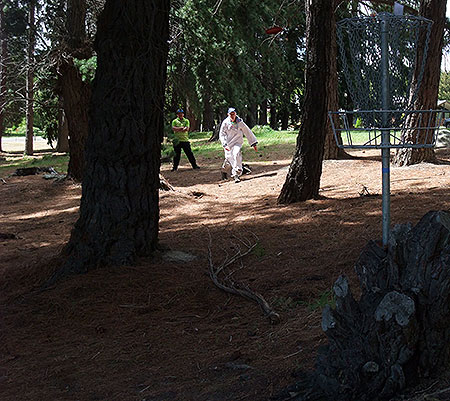 Exterminator - Looking like he out to eliminate pests, James Smithells burns one at the chains.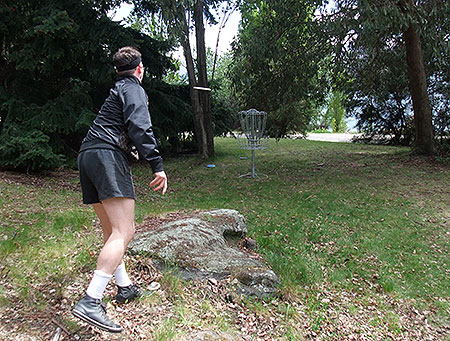 Rocking - sporting retro stubbies Chris Dixon teamed up with Hemi for the Doubles.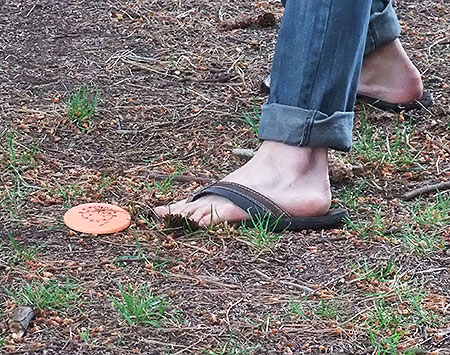 Kiwiana? - For Queenstown brewer Eliott Menzies it was all about comfort.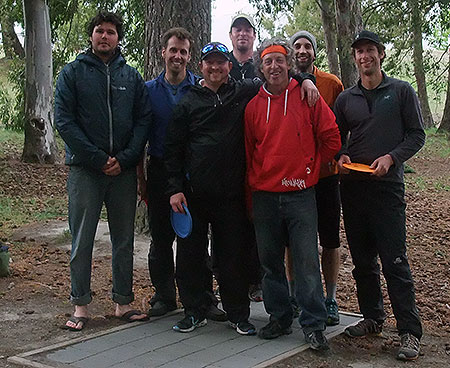 Top Knotch - The singles Super 7 at Lismore Park – Front row right to left…Dom Hayden (Wanaka), Robin Lilley Queenstown), Back row right to left… Hazen Simson (Wanaka), Tom Mackay (Dunedin), Hemi Te Awhitu (Qtwn), Matt Bew(Qtwn), Eliott Menzies (Qtwn).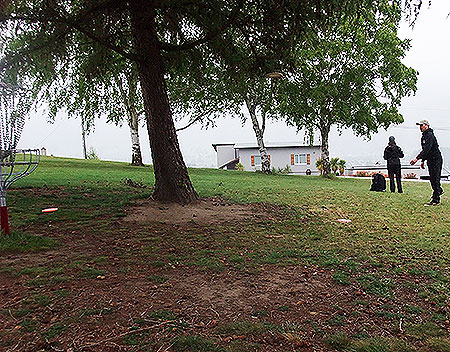 Can't watch - Caddy/wife Lisa Te Awhitu checks out the view as Hemi sends his Super 6 'must make' putt over the basket.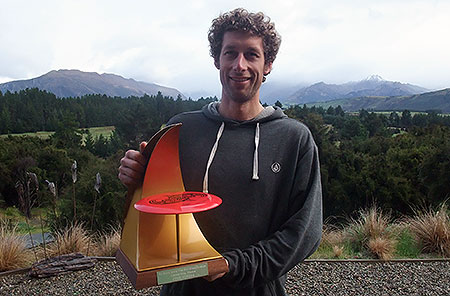 Hazen - on his way to putting the LOL trophy beside wife Jess's Speight's Coast to Coast Longest Day silverware on the mantle. What a year for the Simpsons. Doh!


Lake Front Chain Run - Hannah Joynt putts between squalls hoping her shot stays in basket 1 as a roller could see it miles away.



Curving Accuracy - Robin Lilly impresses the gallery with a great putt on Super 6 hole 2.



Level Heading - Craig 'Monki' Crosbie (Wanaka) in action at Eely Point.



Dom Hayden (Wanaka) letting one go during the 'Super 7'.



Sunny Outlook - Lisa Te Awhitu (Qtwn) with Levi Rye (Wanaka) and Hayley Flintoft (Wanaka) looking on



Golf Fashion Weekly - Looking good! Hemi, all style.



Mobile Gallery - The tight course on Eely Point meant there was always another group to check out.



Visualize it, throw it - Robin Lilly lines up a putt.



Spectators of Spectacular - The Super 6/7 gallery, loving the action.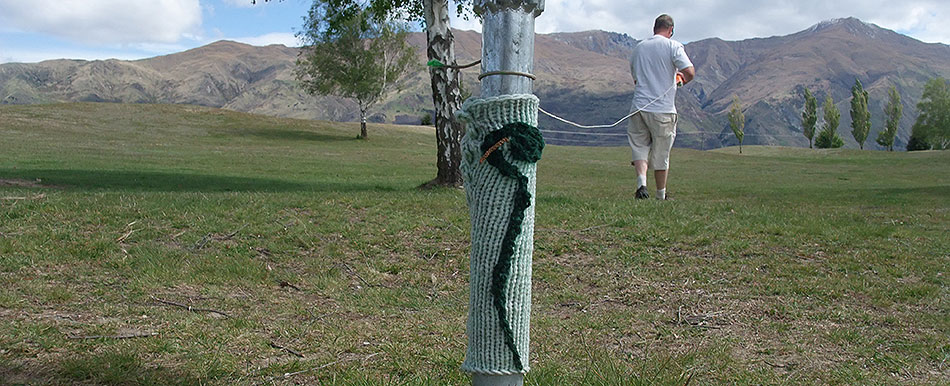 Yard Over Needle - Chris Davies marking out the 10 metre circle.  The Wanaka 'knitting lady' has made a different piece of art for every basket.



Pistol Pete Pose - Levi Rye lines up his putt during Mini Golf at Amigo's on the Saturday night.



Pressure - Dom Hayden putting high but thankfully getting a rebound in off a tree with the gallery looking on.



Orange Again - Tom Mackay in Super 6/7 action.



Pinkie in the middle - Hemi putts right under Robyn's nose.



Alpine Ch - South Island Men's Doubles winners Eliott Menzies and Matt Bew of Qtwn.

back to top
The Results for 2014 Lords of Lismore Disc Golf Championships
Lismore Park Wanaka November 1 & 2 2014
Singles
Division
R1
R2
R3
Total
SS
Total After SS
Div Position
Overall Posn
Hazen Simson
O
51
55
50
156
19
175
1st
1st
Hemi Te Awhitu
O
50
52
53
155
21
176
2nd
2nd
Matt Bew
O
48
55
54
157
21
178
3rd
3rd
Eliott Menzies
O
50
63
50
163
21
184
4th
4th
Robin Lilly 
O
54
58
54
166
22
188
5th =
5th =
Tom Mackay
O
54
56
57
167
21
188
5th =
5th =
Dom Hayden
M 
57
56
54
167
23
190
1st
7th
Chris Davies
M 
56
57
55
168
2nd
8th
Bob Gentil 
GM
54
62
55
171
1st
9th
Chris Dickson
M
56
60
55
171
3rd
9th
John Menzies
O
51
66
55
172
7th
11th
Martin Galley
M 
56
60
57
173
4th
12th
Ben Thomson
O
54
64
58
176
8th
13th
Akira Kuroe
M
57
63
57
177
5th
14th
Ben Holbrook
O
58
58
62
178
9th
15th
Kyle Martin
O
58
58
62
178
9th
15th
Stuart Gilchrist
O
57
69
54
180
10th
17th
Karl Jolley
M
62
60
59
181
6th
18th
Ben Wiel-Lake
J
59
64
59
182
1st
19th
Rando Paehn
O
56
67
59
182
11th
19th
Eran Blumenthal
M 
60
67
59
186
7th
21st
Patrick Maslen
O
57
71
58
186
12th
21st
Riley BRUCE
J
64
65
57
186
2nd
21st
Tom Sweeting
O
57
65
64
186
13th
21st
Hunter Harrill
O
58
71
59
188
14th
25th
Russel King
O
56
77
56
189
15th
26th
Lisa Te Awhitu
WO
62
69
59
190
1st
27th
Geoffrey Marquie
O
59
74
58
191
16th
28th
James Smithells
SGM
63
70
62
195
1st
29th
Robyn Agnew
WGM
59
73
63
195
1st
29th
Levi Rye
O
56
78
67
201
17th
31st
Hayley Flintoff
WO
61
68
73
202
2nd
32nd
Richard Costello
GM
61
81
61
203
2nd
33rd
Hannah Joynt
WO
67
73
72
212
3rd
34th
Jenny Joynt
WGM
72
76
66
214
2nd
35th
Tim Barker
O
54
63
999
 
18th
36th
Craig Crosbie
O
65
65
999
 
19th
37th
Aaron Miers
O
61
71
999
 
20th
38th
Ian Robertson
SGM
73
88
999
 
2nd
39th
Hana Robertson
WO
72
 
999
 
4th
40th
Single Round Tournament
Owen Hale
1 round
63
2nd
Steve 
1 round
?
3rd
Allen Gorthty
1 round
59
1st

 

Doubles 
 
Division
R1
R2
Total
Rank
Eliott and Matt 'The Brews Brothers'
Open
49
45
94
1
Hazen and Russel 
Open
48
50
98
2
Hemi and Chris Dickson 'Team Shake and Break'
Open
50
51
101
3
James and Robin 'The Chain Gang'
Open
53
48
101
3
Chris and Ben Wiel Lake 'Team B and C'
Open
54
48
102
5
Monki and Ben H
Open
53
51
104
6
Eran and Jollie - 'The Maori Hammer'
Open
52
52
104
6
Tom and Akira
Open
54
53
107
8
Sweets and Dom - 'Sweet Domination'
Open
53
54
107
8
Tim and Ben
Open
51
56
107
8
Hayley and Lisa 
Womens
56
53
109
11
Waz and Paz
Open
53
57
110
12
Martin and John - 'The Jammers'
Open
54
56
110
12
Riley and Levi 
Open
56
55
111
14
Kyle and Robyn 'Get Well Jes'
Mixed
56
57
113
15
Jenny and Hannah 'The Red Berets'
Womens
58
59
117
16
Ian and Hana 
Mixed
66
66
132
17