Queenstown, New Zealand, March 8/9 2014
The 2014 Wakatipu Disc Golf Championships.

Preparing for the Wakatipu tournaments is always a major logistical exercise, which in 2014 became a Herculean task, with several additional demands on time and energy. It had become necessary to make significant course changes, in regard to both public safety and protection of specimen trees. So on top of the usual preparations, a major working bee took place 3 weeks before the tournaments, with a large multiskilled crew creating Tees for the 4 new holes and shifting 5 baskets. Eleven hours later, well-earned beers were drunk and the inaugural round on the new course played. As if that wasn't enough extra work, there was also an exciting and unique event to organise; the Tri Nations Doubles Challenge, involving professional golfers from Australia, Japan, and New Zealand (who were about to play in the New Zealand Open) pairing up with disc golfers from their respective countries. A beautiful sunny day eventuated and the paparazzi were everywhere, filming, snapping, and interviewing. Long drives were demonstrated, then a closely fought competition began, with New Zealand (James Smithells and Ben Campbell) prevailing by one stroke. Sky Sport pleasingly showed snippets from the game. Oh that's right, we're supposed to be organising some tournaments!
A new addition this year was a very successful Welcome Round for out-of-town players, on the Friday afternoon, followed by some liquid refreshments.
As always, everything came together and a goodly group of 42 people gathered on a fine day for the 19th Annual The Helicopter Line Queenstown Classic. Our well-oiled registration team enabled proceedings to start on time, with the players heading out to establish new course records in every division. Top round of the morning went to a newcomer, American Ryan Gwillim, on 48, with five players nipping on his heels one shot behind. Records set in the morning which would survive the afternoon's efforts were Chris Dingo Davies and Akira Kuroe with 49 in the Master's, Jess Guy with 55 in the Women's, Craig Mako McNab with 51 in the Grandmaster's, and Ben Wielike with 54 in the Under 18's. Given that James Jaguar Smithells was the only competitor in the Senior Grandmaster's, his abysmally high score probably didn't count; Tournament Director's Syndrome had kicked in big-time!
The afternoon was beautifully sunny and the evergreen Simon Falcon Feasey produced an excellent 46 to establish the new Open and overall course record. However he was tied with Russ Lion King on 96, so a well galleried safari play-off took place. Both players made uncharacteristic errors, with renowned putter Russ heartbreakingly missing a short putt to yield the title to the defending champion. However he did receive the Bruce Grant Memorial trophy for the lowest scoring local. Chris Dickson narrowly edged out Chris Davies for the Master's title. Jess eclipsed her female competitors, Craig easily took the Grandmaster's, and Ben produced another solid 54 for a creditable 108 in the Under 18's. An excellent selection of prizes, collected by Eran Blumenthal, was duly presented to the grateful recipients.
And so to Paradise, with the law having been laid down about appropriate behaviour there this year, contracts being signed, and smart new Accommodation and No Cars signs in place, courtesy of Hannah Husky Joynt. A great evening was had around the traditionally large bonfire in the Garden of Eden, with a low key Jungle of Fame ceremony, in which several new people adopted animal names and joined this select group. Sunday was fine and still, but despite the best laid plans of men and mice, got off to a late start, with 38 players competing in the 17th Annual Dart River Jet Safaris Paradise Plates Doubles, with 8 of those being in the inaugural Mixed Doubles. Falcon Feasey and Brian O'Neill prevailed with a fine 43, with Brad Buffalo Muir and Lisa Takahe Te Awhitu taking out the mixed division with a great 44.
With the weather holding well, the Singles produced many good scores, with Simon again showing that he is both human and beatable at Paradise, when Brad took him by 2 strokes with an excellent 43. Eran outpaced his Master's competitors to take his first Paradise title with a very good 45. Jess completed the Queenstown/Paradise double with 57, Chris Sinai turned the tables on Craig to win the Grandmaster's with 48, Ben produced yet another 54 in the Under 18's, and the Jaguar scored a 51 to get first and last in the Senior Grandmaster's. Prizes and trophies were presented.
Another giant conflagration was tended by the takibi (bonfire master in Japanese) and another very enjoyable evening was spent around the fire. After tidying up the following morning, Hemi, Lisa, Simon, Craig and James explored the far end of Paradise, including one section featured in The Hobbit movies, and pioneered a great new course which we hope to play on a special extra day next year, as part of celebrations around the 20th year of the Queenstown Classic.
Thanks very much to everyone who helped prepare for and run the tournaments, and to all those who attended. Hopefully we'll see many of you here again next year.
Check out awesome pics from previous Queenstown tournaments: 2017 New Zealand National Championships | 2016 Tucker Beach | 2016 Wakatipu Summer Disc Golf Tournaments | 2015 Wakatipu Disc Golf Championships | 2014 Tucker Beach Inaugural | 2014 Wakatipu Disc Golf Championships | 2013 Wakatipu Disc Golf Championships | 2012 Helicopter Line Queenstown Classic and Dart River Safaris Paradise Plates | 2011 16th Annual 'Helicopter Line Queenstown Classic' & Dart River Safaris Paradise Plates, 2010 15th Annual 'Helicopter Line Queenstown Classic' & Dart River Safaris Paradise Plates | 2009 14th Annual 'Helicopter Line Queenstown Classic' & Dart River Safaris Paradise Plates | 2005 Queenstown Classic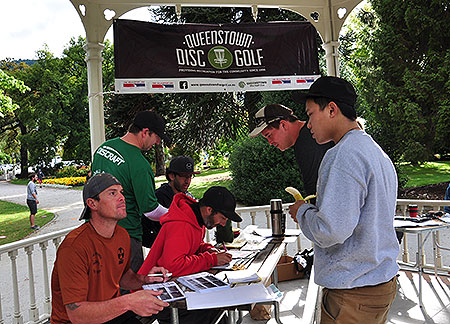 The well-oiled Queenstown disc golf registration team - Hemi Te Awhitu, Aaron Miers, Chris Dickson, and Eran Blumenthal.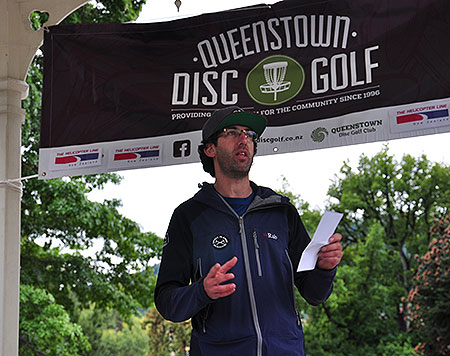 Speech! - Eran details his collected booty below Primo sign.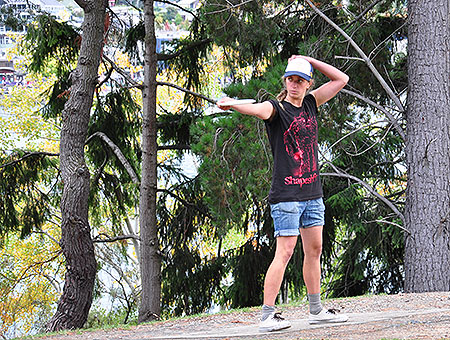 Robyn Hood at the Tee - Jes Guy (Wanaka) selects an arrow from her disc golf quiver.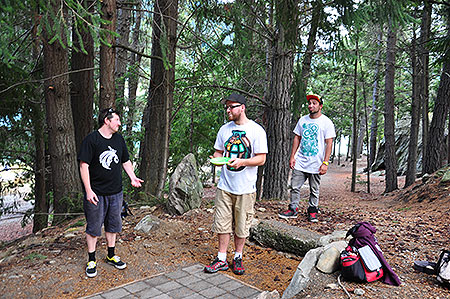 "Wasn't me" - Locals Robin Lilley, Stu Gilchrist and Wanaka's Craig Monki Crosbie deliberate over the challenging new #9, The Guardians.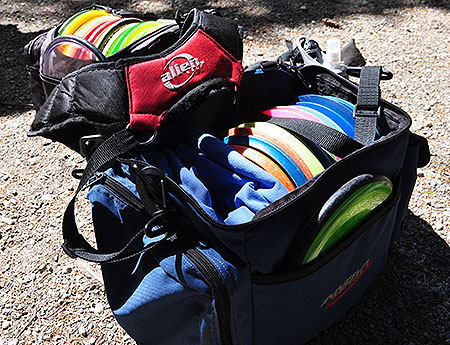 It's in the bag - Tools of the trade.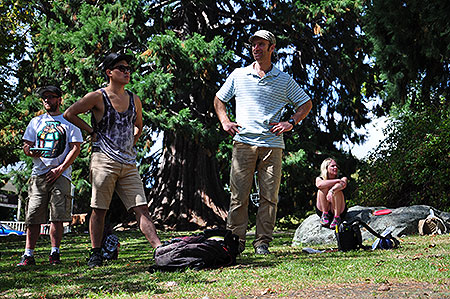 Golfers - Stu, Johnny Chan, Owen Hale, and Jayna acting natural...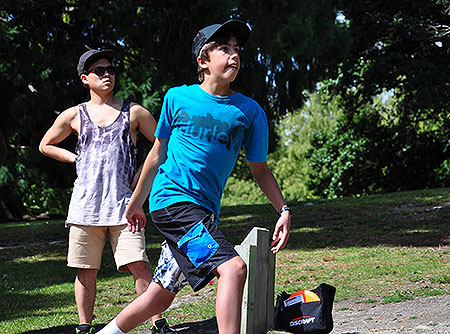 Hurley Hurler- Local junior Baxter Thomas, letting rip on #3.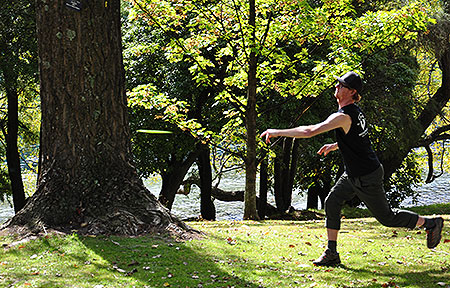 Gollum or Gwillim?- UIn a tournament that features scenery used in the filming of Lord of the Rings, visiting American golfer Ryan Gwillim fires a fine flick.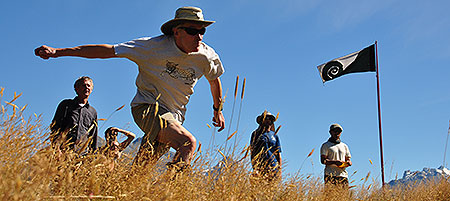 Crouching Jaguar, hurtling Roadrunner.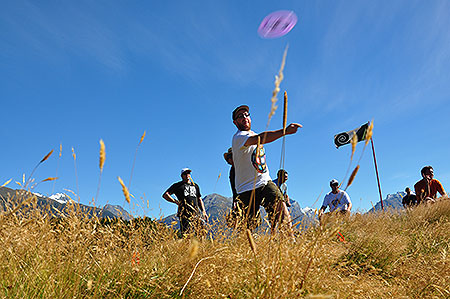 Nice One Stu - Stu Grizzly Gilchrist letting it rip in perfect conditions.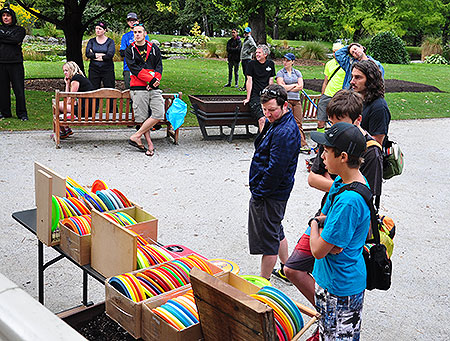 Plastic Fantastic - Plenty of goodies for sale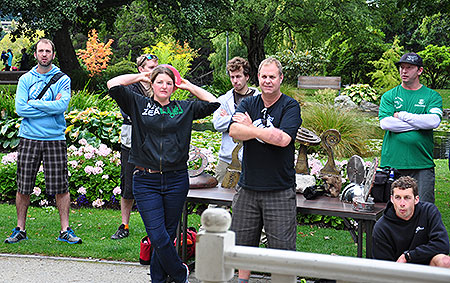 Listening - Various ways of being at attention during players' meeting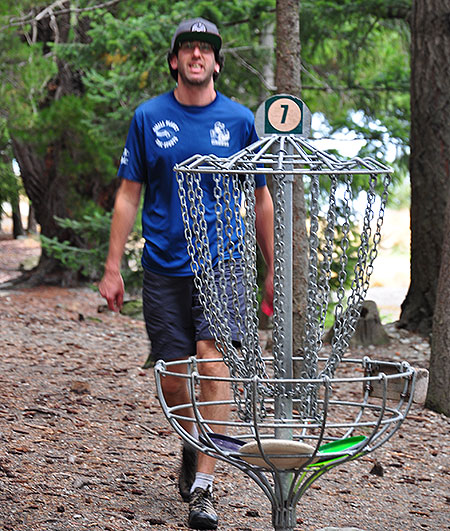 Lucky Number - The happy Hebrew Hammer.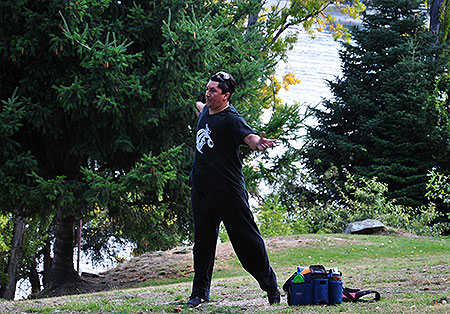 Striking Pose - Karl Jolley," I believe I can fly".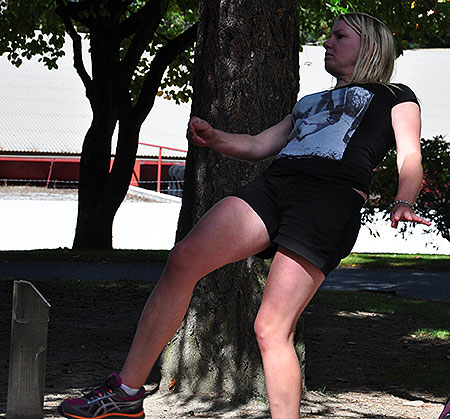 Pivoting Accuracy - Local Jayna Richards recoiling from her flick.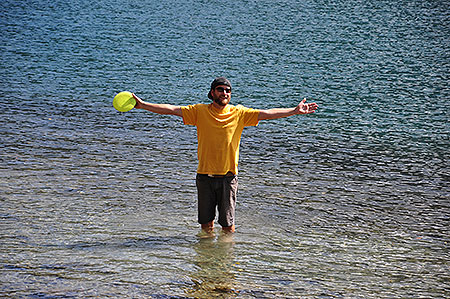 Join Me - Greig Howell walks on water; he has short legs.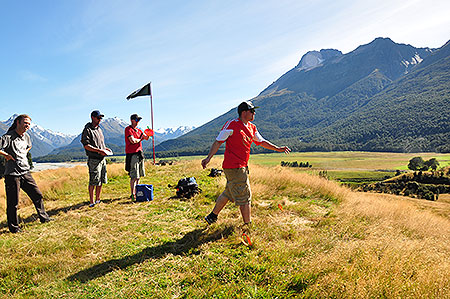 Majestic - Alex Catto (Queenstown) watches his drive on golfing heaven, at the summit of the Paradise course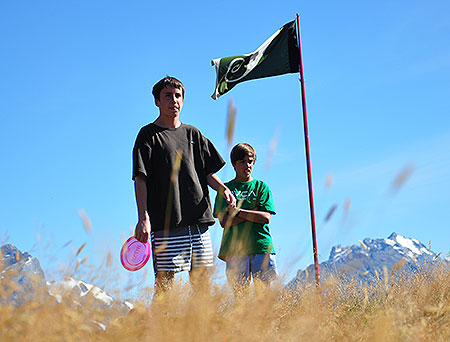 Snowledge - Ben (Wielike) and Baxter Kick Ass doubles team loving their first Paradise experience.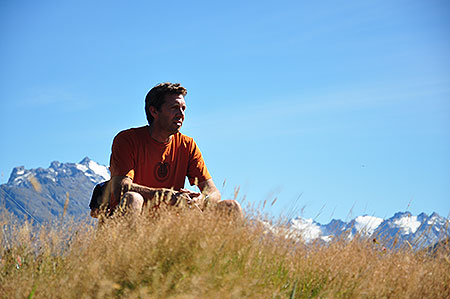 Regular - Simon Falcon Feasey gazes out from his nest.


Lakeside Chain Action - Aaron sinks a fine putt as Jayna and Dom Hayden (Wanaka) look on.


On the tee - Intense concentration.


Don't Panic - Stu pulls the pin out of his grenade.

Camo Putt - Hazen Simson (Wanaka) blends in on #11.


wellington Wonder - A mighty drive from Stephen Fargher (Wellington) in the forested section of the Gardens.


Flick Chick - Jayna demonstrates her laid-back style.

And the winners are - Russ King, Jes Guy, James Smithells, Ben Wielike, Chris Dickson, Simon Feasey.


Scenic - Disc golf in Paradise rules.


Golfers Delight - Time to relax around the legendary fire in the Garden of Eden.
back to top
The Results for 2014 Wakatipu Disc Golf Championships
Queenstown, New Zealand, March 8/9 2014

| Place | Player | Div. | R1 | R2 | R3 | R4 | Total | Points |
| --- | --- | --- | --- | --- | --- | --- | --- | --- |
| 1 | Simon Feasey | M | 50 | 46 | 45 | | 141 | 50.00 |
| 2 | Russel King | O | 48 | 47 | 50 | | 145 | 48.42 |
| 3 | Brad Muir | O | 52 | 53 | 43 | | 148 | 46.05 |
| 3 | Brady Kuech | O | 49 | 53 | 46 | | 148 | 46.05 |
| 5 | Hemi Te Awhitu | O | 50 | 50 | 49 | | 149 | 43.68 |
| 6 | Hazen Simpson | O | 56 | 48 | 47 | | 151 | 42.10 |
| 7 | Eran Blumenthal | M | 56 | 52 | 45 | | 153 | 40.52 |
| 8 | Matthew Bew | O | 49 | 55 | 50 | | 154 | 38.15 |
| 8 | Chris Dickson | O | 54 | 50 | 50 | | 154 | 38.15 |
| 10 | Chris Davies | M | 49 | 56 | 51 | | 156 | 34.98 |
| 10 | Craig McNab | GM | 51 | 56 | 49 | | 156 | 34.98 |
| 12 | Brian O'Neil | O | 52 | 56 | 49 | | 157 | 32.61 |
| 13 | Thabit Ayoub | O | 54 | 55 | 50 | | 159 | 31.03 |
| 14 | Chris Sinai | GM | 60 | 53 | 48 | | 161 | 29.45 |
| 15 | Ben Wiel-Lake | J | 54 | 54 | 54 | | 162 | 27.08 |
| 15 | Aaron Miers | O | 58 | 57 | 47 | | 162 | 27.08 |
| 17 | Karl Jolley | M | 56 | 55 | 52 | | 163 | 24.71 |
| 18 | Robin Lilley | O | 57 | 55 | 52 | | 164 | 21.55 |
| 18 | Stephen Fargher | O | 56 | 53 | 55 | | 164 | 21.55 |
| 18 | Pete McKay | O | 55 | 52 | 57 | | 164 | 21.55 |
| 21 | James Smithells | SGM | 57 | 58 | 51 | | 166 | 18.39 |
| 22 | Stuart Gilchrist | O | 60 | 54 | 53 | | 167 | 16.02 |
| 22 | Jess Guy | W | 55 | 55 | 57 | | 167 | 16.02 |
| 24 | Akira Kuroe | M | 49 | 59 | 60 | | 168 | 13.65 |
| 25 | Hunter Harril | O | 55 | 57 | 57 | | 169 | 12.06 |
| 26 | Dom Hayden | M | 54 | 57 | 61 | | 172 | 10.48 |
| 27 | Alex Catto | O | 59 | 61 | 63 | | 183 | 8.90 |
| 28 | Hayley Flintoff | W | 66 | 60 | 59 | | 185 | 7.32 |
| 29 | Hannah Joynt | W | 64 | 64 | 62 | | 190 | 5.74 |
| 30 | Ray Chalkley | O | 66 | 60 | 67 | | 193 | 3.37 |
| 30 | Baxter Thomas | J | 62 | 67 | 64 | | 193 | 3.37 |
| 32 | Rhy Smith | O | 74 | 69 | 67 | | 210 | 1.00 |