add to facebook

Queenstown, March 9/10 2013

Welcome to the 2013 Wakatipu Disc Golf Championships. Our thanks to TD James 'The Jag' Smithells for a great tournament and this story.
As part of our continuous quality improvement programme, in the months leading up to our annual tournaments we upgraded Tees 17 and 18, created a new Tee 13 (effectively a new hole, to avoid crossover) and turned the sow's ear of Tee 7 into the silk purse that is now " the best disc golf tee in New Zealand '', featuring acres of tiles, wraparound stonework, and verdant Ground Guard. The keen members of the Queenstown Disc Golf Club got the publicity machine rolling early and there was soon talk of big turnouts at our annual tournaments. And so it came to pass.
54 people turned up for the 18th Annual The Helicopter Line Queenstown Classic on a mild still morning in the Queenstown Gardens; the biggest turnout ever. Our highly efficient registration team soon had people sorted into groups and it was briefing time. After years of jokes regarding my Queenstown time approach, I advised the gathered throngs that I'd been told, to my surprise, that apparently this was supposed to incorporate some aspects of time management! So we rattled through the necessaries and teed off at 10.30, our earliest start ever.
Most notable feature of the morning round was Ed Cochrane, in the Under 18 Division, achieving a fine 53 and knocking five strokes off the record. Only eight players, from various divisions, managed to achieve sub 50 rounds, with Simon Falcon Feasey having his beak well out in front with a fine 44. An intriguing afternoon tussle was promised in the Women's division, with three players tied for the lead.
Although 10 minutes went AWOL prior to the afternoon briefing, this was magically recouped and the round kicked off on time, under hot sunny skies. When the results were finally assembled several records had tumbled, most notably Lisa Te Awhitu taking nine shots off the Women's 36 hole record, with 114, and Toby Gentil taking nine shots off the Under 18 36 hole record, with 109. Top efforts! Chris Dingo Davies took one shot of the 18 hole Masters record, with a fine 46. Bob Polecat Gentil took two shots off his shared 36 hole Grand Masters record with an excellent 98. And Nigel Honey Badger Hailstone took one shot off the 36 hole Masters record with a creditable 96. All these players won their divisions, apart from Chris who came second to Nigel.
The Falcon demonstrated yet again, as if we didn't already know, that he's the man to beat, backing up with a 45 to take out the Open Division with an excellent 89 total.
Eliott had once more done a great job of obtaining good prizes from our ever generous local businesses and even 23rd in the Open got one! Chris Dickson from Rydges Hotel donated a veritable cornucopia of prizes, including the $300 night for two in Rydges, won by John Menzies with the first ace, on Hole 7. Included in Chris's prizes were two magnums of champagne, one of which was sprayed around Grand Prix style by Simon.
So off to Paradise, with the promise of further good weather. A top night was had around a big fire at the Garden of Eden, as always, with more people staying there than ever before. Wanaka won the fire. The morning dawned sunny, if slightly bleary, and 43 players turned up for the 16th Annual Dart River Jet Safaris Paradise Plates Doubles; Neil Hound Dog Hardey playing with his shadow. Simon and Nigel scored a commendable 43 and just held off four other pairs on 44.
The Singles round started rather late, around 3pm; hey, nobody told me I had to change Paradise time! The conditions remained hot and still, in considerable contrast to the previous year, and the field of 46 was our biggest ever. No records were broken, but a good time was had by all. When the dust settled, Dave Speedo Keene had succeeded in prevailing over the Fease, with an excellent 43 in his first outing at Paradise. Chris Davies turned the tables on Nigel in the Masters and Peter Coyote Crowther stormed past the evergreen GM to win the Grand Masters by five strokes. Lisa again prevailed in the Women's and Dylan turned the tables on Toby in the Under 18s.
At the prize giving Lisa provided another Grand Prix moment with the second magnum and then, with all the formalities concluded, it was time for relaxation and preparations for the evening. A massive pile of firewood was gathered, mostly by the Wanaka pyromaniacs, and the biggest fire I've ever seen there began building. When the flames were at their peak, the Jaguar emerged in fitting dress and the Jungle of Fame ceremony began. Many new people adopted animal names, with Nate Elephant Stone even having the trumpet call to match. As the fire died down the animals slowly crawled off to their lairs, bringing to conclusion another special Paradise experience.
Thanks once again to the great team down here and to all those who visited to take part in our tournies and help make them the undoubted success that they were.
James Jaguar Smithells
Check out awesome pics from previous Queenstown tournaments: 2017 New Zealand National Championships | 2016 Tucker Beach | 2016 Wakatipu Summer Disc Golf Tournaments | 2015 Wakatipu Disc Golf Championships | 2014 Tucker Beach Inaugural | 2014 Wakatipu Disc Golf Championships | 2013 Wakatipu Disc Golf Championships | 2012 Helicopter Line Queenstown Classic and Dart River Safaris Paradise Plates | 2011 16th Annual 'Helicopter Line Queenstown Classic' & Dart River Safaris Paradise Plates, 2010 15th Annual 'Helicopter Line Queenstown Classic' & Dart River Safaris Paradise Plates | 2009 14th Annual 'Helicopter Line Queenstown Classic' & Dart River Safaris Paradise Plates | 2005 Queenstown Classic


May it begin - 10:30m Saturday morning and we head for our starting tees. Amazing!


Easy with an F - Simon shanks his drive miles from the basket. Yeah right! Note the fine landscaping by James and friends.


Galley in the Alley - Wanaka mover and shaker Martin Galley putts at 17 in the Gardens.


Sneaky Swig before presentation - Queenstown Champ for yet another year Simon Feasey has a few words while the TD snaffles a swig.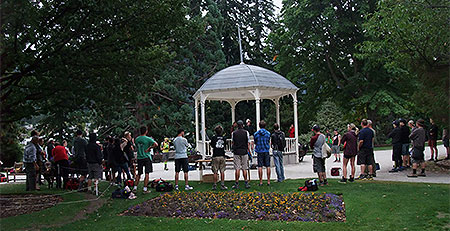 Sounds like a record - A tournament record 56 players take in James's every word ahead of the 2013 Queenstown Classic.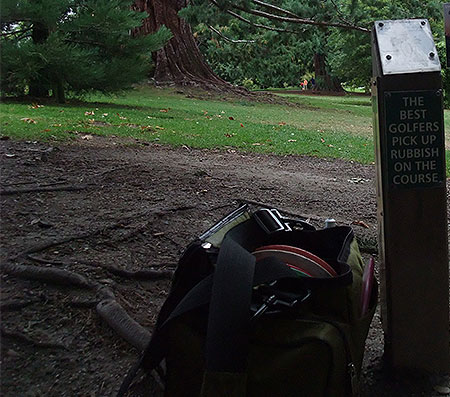 Only the Best - So if you want to be the 'best' golfer, you know what you have to do. Nice sign James.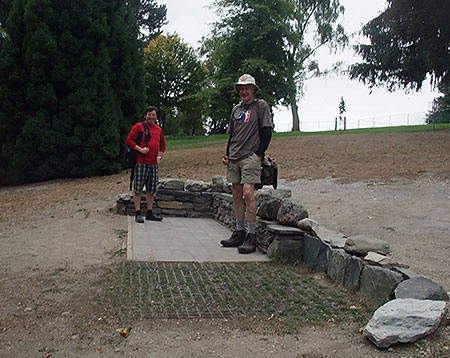 Jeepers Teepers - So proud of his work, and rightly so. The Jaguar and Robin Lilly pose on "the best Tee in the world".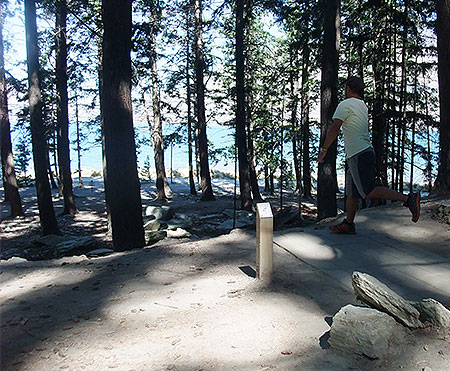 Decihemihedron - Hemi Te Awhitu sends his shot towards the lake on 10.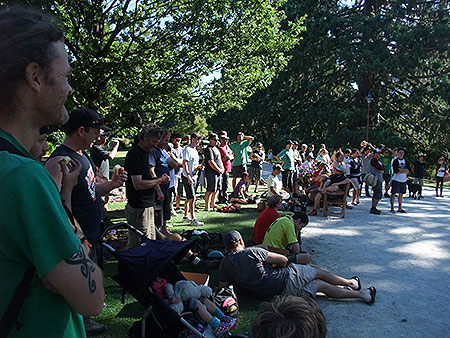 Summer Golf - Stunning Southern weather as the players wait to hear who won what!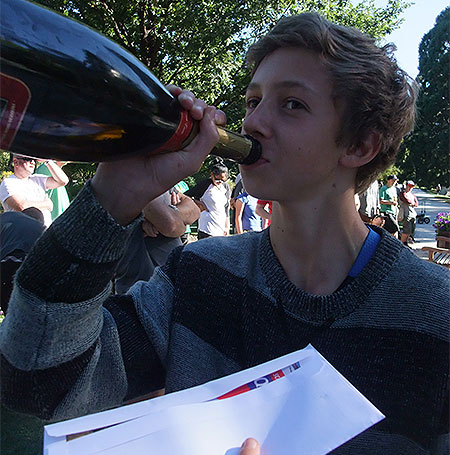 Flight Delight - Bubbles in one hand and a Helicopter Line flight in the other. The Junior winner Toby Gentil.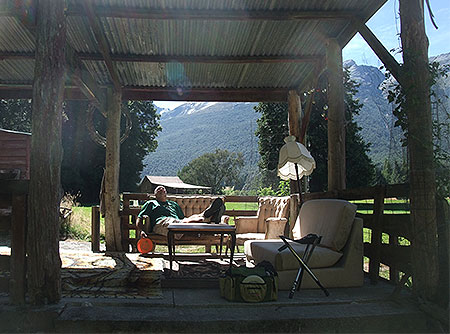 Relax - The GM in Paradise, literally. Finally they've put in a Senior Grandmasters lounge at Paradise.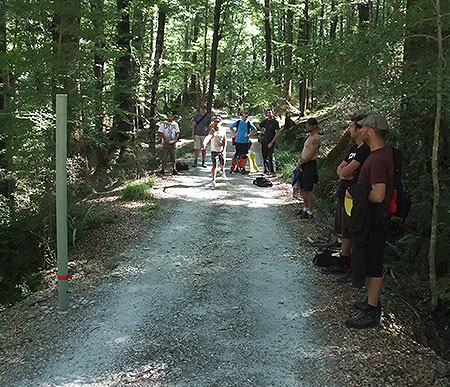 Waiting for 18 - 18 at Paradise. It's a tricky hole at the best of times let along with a gallery and a photographer watching.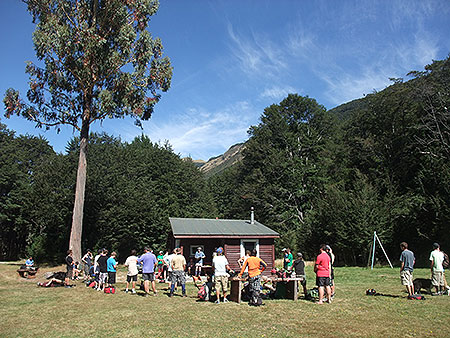 Welcome to Paradise - Stunning weather as James rallies the troops ahead of the afternoon singles round at Paradise.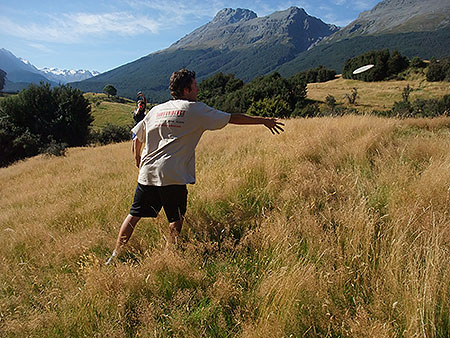 Crosscourt Shot - Normally seen coaching tennis in the Queenstown gardens Louie Lanz was lovin the wide open spaces of Paradise.

The Queenstown brains trust - Hemi Te Awhitu, Eliott Menzies and 'nut guy' Felipe Stein sorting the paper work.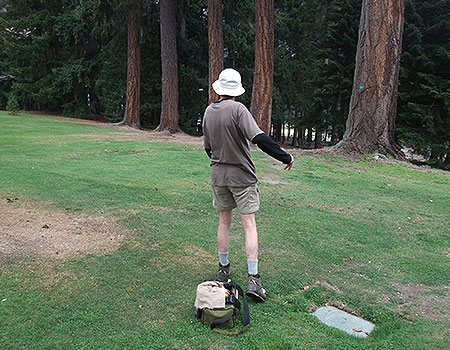 Look Ma, No Skis -TD James Smithells negotiating the 'Giant Slalom'.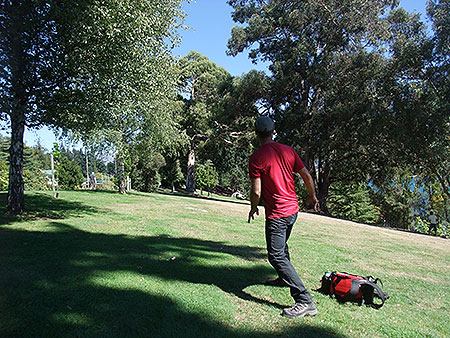 Galley in the Valley - Wanaka golfer Martin Galley plays his second on Windy way.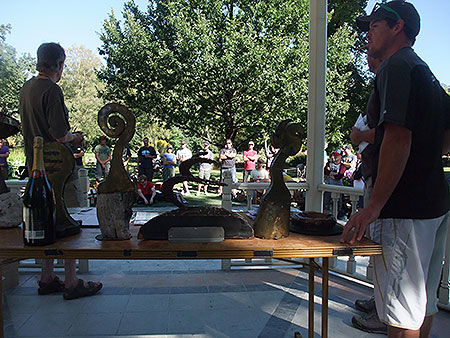 Motivational Art - The awesome Queenstown Classic trophies are handed out for another year.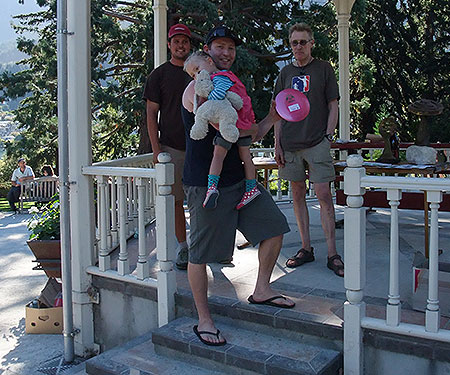 Disc 'n Doll - Local golfer Chris Dixon picked himself up a new disc and a little girl for his 6th place in the Open.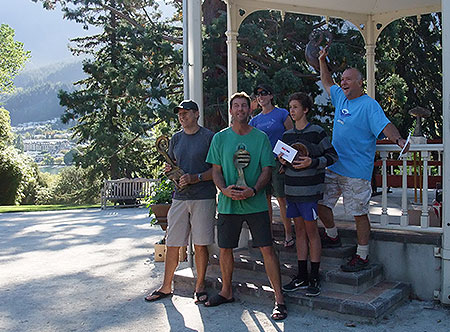 Jafas do alright - Nigel Hailstone the Masters Champ, Simon Feasey the Open, Toby Gentil the Junior Champ and Dad Bob the Grandmasters.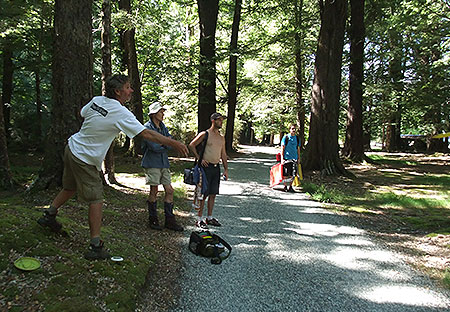 McNabbed It - Christchurch golfer Craig McNab putts out 16 at Paradise, much to his doubles partner's appreciation.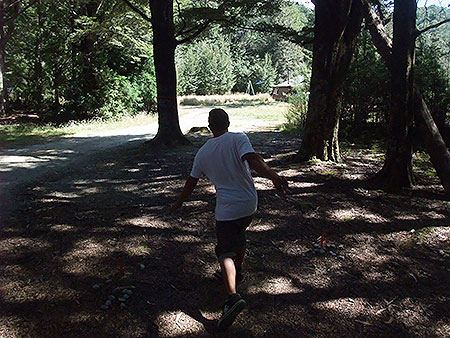 "This is much better than tennis!" - First time tournament player Louie Lanz from Queenstown plays to the Wigwam on hole #1.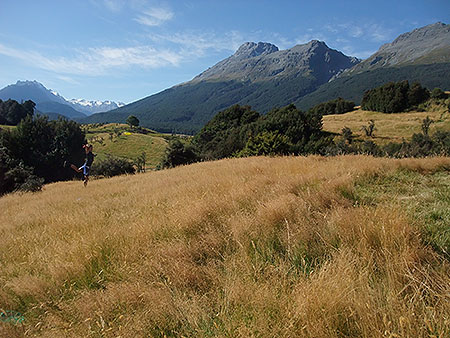 Lord of the Kachings - Toby Gentil lost in the scenery at Paradise.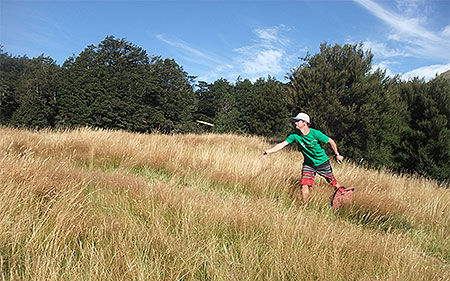 Mark this Date - Another Queenstown local and first time tournament player Mark Edmunds showing his style.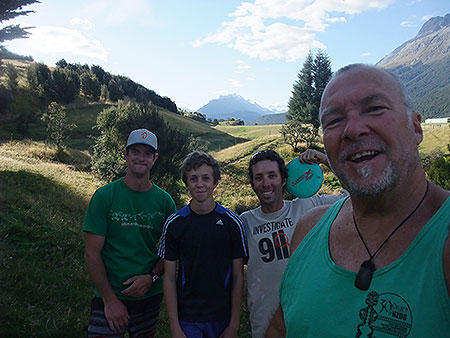 Four on the Floor - The GM, son Toby Gentil and playing partners Mark Edmunds & Louie Lanz having a good time at Paradise.
back to top
The Results for 2013 Wakatipu Disc Golf Championships
Queenstown, March 9/10 2013

Queenstown Classic Results 2013
Name:
Division:

Qtn Round 1:

Qtn Round 2:

Totals

Open:
Simon Feasey
Open

44

45

89

Nate Claassen
Open

48

44

92

David Keene
Open

50

44

94

Hemi Te Awhitu
Open

48

46

94

Felipe Stein
Open

51

48

99

Chris Dickson
Open

52

48

100

Eliott Menzies
Open

50

51

101

Greig Howell
Open

50

53

103

Brady Kuech
Open

46

57

103

Robin  Lilly
Open

53

51

104

Jim Hemingway
Open

51

53

104

Nate Stone
Open

54

50

104

Aaron Miers
Open

51

53

104

Russell King
Open

55

50

105

Josh McLean
Open

50

56

106

Gareth Dykes
Open

56

51

107

Akira Kuroe
Open

49

58

107

Chris McLean
Open

53

55

108

Ben Holbrook
Open

58

52

110

Phillip Murray
Open

57

53

110

Tom Mackay
Open

57

54

111

Owen Hale
Open

57

54

111

Craig Crosbie
Open

57

56

113

Hunter Harill
Open

57

57

114

Matt Trinder
Open

61

55

116

Thabit Ayoub
Open

56

60

116

Bradley Smith
Open

62

56

118

Steven Johnson
Open

58

60

118

Cory Old
Open

56

62

118

Charley Holt
Open

61

61

122

Alex Catto
Open

65

61

126

Mark Edmunds
Open

62

66

128

18 hole record: 42 Simon Feasey 2012

36 hole record: 86 Simon Feasey 2012

Masters:
Nigel Hailstone
Masters

48

48

96

Chris Davies
Masters

54

46

100

Martin Galley
Masters

49

51

100

Craig McNab
Masters

54

51

105

Karl Jolley
Masters

56

52

108

Dom Hayden
Masters

63

57

120

Masters
Grand Masters:
Bob Gentil
Grand Masters

49

49

98

Barry Dolman
Grand Masters

53

52

105

James Smithells
Grand Masters

51

56

107

Pete Crowther
Grand Masters

54

53

107

Neil Hardey
Grand Masters

55

54

109

Mark Lentzkow
Grand Masters

55

55

110

Womens:
Lisa Te Awhitu
Womens

58

56

114

Hannah Joynt
Womens

58

58

116

Jess Guy
Womens

58

64

122

Robyn Agnew
Womens

63

65

128

Jayna Richards
Womens

60

DNF

DNF

Putters:
Uncontested
Under 18's:
Toby Gentil
Under 18's

55

54

109

Ed Cochrane
Under 18's

53

57

110

Dylan Bradley
Under 18's

59

54

113

Alex Hall
Under 18's

66

DNF

DNF
Queenstown Classic Results 2013
| | | | |
| --- | --- | --- | --- |
| Name: | Division: | Paradise | 18 hole record |
| Singles | | | |
| | | | |
| Open: | | | |
| | | | |
| David Keene | Open | 43 | 40 Simon F 2002, 2012 |
| Nate Claassen | Open | 44 | |
| Simon Feasey | Open | 44 | |
| Brady Kuech | Open | 45 | |
| Russell King | Open | 49 | |
| Felipe Stein | Open | 50 | |
| Chris Dickson | Open | 51 | |
| Eliott Menzies | Open | 51 | |
| Akira Kuroe | Open | 51 | |
| Tom Mackay | Open | 52 | |
| Owen Hale | Open | 52 | |
| Thabit Ayoub | Open | 53 | |
| Ben Holbrook | Open | 53 | |
| Craig Crosbie | Open | 53 | |
| Robin  Lilly | Open | 54 | |
| Hemi Te Awhitu | Open | 54 | |
| Greig Howell | Open | 55 | |
| Chris McLean | Open | 55 | |
| Charley Holt | Open | 55 | |
| Aaron Miers | Open | 56 | |
| Josh McLean | Open | 57 | |
| Hunter Harill | Open | 58 | |
| Nate Stone | Open | 58 | |
| Henry Youngman | Open | 58 | |
| Louie Lanz | Open | 58 | |
| Steve Johnson | Open | 59 | |
| John Menzies | Open | 61 | |
| Pete Mackay | Open | 62 | |
| Mark Edmunds | Open | 68 | |
| Ed Turk | Open | 79 | |
| Alex Scarbrough | Open | DNF | |
| | | | |
| Masters: | | | |
| | | | |
| Chris Davies | Masters | 49 | 46  Brett H 2008 |
| Nigel Hailstone | Masters | 52 | |
| Martin Galley | Masters | 52 | |
| Craig McNab | Masters | 53 | |
| Dom Hayden | Masters | 57 | |
| | | | |
| Grand Masters: | | | |
| | | | |
| Pete Crowther | Grand Masters | 48 | 47 Bob G 2011 |
| Bob Gentil | Grand Masters | 53 | |
| James Smithells | Grand Masters | 55 | |
| Neil Hardey | Grand Masters | 56 | |
| Mark Lentzkow | Grand Masters | 59 | |
| | | | |
| Womens: | | | |
| | | | |
| Lisa Te Awhitu | Womens | 59 | 56 Alice B 2012 Lisa equalled |
| Hannah Joynt | Womens | 62 | |
| Jess Guy | Womens | 70 | |
| | | | |
| Under 18's: | | | |
| | | | |
| Dylan Bradley | Under 18's | 55 | 52  Billy H 2002 |
| Toby Gentil | Under 18's | 59 | |
| | | | |
| | | | |
| Doubles | | | |
| | | | |
| Simon Feasey | | 43 | 38 Simon F & Mario C   vs |
| Nigel Hailstone | | | 38 Ken J & Mark J 2010 |
| | | | |
| Brady Kuech | | 44 | |
| Nate Claassen | | | |
| | | | |
| Eliott Menzies | | 44 | |
| Thabit Ayoub | | | |
| | | | |
| Russell King | | 44 | |
| David Keene | | | |
| | | | |
| Chris Dickson | | 44 | |
| Hemi Te Awhitu | | | |
| | | | |
| Felipe Stein | | 46 | |
| Aaron Miers | | | |
| | | | |
| Tom Mackay | | 47 | |
| Akira Kuroe | | | |
| | | | |
| Josh McLean | | 47 | |
| Chris McLean | | | |
| | | | |
| Craig McNab | | 47 | |
| James Smithells | | | |
| | | | |
| Hazen Simson | | 49 | |
| Martin Galley | | | |
| | | | |
| Matt ??? | | 49 | |
| Robin  Lilly | | | |
| | | | |
| Owen Hale | | 50 | |
| Carl Jolley | | | |
| | | | |
| Phillip Murray | | 50 | |
| Gareth Dykes | | | |
| | | | |
| Hannah Joynt | | 51 | |
| Mark Lentzkow | | | |
| | | | |
| Ben Holbrook | | 51 | |
| Craig Crosbie | | | |
| | | | |
| Nate Stone | | 51 | |
| Greig Howell | | | |
| | | | |
| Steve Johnson | | 51 | |
| Pete Crowther | | | |
| | | | |
| Charley Holt | | 53 | |
| Hunter Harill | | | |
| | | | |
| Dom Hayden | | 53 | |
| John Menzies | | | |
| | | | |
| Lisa Te Awhitu | | 53 | |
| Jess Guy | | | |
| | | | |
| Dylan Bradley | | 54 | |
| Robyn Agnew | | | |
| | | | |
| Neil Hardey | | 58 | |
| Neil Hardey's shadow | | | |
Queenstown Tour Results 2013
| | | | | | |
| --- | --- | --- | --- | --- | --- |
| Name: | Division: | Qtn Round 1: | Qtn Round 2: | Paradise | Totals |
| | | | | | |
| Open: | | | | | |
| | | | | | |
| Simon Feasey | Open | 44 | 45 | 44 | 133 |
| Nate Claassen | Open | 48 | 44 | 44 | 136 |
| David Keene | Open | 50 | 44 | 43 | 137 |
| Brady Kuech | Open | 46 | 57 | 45 | 148 |
| Hemi Te Awhitu | Open | 48 | 46 | 54 | 148 |
| Felipe Stein | Open | 51 | 48 | 50 | 149 |
| Chris Dickson | Open | 52 | 48 | 51 | 151 |
| Eliott Menzies | Open | 50 | 51 | 51 | 152 |
| Russell King | Open | 55 | 50 | 49 | 154 |
| Greig Howell | Open | 50 | 53 | 55 | 158 |
| Akira Kuroe | Open | 49 | 58 | 51 | 158 |
| Robin  Lilly | Open | 53 | 51 | 54 | 158 |
| Aaron Miers | Open | 51 | 53 | 56 | 160 |
| Nate Stone | Open | 54 | 50 | 58 | 162 |
| Josh McLean | Open | 50 | 56 | 57 | 163 |
| Chris McLean | Open | 53 | 55 | 55 | 163 |
| Ben Holbrook | Open | 58 | 52 | 53 | 163 |
| Tom Mackay | Open | 57 | 54 | 52 | 163 |
| Owen Hale | Open | 57 | 54 | 52 | 163 |
| Craig Crosbie | Open | 57 | 56 | 53 | 166 |
| Thabit Ayoub | Open | 56 | 60 | 53 | 169 |
| Hunter Harill | Open | 57 | 57 | 58 | 172 |
| Steven Johnson | Open | 58 | 60 | 59 | 177 |
| Charley Holt | Open | 61 | 61 | 55 | 177 |
| Mark Edmunds | Open | 62 | 66 | 68 | 194 |
| | | | | | |
| Masters: | | | | | |
| | | | | | |
| Nigel Hailstone | Masters | 48 | 48 | 52 | 148 |
| Chris Davies | Masters | 54 | 46 | 51 | 151 |
| Martin Galley | Masters | 49 | 51 | 52 | 152 |
| Craig McNab | Masters | 54 | 51 | 53 | 158 |
| Dom Hayden | Masters | 63 | 57 | 57 | 177 |
| | Masters | | | | |
| | | | | | |
| Grand Masters: | | | | | |
| | | | | | |
| Bob Gentil | Grand Masters | 49 | 49 | 53 | 151 |
| Pete Crowther | Grand Masters | 54 | 53 | 48 | 155 |
| James Smithells | Grand Masters | 51 | 56 | 55 | 162 |
| Neil Hardey | Grand Masters | 55 | 54 | 56 | 165 |
| Mark Lentzkow | Grand Masters | 55 | 55 | 59 | 169 |
| | | | | | |
| Womens: | | | | | |
| | | | | | |
| Lisa Te Awhitu | Womens | 58 | 56 | 59 | 173 |
| Hannah Joynt | Womens | 58 | 58 | 62 | 178 |
| Jess Guy | Womens | 58 | 64 | 70 | 192 |
| | | | | | |
| Under 18's: | | | | | |
| | | | | | |
| Toby Gentil | Under 18's | 55 | 54 | 59 | 168 |
| Dylan Bradley | Under 18's | 59 | 54 | 55 | 168 |