The 2009 Helicopter line Queenstown Classic & the Paradise Plates
March 7 & 8 2009

This year TD James Smithells chose to switch the order of these two great Queenstown events, Saturday it was The Classic in the gardens and Sunday saw everyone an hour north of Queenstown at the stunning Paradise Trust property in Glenorchy for the Paradise Plates.
Queenstown Gardens would undoubtedly be the busiest Disc Golf course in the country. On a warm summers evening after the 5 o'clock hooter goes off you just about have to book a tee time. We can see that Casual Disc Golf really takes off when there is a proper basketed course in New Zealand and we can only hope that - as we are finally seeing some progress in proper courses (see story on recent new additions to NZ Disc Golf Courses) - we see more of those casual players taking the plunge into the world of competitive Disc Golf.
Saturday morning saw 35 players - less than half of them locals - listening intently to the TD's players briefing before heading to the course.
It was perfect conditions for Disc Golf and at the end of the day Auckland golfer Simon Feasey had set a new tournament course record of 41 and a combined two round total of just 84. Brilliant! Penny Jackson took out the Woman's title, Sammy Neilson the Masters, Bob [GM] Gentil the Grand Masters in a play off with Neil Hardey and Nigel Barnwell the Ultrastar division.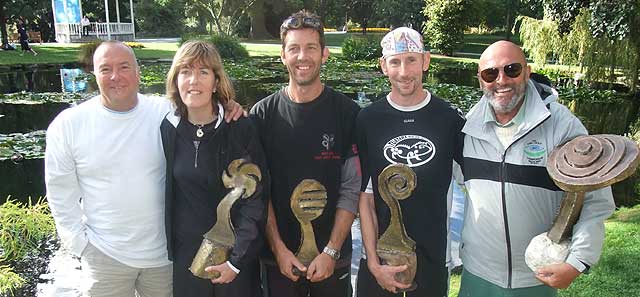 Sunday saw overcast weather for the Paradise Plates event, but still great for Disc Golf. With tee-off timing often being an issue at the Plates, things got very tight for some of the out-of-towners who had planes to catch. Some quick juggling fortunately saw most players completing their round for Tour Points.
And this completed a thoroughly enjoyable time had by all in the majesty of the Southern Alps setting.

Pictures
Check out awesome pics from previous Queenstown tournaments: 2017 New Zealand National Championships | 2016 Tucker Beach | 2016 Wakatipu Summer Disc Golf Tournaments | 2015 Wakatipu Disc Golf Championships | 2014 Tucker Beach Inaugural | 2014 Wakatipu Disc Golf Championships | 2013 Wakatipu Disc Golf Championships | 2012 Helicopter Line Queenstown Classic and Dart River Safaris Paradise Plates | 2011 16th Annual 'Helicopter Line Queenstown Classic' & Dart River Safaris Paradise Plates, 2010 15th Annual 'Helicopter Line Queenstown Classic' & Dart River Safaris Paradise Plates | 2009 14th Annual 'Helicopter Line Queenstown Classic' & Dart River Safaris Paradise Plates | 2005 Queenstown Classic
| | |
| --- | --- |
| TD James Smithells welcomes players to the Helicopter Line Queenstown Classic. | Wanaka's Martin Galley, the GM, Kyle Murray from Invercargill and Chris Conger from the States ready to get underway on Tee #1. |

Martin Galley lines up a flick on hole #17 with Queenstown as the bask drop.
| | |
| --- | --- |
| Kyle Murray puts in an effort on hole #8 in the Gardens. | Pete Crowther from Christchurch tees hole 18. |


The top group on the Saturday afternoon. Neil Hardey on the tee watched intently by Ken Jarvis, Simon Feasey and Mario Cerniar.


TD James and Robyn Agnew dish out the prizes as Saturday draws to an end.


Lost in the woods at Paradise. Auckland's Simon Feasey, along with the Christchurch crew of Mario Cerniar, Neil Gardner and Dave Sanders.

The Paradise doubles parings of Ken Jarvis and Devon Parker, Neil Hardey and Sammy Neilson and Gareth Dykes and Kyle Murray take time out in the sun.


The greenkeeper's work was on display as Invercargill's Kyle Murray putts out at Paradise.


Bright discs were the order of the day as with the long grass it was easy to loose sight.


It should be so simple. The gap's this wide demonstrates Neil Gardner as Dave, Simon and Mario look on.


Uan Sijkerbosh tee's from the hillside as Gareth Dykes and Russell look on.


Gareth Dykes heading for home. The only flat open hole on the course, plus it had a basket!

The home fires were burning as
Kyle Murray
heads for the wigwam and home time.
Queenstown Gardens

Open

Rd 1

Rd 2

Total

1

Simon Feasey

43

41

84

2

Ken Jarvis

45

46

91

3

Mario Cerniar

49

50

99

4

Uan Spijkerbosch

53

56

109

5

Scott Watwood

56

53

109

6

Jim Hemingway

55

56

111

7

Petr Vacek

57

55

112

7

Kyle Murray

53

59

112

9

Jarrot Rusty

57

58

115

10

Chris Conger

60

57

117

11

Damian Green

59

59

118

12

Elias Lilo

62

57

119

12

Brad Pejril

56

63

119

14

James Long

57

63

120

15

Gareth Dykes

62

63

125

16

Jesse Wheeler

65

65

130

17

Fraser Campbell

70

65

135

18

Matt Tilley

65

72

137

19

Shaun Dalton

67

97

164

1

Penny Jackson

57

63

120

2

Roobie Ward

57

64

121

3

Melissa Tremblay

66

68

134

4

Robyn Agnew

74

70

144

1

Sammy Neilson

58

50

108

2

Keith Woody Inwood

55

55

110

3

Martin Galley

56

62

118

1

Bob Gentil (after shootout)

51

56

107

2

Neil Hardey

50

57

107

3

James Smithells

55

57

112

4

Peter Crowther

52

61

113

1

Nigel Barnwell

54

55

109

2

Dave Sanders

57

55

112

3

Jim Bremster

55

59

114

4

Neil Gardner

60

55

115
Paradise Plates

Doubles

1

Simon Feasey & Mario Cerniar

42

After shootout

2

James Smithells & Pete Crowther

42

3

Sammy Neilson & Neil Hardey

45

4

Martin Galley & Uan Spijkerbosch

46

5

Ken Jarvis & Devin Parker

47

6

Nigel Barnwell & Woody Inwood

48

6

Gareth Dykes & Kyle Murray

48

8

Penny Jackson & Roobie Ward

49

9

Neil Gardner & Dave Sanders

51

Singles

1

Ken Jarvis

O

41

2

Simon Feasey

O

45

3

Sammy Neilson

M

47

4

Bob Gentil

GM

49

5

Mario Cerniar

O

50

6

Martin Galley

M

51

7

Keith Woody Inwood

M

53

8

Kyle Murray

O

55

9

Neil Hardey

GM

56

9

Nigel Barnwell

SGM

56

11

Dave Sanders

P

57

11

Uan Sijkerbosch

O

57

13

Penny Jackson

W

58

13

James Smithells

GM

58

15

Neil Gardner

O

59

15

Pete Crowther

GM

59

17

Roobie Ward

W

60

18

Gareth Dykes

O

62

19

Devin Parker

O

63