Tucker Beach Road, Queenstown 26th/27th July 2014

The Inaugural Tucker Beach "Rush " Disc Golf Championships 2014.
There had been a lot of talk about having a major disc golf tournament in the middle of winter in Queenstown. And the during week leading up to the Tucker beach 'Rush' , it was looking like the weather was going to be a major factor. And It was. All for the good though. Beautiful winter conditions, with blue skies and little to no wind, welcomed all that were about to make history in this inaugural tournament. The locals say, it's always summer at Tuckers, and they are not wrong.
Tucker beach TD Hemi 'Tuatara' Te Awhitu, and the willing volunteers from the Queenstown disc golf club, were working like busy beavers in the few weeks leading up to the 'Rush'. Installing permanent baskets, monster tee pads, clearing trees and scrub and general maintenance around the course. All this work made for an awesome experience which people will be talking about for a long time to come.
40 odd players descended on the Tucker beach reserve course, on a fresh Saturday morning, to begin what was to turn into a great disc golfing experience. The usual well-oiled Queenstown registration crew were on the ball and everything was running ahead of schedule. Players received their players pack, care of our major sponsor, Small planet disc sports and Discraft, and were delighted with the beautifully designed tourney stamped Discraft Buzzz.
With the players meeting concluded and the groups read out, it was time to play.
The first round saw only 9 golfers coming in under par with Hemi and fellow local leftie, Chris 'Crow' Dickson, leading the pack with a 5 under, 56. But it was still early days and there was only a few shots between the top 5 golfers. CTTP was on the par 3, hole 7, and a little bit of local knowledge coming in to play with Hemi taking it in the first round. Kaan foodstuffs had generously provided a BBQ lunch for all, and the golfers were well stuffed with Burgers and Sausages and liquid refreshments. Kim from One on one physiotherapy was on hand to take care of any niggles that players may have had.
After an awesome lunch, it was time for players to improve on their morning scores. And so round 2 began. Hemi was on another level, smashing out a brilliant 12 under, 49, and recording a new course record in the process. Those that followed were all jostling for positions with Chris Dickson  holding off Brady Kuech (Wellington) by 1 shot, to stay in second position, while Logan Papuni (Rotorua) secured 4th position and filled that last spot in the top card for the final round. Queenstown local junior, Ben Wielake was under par for the 2 rounds, with Wanaka junior, Riley Bruce making him work hard to keep the lead in the juniors div. New Zealand women's champion and local, Lisa 'Takahe' Te Awhitu, was finding conditions tuff after 2 rounds but had done enough to stay ahead of the other ladies. Our only grand master, Craig 'Mako' McNab (Christchurch) was leaving nothing out there, coming in a respectable 3 over par after 2 rounds, while local QT legend and senior grand master, James 'jaguar' Smithells carded 10 over par to lead his division. Wanaka up and comer, Riley Bruce, claimed the CTTP for the second round by parking his disc on the Par 3 , hole 16.
As players headed to Pub on Wharf to watch the Crusaders dominate, the talk was about Sunday and what people needed to do to reel in the TD after his epic round.
Sunday morning saw another beautiful blue sky day with no wind. Some of the golfers had indulged in the Queenstown spirit and were managing sore heads from the night before. After a quick player meeting to sort any problems, we were well on time and ready to kick off round 3.
Hemi went into the 3rd round with a 8 shot lead, with Chris, Brady, and Logan fighting for positions. The second card was just as busy with QT locals, Russ 'lion' King, Matt Bew, Uan Spike, and junior Ben Wielake making moves to secure the final 2 places in the super 6. Lisa was playing a consistent game, keep her beak in front of the other women in the division, eventually taking the women's trophy. Craig played a consistent 3rd round to get his name on the grand masters trophy. And James was happy with getting his name on another senior grand masters trophy. Having missed his flight out of town, Wanaka local, Paz Maslen, decided to return to the course and managed to claim the CTTP on the par 3, hole 13.
The super 6 was decided and it was Hemi leading by 7,followed by Chris, Brady, Logan, Russ, and Matt. Safari holes are not really needed at Tuckers so they played 4 regular holes and 2 safaris. It was hard for the pack to catch Hemi with a 7 shot lead, eventually coming out victorious in the open division and overall. Claiming his second tour win for the year. Chris and Brady managed to finish the SS tied for second overall. Brady eventually winning by way of a CTTP playoff, finishing 2nd in open div, while Chris put another masters trophy away for the year. Logan secured 3rd in open div, while Russ was 1 shot behind followed by Matt, 2 shots behind Russ. And so the curse of being TD and winning your own tourney was broken again.
For all those who attended this awesome event, spread the word, and for those that didn't, book it in now for next year. I'm sure it'll be just as successful. In normal Queenstown style, there was a plethora of prizes. Every golfer received something for their efforts.
Massive thanks to all QTDGC's awesome sponsors and supporters. And to those who travelled from around NZ.

The Pictures
Check out awesome pics from previous Queenstown tournaments: 2014, 2013, 2012, 2011, 2010, 2009, 2005


Making History - Celebrating the first tournament at Tucker Beach



One Glove, One Goal - Brady 'human highlighter' Kuech (Wellington) directs his putt nicely.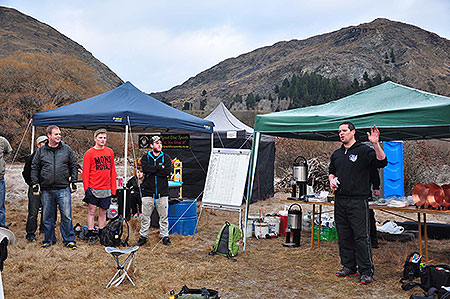 "And if you land in snow..." - New TD Hemi 'tuatara' Te Awhitu lays down the law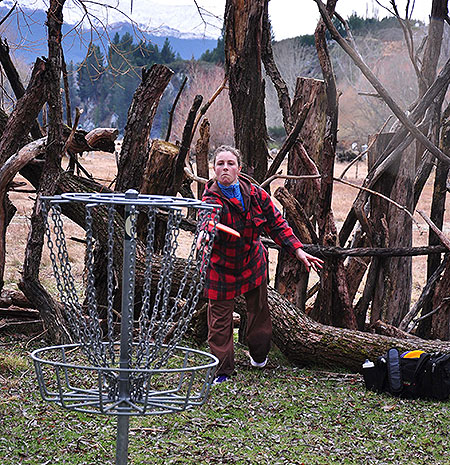 Swanndri Model - Artist Hannah Joynt (Dunedin) smashing the chains on the heavily guarded #8 par 3 basket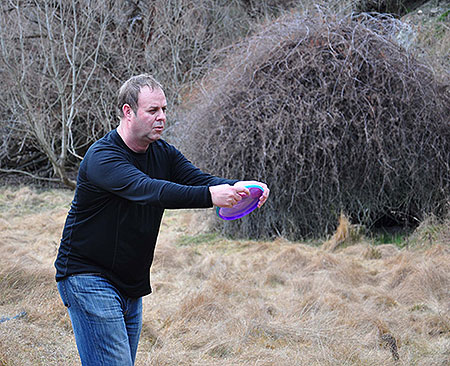 UNDER NO CIRCUMSTANCES WILL I MISS - Christchurch TD, Chris 'dingo' Davies is all concentration for his Par putt on #6 par 5 'Goliath'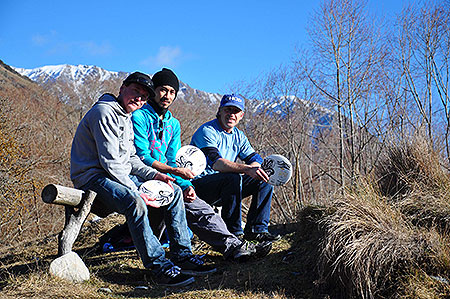 Local Strength - Paz Maslen (Wanaka), Shota Samizu (Queenstown), and Dom Hayden (Wanaka) showing off their new tourney Buzzz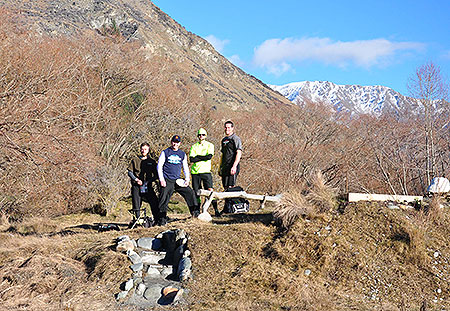 Huge - Round 3 top group, Logan Papuni (Rotorua), Chris 'Crow' Dickson,, Brady 'Human highlighter' Kuech and Hemi Te Awhitu pose on 'Goliath'.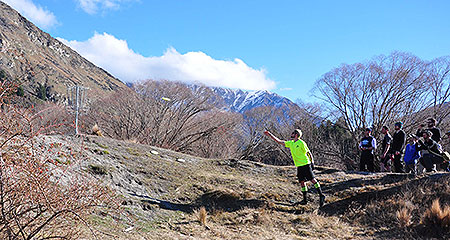 Floubro - Brady Kuech bravely putts at 'fork it' basket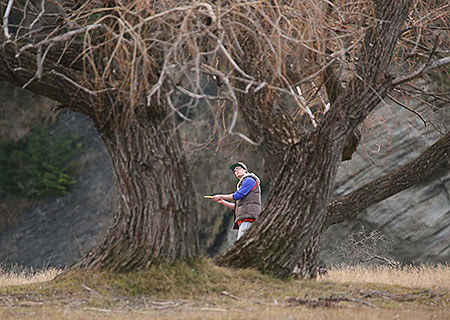 Knarly Dude - Luke James (Queenstown) contemplates his flick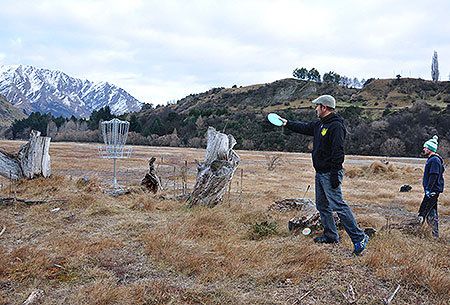 What a Backdrop - Akira Kuroe (Queenstown), lines one up on #10 par 4 'Stumpy' as Hayden Shore (Woodhill) takes notes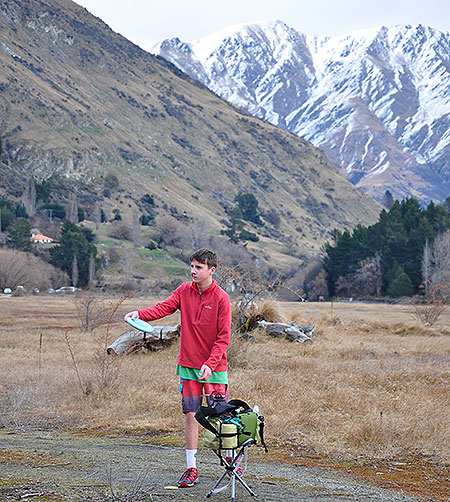 Good Kid with Good Kit - Up and coming Junior, Ben Wiel-lake (Queenstown), is one to watch in the future.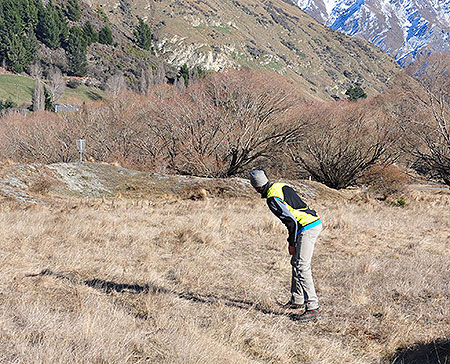 Riding the Flight - Wanaka golfer Rando Pahn urges his disc to head left onto #2 par 4 'Fork it' hill.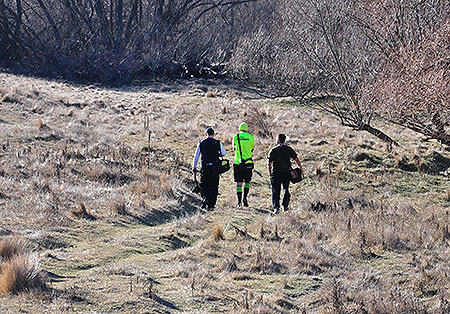 I Walk the Line - 255mtr par 5 'Goliath' tested the arms for most


Sulhper Shank - Logan Papuni (Rotorua) had a solid weekend finishing 4th overall


Good Prospects - James 'Jaguar' Smithells SGM, Lisa 'Takahe' Te Awhitu W, Hemi 'Tuatara' Te Awhitu O and overall, Craig 'Mako' McNab GM, Ben Wiel-lake J, Chris 'Crow' Dickson M
back to topThe Results for Inaugural Tucker Beach "Rush " Disc Golf Championships 2014
Tucker Beach Road, Queenstown 26th/27th July 2014
| | | | | | | | | |
| --- | --- | --- | --- | --- | --- | --- | --- | --- |
| First name | Last name | Division. | Rnd.1 | Rnd.2 | Rnd.3 | Super6 | Total | Div Place |
| Hemi | Te Awhitu | O | 56 | 49 | 57 | 20 | 182 | 1 |
| Brady | Kuech | O | 59 | 55 | 55 | 21 | 190 | 2 |
| Chris  | Dickson | M | 56 | 57 | 56 | 21 | 190 | 1 |
| Logan | Papuni | O | 59 | 57 | 57 | 22 | 195 | 3 |
| Russell | King | O | 59 | 59 | 55 | 23 | 196 | 4 |
| Matt | Bew | O | 60 | 56 | 59 | 23 | 198 | 5 |
| Eran  | Blumenthal | M | 57 | 64 | 56 | | 177 | 2 |
| Hayden | Shore | O | 61 | 60 | 56 | | 177 | 6 |
| Chris  | Davies | M | 62 | 59 | 57 | | 178 | 3 |
| Uan | Spike | O | 62 | 58 | 60 | | 180 | 7= |
| Dylan | Bradley | O | 63 | 61 | 56 | | 180 | 7= |
| Ben | Wielake | J | 59 | 60 | 62 | | 181 | 1 |
| Robin | Lilley | O | 63 | 60 | 59 | | 182 | 9 |
| Rando | Pahn | O | 63 | 63 | 58 | | 184 | 10 |
| Tim  | Barker | O | 63 | 61 | 61 | | 185 | 11 |
| Allan  | Gorthy | O | 60 | 63 | 63 | | 186 | 12= |
| Stuart  | Gilchrest | O | 62 | 64 | 60 | | 186 | 12= |
| Craig | McNab | GM | 64 | 60 | 63 | | 187 | 1 |
| Aaron | Miers | O | 62 | 64 | 66 | | 192 | 14 |
| Karl | Jolley | M | 65 | 63 | 65 | | 193 | 4 |
| Patrick | Maslen | O | 65 | 63 | 66 | | 194 | 15 |
| James | Smithells | SGM | 65 | 67 | 63 | | 195 | 1 |
| Lisa  | Te Awhitu | W | 68 | 63 | 64 | | 195 | 1 |
| Dom  | Hayden | M | 64 | 65 | 67 | | 196 | 5 |
| Tom | Sweeting | O | 68 | 66 | 62 | | 196 | 16 |
| Akira | Kuroe | M | 67 | 66 | 64 | | 197 | 6 |
| Shota | Samizu | O | 62 | 68 | 70 | | 200 | 17 |
| Paul  | Child | O | 70 | 64 | 67 | | 201 | 18 |
| Owen  | Hale | O | 65 | 66 | 72 | | 203 | 19 |
| Ben | Thomson | O | 73 | 67 | 65 | | 205 | 20 |
| Geoffrey | Marquie | O | 71 | 67 | 68 | | 206 | 21 |
| Kyle | Martin | O | 69 | 66 | 73 | | 208 | 22 |
| Adam | Rawson | O | 69 | 70 | 71 | | 210 | 23 |
| Michael | Muller | O | 72 | 68 | 70 | | 210 | 24 |
| Kevin | Gayer | O | 72 | 70 | 68 | | 210 | 25= |
| Greig | Howell | O | 70 | 72 | 68 | | 210 | 25= |
| Hayley | Flintoft | W | 70 | 69 | 72 | | 211 | 2 |
| Hannah | Joynt | W | 79 | 67 | 69 | | 215 | 3 |
| Riley | Bruce | J | 79 | 65 | 73 | | 217 | 2 |
| Luke | James | O | 73 | 75 | 74 | | 222 | 26 |