The 15th Annual 'Helicopter Line Queenstown Classic' & Dart River Safaris Paradise Plates 2010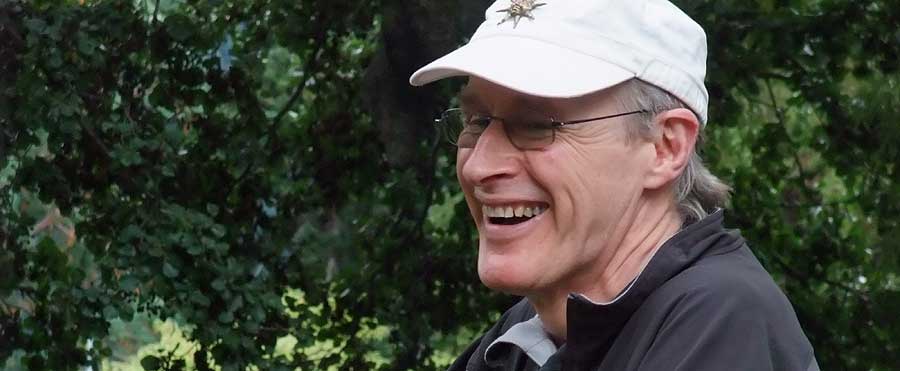 TD and Queenstown Disc Golf Legend James Smithells happy to see a record turnout for the 2010 Classic.
It was 27 degrees as we boarded the plane in Auckland for the 1 hour 50 flight south to Queenstown nestled at the top end of Lake Wakatipu in the Southern Alps. It was 17 degrees less when we got off with a fresh dusting of snow on the mountains, so the first port of call was a trip to one of the many outdoor shops for some warm cloths.
We were planning on catching up with a crew for a practice round on the Friday evening, but on the way to the gardens we had to pass a bar with a big open roaring fire and happy hour just about to get under way which seemed like a far better idea. A few bevies, dinner and an early night ahead of the weekend's golf was a plan.
Saturday morning and James has a crew of volunteers doing what needs to be done as he meets and greets every player as though they were all long lost friends. It was still cool with a steady southerly blowing down some of the exposed fairways so the extra warm clothing was coming in very handy.
After the opening round no-one had ripped up the course, in fact there were only 3 strokes separating the top 5. Ken Jarvis's twin Bro Marc, visiting form the States for a couple of weeks, was at 45, Simon Feasey and Ken on 46 and Mario Cerniar and the Grand Master on 47. For the second round the wind dropped considerably and the sun even came out but still no-one threw a blinder, when the dust settled Ken Jarvis (Open) had taken the tournament with a total of 90 with Simon Feasey (Master) and Christchurch's Mario Cerniar (Open) tied for second on 92 and the GM taking the forth spot in the top group for the Sunday afternoon round at Paradise with a 2 round total of 93. [For tour points it was your accumulative score from the two rounds in the Gardens and the one round of singles Sunday afternoon at Paradise.]
Sunday morning and Queenstown was back to a far more acceptable 18 degrees, tee-shirt weather for the morning doubles at Paradise and the afternoon's 12th annual 'Dart River Safaris Paradise Plates'. The Doubles came down to a play off between Simon Feasey partnered with Mario Cerniar and Ken and matching twin Marc Jarvis who had finished the 18 holes tied on 38. Congratulations to Ken and Marc who took the title on the third sudden death extra hole.
After a break for refreshments in the sun and a chance to take in the 'stunning silence', [we don't know the meaning of quiet in a city], the singles groups headed for the course, there were 50 tour points up for grabs, and only a few strokes separated the top 5.
The afternoon condies were great for golf, overcast, a little breeze from time to time but warm, warm enough for just tee-shirts, a marked turnaround from the last couple of days.
The lead in the top group changed several times over the Paradise 18 but when it was all over Ken and Simon had tied for the Paradise title with 45's [Ken won on a sudden death playoff] followed by Marc and Mario tied for 3rd on 46 with a two shot buffer on the GM on 48.
Congratulations to not just Queenstown Disc Golf but to all who came and made this another 'classic' Disc Golf weekend.
A Message from the Tournament Director
Hi all
For those of you who recently attended the Queenstown tournies, firstly, thanks very much for coming and making the weekend the great success that it was. Other matters are;
1. I have lost property of a grey Icebreaker beanie with a blue stripe and a nylon Columbia jacket (M, Women's), navy blue with pale blue trim
2. If you would like to check the great photos that T took, the link is
http://mediasport.smugmug.com/Galleries/2010-Queenstown-Classic-Disc
It's $20 per photo (you get the original high resolution jpeg), or $30 for three. QT Disc Golf gets $5 from this.
3. Most trophies need the engraving updated. We are now in a position to pay for this. Can trophy holders please find a reasonably priced engraver and get a quote for this; usually getting a whole lot done is cheaper per name. I have full lists of names for each trophy.
The Classic trophies will need hand engraving. I have to get a jeweler to do these here, as the engraver can't do them.
The Plates trophies may need (a) gold coloured metal plates put on (if none attached) or (b) a new plate put on and the previous one removed (if the names are too big).
We have 15 years of the Classic and 12 years of the Plates, and I would imagine we'll need space for another 15 years (optimism!)
I'll get the Womens and Grand Masters ones sorted and post them, along with the Dart River Jet Safaris vouchers (what's your postal address Jenny?).
Please contact me if you have queries about any of the above matters.
Cheers, James
Pictures
Check out awesome pics from previous Queenstown tournaments: 2017 New Zealand National Championships | 2016 Tucker Beach | 2016 Wakatipu Summer Disc Golf Tournaments | 2015 Wakatipu Disc Golf Championships | 2014 Tucker Beach Inaugural | 2014 Wakatipu Disc Golf Championships | 2013 Wakatipu Disc Golf Championships | 2012 Helicopter Line Queenstown Classic and Dart River Safaris Paradise Plates | 2011 16th Annual 'Helicopter Line Queenstown Classic' & Dart River Safaris Paradise Plates, 2010 15th Annual 'Helicopter Line Queenstown Classic' & Dart River Safaris Paradise Plates | 2009 14th Annual 'Helicopter Line Queenstown Classic' & Dart River Safaris Paradise Plates | 2005 Queenstown Classic
| | |
| --- | --- |
| A picturesque setting for the players meeting ahead of the opening round of the Queenstown Classic. | I know how to mark my shot thinks Toby Gentil as James explains the finer details to the many first time tournament players. |


Ken and twin Bro Marc Jarvis. If Marc didn't wear his hat backwards you'd be wondering!


Another Joynt! Daughter of Jenny and older sister to Allie and Robin, Hannah Joynt .. (That's a lot of Joynts) sends one off 'the rock' on hole 3 in the Gardens.
| | |
| --- | --- |
| Austrian golfer Andy Barth had his wife and young boy's with him in the campervan and are looking forward to meeting golfers as they head up the country. Here he sends a solid putt at the chains to try and save par on the 12th. | A DSKGLF'N Toyota! No points for guessing this is Skinny Jim's truck from Outside Sports. Nice skills! |

Locals
Uan Spijkerbosch
, a dude in a hoodie,
Dennis Behan
and Andy from Austria have the 'post target' on hole 2 surrounded. This will be the last year for the posts as the Gardens course is about to be up-graded to 18 baskets.
Sad day for James but that's progress
.
| | |
| --- | --- |
| "Was that an ace?". Na! No-one took out the 'ace prize' so a closest to the pin competition was held at the end of play. Local golfer Simon Hewett won the right to be chucked out of a plane at 12'000 feet above Glenorchy. What a blast! | Hole 10 in the trees was exposed to the wind so it was nice to be able to park your drive, or even your up shot. Bad things can and often happen here! |

Day one of the Queenstown golfing experience comes to a close with
TD James Smithells
about to hand out the classic one-off trophies and a heap of great prizes. Oh! there's that dude in the blue hoodie again as well.
| | |
| --- | --- |
| American, Queenstown local Ken Jarvis takes the Open trophy and sadly announces this will probably be the last year he plays 'the Classic' as his visa has probably had it's last extension. "We'll miss ya Bro!" | 'The Helicopter Line Queenstown Classic' winners! Nigel Barnwell Locals. Eh! Simon Feasey Masters, Jenny Joynt Woman's, Bob GM Gentil Grand Masters, Toby Gentil (11) Juniors and Ken Jarvis Open. |
Day 2 - Paradise


'Paradise'. Need I say more?


The Paradise players meeting. "Get a card, find three people to play with and head to any hole you feel like!" It works!


Craig McNab from Christchurch tee's on the short but scary 18th at Paradise.

That's a handy pole! Christchurch Disc Golfer Craig McNab has made himself a disc retrieval device that extends massively to reach plastic up trees and in water. Handy to have Craig in your group!


Team Invercargill. The Family that play together stay together. Kyle Murray and Gareth Dykes made it a family weekend.


Disc Golf in Paradise. Even the targets were smiling.


The last of the great white opossum hunters. Brett Hailstone poses up-wind of the hole 17 target.



Garden City golfer Sammy Neilson takes in little sustenance as the photographer takes in the scenery.


"Get in the hole!" Travelling Waiheke Island Disc Golfer Brett Hailstone played out the last of the open holes before heading into the 'Lord of the Rings' set to take on the trees.


Now how the heck are ya supposed to get through there? Andy Barth walks from the tee as Nigel Hailstone, Murray McNab and Sammy Neilson all ponder the same thought.


A group of Queenstown locals making the most of the only weekend in the year you can play Paradise.

Everyway you look the vista is breathtaking
. Brett Hailstone, Kyle Murray And Gareth Dykes wait on the tee for the spotters to take up position in the long grass.
Results
1
Ken Jarvis
O
46
44
45
135
50.00
2
Simon Feasey
M
46
46
45
137
48.89
3
Mario Cerniar
O
47
45
46
138
47.77
4
Bob Gentil
GM
47
46
48
141
46.10
4
Marc Jarvis
O
45
50
46
141
46.10
6
Brett Hailstone
M
52
46
50
148
44.43
7
Dave Sammy Neilson
M
53
48
49
150
43.32
8
Uan Spijkerbosch
O
51
46
54
151
42.20
9
Craig McNab
M
51
51
52
154
40.53
9
Andy Barth
O
51
53
50
154
40.53
11
Nigel Barnwell
SGM
49
53
53
155
38.86
12
Jason Eunson
O
50
51
57
158
37.75
13
Dennis Behan
O
50
53
56
159
36.64
14
Nigel Hailstone
M
54
58
52
164
35.52
15
James Smithells
GM
53
57
55
165
34.41
16
Martin Galley
M
55
58
53
166
32.74
16
Kyle Murray
O
55
52
59
166
32.74
18
Elias Lilo
O
60
58
55
173
29.95
18
Gareth Dykes
O
59
58
56
173
29.95
18
David Rose
O
57
57
59
173
29.95
21
Andrew Rodgers
O
60
57
58
175
27.73
22
Simon Hewitt
O
58
56
65
179
26.61
23
Jenny Joynt
WGM
70
68
71
209
25.50
24
Hannah Joynt
W
80
74
75
229
24.39
25
Vaughan Pearse
M
50
55
105
23.27
26
Jono Hotop
M
51
55
106
21.60
26
Neil Gardner
O
53
53
106
21.60
28
Russ King
O
51
56
107
19.38
28
Jim Hemingway
O
52
55
107
19.38
30
Rusty Jarrot
O
53
55
108
17.70
31
Chris Davies
O
53
56
109
16.59
32
John MacDonald
M
57
55
112
14.92
32
Felipe Stein
O
58
54
112
14.92
34
Matt Newton
O
60
56
116
13.25
35
John Mooney
O
59
59
118
12.14
36
Nathan Roberts
O
58
62
120
11.02
37
Steve Johnson
O
57
65
122
9.91
38
Scott Dyer
O
63
61
124
8.80
39
Anton Delport
O
59
66
125
7.68
40
Chris Sutherland
O
57
73*
130
6.01
40
Blair Simpson
O
64
66
130
6.01
42
Hijiri Kitamura
M
65
67
132
4.34
43
Alex Calwell
O
59
76
135
3.23
44
Toby Gentil
J
78
69
147
2.11
45
Michelle Calwell
W
81
74
155
1.00