add to facebook

Harcourt Park, Upper Hutt, Wellington - August 17 & 18


Seismic Dominance - From Round One, Auckland disc golfer Dave 'Speedo' Keene was in front and continued to play excellent golf in the varying conditions to take out the overall title.

The 2013 Wellington Fault Line Fury Disc Golf Tournament.
Hosted by the Levin Brotherhood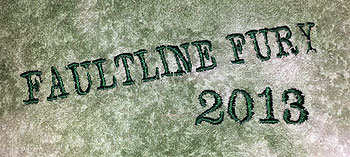 Well folks it seems that the Faultline Fury has finally lived up to it's name.
With the traditional four seasons in one day Mother Nature decided to upgrade that particular combo to include one natural disaster as well. None the less it was not enough to stop the New Zealand Disc Golf Community ascending upon the capital in style with players merging from as far north as Auckland and as far south as Christchurch.
After some excellent weather that the keen players were able to enjoy on the Friday, Mother Nature decided to mix things up a bit with a solid Earthquake to prepare them for what they were in for in the days to come.
Players were then greeted with the most testing conditions the tour has seen so this year on the Saturday morning before heading out for the first round with a steady rain in cool temperatures.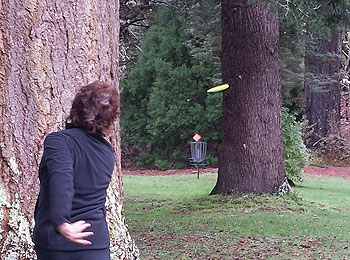 After the first round there was only one player able to get the better of the course and the conditions, with Jackson Sullivan shooting an impressive 53 in some seriously difficult conditions. Chasing him was Defending Champion Pete Boyle, along side David Keene two shots behind with Jacko's Dad Shane Sullivan leading the Grand Masters division and making up the top card.
The battle of New Zealand's top two women resumed with both Gemma Sullivan and Ming Menzies resuming their fantastic battle over the tour. In the Masters Division it was a logjam at the top with Blair Joines having his nose in front from a number of chasers ranging from South Island still wart Chris Davies to the mischief that is Juan Unda & Marty de Haas.
Junior Division turnout was Toby Gentil, who arrived a little underprepared for the conditions managed to survive to be at the top.
Heading into the afternoon round the weather gods were kind enough to turn things around with some warm sunshine even poking through. This enabled most players to attack the course and pick up shots that might have been left out there from the morning's round.
A solid front nine by David Keene saw him trim back Jackson Sullivan's lead to wrestle the lead from 'Jacko' heading into the back nine.
The story of the day was the golfing lesson that veteran Shane Sullivan was showing to all those around. Playing brilliant par golf on the front nine he started to unleash on the back nine managing to slide a few birdies onto the card.
That was until he stepped up to hole 16.
After some discussion with son Jackson about the right type of shot Shane addresses the tee to let his Buzz fly. The shot resembled something like a missile towards its target and without further ado, crashing into the chains for a spectacular hole in one! Let this reporter tell you that the elation on Shane's face was a MasterCard moment, priceless! With that piece of brilliance it enabled Shane to draw level with Jackson and surpass defending champion Pete Boyle who was finding the going a little tough out there this year compared to last years efforts.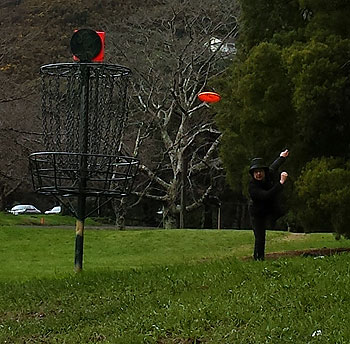 Once the tired bodies had dribbled back into HQ there were handshakes all round for Shane as he held second place equal with Jackson. After a sold second round of 47 David Keene had forced his way to the top of the pack on a total of 102. In the Women's division Gemma Sullivan had a one shot lead over Fiona 'Ming' Menzies and Blair Joines was able to put daylight between him and the chasing pack in the masters division.
In the local Division the human highlighter Brady Keuch was within touching distance of Alex Britton , however could he haul him in with only one round to go?
Sunday morning saw some tired bodies emerge back onto the playing field while the threat of more torrential rain and wind were always present. The battles all over the course resumed. A lot of eyes were on the ladies battle of Gemma and Ming, while the ever-improving Paula Wilson has improved out of sight of late to be pushing Senior Womans Grand Master Jenny Joynt all the way, which made for some excellent golf in a tight group.
Carrying on his good form was Shane Sullivan, carding yet another 51 in the morning round along with both Jackson Sullivan & David Keeene which meant there was not a lot of movement at the top of the leader board however closing the gap was Masters leader Blair Joines with a sold 53 taking out the masters division in the process.
The drama however was unfolding in the chasing groups with the man they call the GM Bob Gentil performing somewhat of a Babe Ruth shot calling an ace run on the same hole Shane had cashed in on. Not to be outdone a simular flight pattern saw the same result with the chains being rattled for the second ace of the tournament.
In the woman's battle Gemma had managed to hold off a fast finishing Ming Menzies to win the woman's title by a single stroke and Toby Gentil made lite work of the junior division. The super six became the super seven due to a Des Cooper special drawing with AB Hartley with only two holes to play. All the moving and shaking was done from the back half of the super six. Blair Joines clawed his way above Shane Sullivan with solid par golf. Both Jackson Sullivan and David Keene found the going tougher with blemishes on their last six holes. AB Hartley and Des Cooper were able to catch local division winner Alex Britton, who was just hanging on after a restless night with his newborn, for a three way tie of fifth to gain valuable tour points, Shane Sullivan finding the safari holes of the Super Six tougher going slipping back to fourth.
Managing to hold his five shot lead from the night before with great tee-to-basket golf was David "Speedo" Keene.
Well done to all the winners and we want to say a special thanks to the Sullivan Family for all the hard work they out in for the Faultline Fury. Special mention and thanks to Jill, Shane, Gemma & Jackson Sullivan for helping out with everything. You all made it an amazing tournament.
And thanks to Resene Palmerston North for the prizes that were appreciated by all and Sky Highway and his crew that provided hungry cold golfers with some awesome hot food and drinks. A big thanks too to Sky Highway and friends for setting up the course, a great asset for the Hutt Valley thanks to legend Mark Dakiv.
Fury competitor Chris Davies compiled this video of the exciting Super Six final. Check it out!
Check out awesome pics from previous Wellington tournaments: 2016, 2015, 2014, 2013, 2012, 2011, 2004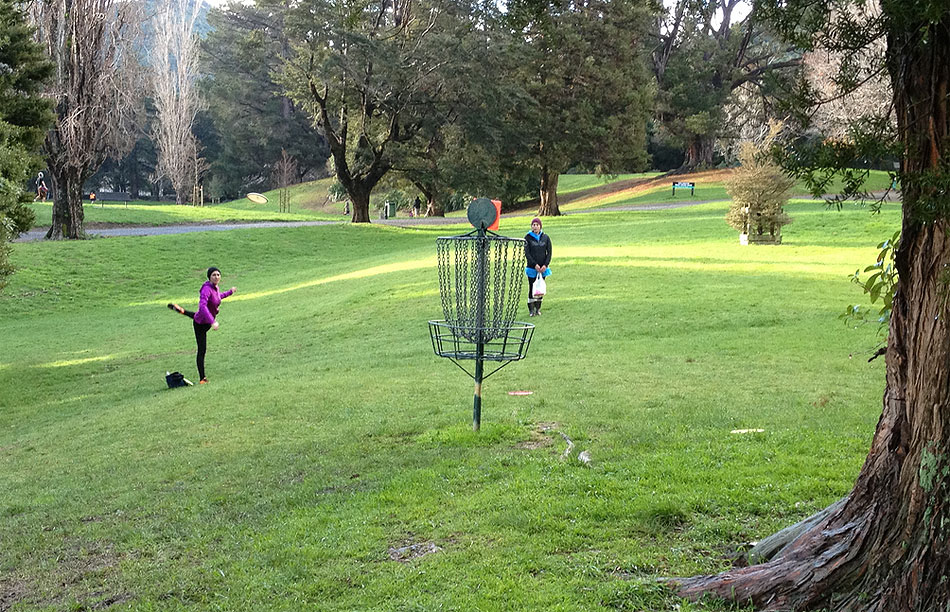 In the chains! - Brotherhood golfer Paula Wilson made this great 30m putt for birdie on the 4th watched by fellow Women's competitor Coby Woller (love the disc bag! - ed.)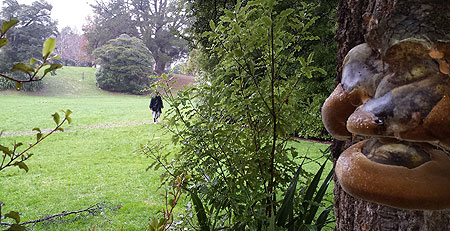 A
A Fun Guy - One of the local troopers behind making this event successful (and filling our bellies) was Sky Highway, pictured here on the move from hole 6 to 7.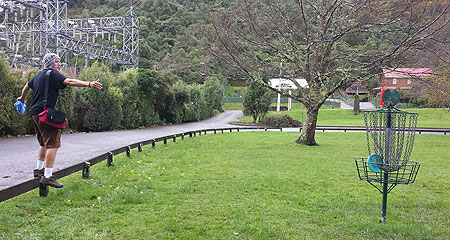 Balance of Power - Not one to miss a challenge, New Hampshire golfer and regular of the 2013 Tour Nate Stone completes the 10th in style.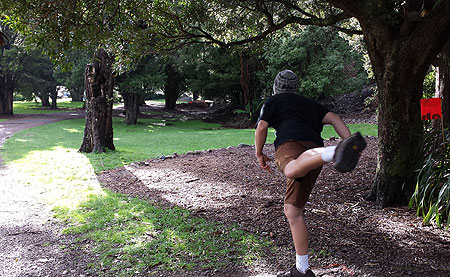 Tall Timber - Nate Stone tries to emulate 'Shano' Sullivan's great Ace on the 9th. It wasn't to be, but GM Bob Gentil managed it too on Sunday morning.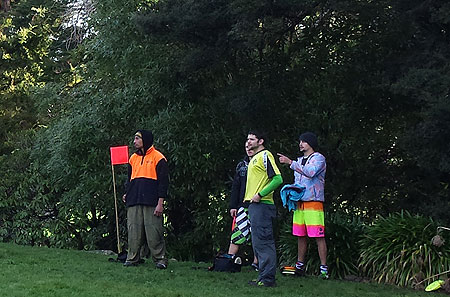 Illumination Concentration- It seems that once players learn they will be in the group of The Human Highlighter, they embrace the glow, illuminating the course with a combination of brillaitn shots and hi-viz phasion.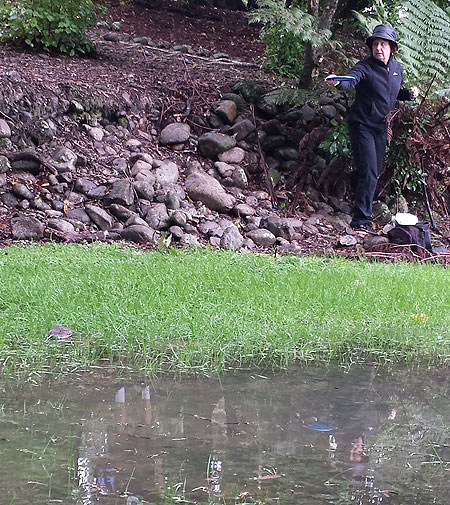 Upon Reflection - Champion golfer Ming Menzies (Tauranga) was to reflect all those bounce-outs, rollers and decisions once she found out the Womens trophy had slipped from her grasp by a mere 1 shot after 54 testing holes.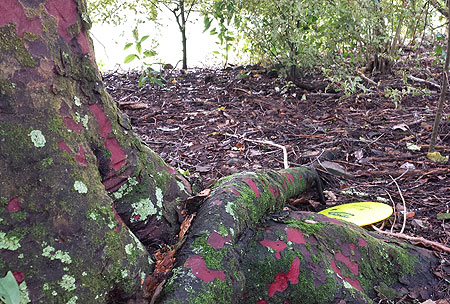 Colours of Bamfurlong - The Harcourt Park Disc Golf features many small groups of trees that become ideal 'bunkers' for the game. Very tricky to get out of, best you don't end up here!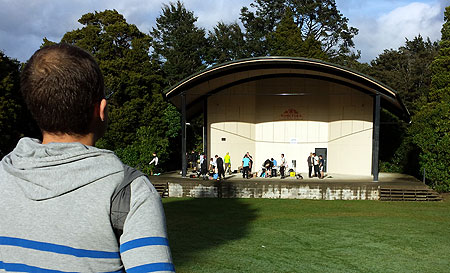 Live at Harcourt - Players welcomed the afternoon sunshine that followed a somewhat drizzly first round. Visiting American Nate Stone enjoys an impormptu concert by Friz B and the Brotherhood Beat Boyz.


Precipitation Concentration - A spot of rain did not deter Auckland based Rotoruian Dan Dolman from posting a solid first round 62.


Diving Des - Experienced King Country disc golfer Des Cooper continues to play great strategic golf, managing to make his goal of featuring in the Super Six. And in those final 6 holes he make some 'smokin' shots.



Joines the Dots - Masters golfer Blair Joines can pull out either a backhand or forehand depending on a hole's configuration, a definate advantage when competing in the highly competitive New Zealand Disc Golf Tour.



Enthusiastic Keene - Nosing quickly to the front of the field, 2013 Champ Dave 'Speedo' Keene combined left handed power wth accuracy to stay in front.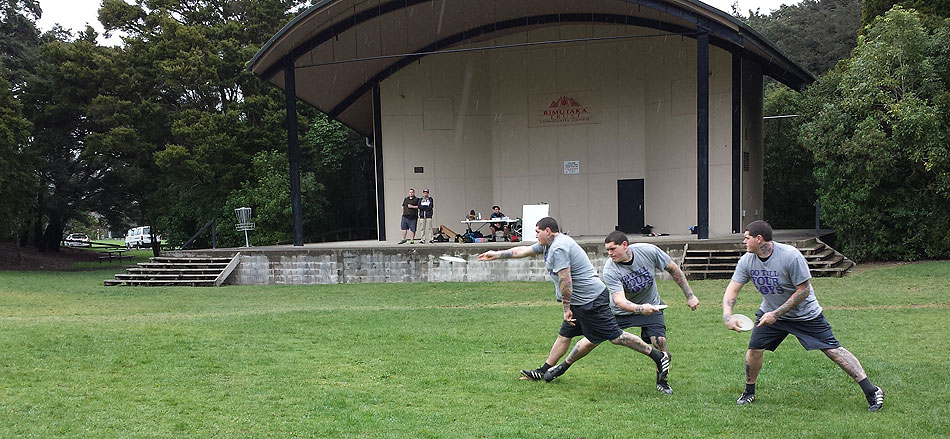 Jumping Jacko! - Our cameraman Len Skap captured this triple Jacko shot, capturing those moments of the controlled explosive action of 2nd place Jackson Sullivan.



Golfers Everywhere - In this pan shot of the Upper Field, we counted 21 golfers!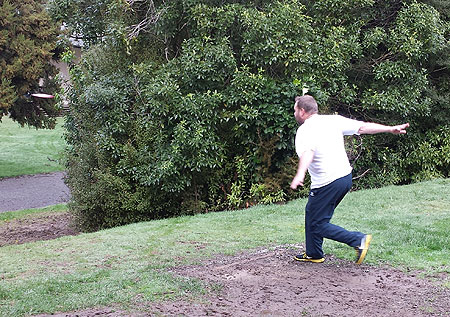 Making Sure - Christchurch's Chris Davies enjoyed the last Tour event before the upcoming tournament in his home town, which he is in fact coordinating.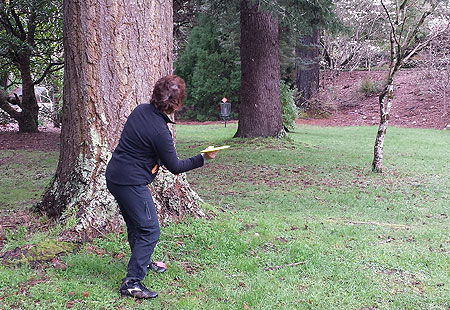 Precision - With an unlucky position after a superb drive, Ming Menzies slotted this forehand approach perfectly, sliding to the base of the basket for a great par on hole 8.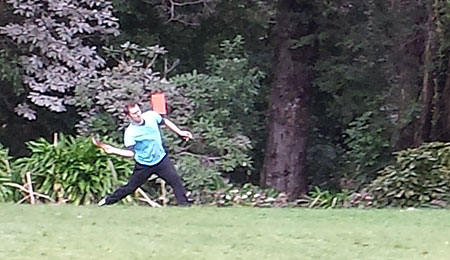 Logans Run - After a slow start in round 1, Auckland's Logan Papanui fired some good golf for a 61, 53, 54 - 168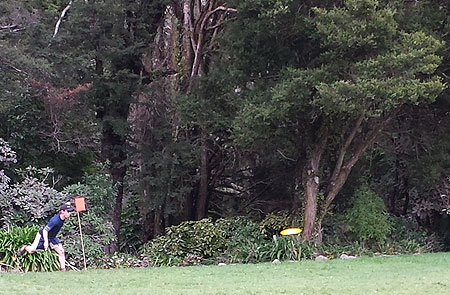 Great Britton - One of the relative newcomers to the Tour to watch out is the left handed consistency of Alex Britton who managed Top Local status despite being kept up all night by his new bubba.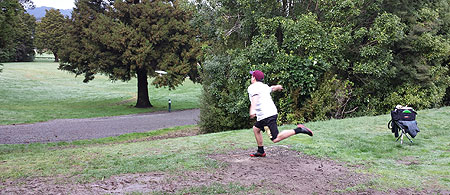 Naughty Lawtie - Levin's Lawton Williams shows his ever-consistent style teeing off on the seventh.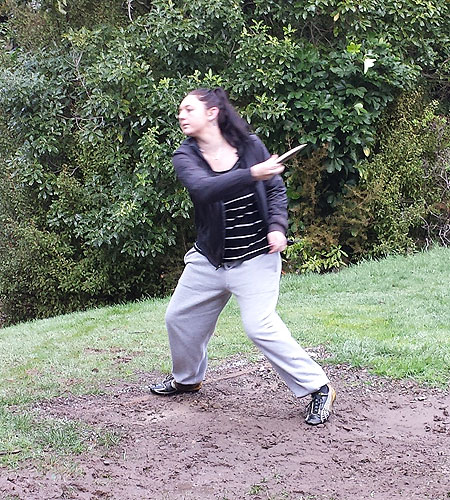 Trophy Bound - One of the favourites for the Women's trophy was Levinite Gemma Sullivan. And she played the game that gave her the 2013 title over Ming Menzies, both competitors scoring better than many of the boys from the same tees! Great to watch.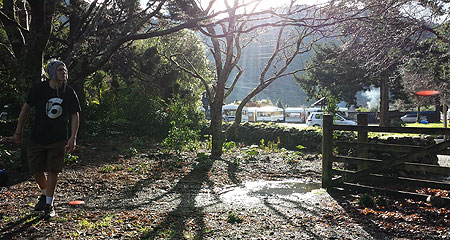 Six of the Best - American golfer Nate Stone enjoys the first sign of sunshine as Round Two begins.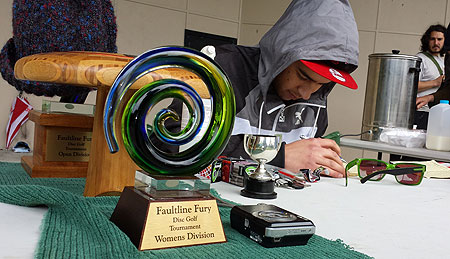 Smart and Art - Mathmatician, technician and often disc golf magician Riki Elston forgoes the competition to make sure that scorecards came in correct whilst keeping an eye on the fabulous 'silverware' that champions of the Faultline Fury are rewarded with.


Woller Shot! - Sporting great kiwi fashion footwear and high tech disc bag and slotting a confident putt on the 6th is Auckland's Coby Woller, part of a healthy Women's field of 6



Never too late Nate - Whilst the top runners were taking up the lime light, there were plenty of fiercely casual battles going on mid-field. And New Hampshire golfing identity Nate Stone kept things alive for his ongoing 2013 battle with local Sky Highway. Sky eventually held on to take Mate by just one point.



Lord of the Chains - Backed by areas of Harcourt Park that were used in the filming of little known movie Lord of the Rings, Junior golfer Toby Gentil held on through some shivering conditions to clock a 73 in round one.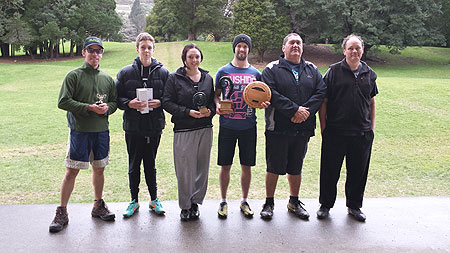 Faultless at the Faultline - the earth may have shook, but our winners were steady all the way. Well done from left Alex Britton, Toby Gentil, Gemma Sullivan, Dave Keene, Shane Sullivan and Blair Joines.

back to top
The Results for 2013 Wellington Fault Line Fury Disc Golf Tournament
Harcourt Park, Upper Hutt, Wellington - August 17 & 18

| | | | | | | | |
| --- | --- | --- | --- | --- | --- | --- | --- |
| Player | | Dvn | Rnd.1 | Rnd.2 | Rnd.3 | Super6 | Total |
| David | Keene | O | 55 | 47 | 51 | 20 | 173 |
| Jackson | Sullivan | O | 53 | 54 | 51 | 20 | 178 |
| Blair | Joines | M | 58 | 50 | 53 | 18 | 179 |
| Shane | Sullivan | GM | 56 | 51 | 51 | 22 | 180 |
| Alex | Britton | O | 56 | 52 | 56 | 22 | 186 |
| Des | Cooper | GM | 59 | 54 | 54 | 19 | 186 |
| Abraham | Hartley | O | 58 | 54 | 55 | 19 | 186 |
| Logan | Papanui | O | 61 | 53 | 54 | | 168 |
| Pete | Boyle | GM | 55 | 60 | 53 | | 168 |
| Lawton | Williams | O | 59 | 57 | 54 | | 170 |
| Chris | Sinai | GM | 60 | 54 | 58 | | 172 |
| Brady | Kuech | O | 61 | 54 | 56 | | 173* |
| Steven | Fargher | O | 63 | 52 | 59 | | 174 |
| sMartin | De Haas | M | 64 | 57 | 57 | | 178 |
| Chris | Davies | M | 60 | 58 | 61 | | 179 |
| Gemma | Sullivan | W | 61 | 59 | 59 | | 179 |
| Ming | Menzies | W | 62 | 60 | 58 | | 180 |
| Juan | Unda | M | 63 | 60 | 58 | | 181 |
| Geoff | Nijhuis | O | 68 | 59 | 57 | | 184 |
| Sky | Heighway | O | 66 | 58 | 60 | | 184 |
| Nate | Stone | O | 62 | 61 | 62 | | 185 |
| Lou | Hillman | O | 61 | 64 | 61 | | 186 |
| Winston | Rawiri | O | 63 | 60 | 65 | | 188 |
| Quan | Weston | O | 66 | 60 | 63 | | 189 |
| Lance | Alexander | GM | 65 | 62 | 62 | | 189 |
| Daniel | Dolman | O | 62 | 59 | 70 | | 191 |
| Adam | Rawson | O | 67 | 67 | 62 | | 196 |
| Jenny | Joynt | GMW | 76 | 68 | 68 | | 212 |
| Paula | Wilson | W | 75 | 69 | 70 | | 214 |
| Hana | Robertson | W | 74 | 74 | 71 | | 219 |
| Coby | Woller | W | 82 | 76 | 80 | | 238 |
| Toby | Gentil | J | 73 | DNF | 69 | | |
| Bob | Gentil | GM | 60 | DNF | 57 | | |
| David | Malupo | O | 72 | DNF | DNF | | |