Harcourt Park, Upper Hutt August 8 and 9
The 2015 Faultline Fury Disc Golf tournament.
Disc Golf - even on a crappy day is a lot of fun! Good thing, as the weather for the Wellington round of the NZDG tour for the past 3 years now has been crappy but still players from all over the country and sometimes even the world come along to take on each other, the course and the elements.
The report after rounds 1 & 2 on day one was brief and to the point.
"Jackson Sullivan takes a four stroke lead after day one of the 2015 Faultline Fury. Will Dean Marshall or Blair Joines hunt him down? Can the dog whisperer Chris Sinai reel him in? Perhaps the chase cards will have a hot round? Lots of disc golf to play." 
Luckily for us the report after day two summed things up nicely.
"Jackson Sullivan holds on to win the 2015 Faultline Fury. Gemma Sullivan wins women's. Dean Marshall take masters, and Chris Sinai the Grand Masters. Thanks to all the players who made it out. A record 8 women competing this year. And also big shout outs to Vortica Sport, Westside Discs, RPM, Panhead, Wattle and Brotherhood disc golf for a making this past weekend a success. See everyone next month in Christchurch.
www.discgolf.co.nz was also pleased to be a sponsor of this event.
The Pictures
Check out awesome pics from previous Wellington tournaments: 2016, 2015, 2014, 2013, 2012, 2011, 2004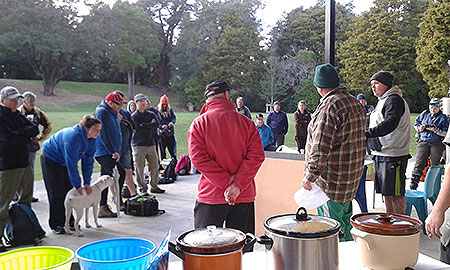 Staged Event - Players meeting on day one and the Levin Brotherhood lay down the law.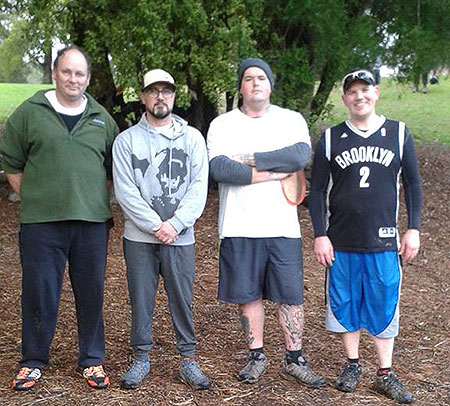 Line Up - The usual suspects. Would the 2015 champ come from this group?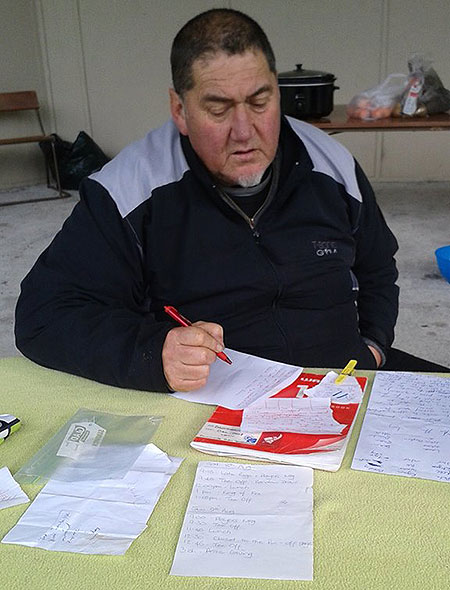 Kiwi burger hold the beetroot, got it! - Tournament brains trust.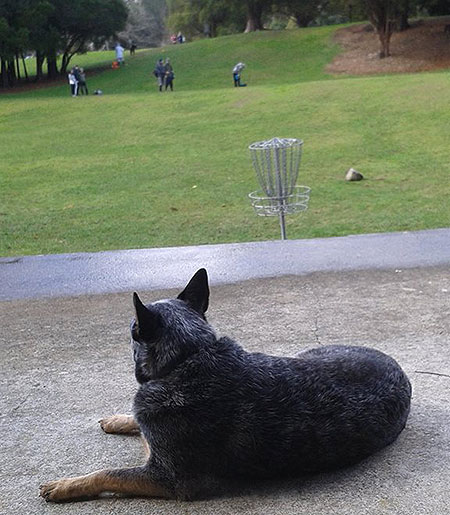 TD - How do you know it's a Levin Brotherhood event? Easy!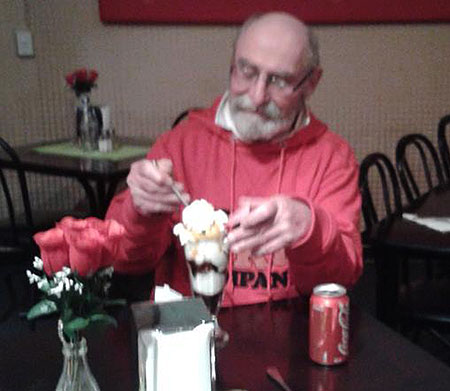 His body in a temple - Taumarunui legend Pete Boyle doing a spot of carbo loading.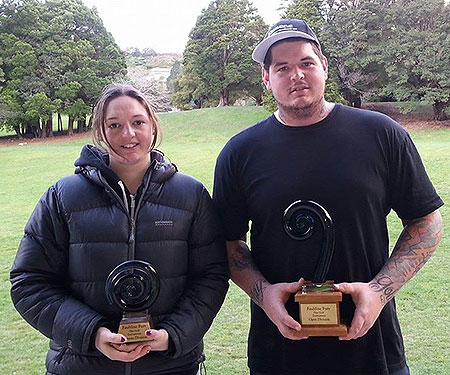 Keeping it in the family - Sister and brother Gemma and Jackson Sullivan are the 2015 Faultline Champs.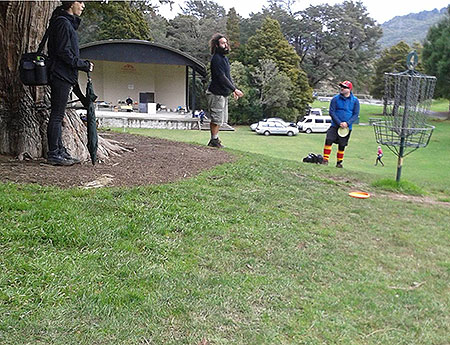 Welcome - Always great to see new faces on the course, especially for a competition. Welcome.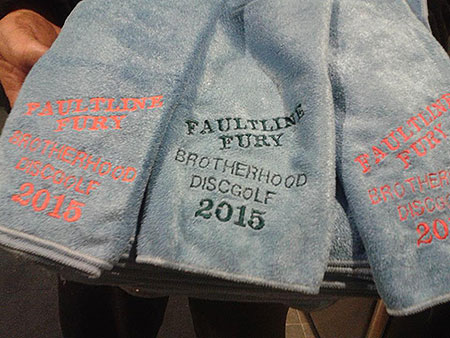 Warm Fluffy Memories - A much needed item in the players pack. The Levin Brotherhood do it well.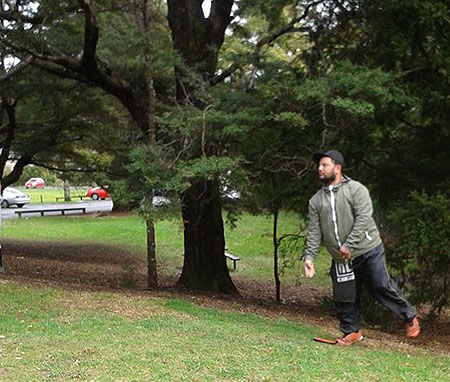 Rugged - Even the locals were rugged up for the occasion.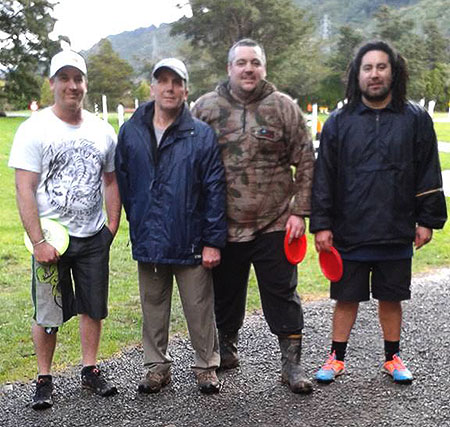 Line Up - A bunch of likely looking lads ready to play.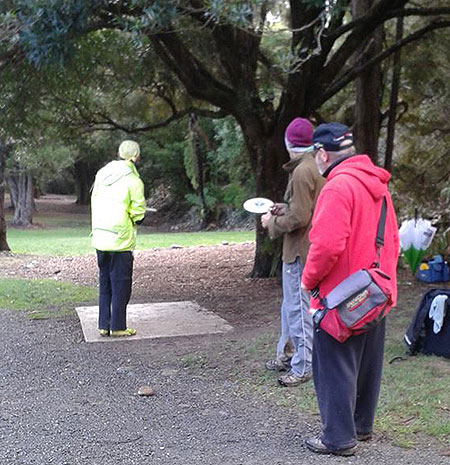 Visuali(z)e - Local American Brady Kuech on the ACE run hole.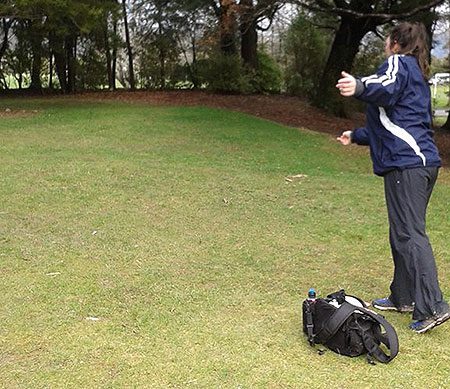 Champion - She's raising the bar. Gemma Sullivan from Levin's Brotherhood / Sisterhood on her way to defending her title.


A Wellington tradition - The lunchtime 'Ring of Fire'.



Next year, put yourself in this picture - Congratulations to everyone who played this year's Wellington Faultline Fury.

The Results for 2015 Faultline Fury Disc Golf tournament
Harcourt Park, Upper Hutt August 8 and 9
| Place | Player | Div. | R1 | R2 | R3 | R4 | Total | Points |
| --- | --- | --- | --- | --- | --- | --- | --- | --- |
| 1 | Jackson Sullivan | O | | | | | 195 | 50.00 |
| 2 | Dean Marshall | M | | | | | 197 | 48.64 |
| 3 | Blair Joines | M | | | | | 200 | 47.28 |
| 4 | Logan Papuni | O | | | | | 206 | 45.24 |
| 4 | Ryan Kitto | O | | | | | 206 | 45.24 |
| 6 | Chris Sinai | GM | | | | | 210 | 43.19 |
| 7 | Brady Kuech | O | | | | | 214 | 41.15 |
| 7 | Pete Boyle | GM | | | | | 214 | 41.15 |
| 9 | Anton Schutte | O | | | | | 219 | 39.11 |
| 10 | Abraham Hartley | O | | | | | 220 | 37.75 |
| 11 | Grant Te Ngaru | O | | | | | 224 | 36.39 |
| 12 | Robin Lilley | O | | | | | 227 | 34.35 |
| 12 | Chris Davies | GM | | | | | 227 | 34.35 |
| 14 | Jack Moka | O | | | | | 236 | 31.63 |
| 14 | David Malupo | O | | | | | 236 | 31.63 |
| 16 | Gemma Sullivan | W | | | | | 240 | 29.58 |
| 17 | Sky Heighway | O | | | | | 241 | 28.22 |
| 18 | Fiona Ming Menzies | W | | | | | 243 | 26.86 |
| 19 | Mason Payne | O | | | | | 244 | 25.50 |
| 20 | Jono Walford | O | | | | | 246 | 24.14 |
| 21 | Lance Alexander | GM | | | | | 248 | 22.78 |
| 22 | Quan Weston | O | | | | | 257 | 21.42 |
| 23 | Quentin Golder | GM | | | | | 262 | 20.06 |
| 24 | Bodene Tuatara | O | | | | | 267 | 18.69 |
| 25 | Mitchell Haberkorn | O | | | | | 271 | 17.33 |
| 26 | Liz Moka | W | | | | | 273 | 15.97 |
| 27 | Paula Wilson | W | | | | | 281 | 14.61 |
| 28 | John Austin | O | | | | | 284 | 12.57 |
| 28 | Hana Robertson | W | | | | | 284 | 12.57 |
| 30 | Ginny Foley | W | | | | | 294 | 10.53 |
| 31 | Coby Woller | W | | | | | 298 | 9.17 |
| 32 | Daniel Salter | O | | | | | 116 | 7.81 |
| 33 | Adam Rawson | O | | | | | 125 | 6.44 |
| 34 | Stephen Fargher | O | | | | | 126 | 5.08 |
| 35 | Grant Dellow | GM | | | | | 133 | 3.72 |
| 36 | Phillip Smith | O | | | | | 138 | 2.36 |
| 37 | Suzie Robertson | W | | | | | 164 | 1.00 |