add to facebook

Jellie Park, Ilam, Christchurch - September 14 & 15 2013

The The Peter Crowther Memorial Disc Golf Tournament 2013.
The day dawned clear and bright despite a forecast for showers on Saturday 14th 2013, exactly 3 months since Pete's disappearance. I had continued to cling to a sliver of hope he was alive until the police search was called off. It was with an extremely heavy heart and many tears I put my hand up to run the tournament, and rename it in Pete's memory.
Having inspected the Victoria Park course a couple of months earlier, I knew it wasn't practical to hold it there, with at least 1,000 hours of work required to make it playable. Additionally, I had a very bad memory of losing 4 discs on one hole in a prior comp. With my bad ankle also to think about, it was an easy decision to move the tourney to Jellie Park, and I really wanted quite badly for everyone to be able to play the course Pete and I competed on every weekend for the last several years. We'd played a variety of courses at Jellie Park over the years, and several of the holes from the original course still feature on our Sunday course.
I very much wanted to honour Pete with some trophies worthy of his character and Diana, Peter's partner, had guided me to Doug Neil, a local sculptor and friend of Pete. Doug released a massive trophy from the chunk of volcanic rock he began with, and I secured a similarly gigantic lump of Macrocarpa to its base.  I had planned for this trophy to be the Christchurch Champ's – and the size of it made that decision a good one, when it finally weighed in at 34 kilograms! I felt in danger driving around with it in the car, even with it restrained with a seatbelt. Next year there will be an overall trophy too.
The Wooden discs in the manikin hands was an idea I'd had for trophies to donate to the Queenstown region, having finally come up with the Missing Two for the 2014 Paradise Plates. Brad at Flywood Discs had previously made for me: three plain, sanded discs; a driver, a mid and a putter. Peter saw them before his disappearance and loved the look of them. We threw two discs I'd bought for myself and they flew very well indeed, but I have kept them pristine as objets d'art.
It had been so long since I had been involved in, or even helped organise a tournament, I had forgotten many of the things needed for the event, and very thankfully Martin Galley and Vorticasport came to the rescue with some prizes, designed the score cards and also did a great job bringing some baskets up and setting them out. Thanks too, to Bob Gentil, whose calm head was a very welcome addition to our home for the weekend. David Keene too, put in a lot of time on the PC getting the scoring ready. Thanks also to Brady Keuch for scoring the Super Six, and doing a lot of good work with the scores. Several others, including the QT crew need thanks, for bringing up extra baskets.
Heading into the event, having marked out the course and being disappointed the council had failed to clear our 15th tee by Saturdaymorning, I realised I was probably going to play fairly poorly. My build up had been going very well, with spectacular scores, and a course record the previous week. However, I knew I wouldn't get a single minute of relaxation before the first tee, or be able to do any practicing at all ahead of the rounds  – and with Josh and Craig playing, there was a possibility I wouldn't take home any of the trophies I'd worked on. Ah well, that's Disc Golf!
I knew we would have good numbers for the event, but 32 was well ahead of my expectations, and I consider it a tribute to Peter that so many people came. Thanks to each and every competitor who came along – it was an honour to host you at Jellie Park.
It's the players who did not take home any prizes or trophies I want to thank the most. Without these people, National Tour events would not be nearly so big, so exciting, nor so much fun.
Starting at Hole 9 for the first round, I tried to settle into my Sunday Rhythm straight away, but was unable. That would turn out to be the theme of the weekend for me, but I was having too much fun to care much.
Getting to play with Brady, Adam, Akira, Dom, Emma, Nigel, Hemi, Logan, Matthew, Nate, Hunter and Nick was extremely fun for me, and I witnessed some excellent golf shots, as well as managing to execute a few 10+ metre putts, and a handful of  brilliant drives.
It's always great to see players having progressed since you last saw them play, and I was extremely impressed by both Akira and Dom, who really did put out some absolutely cracking drives.
Seeing so many people in Jellie Park was the highlight of the tournament for me. I hope that despite the delays, everyone got a good chance to have a good look at a lot of other group's play – and for me, this was one of the nicest and most intimate comps I've ever been to.  It was terrific to see discs flying back and forwards across the pond, and to catch cheers as someone out of view pulled a beauty out of the sky.
I missed Peter intensely during the comp, and almost heard whispers from him. He'd have come up to me and put his hand on my shoulder. He'd have looked at me, and asked me how I did – and I would have no idea what he had thrown, because regardless of his score, he'd have a huge smile on his face, shadowed by his silly cowboy hat. Because that's the way Pete was; He loved his Disc Golf with an amazing passion; and although he's gone, I can still hear his voice on the course he loved to play.
So long buddy.
Check out pics from past Christchurch events: 2012, 2011, 2010, 2009, 2008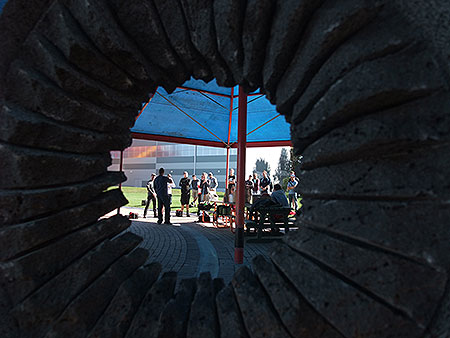 A void has been left in the NZDG family.. R.I.P. Pete Crowther..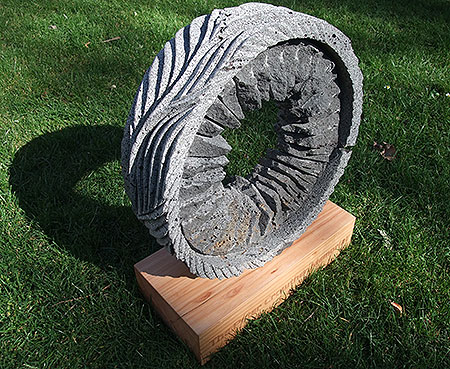 The 33KG Peter Crowther Memorial trophy for the Christchurch champ. Created by Doug Neil, local sculptor and Peter's friend. Chris Davies did just enough to take this one back home with him.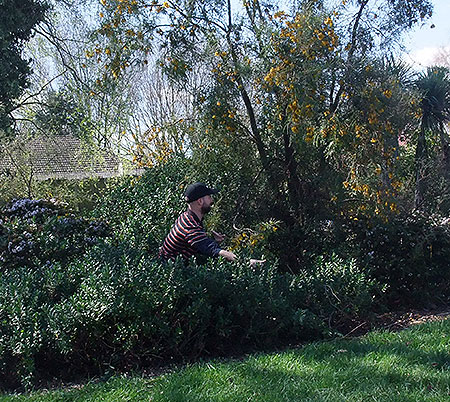 Tom McKay framed by a Kowhai in full bloom in a beautiful garden setting.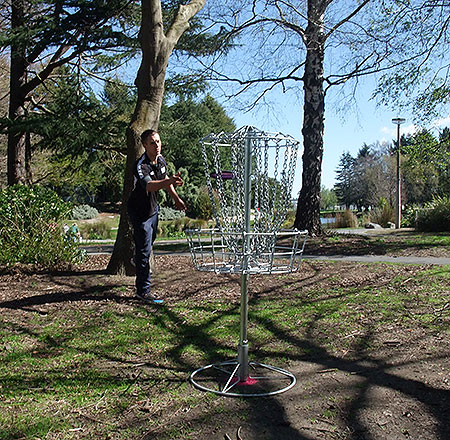 Rotorua Disc Golf addict Logan Papuni putting on Hole 4, looking west.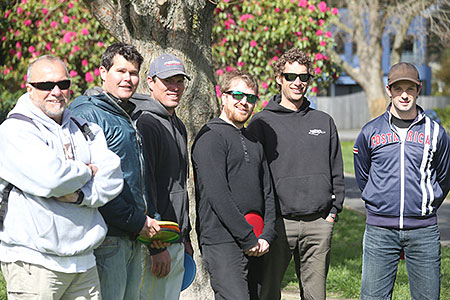 The Super Six was dominated by the southerners but Auckland took it out; from left are Auckland's Bob Gentil, the very strong Queenstown contingent of Elliot Menzies, Hemi Te Awhitu and Russell King, Wanaka's Hazen Simson and Aucklander David Keene. [Picture Martin Galley].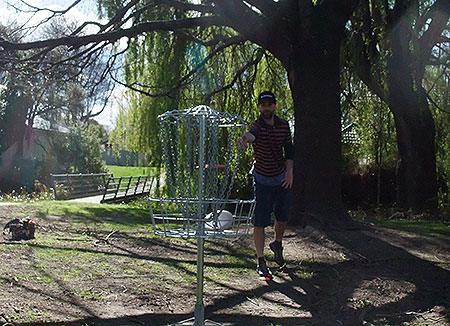 Tom McKay putting on hole 4.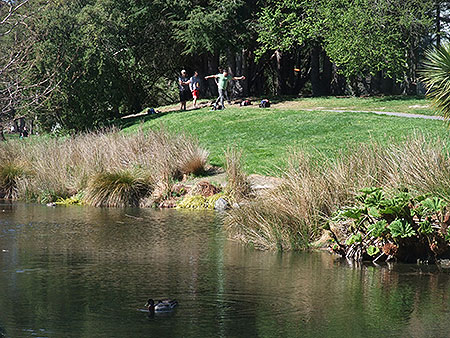 Driving on Hole 8, where the big boys can throw out a huge hyzer bomb, while the rest of us mortals try to avoid the massive pines.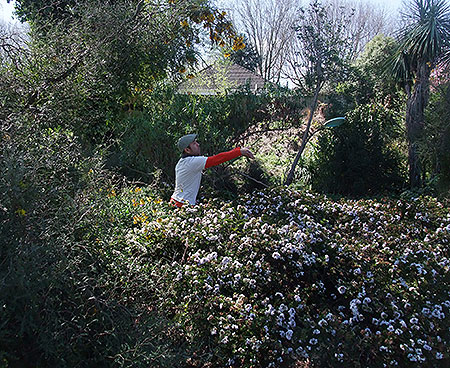 Akira Kuroe approaching on Hole 14, from the lovely rough. Stylin' hat Akira!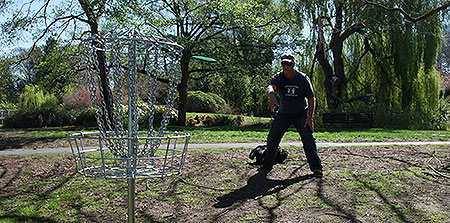 Wanaka's indomitable Dom, on Hole 4 - stick it in the chains Dom-inator!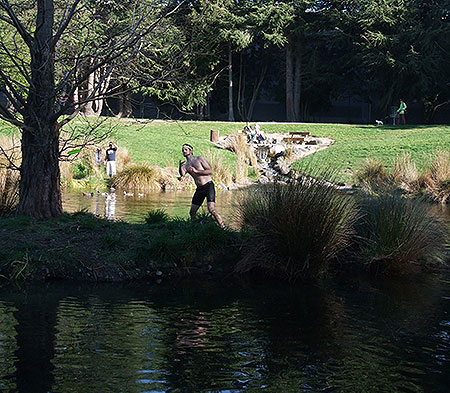 Wellington's Brady Keuch braves the cold and deep "Jellie Trench" to play from the island, which is not out of bounds. That's pure dedication right there folks!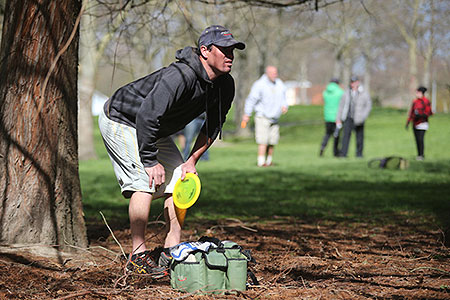 Hemi Te Awhitu eyes up a low approach shot on Hole 16. That must have been an awesomely long drive Hemi! He's about 14 metres out, with a tricky lie. [Picture Martin Galley].


TD Chris Davies addresses the record turnout for Christchurch - 32 players - under the pavilion at the pool complex. Thanks very much to the Council staff at the Jellie Park Pool, as they really helped us out, and covered us in case the weather turned bad.



The Christchurch trophies created by Chris Davies, and Doug Neil. The wooden golf discs are made by Brad at Flywood discs, in the USA.



Dave Evans putts at the 117 metre Hole 4. Lookin' good Dave!



Round 1 on Saturday morning. with up and coming local lady Emma McIntosh (front), Wanaka's Robyn Agnew (left), and Queenstown's Lisa Te Awhitu and Eran Blumenthal (rear) walking down the path to the basket on Hole 8. Lisa took home the well-earned Women's trophy.



Auckland's Nigel Hailstone, after a wayward drive, trying the anyzer line to the #8 basket. Nigel went on to take the Masters trophy by 5 strokes, with Chris Davies unable to hang on in the final round. 



TD Chris Davies (left) and Rotorua's Logan Papuni look on as USA/NZ's keenest golfer, Nate "No Fixed Abode" Stone plays into the basket at Hole 4.



After a monster drive on the 102 metre Hole 11, Wanaka's Hazen Simson plays from 15 metres out, with the Jellie Trench in the background.



Having dropped short and left on the more-difficult-than-it-looks, short little 60 metre "OB Squared" #14, Aucklander and tournament winner David Keene shows us how to get out of trouble, while Russell King looks on.



Dave Evans putts Hole 4, as the gallery put some pressure on.



Queenstown Disc Golf Diva and eventual Woman's winner Lisa Te Awhitu shows her group how to putt on the picturesque Jellie Park hole #4.



xxxx.

back to top
The Results for The Peter Crowther Memorial Disc Golf Tournament 2013
Jellie Park, Ilam, Christchurch - September 14 & 15 2013

Dvn

R1

R2

R3

SS

Total

David  Keene

O

46

48

47

20

161

Hazen  Simson

O

48

47

51

20

166

Russell  King

O

47

50

51

18

166

Hemi  Te Awhitu

O

49

52

48

19

168

Elliot  Menzies

O

52

49

50

18

169

Bob  Gentil

SGM

48

51

54

20

173

SUPER SIX

Brad  Muir

O

49

47

58

154

Nigel  Hailstone

M

51

53

50

154

Logan  Papuni

O

50

51

55

156

Matthew  Bew

O

50

52

56

158

Chris  Dickson

O

51

54

53

158

Chris  Davies

M

54

50

56

160

Akira  Kuroe

M

52

54

55

161

Dom  Hayden

M

55

55

51

161

Brady  Keuch

O

50

51

61

162

Nick  McKay

O

52

55

55

162

Nate  Stone

O

54

56

52

162

Tom  MacKay

O

56

53

59

168

Martin  Galley

M

54

60

54

168

Craig  McNab

GM

59

56

54

169

Jethro  Neeson

O

60

51

64

175

Eran  Blumenthal

O

59

60

56

175

Lisa  Te Awhitu

W

58

59

62

179

Karl  Jolley

M

59

64

56

179

Hunter  Harril

M

57

65

59

181

Dave  Evans

GM

57

60

67

184

Aaron  Miers

O

62

60

63

185

Adam  Rawson

O

64

54

68

186

Emma  McIntosh

W

72

65

67

204

Robyn  Agnew

W

69

69

72

210

Zeb  Horrell

O

59

55

127

241

Josh  McLean

O

60

59

127

246

Chris  McLean

O

61

127

127

315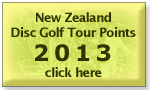 Peter Crowther
For those of you that don't know, the New Zealand Disc Golf community lost one of our greats in 2013, hence the renaming of this regular event on the NZ Tour. Tournament Director Chris Davies shares with us his story about Pete...
Peter Crowther, who tragically went missing somewhere in Arthurs Pass was the original Christchurch Disc Golf stalwart. For more than 20 years he was the driving force behind DG in town.
Disc Golf was his passion and his pleasure, and he ran the "Christchurch Fling" in Victoria Park for many years. Peter was the man who always rang around, and sent out texts to arrange Sunday games, and he began the "2pm Sunday" game - and we will honour that by playing the Super Six at that time.
His passion was completely unbounded, and we would often have to wait patiently for Pete to talk to strangers in the park, while he juggled discs for kids and explained what Disc Golf is to anyone who would listen. If not for Peter, there might well be no Disc Golf played in Christchurch, and he was instrumental in getting me back into the sport after shoulder surgery several years ago.
Pete urged people to play, and tried like crazy to get a course installed in Christchurch, but he was a little ahead of his time in this regard. He did get to play the proposed Bromley course just before he disappeared, and he was very excited about it.
I decided to name it the "Peter Crowther Memorial Disc Golf Course" in his honour.
The competition was moved to Jellie Park in order to give National Tour competitors the chance to play "Pete's Sunday Course", and also because Victoria Park has become very overgrown, and requires far more labour than is available to make it playable again.
Peter's cowboy hat, and massive smile was his trademark on the course, and this event will allow us all to share our memories of Peter, enjoy those memories, and celebrate his life, his passion, and his course.
Image - most Kiwi disc golfers have fond memories of Pete's percussive skills and his passion for the sport. We miss you Pete (ed.)


"It was a quaker day!".