add to facebook

Victoria Park September 15 & 16
Watch out for fighting bikers!

Christchurch Fling 15/16 September 2012
by TD Pete Crowther
A small but hardy bunch of 14 turned out at the 19th Battalion Memorial for the 5th Annual Christchurch Fling players' meeting. After the initial meetings and greetings we got underway, explaining the rules and regulations and specifically the out of bounds areas, danger to and from mountain bikers and, as usual, to keep an eye out for and to not throw in the direction of the general public. A tribute was paid to Mario for designing the course and getting Christchurch on the NZ Disc Golf Tour in the first place. It was also made clear that if anyone had any complaints about the course design, they could send them to Mario in Switzerland.
Saturday morning was fine and sunny with light winds – perfect conditions for the challenging Victoria Park course. We had had snow overnight during the week leading up to the tourney, which flattened out the long grass quite nicely. Players came from near and far, with Jenny from Tokoroa (apparently Hannah, Jenny's daughter, was at "That Rugby Game" in Dunedin), Brad from Auckland, Brady, Adam, and Dave from Wellington, Pete, Josh, Craig, and Maree from Christchurch and a very welcome five-pack from Queenstown, consisting of Eliott, Eran, Hemi, Matt, and Russ (apparently James Smithells was also at "That Rugby Game" in Dunedin).
We teed off near enough to on time and as the cards came in at lunchtime, it seemed that my 56 gave me a first round lead, closely followed by Brad on 57 and Brady on 58. It was all on for the second round after Maree and Dave decided that they had had enough and we were down to an even dozen competitors. I heard that Dave's parting words were something to the effect of the course being just a little insane. Sure, it was steep in places but that's not unusual in NZ, maybe the grass was a bit long and some of the tees may have been from some high places, but hey it has to be challenging or it's just not Tournament Disc Golf.
We had a shortened lunch break when the rain came in, but it soon cleared off to a reasonably fine afternoon, where Lefty Brad turned out to be Mr Consistency shooting a par 56 round. Pete and Brady just couldn't keep up, falling six and seven strokes behind respectively. The rest of the field was not far behind, so now it was a race for second and maybe a place in the Super Six.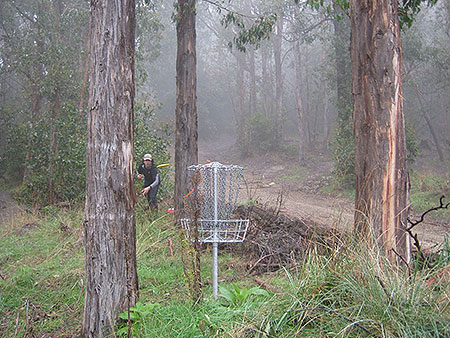 Sunday dawned cloudy with a spooky fog filling the valleys and drifting up over the tees, requiring the use of radar and sounding techniques, just to work out where the baskets were for the first few holes. The fog lifted a little as the diligent dozen moved on up the hill and did battle with the elements just like those old timers did so long ago, and who now congregate at the 19th Battalion Memorial every Anzac Day to remember those who fell in battle in far off lands. Lest We Forget.
As the players returned for lunch it was no surprise that Brad was still leading after three rounds, with another very consistent 56. What was surprising was that he had opened his lead up to 12 strokes, with Pete still in second and Russ passing Brady to sneak into third place. This left Brady, Hemi, and Eliott to make up the Super Six. There was a great gallery as we teed off to play holes 13 thru 18, ostensibly six of the more difficult holes on the course, especially with the stunning views and sudden drop-off provided by Signature hole 15 (clearly a right hander's back hand drive). At this point Lefty Brad obviously decided that he had enough of a lead to try something completely different to what he had consistently done in the last three rounds. His drive on the 15th sailed off into the void and just kept flying and flying. Hmmm, provisional time, so what does he do? He throws the same drive all over again. Well as we all watched in stunned disbelief, Hemi, another leftie, stepped up to the tee. His disc didn't quite sail off into the void as did Brad's, but it sure went a long way down the hill, lucky to be stopped by a rather large tree. It turned out that Brad found his first disc and powered his way back up the hill to get a double bogey five. The final scores showed Brad as the clear leader and celebrating his first tour win, with Russ in 2nd , and Brady  in 3rd, followed by Pete, Hemi, and Eliott tying it up for 4th equal. Just the way to finish a great weekend of disc golf.
Prize giving was a bit of a non-event, as past trophy winners have not been too good at returning the silverware. However, Bob Gentil came to the rescue and donated two discs as prizes, being a Star Katana and a Star XCaliber. We voted on best shots / best performance and awarded them to Russ King for an amazingly long putt of about 70 metres to save par after going OB over the fence on hole 9. The other one went to Adam Rawson for the most improvement in scores over the three rounds, going from 83 in the first round to a consistent 72 for the next two rounds. Well done Russ and Adam.
A big thank you to the Queenstown five-pack for bringing four much needed baskets all the way from the deep south. It just would not have been the same without them. Thanks also to Joshua for his amazing weed-eating skills the weekend before when the two of us prepared the tees and checked out the course conditions. Later in the week Joshua and myself installed the baskets and marked the tees in readiness for a warm up round on Friday arvo, which was enjoyed by a few of the QT five-pack. And of course the basket extraction was a combined effort by the laughing locals (except Maree who had swanned off to the ski fields).
And so once again we say goodbye to those who have played and those who have fallen, and we look forward to seeing you all again next year for another Spring Fling in Christchurch.
Pete
You can view the results at the bottom of this page here.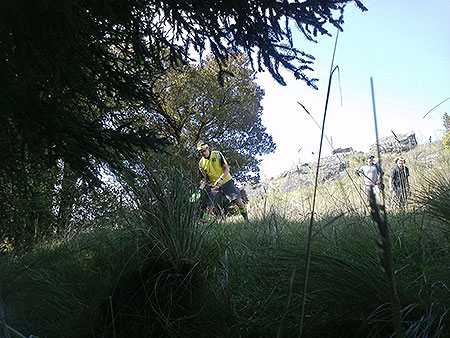 Brady approach on 18.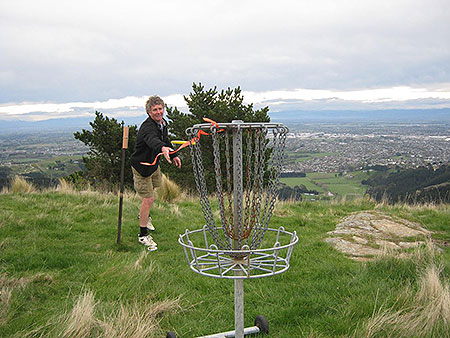 Craig putting on 10.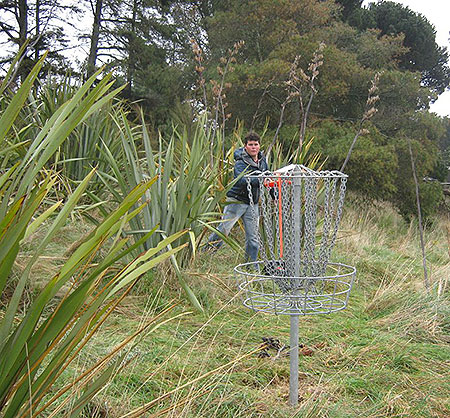 Elliot putting on 17.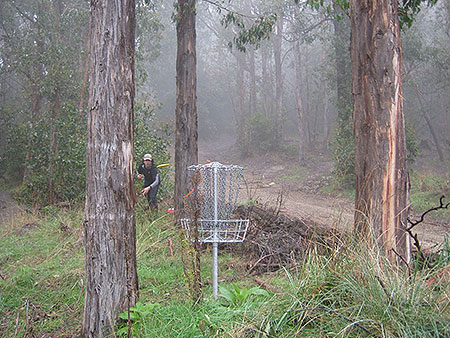 Eran putting on 11.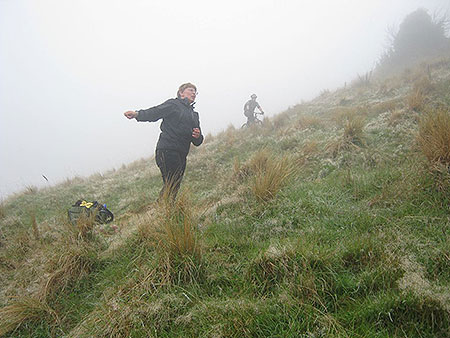 Frisbee and MTB - Jenny driving on 8.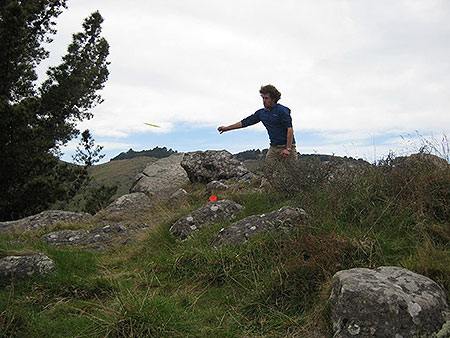 Matt driving on 15.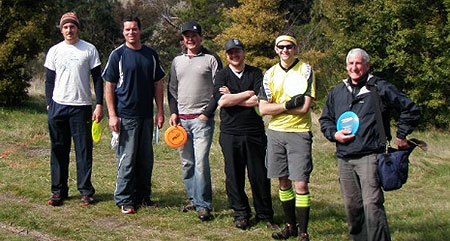 The Christchurch Fling Super 6. Brad, Hemi, Eliott, Russ, Brady, and Pete.


Brady putting on 18.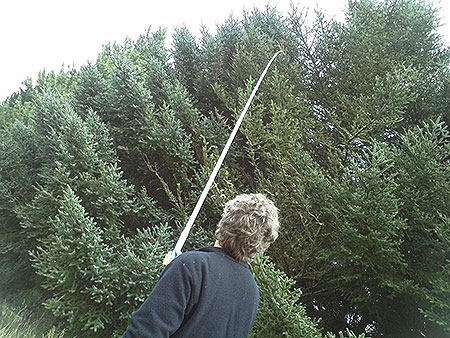 Craig and his amazing extender- pole.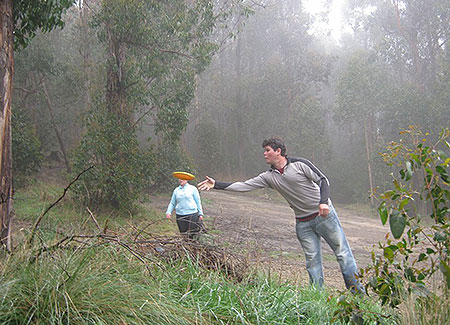 Eliott putting on 11 thru Jenny's head.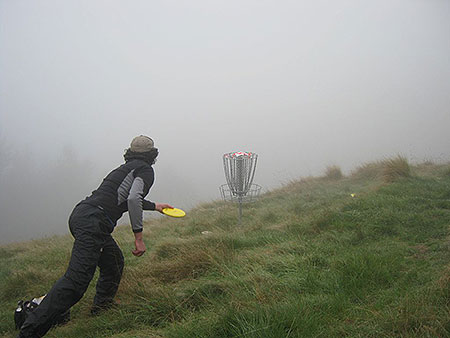 Eran putting into the fog on 7.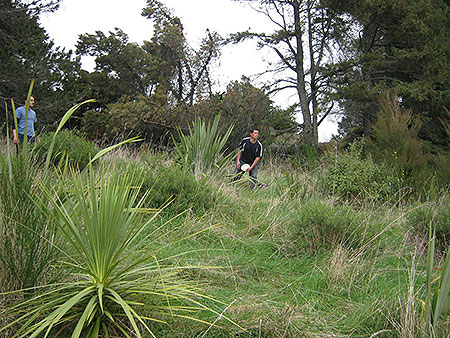 Hemi putting on 15.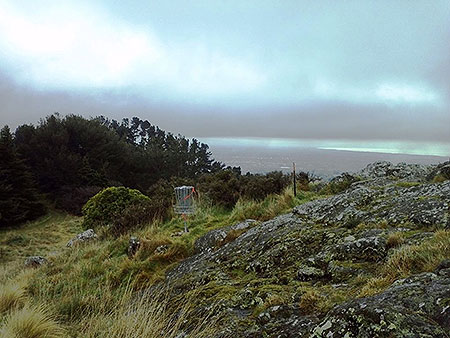 Lonely basket.


Pete putting on 12.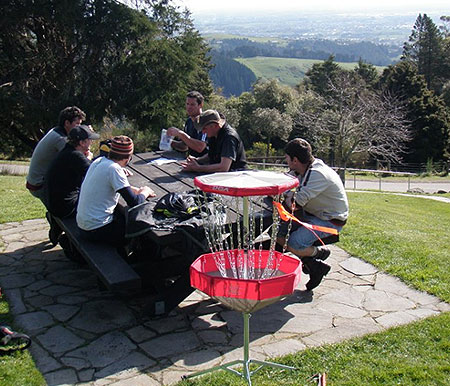 Table with a view. It's all over, time to tell stories and lament lost shots.
back to top
The Results for Christchurch Fling Disc Golf Tournament 2012
Victoria Park September 15 & 16
| | | | | | | | | |
| --- | --- | --- | --- | --- | --- | --- | --- | --- |
| Name | Locale | Division | Round 1 | Round 2 | Round 3 | Total | Super 6 | S6 Total |
| Brad Muir | Auckland | O | 57 | 56 | 56 | 169 | 20 | 189 |
| Russell King | Queenstown | O | 62 | 62 | 59 | 183 | 18 | 201 |
| Brady Kuech | Wellington | O | 58 | 62 | 65 | 185 | 19 | 204 |
| Pete Crowther | Christchurch | GM | 56 | 63 | 62 | 181 | 25 | 206 |
| Hemi Te-Awhitu | Queenstown | O | 64 | 62 | 61 | 187 | 19 | 206 |
| Eliott Menzies | Queenstown | O | 60 | 65 | 63 | 188 | 18 | 206 |
| Craig McNab | Christchurch | M | 63 | 64 | 63 | 190 | | |
| Eran Blumenthal | Queenstown | O | 64 | 66 | 60 | 190 | | |
| Josh McLean | Christchurch | O | 62 | 66 | 70 | 198 | | |
| Matt Bew | Queenstown | O | 68 | 69 | 64 | 201 | | |
| Jenny Joynt | Tokoroa | W | 76 | 75 | 72 | 223 | | |
| Adam Rawson | Wellington | O | 83 | 72 | 72 | 227 | | |
| David Malupo | Wellington | O | 83 | DNF | DNF | | | |
| Maree Horlor | Christchurch | W | 118 | DNF | DNF | | | |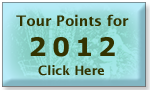 Yeah!