Tucker Beach, New Zealand, July 25/26

The 2015 Tucker Beach RUSH disc golf tournament.
TD Hemi Te Awhitu reports..
A few days out from the Tucker Beach 'Rush' disc golf tournament, the weather gods were threatening us with rain and even more rain. But for those who have played at Tucker Beach, one would know that the locals say 'it's always summer at Tuckers'.
Come Tourney day and it was like Moses had parted the Red Sea. Glorious conditions greeted competitors with Sun and no wind.
22 golfers had dedicated their weekend to this awesome tourney, and they weren't disappointed.
Queenstowns well oiled registration team had things under control as TD Hemi 'tuatara' Te Awhitu gathered everyone for the players meeting and directed golfers to their starting tee's.
The course had some changes from last years 'Rush'. Some, people enjoyed and others, people found very challenging. With the first round complete, only 8 golfers came in under Par with Hemi getting his nose in front early closely followed by 4 golfers a few shots behind.
Most talk was about the newly formed hole, #13 corner pocket. An island green surrounded by OB. At only 50 metres to the front of the island, It required mental toughness and trust in your discs. Later in the tourney, people really tested their skill and mentality.
As an awesome lunch was devoured by all, the cards were being reshuffled, and randomly put together for round two.
With fine weather continuing to grace us, scores were surely to improve. New Zealand Junior champion, Ben 'wasp' Wiel-lake, threw the hot round of the day shooting a 7 under (54) in the second round. Hemi had done enough to keep the lead by 3 shots over Ben. Local golfer, Akira Kuroe, had managed to do enough to lead the masters with Chris 'dingo' Davies from Christchurch leading the grand masters, and local legend, James 'jaguar' Smithells leading the senior grand masters. Queenstowns Lisa 'takahe' Te Awhitu had her beak in front, leading the woman.
Day two and the weather gods were generous to us again. Overnight rain had made conditions damp but with the sun shining prior to the players meeting, things would dry out to make conditions ideal.
Top group for the day consisted of Hemi, Ben, Chris Davies and Russell 'lion' King. Round two saw the lead go back and forth between Hemi and Ben, with Hemi, uncharacteristically, missing putts giving the lead to Ben late in the round. Russell was in contention also until the island green, #13, destroyed his round, where he carded a 16. Chris played his usual consistent golf to get a spot in the super six.
So after three rounds, the super six was all that was left. Participants were Ben leading by two, followed by Hemi, Chris Davies, Paul 'caterpillar' Child's, Allan Gorthy and Rando Pahn, both from Wanaka. The first hole saw Hemi drop another shot from Ben as he tried to make up the two shot deficit. Ben continued to hold his nerve although Hemi managed to drape back two shots in the fourth and fifth holes. So with one hole to play, Ben lead by one. Hemi couldn't make up the last shot and it was Ben Wiel-lake who had done enough to win his first tour event. So Ben won the Juniors and overall, Hemi took out the Open, Akira won the Masters, Chris Davies dominated the grand masters, as did James Smithells in the senior grand masters, and Lisa won the woman's.
Massive congratulations to Ben for this feat. The youngest player to win a New Zealand tour event at age 15. He will undoubtedly be one to watch in the future, and give us all a good run for our money.
Huge thanks to all that participated. And to the Queenstown crew for all the work put in to make the 'Rush' another success.
See you all in 2016.
---
Christchurch Disc Golfer Chris Davies tells his Tuckers Beach experience.

I must confess, when I first played Tucker Beach DGC back in early 2013, I was less than impressed. I must also confess that in 2012 I had shockingly poor form, very little distance, and my drives were wayward, which caused me a lot of heartache, on this 2,160-metre championship course.
However, in 2015, I am happy to report that the team at Queenstown have lifted Tucker Beach to become a great and challenging course, and that my game has progressed to where I expect to throw under par there.
This year, I felt it was very important to play there, and get more experience, ahead of the Matchplay Champs which will be held there in December. So, I was mystified by the absence of top North Island players who talk-up championship courses. Ah well, advantage for me when that tournament rolls around, I guess!
Anyway, having lived in Queenstown for so many years, I knew the conditions could be anywhere from gentle but steady rain, to driving snow, or a sunny day where T-shirts are needed. So I packed appropriately, even including some Briko Thrama Goggles in the event of a blizzard!
So it was a very pleasant surprise when the weather co-operated all week, and all weekend, for perfect disc golf conditions.
Tucker Beach had been visited by large bulldozers just prior to the event, clearing out large swathes of willow trees. This has opened a couple of holes up a bit (which I like) but wrecked the ground cover - which will, um, re-cover. The low Autumn rainfall meant that we had short grass for the event, and gaiters and waterproof shoes were not required for water or grass-seed stickers.
The QDG team have been steadily adding tee pads and baskets to the course, and it is now playing extremely well – and it's at Tucker Beach I definitely feel my GM age, with the young guns out-throwing me regularly there. Thankfully however, the 155gm VIP Air King given to me by Feldberg at the Nationals has proven to be just as he said it would; "The longest disc you have ever thrown."
Tucker Beach often presents the player with a wide open drive, which tempts one to throw too hard – so it is a constant threat to your accuracy and score – if you over exert yourself, and shank something into the rough or OB. Plus, you have to pace yourself to last the whole weekend, and not get injured.
Having arrived on Tuesday, I was able to get 2.5 rounds in with a rest day on Friday, and I needed it. Chucking 3 discs from every tee in practice really took it out of me, and I didn't let myself throw anything except putters on the Friday – saving my energy for the weekend.
I was doubly lucky ultra-keen Christchurch disc golfer Paul Deacon was in Queenstown, and he very kindly offered to caddy for me on Saturday, and in the Super Six, if I made it. This was game-changing for me, as in the GM division, three unassisted rounds at Tucker beach is a very big effort, and leaves a man feeling utterly drained.
Fortunately I survived unscathed, and with no pains!
It really is critical at Tucker Beach not to try and throw as hard as you can: Keep it tight, chuck it down the middle, and take par, and be happy about it. Pick up the odd birdie, and try like hell not to bogie anything.
For me, the main highlight of the trip was being able to play a casual round, and a competition round, and then the Super Six, with Queenstown prodigy Ben Wiel-Lake. At just 15, Ben is throwing lines I did not even know existed. He is a classic shot-maker in the best tradition of Simon Lizotte, Will Schusterick and Paul McBeth.
His laser putt is lethal, and in practice at lunch time, I watched him drain many successive outside the circle putts with his effortless putting style. We both use Dave Feldberg's patent putt-step, and he makes it look like one beautiful flowing motion, just like Dave Feldberg does, and just like I don't.
On Sunday Morning, he stepped up to the first tee, at basket 8, and threw a 100 metre sky-annie, with a Sword, which glided into the 5-metre wide gap for a tap-in-birdie. I watched him make a 15-metre eagle putt on 220 metre-long Goliath, after a lovely drive and beautiful second drive. No one else has ever eagled Goliath, and Ben has done it three times now.
Each time Ben stepped up to throw, I got a strange feeling in my stomach - the same feeling I got when watching Lizotte and Feldberg battle at Waitawa: "What amazing thing is he going to do now?"
It really is thrilling to watch Ben play – and I believe he's a world class player already, and needs to spend time overseas to be properly challenged, and trained, and sponsored.
Next up for me was making the Super Six; and taking the only birdie on the first hole (Normal Hole 2) with a monster drive with the King and an easy upshot with the Sinus for a tap-in. On hole 3, (Tee of Goliath to the basket of Hole 1) I made a nice drive, but had a Matagouri lie, which severely limited my options – I poked it out but it dropped out 17 metres short, and I ran it with the Sinus - and sunk it, to take 3rd place outright, with three holes remaining.
A good mental game, and plenty of encouragement and support from Paul saw me able to hold on to 3rd place overall, only beaten by local Open champ Hemi, and Junior Champ/Overall Champ Ben – neither of whom I could realistically beat – so I was very happy with the outcome. This was my highest NT event result since winning the Open in Queenstown Gardens back in 1997!
Finally; arriving on Saturday morning to a very good frost of around 5 degrees or so, had laden the grass with ice crystals which turned the entire course into a sea of white. As it quickly started to melt as the sun rose over the Crown Range, if you looked west you would see all grass-coloured grass, and if you looked east into the rising sun, it still looked perfectly white, being frozen on the back side – splitting the view for any observer. Stunning!
Undoubtedly the saddest part of the weekend was on Sunday morning, in the top group, when we got to the short, but challenging island green hole – at only around 70 metres. I was able to park my drive with a new Sinus fading in hard – but poor local Russell "The Lion" King repeatedly threw OB from the tee – eventually throwing 16-from-the-tee after missing on 7 attempts. Russ made his putt for 16 – and to his great credit he took it very well indeed, and bounced back hard, and if it were not for that basket he would have made 3-under.
The whole weekend flowed very well. Hemi Te Awhitu and the QDG team, along with Small Planet, did a great job of putting on the event – and he very smartly created groups of 3 for the comp, which significantly reduced the play time for each round.
This was a stroke of genius, as with Queenstown being at 45 Degrees Latititude, and with the course being in a valley, it loses the sun quickly, and once it does, temperatures can rapidly plummet.
This is the third tournament I have played at Tucker Beach, and I had an absolute blast. The course is a totally different challenge to the challenges I have created in Christchurch, at Jellie Park, and at just 1,185 metres, is basically a kilometre shorter! No wonder I still feel tired on Tuesday evening.
However, The 3rd Peter Crowther Memorial, on September 12th and 13th this year, will be on a course which measures out at 1,560 metres – splitting the difference, and creating some challenges for those who *can* throw over the top, and Very Far Indeed.
So, thanks to the QT crew, and Paul Deacon for a fantastic week of disc golf, and a great competition! Hats off to you, all!
The Pictures
Check out awesome pics from previous Queenstown tournaments: 2015 Tucker Beach Inaugural, 2014, 2013, 2012, 2011, 2010, 2009, 2005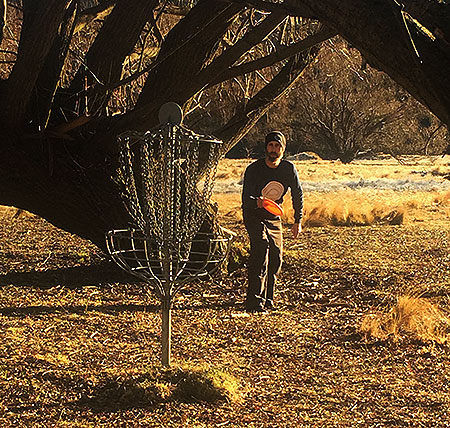 Relaxed Limbs - Aaron Miers lining up basket #4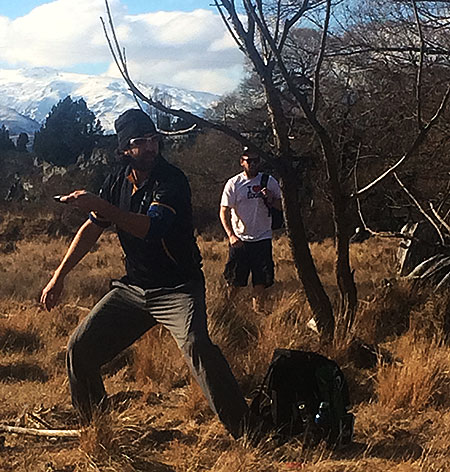 Stance with a Chance - Crouch and hold. Eran Blumenthal.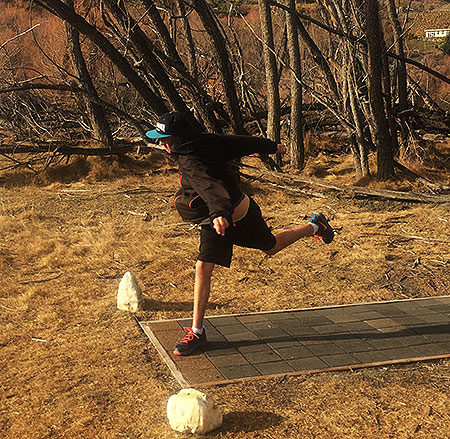 The Hyphenator - 15 years of flexibility. the 2015 Champ Ben Wiel-Lake lets one rip.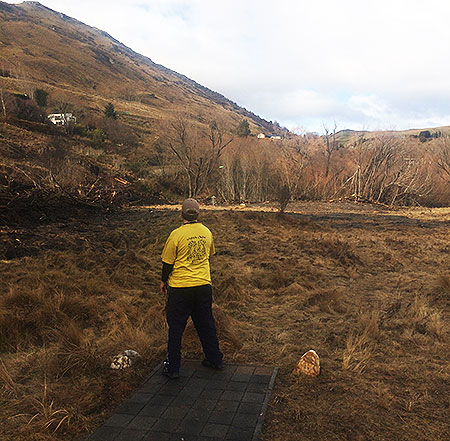 Ooops - Local Russell King staring down the barrel of a 16 on 'lucky 13', par 3 Corner Pocket.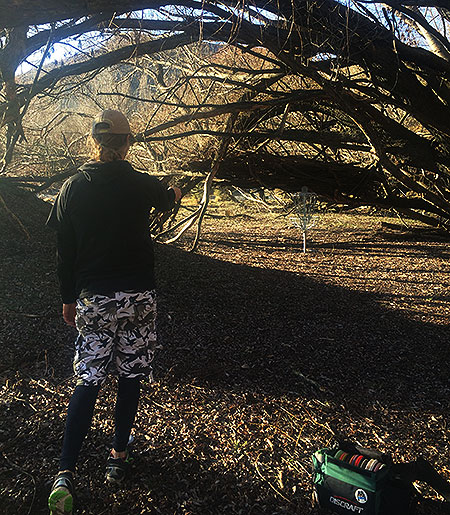 Canopy - Kyle Martin (Wanaka) deep in Dennis' Den .. #5.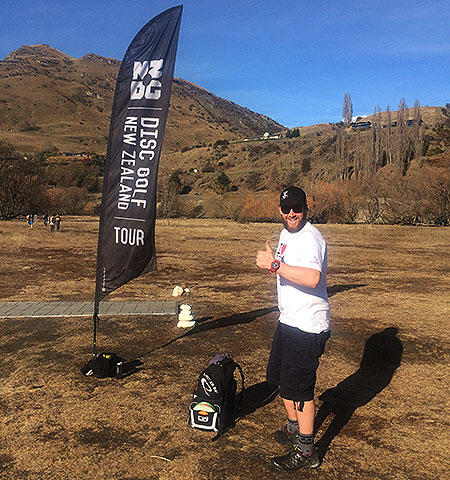 Pleasant Valley Sunday - Everything is good in Stu Gilchrist's world.


Relax and breathe, throw with ease - Technique from Christchurch golfer Chris Davies.



Winners are grinners - Ben Wiel-Lake Junior & Over-All Champion out grins the rest of the divisional winners for the weekend.



NZDG is in the house.

The Results for 2015 Tucker Beach RUSH disc golf tournament
Tucker Beach, New Zealand, July 25/26
| Place | Player | Div. | R1 | R2 | R3 | R4 | Total | Points |
| --- | --- | --- | --- | --- | --- | --- | --- | --- |
| 1 | Ben Wiel-Lake | J | | | | | 187 | 50.00 |
| 2 | Hemi Te Awhitu | O | | | | | 188 | 47.67 |
| 3 | Chris Davies | GM | | | | | 198 | 45.33 |
| 4 | Paul Child | O | | | | | 199 | 43.00 |
| 5 | Allan Gorthy | O | | | | | 200 | 40.67 |
| 6 | Rando Pahn | O | | | | | 203 | 38.33 |
| 7 | Kyle Martin | O | | | | | 182 | 34.83 |
| 7 | Akira Kuroe | M | | | | | 182 | 34.83 |
| 9 | Tom MacKay | O | | | | | 184 | 29.00 |
| 9 | Eran Blumenthal | M | | | | | 184 | 29.00 |
| 9 | Aaron Miers | O | | | | | 184 | 29.00 |
| 12 | Russel King | O | | | | | 187 | 24.33 |
| 13 | Stuart Gilchrist | O | | | | | 188 | 22.00 |
| 14 | Karl Jolley | M | | | | | 189 | 19.67 |
| 15 | Roddy Mckay | O | | | | | 190 | 17.33 |
| 16 | Ben Thomson | O | | | | | 196 | 12.67 |
| 16 | Ed Waddington | M | | | | | 196 | 12.67 |
| 16 | Johnny Ferrari | O | | | | | 196 | 12.67 |
| 19 | Ben Jarvis | O | | | | | 197 | 6.83 |
| 19 | James Smithells | SGM | | | | | 197 | 6.83 |
| 21 | Lisa Te Awhitu | W | | | | | 200 | 3.33 |
| 22 | Hayley Flintoff | W | | | | | 206 | 1.00 |