Tuckers Beach Queenstown 5th - 7th February

Take a bow Queenstown .. Hemi, Lisa and the Queenstown Disc Golf Club, what an awesome weekend of Disc Golf.
This reporter was about to write the story when the opportunity arose to sit down with our new 2016 NZDG Champ and ask a few questions. So I pretty much got Martin 'Moe' Doerken to tell the story .. Enjoy!
discgolf.co.nz: Hey Moe, first things first congratulations on taking out the 2016 NZDG Championship title.
Moe: Dankeschön, good sir!
discgolf.co.nz: We remember when you first contacted us here at discgolf.co.nz regarding playing in NZ .. that goes back a few years .. when was that?
Moe: Many moons ago in early 2011 in Brisbane's Yeronga Park I met a guy named AB who told me about the upcoming NZDG Champs in Pukete Farm later on that year. A few weeks later in New Zealand I emailed a dude called Bob G if I could register for the tournament and was looking forward to seeing that legendary Mexican Juan Unda smash the course.  I had originally planned on staying in NZ for 4 weeks only but after playing the tourney and being so cordially received I extended my stay for at least another month, travelled a lot through both the North and South Island and ended up playing the legendary Paradise Plates tourney before I eventually left for Tasmania. Anyways, I've come back every year for the past six and counting.
discgolf.co.nz: What's been the incentive that's  brought you back to NZ so many times?
Moe: I love it here. I have had the extraordinary luck to become part of the NZ disc golf scene and made good friends with quite a few people who have shared their lives with me. Thanks again for having me.
discgolf.co.nz: Pleasure! Compared to the events you've played in Europe and the US how did this year's 'Tucker Beach Nationals' stack up?
Moe: First things first I guess it has been a fantastic disc golf weekend for everybody. The course had been perfectly prepared and TD Hemi and his crew did an outstanding super professional job running this great event in such a chillaxed and smooth way. One difference in comparison with tournaments in Europe or the US is definitely the smaller number of players, a tourney of this caliber would sure be fully booked months ahead with quite a few people on the waitlist trying to bribe the TD to still somehow get in.
discgolf.co.nz: It will happen here and in the not too distant future, watch this space. What about the standard of Disc Golf play here in NZ?
Moe: It's awesome. Besides the cool NZ disc golf scene being themselves and also really competitive the country hosts some of the most beautiful and also challenging courses I've seen. For me even after all these years it's still a little surprise that except for the Queenstown Gardens course so few people actually play these amazing courses. Sure it is really nice not to have to queue but a few more hopefully young players would be a good addition to the tour.
discgolf.co.nz: Our 'Super 6' is becoming a popular way to wrap up tour events here in NZ, what's your thoughts?
Moe: I really like that format. It's nice, short and crisp and most likely has quite a few good looking crowd-pleasing shots in it. It would maybe be an interesting idea to reserve one spot for the top female player and maybe another one for a top master or grandmaster?
discgolf.co.nz: How long are you planning on staying in the country this trip and what events are you planning on playing?
Moe: The next tourney on the NZDG tour is the Taupo event, but I'm sure there are quite a few unofficial and Sunday tourneys and also the casual bag tag challenge. I'm flying out to San Francisco on March 16.
discgolf.co.nz: I have to ask that question on behalf of all the players who I'm sure want to take your NZDG Bag Tag #1 off you before you head to a summer on the other side of the world?
Moe: Thumbs up for Lance for designing and introducing the 2016 NZDG bag tags. Yeah bag tag challenges are great fun and they really spice up the casual game. Actually last Thursday Kyle from Wanaka beat me in Lismore and took the #1 tag. The awesome Wanaka crew had organised a sweet little farewell tourney and bbq and quickly basketed Eely Point the next day and I very luckily got the tag back. Before I flew to Auckland on Saturday afternoon we had another chillaxed bag tag round playing Tucker's in a big group with Hemi and Lisa, Paz, Jess, Hayley, Kyle, Ben and Chris Dixon and his buddy who's name I unfortunately can't remember right now. The hunt is on dudes J
discgolf.co.nz: Good luck with that my friend. Moe, thanks for chatting.
Moe: It's a pleasure, cheers!
Congratulations to everyone who came, who organised and who played this great NZDG event.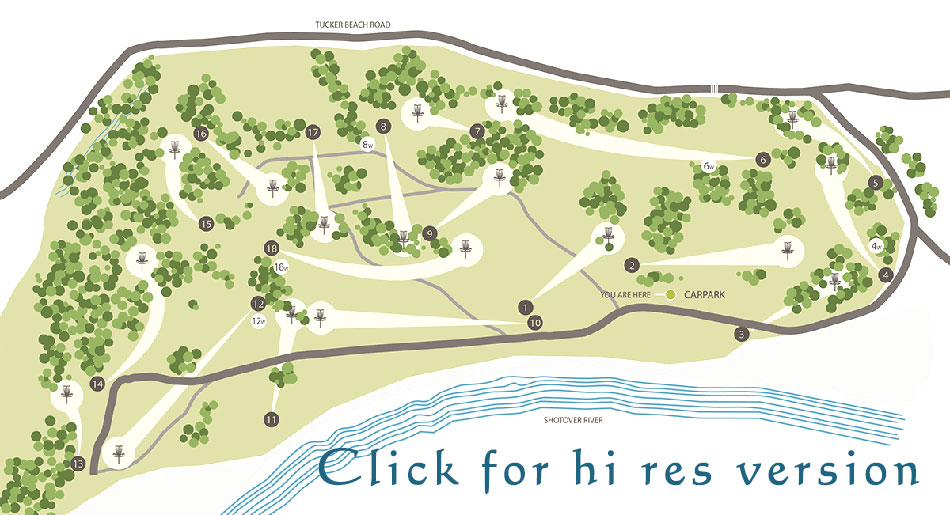 Here's the course tour courtesy of Hemi
The Pictures
Click here to see pages for past NZ Disc Golf Nationals: 2015 | 2014 | 2013 | 2012 | 2011 | 2010 | 2009 | 2008 | 2007 | 2006 | 2005 | 2004
Check out other Tucker Beach tournaments: 2015 | 2014 Tucker Beach Inaugural
These pics from the 2015 Tucker Beach RUSH disc golf tournament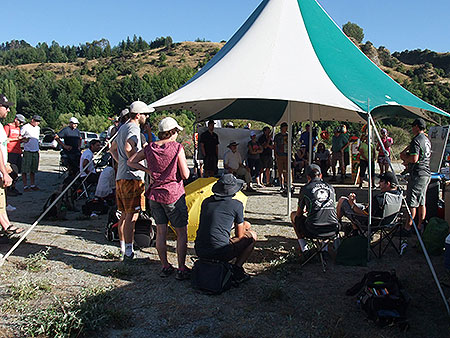 Chrysler V8 -TD Hemi Te Awhitu welcomes the players to Queenstown.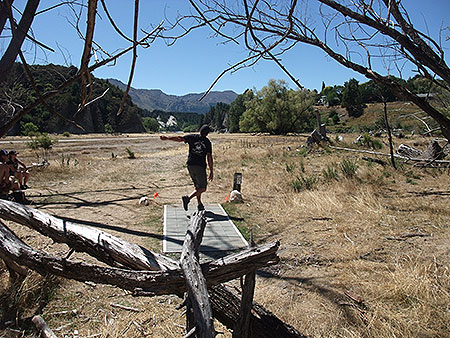 Tourist Director - Always a big ask. TD Hemi Te Awhitu ran and played the event.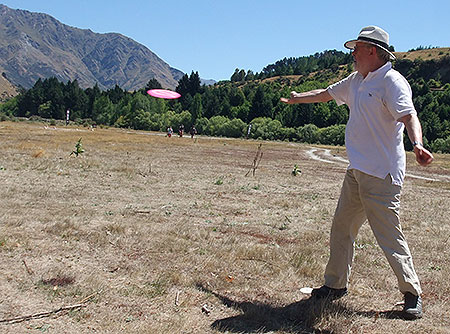 Staying cool - Paul Deacon, a Christchurch regular playing his first Nationals.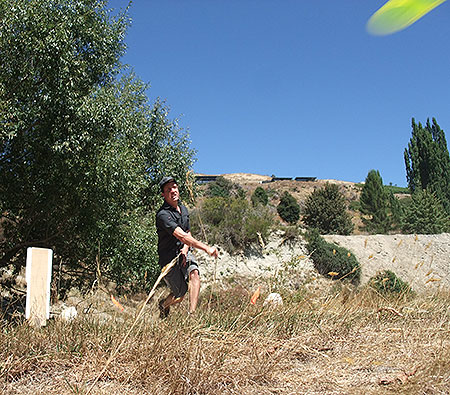 Duck - David Rose (Christchurch) does his best to take off the photographers head.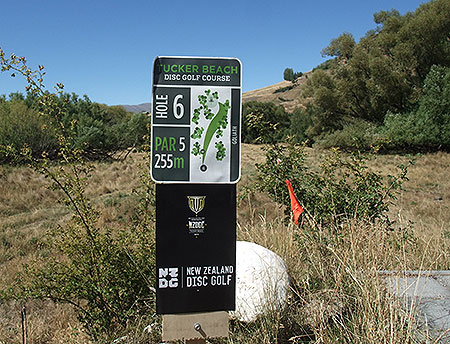 Where's David? - The raised Tee on the 255 metre Goliath.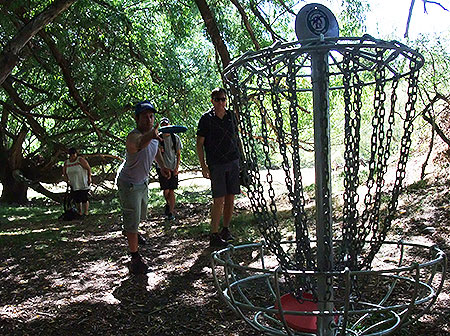 Under pressure - Te Ngaru Grant (Wellington) putts out under the pressure of his playing partners stare.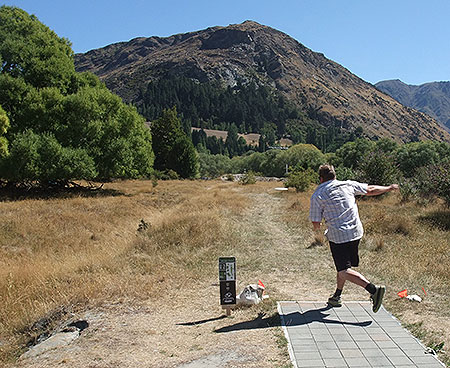 Down the guts - Christchurch mover & shaker Chris Davies gives it heaps on hole 2.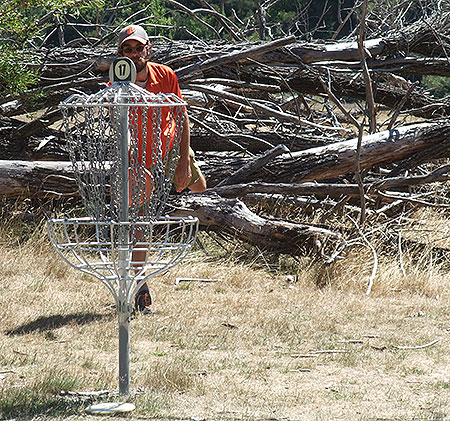 xxx - Visiting US Disc Golfer Joshua Martin slams his putt into the chains.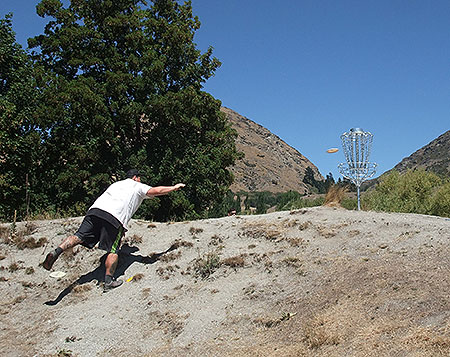 Dead eye Jacko - The Levin Brotherhood's Jacko Sullivan played consistent golf all weekend.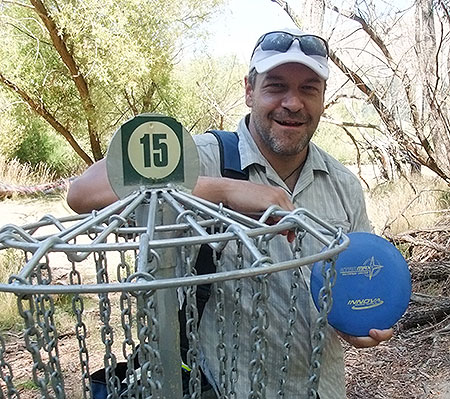 Ace - An ACE on 15 saw a rare smile on Mario Cernair's face as he laid a claim to a third of the ACE kitty on offer.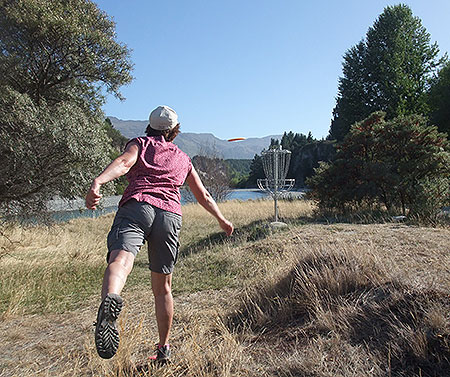 The Ming Dynasty continues -Tauranga golfer Ming Menzies plays out 12.

Chip n chase -Wellington golfer Liz Moka lays up the tricky hole 2.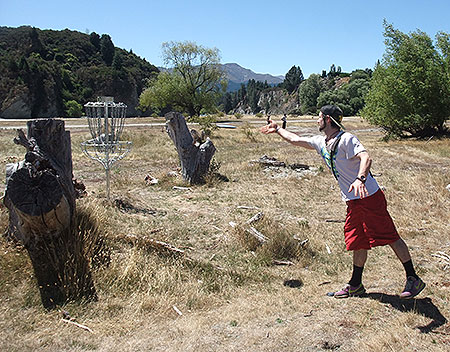 Stumped - Brandon Ferrari (Queenstown) finds the open approach to his putt on 10.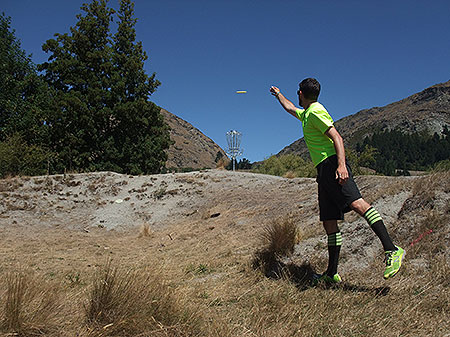 A fine round - Brady Kuech on his way to a 3 shot lead after the first round.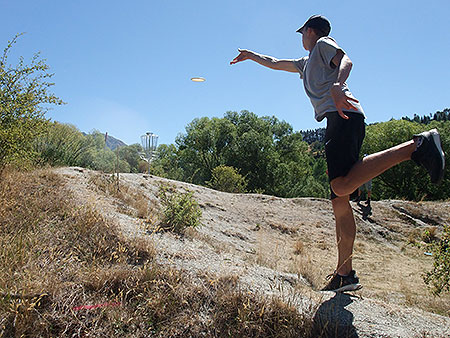 Old hand - Playing Open for the first time 17 year old but at his 17th Nationals Toby Gentil attacks the trick pin placement on 2..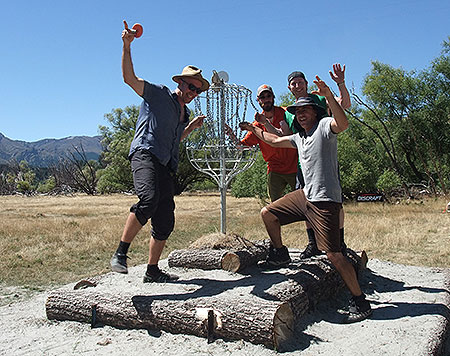 Rattle me chains - What ya do when you get a star frame 2 ... according to Moe ... rattle the chains.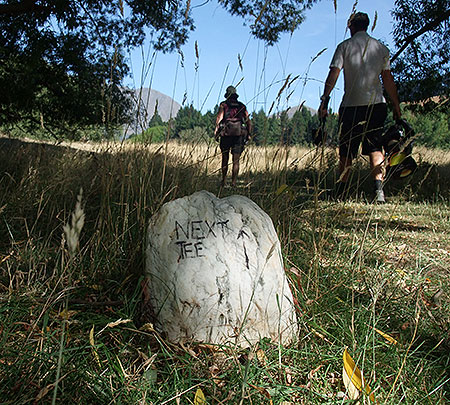 Lord of the Kachings - The course was really well marked.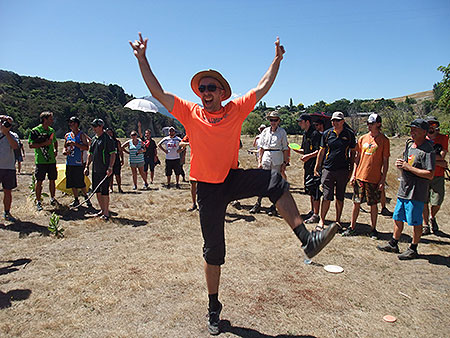 Glücklich Kap - It's a German thing. Moe Doerken shows what you do when you pull off a come from behind win.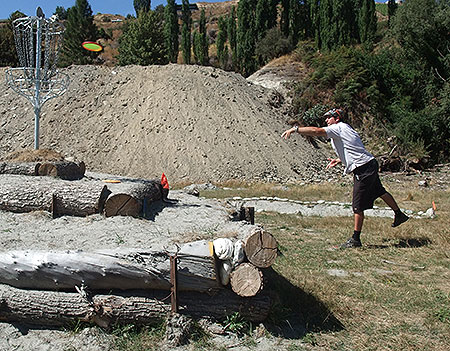 Och aye - With a disc in his hand and the hip flask at the ready Roddy McKay was a happy man.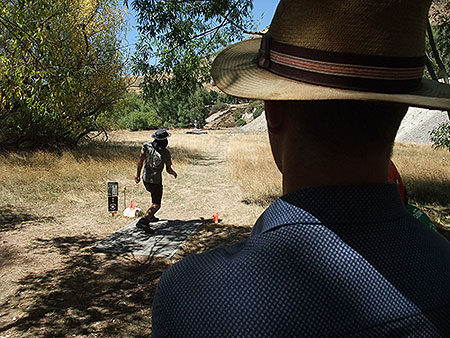 OB wan kemoebi - Moe Doerken keeps an eye on Ben Thomson (Wanaka) as he does his best to avoid the OB on 7.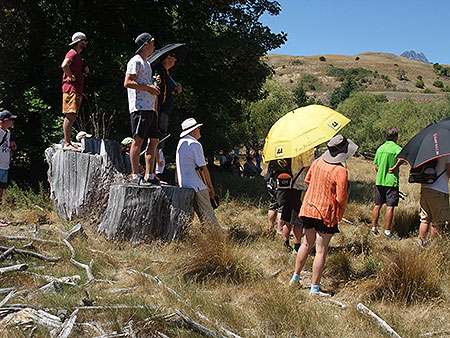 Elevated status -The big gallery take up positions in the grand stand for the 'Super 6' final safari holes.


First timer - Te Ngaru Grant (Wellington) playing his first NZDG Champs.


Old timer - Auckland golfer and NZDG President Nigel Hailstone on his way to taking out the Grand Masters title.


If anyone can an American - Josh Martin (USA) avoids the Macrocarpa sentinels guarding basket 10.


Balanced deal - Wanaka Disc Golfer Kyle Martin putts solidly at the basket on 11.


Up and at em - A tricky shot from the bushes. Paul Deacon has a crack at 2.


Spectacular spectators spectate special spectacle - The large gallery was lovin the 'Super 6'.


Six fo the Best - The 2016 NZDG Championships 'Super 6'. Brady Kuech, Josh Martin, Jacko Sullivan, Mo Doerken, Ben Weil-Lake & Simon Feasey.


Bright prospect - The 'human highlighter' Brady Kuech impresses the big gallery.


YEEEEEHAAAAH! - Local Queenstown up and comer Ben Weil-Lake gives it his all on the 255 metre 'Goliath'.


Oom Pah Pah - Touring German Disc Golfer Martin 'Moe' Doerken does that little 'beer drinking' dance as he sends his putt at the basket on 7.


A smart German! - Moe does the smart thing and lays up his second on the final hole of the 'Super 6'.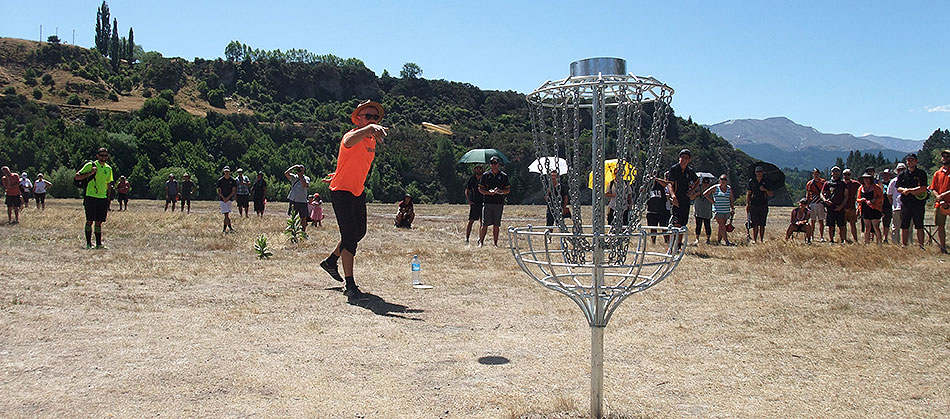 Sensational Meditational - The putt that clinched the title. Martin 'Moe' Doerken takes out the Masters Championship and the over-all NZ Title for 2016.


Champ - A happy camper. Martin 'Moe' Doerken shows off the silverware.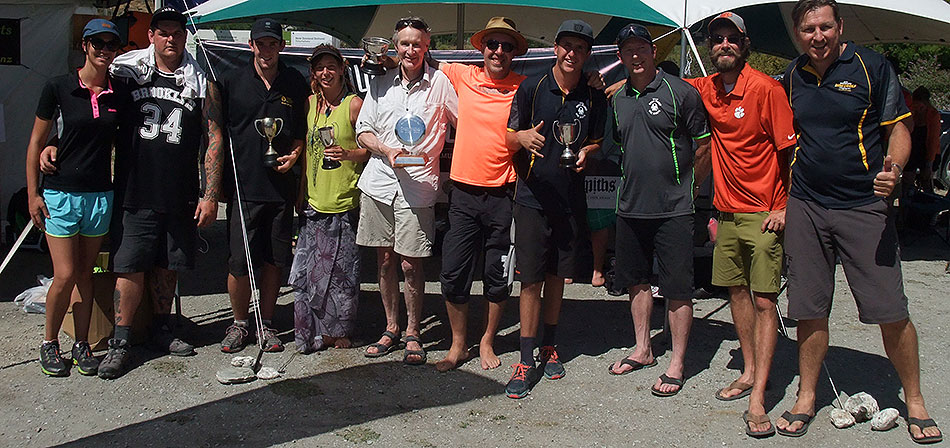 A happy bunch of champions - Paula Wilson & Jacko Sullivan Mixed Doubles, Bruce Riley Junior, Hayley Flintoff Woman's, James Smithells SGM, Moe Doerken Masters & Overall, Ben Weil-Lake Open [in a playoff over Brady Kuech], Josh Martin & Chris Dixon Doubles and Nigel Hailstone GM.

The Results for 2016 NEW ZEALAND DISC GOLF CHAMPIONSHIPS
Tuckers Beach Queenstown 5th - 7th February
| Place | Player | Div. | R1 | R2 | R3 | R4 | Total | Points |
| --- | --- | --- | --- | --- | --- | --- | --- | --- |
| 1 | Martin Doerken | M | | | | | 183 | 60.00 |
| 2 | Ben Wiel-Lake | O | | | | | 188 | 58.03 |
| 2 | Brady Kuech | O | | | | | 188 | 58.03 |
| 2 | Simon Feasey | M | | | | | 188 | 58.03 |
| 5 | Joshua Martin | O | | | | | 192 | 55.58 |
| 5 | Jackson Sullivan | O | | | | | 192 | 55.58 |
| 7 | Forest Junker-Allen | O | | | | | 172 | 54.10 |
| 8 | Hemi Te Awhitu | O | | | | | 173 | 53.12 |
| 9 | Nigel Hailstone | GM | | | | | 175 | 51.64 |
| 9 | Paul Child | O | | | | | 175 | 51.64 |
| 11 | Bob Gentil | GM | | | | | 176 | 50.17 |
| 12 | Owen Hale | O | | | | | 177 | 48.69 |
| 12 | Mario Cerniar | M | | | | | 177 | 48.69 |
| 14 | Chris Dickson | M | | | | | 178 | 47.22 |
| 15 | Chip Morgan | O | | | | | 179 | 46.23 |
| 16 | Oliver Simonsen | O | | | | | 181 | 44.76 |
| 16 | Josh McLean | O | | | | | 181 | 44.76 |
| 18 | Chris Davies | GM | | | | | 182 | 42.79 |
| 18 | Ed Waddington | M | | | | | 182 | 42.79 |
| 20 | Grant Te Ngaru | O | | | | | 183 | 40.33 |
| 20 | Rando Pahn | O | | | | | 183 | 40.33 |
| 20 | Roddy Mckay | O | | | | | 183 | 40.33 |
| 23 | Kyle Martin | O | | | | | 184 | 38.37 |
| 24 | Hayley Flintoff | W | | | | | 185 | 36.89 |
| 24 | Ben Thomson | O | | | | | 185 | 36.89 |
| 26 | Aaron Miers | O | | | | | 186 | 35.42 |
| 27 | Toby Gentil | O | | | | | 187 | 33.94 |
| 27 | Martin Conway | O | | | | | 187 | 33.94 |
| 29 | Gemma Sullivan | W | | | | | 188 | 30.99 |
| 29 | Stuart Gilchrist | O | | | | | 188 | 30.99 |
| 29 | Tom MacKay | O | | | | | 188 | 30.99 |
| 29 | Russel King | O | | | | | 188 | 30.99 |
| 33 | Alessa Schwarz | W | | | | | 189 | 28.04 |
| 33 | Karl Jolley | M | | | | | 189 | 28.04 |
| 35 | Dom Hayden | GM | | | | | 191 | 25.58 |
| 35 | Craig McNab | GM | | | | | 191 | 25.58 |
| 35 | Allan Gorthy | O | | | | | 191 | 25.58 |
| 38 | Cameron Hubbard | O | | | | | 193 | 23.13 |
| 38 | Akira Kuroe | M | | | | | 193 | 23.13 |
| 40 | Patrick Maslen | O | | | | | 194 | 21.65 |
| 41 | Morgan Hartefeld | O | | | | | 196 | 20.67 |
| 42 | James Smithells | SGM | | | | | 197 | 19.19 |
| 42 | David Rose | O | | | | | 197 | 19.19 |
| 44 | Eran Blumenthal | M | | | | | 198 | 17.72 |
| 45 | Jack Moka | O | | | | | 199 | 16.73 |
| 46 | Bruce Riley | J | | | | | 200 | 15.75 |
| 47 | Ales Mladenka | O | | | | | 201 | 14.77 |
| 48 | Fiona Ming Menzies | WGM | | | | | 205 | 13.78 |
| 49 | Bodene Tuatara | O | | | | | 206 | 12.31 |
| 49 | Quentin Golder | SGM | | | | | 206 | 12.31 |
| 51 | Chris McLean | O | | | | | 207 | 10.34 |
| 51 | Liz Moka | W | | | | | 207 | 10.34 |
| 53 | Russ Wilson | O | | | | | 213 | 8.87 |
| 54 | Paula Wilson | W | | | | | 214 | 7.88 |
| 55 | Robyn Agnew | WGM | | | | | 215 | 6.90 |
| 56 | Tomas Dolezei | O | | | | | 218 | 5.92 |
| 57 | Jenny Joynt | WGM | | | | | 219 | 4.93 |
| 58 | Robyn Joynt | W | | | | | 228 | 3.95 |
| 59 | Paul Deacon | GM | | | | | 235 | 2.97 |
| 60 | Pete McKay | O | | | | | 130 | 1.98 |
| 61 | Daniel Jones | O | | | | | 166 | 1.00 |