add to facebook

February 4-6 2012 - a PDGA 'C' Tier event
Summer at Spa Park!

The thought of playing the brilliant Spa Park in summer conditions had kept this correspondent enthused for months. Blue sky and sunshine, a slight cooling breeze from the south, dressed in shorts and a tee-shirt.  So I can only imagine how the GM and Tournament Director felt when pretty much the minute he walked into the park on the opening day of competition he ripped his left calf muscle while jumping to catch a warm up disc. This pretty much confined him to hobbling for the rest of the weekend. In fact we've just learnt his specialist has told him it's probably a six week convalesce. Here's hoping he comes good for Queenstown.
The first thing this regular Taupo Classic player noticed was that in summer there is bulk foliage on all the deciduous trees, which narrows the many alleyway type fairways immensely making this a very different course from our regular winter  tournament. This park lays down some testing Disc Golf challengers and there was no reason to think Waitangi weekend 2012 would be any different.
As per usual with our NZDG annual Championships the first day offers a great 'course-learning' opportunity with the NZ Doubles Championship seeing pairs of players discussing their strategies, disc and shot selections as they play two rounds of the Championship course. It was great to see 15 teams contesting the 3 divisions. Well done to the winners, Simon Feasey and David 'Speedo' Keene the overall title, Jenny Joynt with daughter Allie making a welcome return to take the Woman's title and Ming Menzies paired with son Henry Conway taking the mixed doubles title on the first hole of a sudden death play-off with Taumarunui's Blair Joines playing with Levin's Gemma Sullivan.
Saturday evening and the Tournament dinner finds us all at the old Spa Hotel where the Wellington round of the Rugby 7's is live on the big screen. Roast Chicken with gravy or Pork with lashings of apple sauce and heaps of vegetables followed by ice-cream sundaes. Nice!
Day two of competition and with the arrival of the non-doubles players, not to mention the '4' J10 Juniors the number of competitors for our 34th Annual Disc Golf Championships swells to 44 [including the 4 players who only played doubles].
After a welcome from the TD with the limp, especially to the 7 internationals from Australia (2), Canada (1), the USA (2), the UK (1) and Germany (1), play got underway in ideal Disc Golf conditions. At the lunch break Tauranga's Dean Marshall had laid down a 'catch me if you can' challenge with a score-card featuring a 48 total: an impressive and not to be bettered 8 under the card.
Just about as spectacular was our J15 competitor, shooting off shortened J15 Tees, Toby Gentil coming in with not just his best competition round ever but a 53 that would put him in outright second place and earn him a slot in the seeded top 4 for the afternoon round. It was great to hear the encouragement offered by his playing partners who all agreed he earnt his slot there. To see The Tobe's face after hearing his honour showed how much it meant to this budding disc golfer.
The afternoon second round saw 2011 Champion Simon Feasey cut the morning deficit in half shooting a consistent 54 along with the Taumarunui duo of 2010 Champion Blair Joines and the evergreen Pete Boyle. In the battle for Woman's supremacy Levin's Gemma Sullivan headed away from the park after day one 2 shots up on the defending champ Ming Menzies.
Monday - Waitangi Day - and it was another cracker day for Disc Golf. There are a few no-shows, a few of the Auckland crew had to head back on family missions and Nick Harrel IV one of our visiting Americans had the conumdrum of the Superbowl versus completing the NZ Nationals. The draw of his beloved game saw him in a bar downtown for the 10am kick off. We can understand that one.
End of round three and lunchtime as mathematician Toby Gentil checks the cards for his TD father the GM. Simon has come in with a 50 and taken the out-right lead over Dean Marshall by 1 shot. In the woman's competition Ming had closed the gap, even taking the lead at one point of the round but over the closing holes slipped back to the same 2 shot deficit she had started the round with behind Gemma. For the last several years the Womens competition has been riveting with every drive, approach and putt possibly being the decider between winning the covetted trophy or not.
Lunch in some welcome shade was followed by a putting competition that saw Sammy Neilson from Christchurch pick himself up an 'Innova Discatcher' traveller target, compliments of Gentil Sport.
I would like to say that it's obvious everybody enjoys these lunchtime side competitions. The Ring-of-Fire and the distance comp on the two previous days went down a treat. Great stuff!
One round to go, will anyone keep up with New Zealand's top player? No! In fact Simon's 52 saw him take the 2012 NZDG Title by a massive 8 shots over Tauranga's Dean Marshall, with King Countries' Blair Joines just 1 shot back in 3rd. Levin's Gemma Sullivan increased her lead over Ming to 5 to take her first National Title. Congratulations!
I do just have to add that as far as this reporter is concerned one of the highlights of the weekend was most definitely the 4 J10 players, Talia Feasey, Maia de Haas, Dylan Love and Caitlin Feasey who skipped, sang, threw, roly-polied, laughed  and even picnicked their way around two 9 hole rounds, chaperoned by three dedicated and chuffed Mums. 
Brilliant, just brilliant!
If you are visiting Taupo for the first time there is a lot to see and do in the area, check out;
http://www.tourism.net.nz/region/taupo/attractions-and-activities/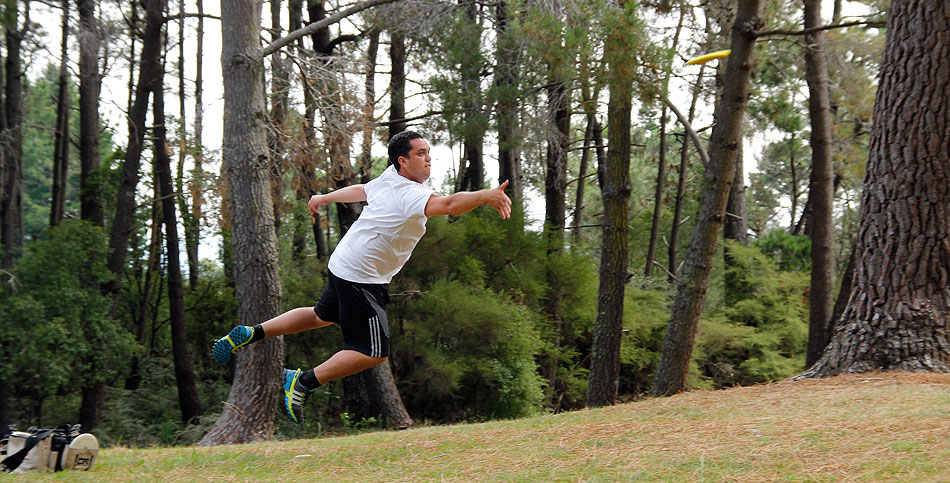 Leap of Faith - Levin's Lawton Williams show great athleticism to steer his disc to the basket.


Moe and his Friends - This is the second NZ Nationals Martin 'Moe' Doerkin has competed in and he had great fun catching up with old friends and making a few new ones for 2012.


I'm Henry on the Eighth I Am - Tauranga's Henry Conway is bringing into 2012 the form that saw him in the Super 6 a few times last year. Look out Fease!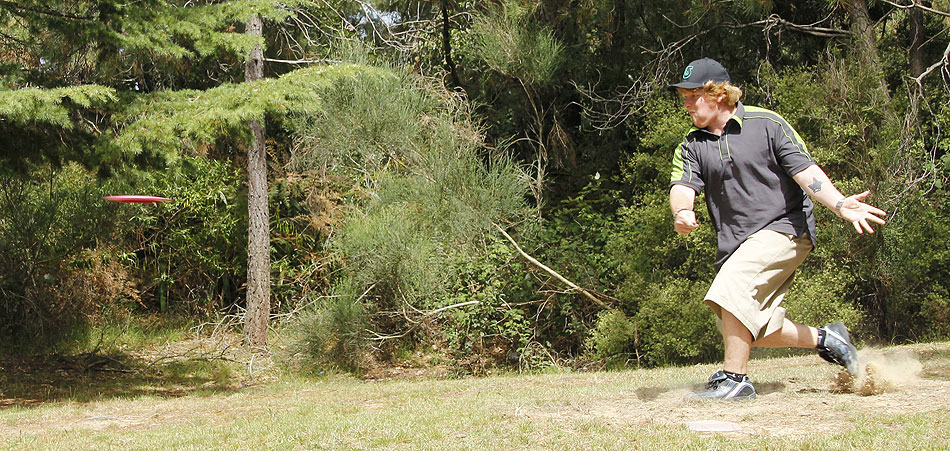 Action Fox - Dom 'Mad Fox' Lumsden (Newcastle, NSW) kicks up dust as he delivers some raw Aussie power at Taupo.



Gemma of a Shot - Singles play and Levinite Gemma Sullivan demonstrates that confident putting style we have come to expect, this time being rewarded with a superb par on hole 10.



Yew Bewdy - Aussie golfer Neil Roberts' game suffered from a tough injury to his bicep but he showed that it is all about putting with some great upshots, including something we think we have never seen at Taupo: a birdie 2 on the trecherous 4th! Nice work Robo!.



Dreadlock Holiday - The long weekend holiday saw an old friend of the de Haas' Myles Darryl turn up to enjoy the golf. Great to have our Bermudian golfer friend at Taupo.



Nothing's Out of Joynt - Great to see golfing legend and all round super chick Allie Joynt (Hamilton) on the course and even better when combined with fellow super chick and mum Jenny.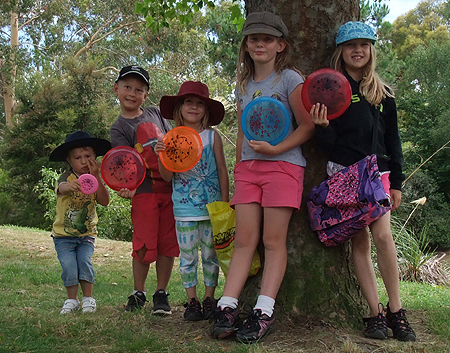 Look at our Shiny New Discs! - The Junior U10 crew were stoked to get a new frisbee in their player's pack.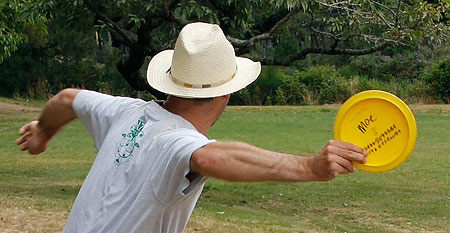 I Am Moe - Visiting German golfer and D specialist Moe Doerkin (Berlin) brought that special Ultimate 'herr' flick along with him, as well as his happy smile.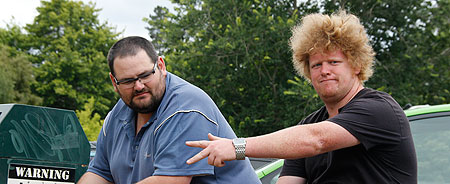 Warning, Hair Hazard - Best haircut of the tournament surely went to Newcastle's Dom Lamsden, flanked here by his Aussie mate Neil.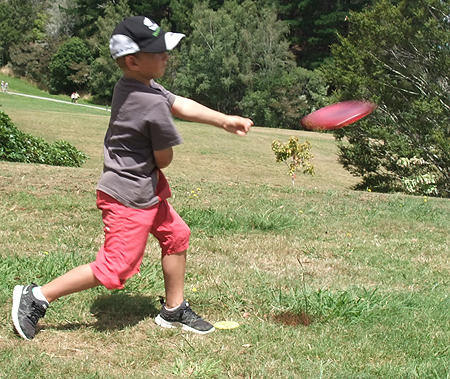 For the Love of the Game - Son of top golfer Brendon, Dylan Love (Tauranga) was all style for his two rounds of the Junior U10 division.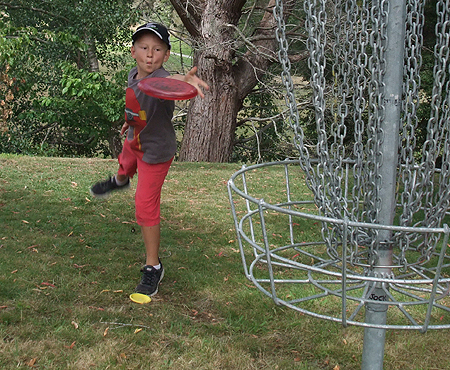 In the Basket - And just like his Dad, Dylan Love is all focus as he slots in for par on the tough 8th hole.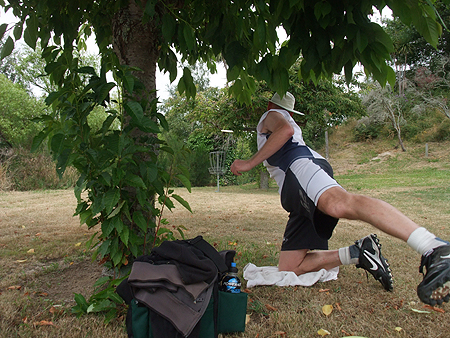 Pause, Crouch, Touch, Putt! - Ever nimble Sammy Neilson (Christchurch) fired a superb 2nd from a tricky lie to come within centimetres of a wicked birdie on 10..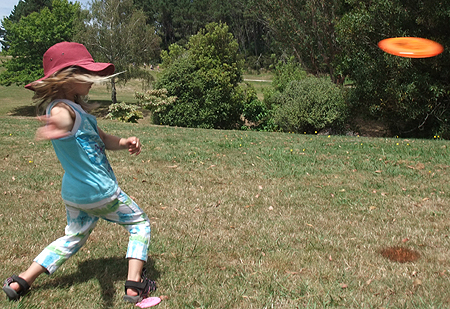 Junior Magic - At just [how many] years old Caitlin Feasey (Oratia) has the advantage of some fine disc golf genes, being daughter of multiple NZ champion Simon. And to see the awesome power in this girls' throw is something else!.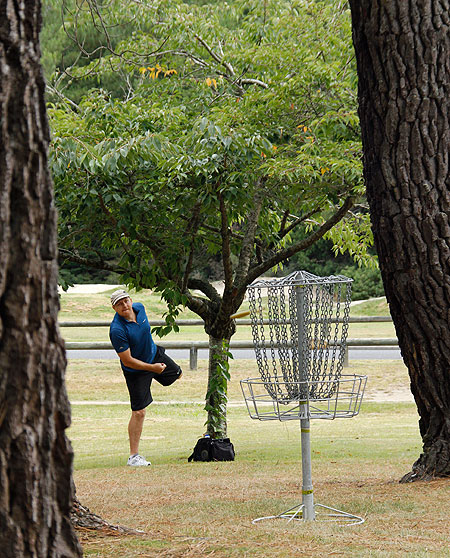 Much Needed Birdie - Auckland golfer Nigel Hailstone (Auckland) rides this nice putt all the way to the chains for a much needed birdie on the 17th.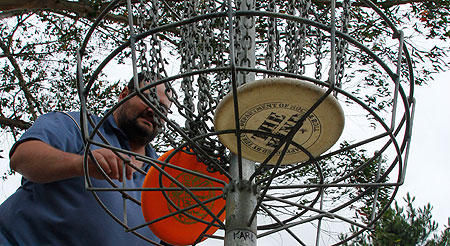 What a Birdie - Newcastle disc golfing legend Neil Roberts is estatic over his 2 on the forever tricky 4th. At this stage he didn't realise he had just scored a first for the course.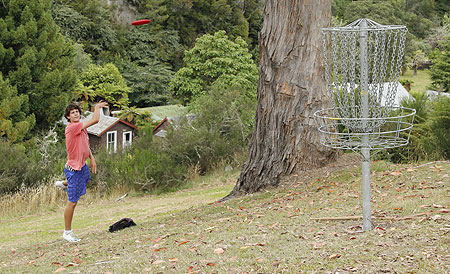 Hope It Doesn't Roll! - And this is why the 4th is so tricky. With a dreadful slope for the roller tradegy, Henry Conway (Tauranga) tries desperately to ensure his put won't head back down behind him. But with a hit into the chains we all know anything is possible!.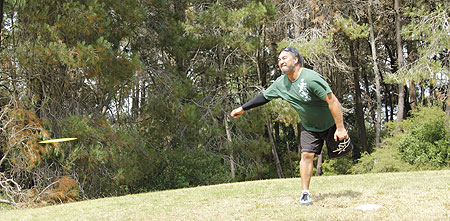 By George! - Auckland golfer George Huhu has a classic style reminiscent of such greats as Baz Kett and Hugh Jarm.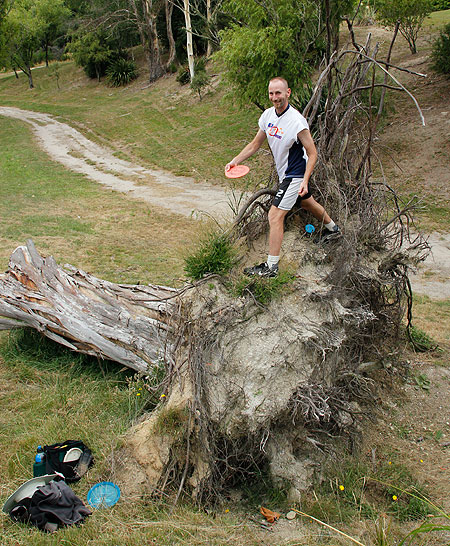 This Shot Has Me Stumped - Christchurch (and Liverpool) representative Sammy Neilson pre-rotates the torso for a recovery approach on the 1st. If a tricky shot is required, you can count on Sammy.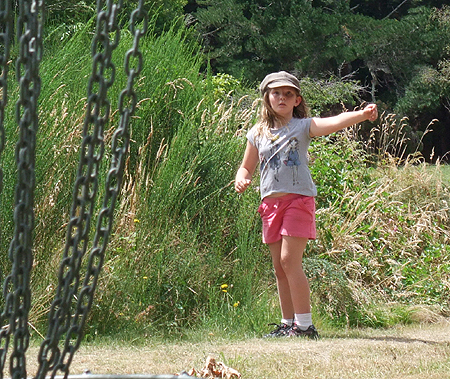 Leftie Lady - Junior golfer and - like her Dad - leftie Maia de Haas (Mangakeikei) curves her shot in from close to the rough on the 8th.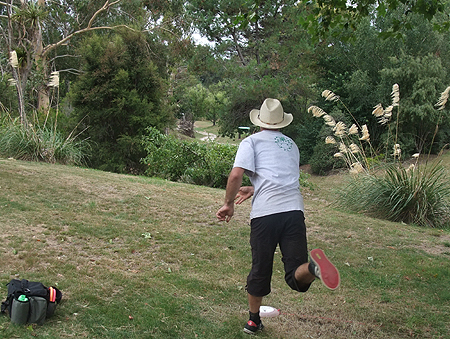 There is a Gap, Somewhere - Berlinite Moe Doerkin shows that the forehand can thread the needle with a perfect drive down a fairway that is much narrower in the summer growth than the usual winter tournament conditions.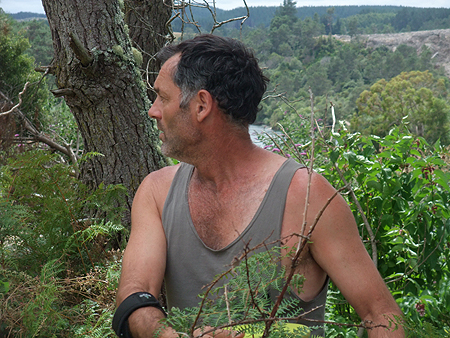 Blackberry Attack! - Another Conway golfing icon Mark Conway suffering the consequences of trying the shortcut on 11.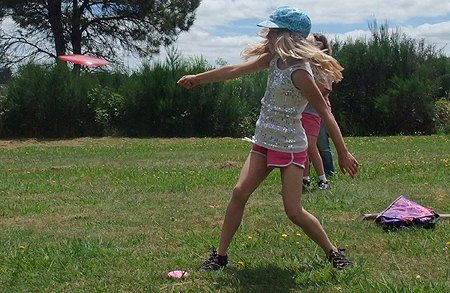 The Feasey Action - Junior U10 golfer Talia Feasey (Oratia) brought some much-needed fashion into the game, showing that an athlete can look good whilst still playing great. More glitter we say!


Paper Clip Movie Clip - taking a break in the golf, Dave 'Sammy' Neilson (Christchurch) shows freestyle skills that have made him a legend world wide.


"I'll Just Get that Cameraman Out of the Way" - Taking every opportunity to show off the Mad Fox tattoo, Dom Lumsden (Newcastle, Aus) releases on the 13th watched by his groupies Simon, Moe and George.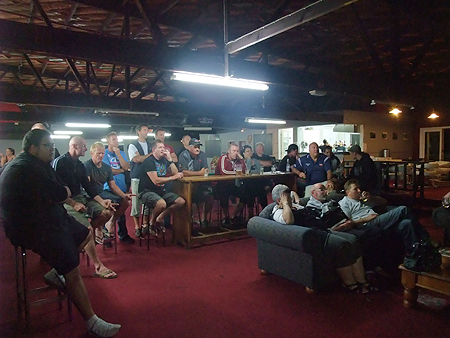 Seventh Heaven - The Saturday night festivities were all the more enjoyable with the golfers (and the barman) enjoying New Zealand's win in the Rugby 7's at Wellington.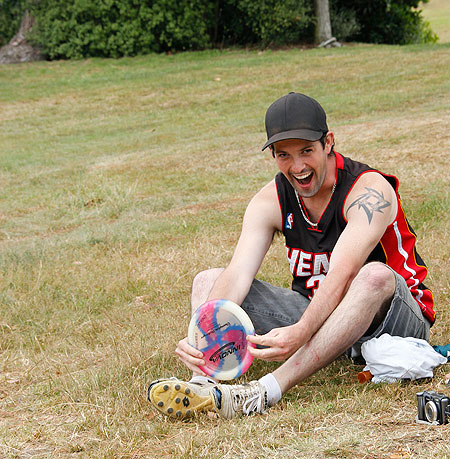 Happy Speedo - Leading golfer Speedo Keene (Auckland) was over the moon to be handed back his favourite driver that he had lost on hole 6 thanks to visiting German Moe Diddly.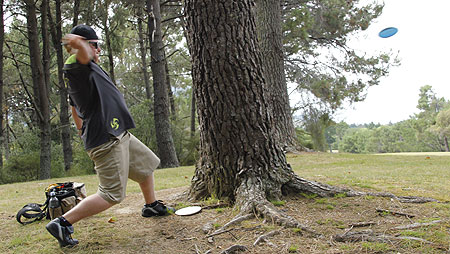 All Action - Aussie Dom Lumsden (Newcastle) enjoyed the course despite losing a few favourite discs along the way (all recovered we think/hope). Extra favourite as they featured his own artwork!.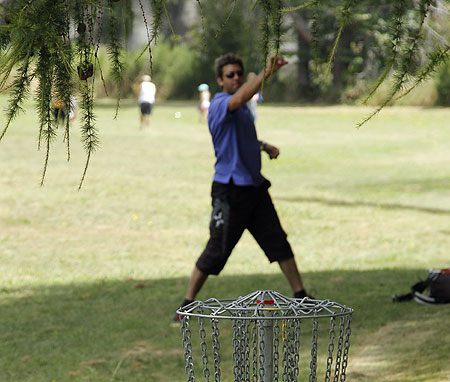 All Style - To play with champion Simon Feasey (Oratia) is both educational and fun. He shows that the best can play with the relaxed social attitude that disc golf is all about and you can learn a heck of a lot just watching him. And you can feel free to ask for advice - The Fease will help you improve your game.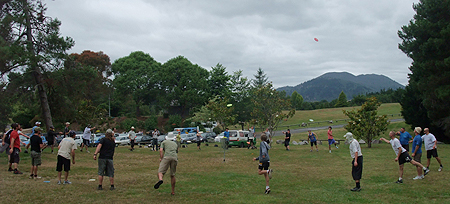 Pacific Ring of Fire - The field positions themselves around a basket and putts at the same time to see who will be left.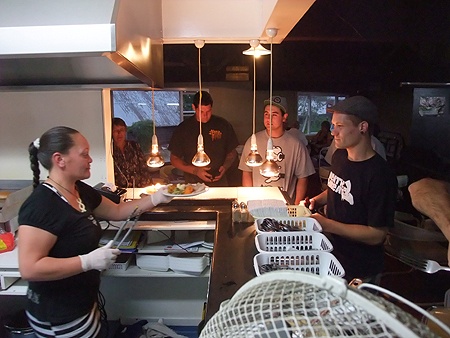 Food for the Masses - The Spa Hotel kitchen staff were all hands on deck to feed the 40+ hungry golfers.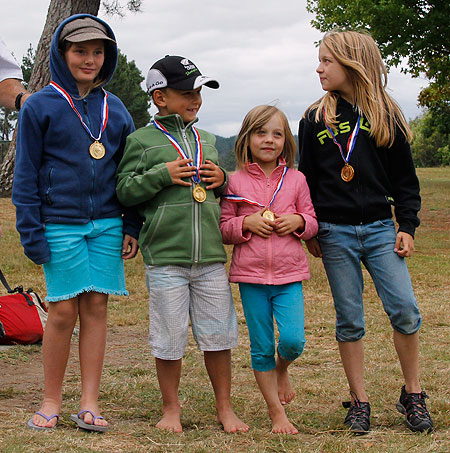 Jumping Juniors Batman! - Our mini heroes, from left Maia de Haas, Dylan Love, Caitlin Feasey and Talia Feasey with the spoils of their efforts. Well done!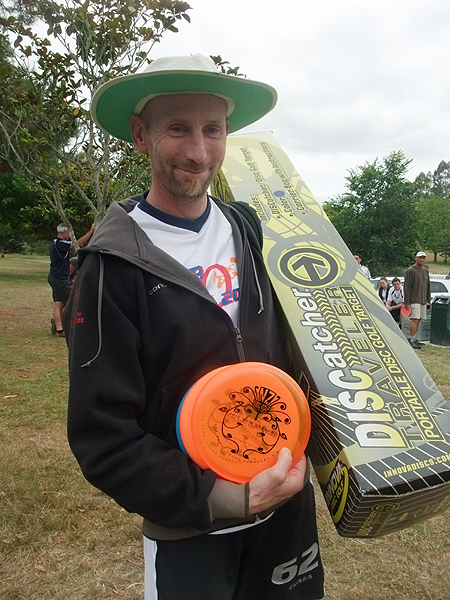 Traveller for the Traveller- Great putting skills saw Sammy Neilson (Christchurch) take away a great prize.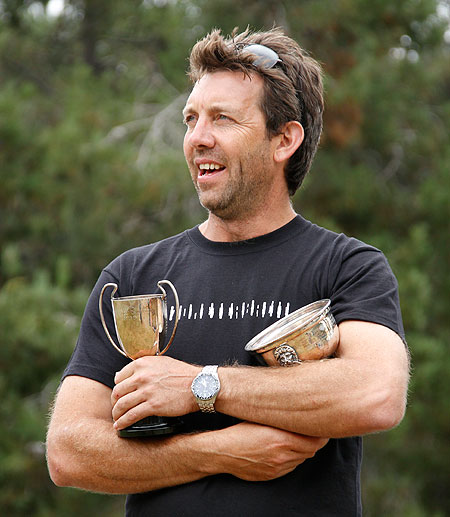 20 Meters Wide - 2012 New Zealand Disc Golf Champion Simon Feasey (Oratia) shares his thoughts with the audience upon the awarding of his trophies. And what a t-shirt!.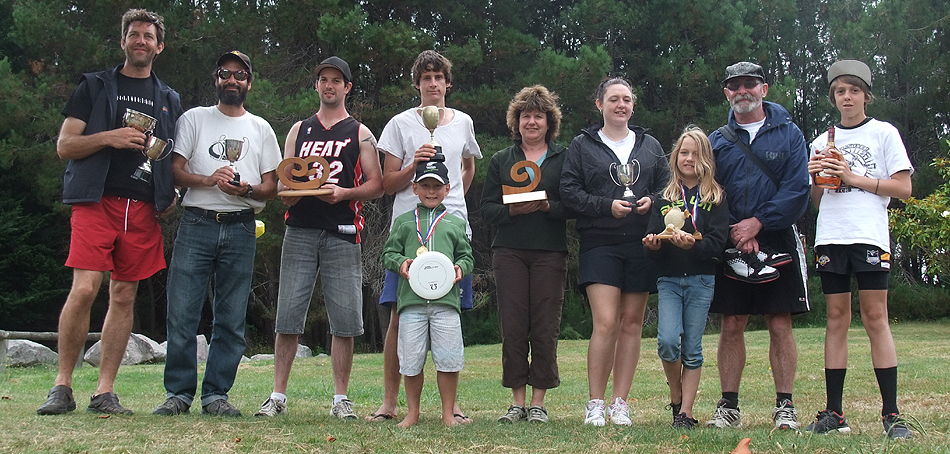 The Winners - From left, Simon Feasey (Oratia): Overall, Doubles Men and Masters, Matt Scott (Santa Cruz, USA): Open Mens, Dave Keene (Remuera): Doubles Men, Henry Conway (Tauranga): Doubles Mixed and J18, Dylan Love (Tauranga): Junior U10 Boys, Ming Menzies (Tauranga): Womens Masters, Gemma Sullivan (Levin): Womens Open and Overall, Talia Feasey (Oratia): Junior U10 Girls, Pete Boyle (Taumarunui): Grand Masters, Toby Gentil (Kauri Point): Junior U15..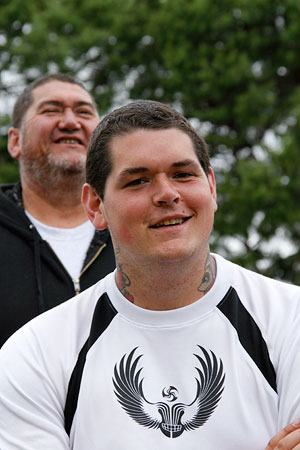 Levin Nothing Behind - Flanked by his golfing father Shano, Jackon Sullivan (Levin) is just one of the golfers appearing from this region that is looking to be a regular in the Super Sizes of the 2012 NZ Tour.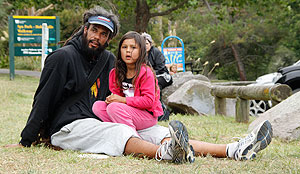 Myles Away - The New Zealand Disc Golf Nationals is a great family affair with Myles Darrell (Welcome Bay) taking a break with his daughter.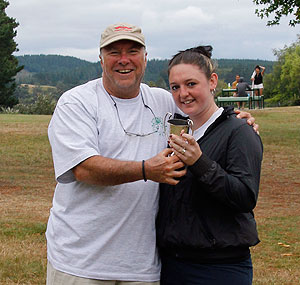 Another Trophy for the Cabinet - Womens Champ Gemma Sullivan (Levin) accepts the trophy from TD Bob Gentil to add to her collection of trophies from her successful roller-blade hockey career..
back to top
The Results
2012 NZDG Championships Doubles - Spa Park, Taupo, Feb 4

Pairings

Rnd.1

Rnd.2

Total

1
Simon Feasey
David Keene

49

46

95

2=
Lawton Williams
Jackson Sullivan

52

47

99

2=
Dean Marshall
Damian Peters

48

51

99

4=
Martin Doerkin [Ger]
Sammy Neilson

51

50

101

4=
Dan Watson [Can]
Matt Scott [USA]

52

49

101

6
Juan Unda
Andrew Taylor

55

53

108

7
Brendon Love
Pete Crighten

57

52

109

7=
Neil Roberts [Aus]
Dom Lumsden [Aus]

55

54

109

7=
Abraham Hartley
Shane Sullivan

54

55

109

10
Arthur Pengelly
Duncan Someone

58

59

117

11
Nick Jensen
Nick Harrel 4th 

61

59

120

12
Pete Boyle
Toby Gentil

60

53

113

Womens
1
Jenny Joynt
Allie Joynt

66

62

128

Mixed
1
Ming Menzies
Henry Conway

50

55

105*

2
Blair Joines
Gemma Sullivan

54

51

105
* won in first playoff hole
2012 NZDG Championships - Spa Park, Taupo, Feb 5&6

Player

Dvn.

R1

R2

R3

R4

Total

Div Plc

1

Simon 
Feasey

M

54

54

50

52

210

1

2

Dean
Marshall

M

48

57

54

59

218

2

3

Blair
Joines

M

54

54

54

57

219

3

4

Matthew 
Scott [USA]

O

54

56

55

55

220

1

5

Damian
Peters

O

54

57

54

57

222

2

6

Pete
Boyle

GM

56

54

54

58

222

1

7

David
Keene

O

53

58

57

57

225

3

8

Nigel
Hailstone

M

56

56

59

58

229

4

9

Sammy
Neilson

GM

60

58

57

57

232

2

10

Martin [Moe]
Doerken

O

57

58

60

58

233

3

11

Dan
Watson [Can]

GM

61

57

59

57

234

3

12

Neil
Roberts

O

60

61

54

61

236

5

13

Des
Cooper

GM

63

58

56

61

238

4

14

Toby
Gentil

J15

53

64

58

64

239

1

15

Abraham [AB]
Hartley

O

55

55

66

64

240

6

16

Jimmy
Conway

M

62

58

62

59

241

5

17

Henry
Conway

J18

57

62

59

63

241

1

18

Lawton
Williams

O

58

64

62

58

242

7

19

Arthur
Pengelly

O

62

66

56

59

243

8

20

Shane
Sullivan

GM

58

59

62

64

243

5

21

Chris
Kingsnorth

M

62

64

59

59

244

6

22

Jackson
Sullivan

O

66

57

64

61

248

9

23

Mark
Conway

M

64

62

58

64

248

7

24

Gemma
Sullivan

W

58

65

67

62

252

1

25

Fiona [Ming]
Menzies

WGM

60

65

67

65

257

1

26

Myles
Darrell

O

65

61

70

66

262

10

27

Jenny
Joynt

WGM

70

72

71

70

283

2

28

Nick
Jensen

O

77

70

70

77

294

11

29

Martin  
de Haas

GM

52

60

999

999

2110

DNF

30

George
Huhu

O

65

57

999

999

2120

DNF

31

Vaughn
Pearse

O

65

59

999

999

2122

DNF

32

Conrad
Hoskins

O

62

67

999

999

2127

DNF

33

Peter
Crighten

M

67

67

999

999

2132

DNF

34

Chris
Ambler

O

70

68

999

999

2136

DNF

35

Nick
Harrel .IV. [USA]

O

66

74

999*

999

2138

DNF

36

Brendon
Love

M

55

999

999

999

3052

DNF

37

Talia
Feasey

J10

49

41

90

1

38

Maia
deHaas

J10

53

47

100

2

39

Dylan
Love

J10

60

51

111

3

40

Caitlin
Feasey

J10

76

71

147

4
* Superbowl!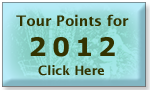 Yeah!