DJ TD - Putting with the confidence of a local, Tournament Director and course designer Josh Smith (Hamilton) gives himself every chance on the tough 8th with the basket positioned on a mean slope subject to a firm breeze coming over the crest.
Congratulations to our new disc golf champions. Blair Joines from Taumarunui took three play-off holes to win his second straight overall (and Masters) title. Effervescent Fiona 'Ming' Menzies travelled from Tauranga to take home the 2011 Women's trophy with Toby Gentil winning the Junior title with some great golf in his final round.
Joines entered the singles with a doubles title already under the belt with partner, local and Tournament Director Josh Smith.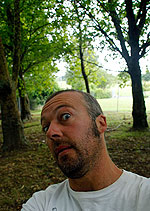 It was a pleasure to play with visiting German Martin 'Moe' Dörken with his stunning 'from the hip' forehand drives. we invited Moe to give us his perspective of competing in the 2011 New Zealand Disc Golf Championships. You can check out Moe's blog at http://zsuwd.de/blog/ whilst this is in his native language, you can enjoy his wonderful pictures (he is a professional photographer amounst other talents) and you can even have the site translated using Google Translate, which makes for some humorous interpretation!: click here.
The 2011 New Zealand Disc Golf Championships according to Moe
First things first: Thanks so much to all of you.
I had a fantastic time playing this wonderful tournament in Pukete Farm. Words are too small.
I had learned about the tournament on the internet, so I quickly dropped TD Bob Gentil an email, hoping Icould still register. Bob replied almost instantly — and yes — I could. I drove my campervan to Pukete Farm where a great 18-hole course had been set up, it had a bit of everything: elevation, unforgiving trees, long holes, tricky basket positions, some surprising gusts of wind and the super cool New Zealand Disc Golf scene playing the demanding course. The holes were inbetween 63 (?) and 148 meters, everything was par 3.
Friday we played doubles, I teamed up with Sammy from Christchurch. He throws backhand (though he can virtually break the laws of physics with his amazing scoobers, thumbers, hammers and whatnot) while i am a forehander, we complemented each other quite well and ended up 4th in the Doubles Tournament. Oh yeah.
The Singles took place Saturday and Sunday, only interrupted by the cool tournament party at the Cock & Bull Pub where tasty beer and yummy burgers were being served. It was a great pleasure to play with a large number of players as I slowly made my way back to the lower ranks. It was also amazing to watch the top players´ tough competition, they really rocked the course and showed some of their amazing skills to open-mouthed spectators and players alike.
The Disc Golf scene in New Zealand is a super friendly and pro-active bunch of very cool and relaxed people, I felt really cordially received, making lots of new friends and also meeting my buddy Abraham from Levin again, with whom I had already played in Brisbane about two months ago. In fact I was invited to come, stay and play by so many people, e.g. Tauranga´s Open Champ Dean Marshall, the Lost Tribe´s Corynne and Pete Boyle from Taumaranui, the Levinites Abe, Lawton, Jackson and Shane and also Wellington´s Carson and Kiri Thomas-Boon, not forgetting the South Island´s disc magician Sammy Neilson from Christchurch, I could hardly believe it.
Actually I´m so deeply impressed I´ve changed my travel plans and extended my stay in New Zealand by a month, hoping to see all of you again at the Queenstown Classic tourney in March.
Thank you for having me,
Martin "Moe" Dörken
The Pictures

Diskotech - Recent converts to the game Blue and Paddles ventured over from Rotorua on a day off from rafting and other extremeness to experience the concept of doubles, here with Extremo Supremo Juan Unda. And the doubles concept agreed with them: saving each other's bacon reminded the duo of their tour of the Auckland bars last year.


Out the back, in more ways than one - German disc golfer Moe Dörken (pronounced 'der-kin') prepares for a round of golf with Juan Unda (pronounced 'pess-key'), Bob Gentil and Sammy Neilson. Moe was the contributor of many of the pics you see here with his super dooper SLR camera. Cheers Moe!


Heavy Metal - Hardly able to 'contain' themselves out on the back nine are golfers Paul Cohen (Waiheke Island), Henry Conway (Tauranga) and Des Cooper (National Park).


You want me to do what?!?! - Yes, there is a basket down there. What a hole to complete your round with! But there were indeed quite a few birdies on the 77m 18th (called Should've Could've). Requiring extreme height control, a high level of accuracy, good skimming and possibly a smidgen of luck, players like Blair Joines and Damian Peters managed 2 birdies here. But the champion of this final hole was none other than the local TD and course designer Josh Smith with 3 birdies and one par.


On your way my friend - Not only did Moe's drives look effortless, his approach shots displayed a casual confidence befitting the hat..


Get in the car! - Six rounds of disc golf and Carson still wanted to play more. Kiri managed to get him away from the course by promising a round in Taumarunui the next day.


Keeping Warm - The muggy conditions didn't bother Kiri Thomas-Boon (Wellington) who kept her legs at 100% efficientcy with a layer of lycra. But we did observe that her only leggings-less round produced her best score...


Swirl - Soleful styles from Sammy Neilson as he slots another 2 on the 17th. Sammy enjoyed two birdies on this open 112m hole.


Fun in the Sun - Accompanied by Jill Sullivan (right) who was supporting the Levin crew (Mom of Gemma and Jackson, wife of Shane), Fiona 'Ming' Menzies (Tauranga) was all smiles by the 17th. No wonder: Ming has been doing a lot of tramping around the world lately and has more stamina then many teenagers of today!


Tres Bon - Top Kiwi junior player Toby Gentil (Auckland) has just started college and was practicing his french terms along the way; "Sacre bleu qui a été un coup de golf impressionnant. Si je reçois deux birdies, papa aura de m'acheter une BMW!"


Tripod - It's all about balance for Dave 'Sammy' Neilson (Chirstchurch) on the 2nd watched by doubles partner Moe Dörken (Berlin)


Fruity - Not quite ripe but like many of the players, some of the trees were about to blossom.


Usual Suspects - A plethora of Kiwi disc golf talent from all around New Zealand. From left Arthur Pengelly (Wellington), Dean Marshall (Tauranga) and Blair Joines (Taumarunui) relax after the a round at Pukete Farm Park.


Tower of Power - Playing with more enthusiasm than a boy with a new Scalextrics set, Damian Peters (Auckland), stayed in contention for all three rounds with a best of 4 under 50 in round 2.


Searching for shade - Whilst shady characters like Marty de Haas may have been absent, shade from the hot sun on this muggy summer's day was eagerly sought after during and between rounds.


One Two Three, Use That Knee - Ultimate players like Sammy Neilson (Christchurch) have all the shots in their arsenal like this kneeling forehand to twist around the ever present obstacles.


Golf Fashion - Looking like he could be heading to a bar rather than driving the 9th (other than the touch shoes [and shirt, and shorts - ed.]), Dean Marshall (Tauranga) shows that style can sit well with top performance with his first equal after 4 grueling rounds.


Lucky 13 - That's what Arthur Pengelly (Wellington, pictured) was hoping (as were most players) as he drove the 13th (called 'Hiff and Hope'). Across a nasty little gully, the basket poised at 82m just waiting to be hit. But the $200 Ace Kitty remained unclaimed for the second time in 2011.


Mexican Magic - It seemed like Juan Unda (Tijuana) had the 7th sussed with three birdies through the singles. Known for going only for the glory big arm drives, the Mad Mexican toned it down for this hole and it worked; "I concentrated on getting through the first 30 metres with plenty of spin to keep my Eagle flying straight," he offered. "plus de Haas wasn't here to put me off!" - a reference to the banter of the Red Leftie Marty de Haas who was conspicuously absent at this year's event.


Crouching Tiger - Ex Navy man Shane Sullivan (Levin) has been enjoying his return to disc golf after a hiatus of over 15 years. Shane is also responsible for a surge in the sport at his home town with family and friends turning up to compete on every tour event these days. Good on you Levinites!


Slammin' Sammy - Hole 8 (90m 'A Bridge to Terabiffitin') proved a tough one with the basket poised on a slope that was more than ready to invoke a tragic roller. But as Dave 'Sammy' Neilson (Christchurch) shows, a disc solidly slammed into the chains is the best way to stop that happening. Bob Gentil and Henry Conway were the only players to keep the bogies away on the 8th all weekend.


Moe Throw - Stand facing straight ahead, both feet level. Hold disc loosely in right hand, observe the required line, picture the flight, flick disc from hip level with minimal arm movement, watch it fly long and accurate. That is the Moe Throw - a joy to watch.


Golfin Gals - Regular disc golf Divas Kiri Thomas-Boon (Wellington, left) and Gemma Sullivan (Levin, right) enjoying a round of doubles golf together in the Hamilton sunshine..


Barking up the wrong tree - Staged or a freaky putt? Based on the fact this looks like the putter of the pesky Mexican, anything's possible.


Conway down the runway - It looks like the reign of Conways will continue for some time with Henry Conway (Tauranga, son of Mick and Ming) progressing from Junior division this year to play with the big guns. And there were no nerves: Conway fired a brilliant one under 53 in his first ever round of Open division play for top group status.


Return of the King - It was good to see Chris Kingsnorth (Auckland) back on the Tour and with minimal golf play over the last few years he settled quickly back into form. Chris managed 3's on the first three holes for all four rounds!


Eins Zwei Drei Vier... - And here it is: the now famous face-front hip hurl by Moe Dörken (Berlin). Incredibly steady, uncannily accurate and surprisingly big - and then there's the throw. Demon Killer Moe is in New Zealand on tour and thanks to this weekend's competition has made so many new friends that he is already planning a return trip!


Recreation and Rest - A well deserved rest and brew for relative newcomer to disc golf Nick McKay (Auckland). Nick featured at the 2010 Auckland Championships with friend Brad Muir and is ever improving his game. His target of a sub-sixty round never eventuated but the firey redhead did manage the distinction of four pars on the third and a closest to the pin on the 1st to win a superb disc courtesy of disc golf traveller Arthur Pengelly (Wellington)


Over to you, Kalyptus - Pete Boyle (Taumarunui) ensured no ants can get into his bag (and possibly get at his donuts - ed.) by playing the entire round with it on his shoulder. Fortunately the course favoured the clockwise walking that resulted.


Swinger - A moment in the shade to rest and contemplate for Brad Muir (Auckland) on the hardest hole by far, the 148m dogleg 6th. The sixth claimed its fair share of discs up the trees at the dogleg (see Dr Proctor, right). Brad, a relative newcomer to the sport, played good consistant golf with an impressive three bridies on the 3rd hole.


Why is the Earth leaning? - If there was ever a prime example of the falling putt, this is it. Local hopeful Josh Smith (Hamilton) sends his disc on its way before taking a rest in the soft grass.


Cross Training - Interested stunt kids listen to Juan Unda explaining the game as Nigel Hailstone (Auckland) forearms the 10th. The bikers filtered Juan's dodgy facts to understand the game (they are keen ball golfers) and were treated to one of the best birdies around when Hailstone potted a 50m shot into the chains..


No Fear - One of the Levin Sullivan crew, Gemma Sullivan (Levin) shows no fear as he drives the trickey uphill 4th. Looking like a forest from ancient times, golfers had to control their height as branched reached down like angry trolls to stop any wayward frisbee's flight.


Proctorverance - He's up to it again, the Doctor of Discs, the MD of Flight Mr Michael 'Doctor' Proctor (Auckland) was up a tree after the 3rd round to recover his precious XL driver that got swallowed on his approach shot to the 6th green. The aptly named 'Par too far' 6th was somewhat of a nemisis for the Outback Quack (and most players) with the Practitioner of the Putt averaging 4.8 (overall average for the 6th was 4).


The Winning Shot - It all came down to the tricky third hole of the playoff with Dean Marshall (Tauranga, top) coming close but not close enough with a long putt. Up stepped defending champion Blair Joines (Taumarunui) who slotted in a great putt to take out the New Zealand title for the second time running. And for the second time it was on the third play-off hole! (Blair defeated Simon Feasey on the 3rd play-off hole at the 2010 New Zealand Disc Golf Champs - click here for the story).


New Zealand Champions - From left: Inset: Toby Gentil (Auckland, Junior U-15), Bob Gentil (Auckland, Grand Masters), Josh Smith (Hamilton, Doubles), Blair Joines (Overall, Masters, Doubles), Dean Marshall (Tauranga, Open) and Ming Menzies (Tauranga, Womens).
The Results
Singles Tournament
1
Dean Marshall
O
53
51
51
50
205
59.02
1
Blair Joines
M
50
50
53
52
205
59.02
3
David Keene
O
52
52
51
53
208
56.07
4
Mario Cerniar
O
53
55
51
52
211
53.12
4
Josh Smith
O
53
51
55
52
211
53.12
6
Damian Peters
O
54
50
53
55
212
50.17
7
Bob Gentil
GM
53
57
53
53
216
48.20
8
Lawton Williams
O
53
56
56
56
221
46.23
9
Pete Boyle
GM
52
54
58
58
222
44.27
10
Shane Sullivan
M
57
56
55
55
223
42.30
11
Henry Conway
O
53
58
56
57
224
40.33
12
Nigel Hailstone
M
56
56
59
54
225
36.40
12
Dave Sammy Neilson
M
56
54
55
60
225
36.40
12
Arthur Pengelly
O
54
55
56
60
225
36.40
15
Chris Kingsnorth
M
58
55
57
58
228
32.47
16
Paul Cohen
GM
58
57
56
58
229
30.50
17
Carson Thomas-Boon
O
60
55
56
60
231
25.58
17
Abraham Hartley
O
59
58
62
52
231
25.58
17
Des Cooper
GM
52
58
61
60
231
25.58
17
Martin Dörken
O
55
57
63
56
231
25.58
21
Keith Woody Inwood
M
59
63
59
54
235
20.67
22
Jackson Sullivan
O
59
61
60
58
238
17.72
22
Juan Unda
M
62
60
56
60
238
17.72
24
Brad Muir
O
61
58
60
60
239
14.77
25
Barry Baz Keene
M
61
61
59
60
241
12.80
26
Michael Proctor
GM
61
60
59
62
242
10.83
27
Fiona Ming Menzies
W
61
66
69
68
264
8.87
28
Nick McKay
O
67
67
66
69
269
5.92
28
Gemma Sullivan
W
63
70
66
70
269
5.92
30
Kiri Thomas-Boon
W
66
74
65
67
272
2.97
31
Toby Gentil
J
64
59
123
1.00
Doubles Tournament
| | | | | | |
| --- | --- | --- | --- | --- | --- |
| Rank | Pairings.. | | Rnd.1 | Rnd.2 | Total |
| 1 | Blair Joines | Josh Smith | 46 | 48 | 94 |
| 2 | Damien Peters | Dean Marshall | 48 | 48 | 96 |
| 3 | Simon Feasey | David Keene | 47 | 49 | 96 |
| 4 | Sammy Neilson | Martin Dörken | 51 | 47 | 98 |
| 5 | Pete Boyle | Carson Thomas-Boon | 51 | 49 | 100 |
| 6 | Paul Cohen | Mario Cerniar | 51 | 51 | 102 |
| 7 | Jackson Sullivan | Lawton Williams | 49 | 55 | 104 |
| 8 | Juan Unda | Bob Gentil | 55 | 53 | 108 |
| 9 | Abraham Hartley | Shane Sullivan | 55 | 54 | 109 |
| 10 | Arthur Pengelly | Scotty Bell | 55 | 59 | 114 |
| 11 | Blue Mathison | Peter | 56 | 60 | 116 |
| | | | | | |
| | Womens | | | | |
| 1 | Kiri Thomas-Boon | Gemma Sullivan | 64 | 62 | 126 |


See you next time!