Waitawa Regional Park Disc Golf Course. February 6 thru 8 2015

The 2015 New Zealand Disc Golf Championships.
As the baskets and Tees went in to the awesome Waitawa Regional Park on the Firth of Thames ahead of the 2015 NZDG Championships, it was becoming clearer every day that this was going to be a course that would not just test the playing ability of those that would take on the challenge but also their fitness and cross country hiking ability as well. You know when one of the world's best players says "That was the toughest course I've ever played" it wasn't your average course.
Course designer Simon Feasey had obviously decided to create a course to test the best ... and it did!
The event started on the Friday ahead of the weekend with the NZDG Doubles competition over 2 rounds of the Black Course at the testing Woodhill Mountain Bike Park, 45 minutes northwest of the city. This in itself was a gruelling long day but not a patch of what was to come. Congratulations to everyone who took on that challenge, especially to our American visitors David Feldberg and Chris Addiego  who took out the 2015 NZDG Doubles title.
The good news was that for both days play on the Waitawa course we had relatively no wind ... yes ... believe it or not this course could have been 'way' harder with a screaming southwesterly or northeasterly coming of the sea.
With the addition of 9 temporary baskets the course was just a little confusing going from 1 to 7 then 19 to 27 and back to 8 through 18. Not surprisingly there were a few penalty strokes added to numerous players cards on top of what the unforgiving course had taken.
After Saturday's 27 holes David Feldberg had shown what he's made of carding a solid 85 to take a 2 shot lead over fellow US Open Pro player Chris Addiego. German World Distance record holder [263 metres] Simon Lizotte after taking a hammering in penalty strokes was tied for 3rd with Levin Brotherhood's Jackson Sullivan on 93. Simon Feasey lead the Pro Masters on a 95 two shots ahead of visiting German Mo Dorkin. Blair Joines and Lance Hartwell headed the Men's amateurs on 104 and the woman's competition [off the shorter Tees] was lead by Queenstown Disc Golfer Lisa Te Awhitu on 105, two shots up on Levin's Gemma Sullivan.
It was awesome that as the tournament staff tallied the first round cards Dave Feldberg held everyone's attention with a very educational driving Clinic, helped out by the man with the arm Simon Lizotte who impressed the assembled mass by throwing a bunch of drives over the horizon, well over 200 metres.  
Saturday evening saw the excellent tournament dinner happen at the cottage overlooking the sea followed by an early night for most as they contemplated a second 27 holes on this energy sapping course.
It wasn't too surprising on the Sunday morning to note there were a few abstentions from the second round. Saturdays round had taken a toll! The weather was stunning for Disc Golf with minimal wind and the cloud cover for most of the day keeping the temperature at a comfortable level.
Dave Feldberg made the most of it, coming in with an unbelievable course record 81 to take the title and the cash 8 shots up on fellow American Pro Chris Addiego. Simon Feasey took 11 shots off his opening round to take out the Pro Masters by a single shot after Mo Dorkin was penalised 2 shots for an indiscretion. The Lost Tribe's Blair Joines threw a solid second round 95 [9 shots better than his opening round]  to take the Armature Masters title, Gemma Sullivan threw a blinding course record 97 to come from behind and take the Woman's competition by 10 shots over Lisa Te Awhitu and Queenstown's Ben Wiel-Lake took out the battle of the Juniors under 18 despite Toby Gentil's valiant course record  second round of 95. The Grand Masters silverware heads to Taumarunui with the evergreen Pete Boyle and good skills to visiting North Carolina golfer Lee Reading who took out the Senior Grand's.
Congratulations to everyone who not just played but had a part in this first for NZ Disc Golf. From Park Rangers Stan & Wayne to everyone who helped make the course what it was, to all those behind the scenes, the sponsors, the players who despite finding the course too tough still came to spot and transport groups to and from their holes.
A lot will be learnt from our very first PDGA Pro B Tier event and we can see these lessons helping us shape our sport into the future here in New Zealand.
The Pictures
Click here to see pages for past Waitawa Disc Golf Course events: 2014
Click here to see pages for past Woodhill Disc Golf Course events: 2014 | 2013 NZ Nationals
Click here to see pages for past NZ Disc Golf Nationals: 2014 | 2013 | 2012 | 2011 | 2010 | 2009 | 2008 | 2007 | 2006 | 2005 | 2004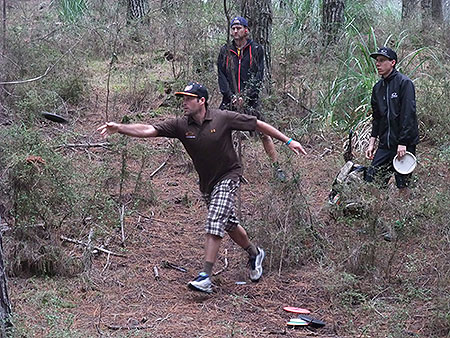 Stepping Up - Dave Feldberg playing Doubles at Woodhill with partner Chris Addiego and Aussie Rhys Kruger looking on.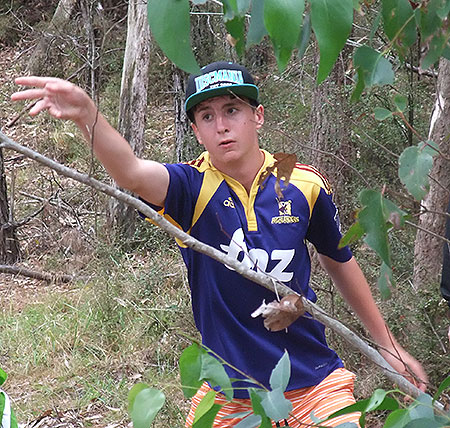 Southland Superstar - Queenstown's Ben Wiel-Lake playing with Chris Dixon had the thrill of being grouped with Dave Feldberg and Chris Addiego for the Doubles at Woodhill.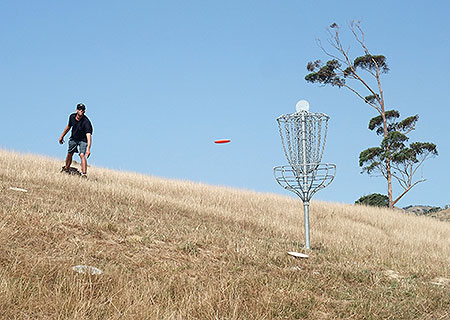 Canuck Chuck - Canadian Lance Hartwell confidently putts a scary downhill putt on 10.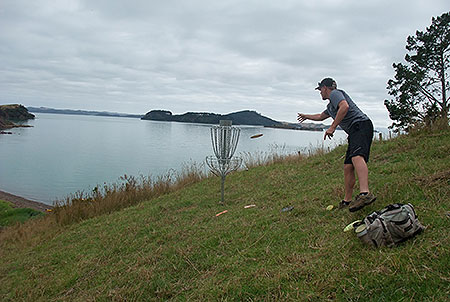 West Coaster on the East Coast - Californian Sean Kapalko makes sure he hits chains as he putts out 20.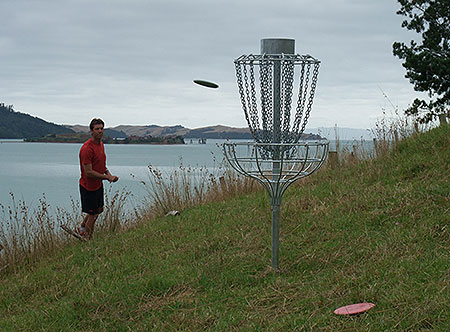 Blame Me - The man responsible for the worlds hardest course Simon Feasey putts out his signature hole 20.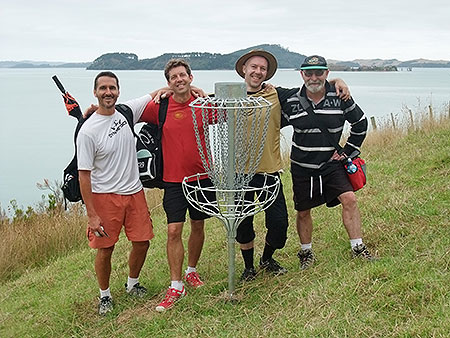 Mates on the Green - An eclectic mix. Mark Dakiv from Canada, Simon Feasey from West Auckland, Mo Dorkin from Germany and Pete Boyle from Taumarunui.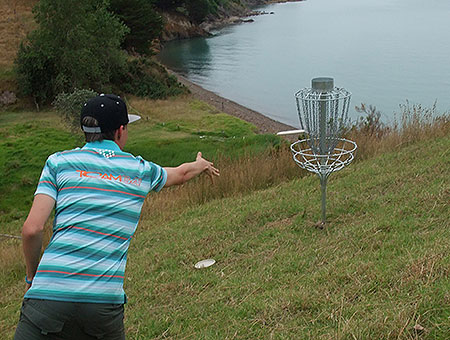 View Distraction- Team Latitude player Chris Addiego from California feeling at home by the Pacific.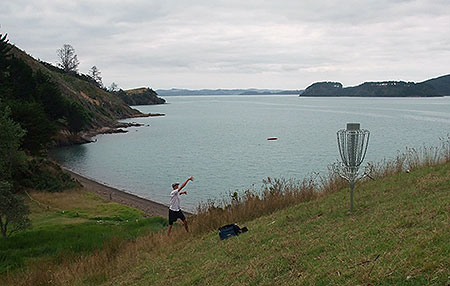 Fine Work - Toby Gentil hits a long come back putt on his way to a brilliant junior course record round of 96.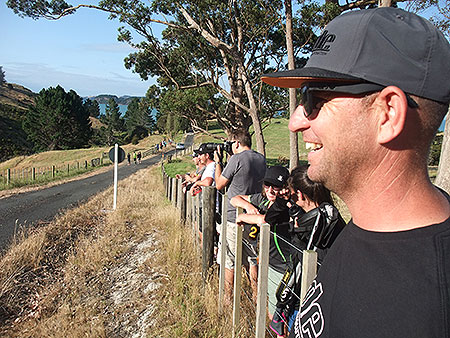 Spectacular Spectators - Aussie Chris Finn and the gallery watching the big guns Tee off on 19.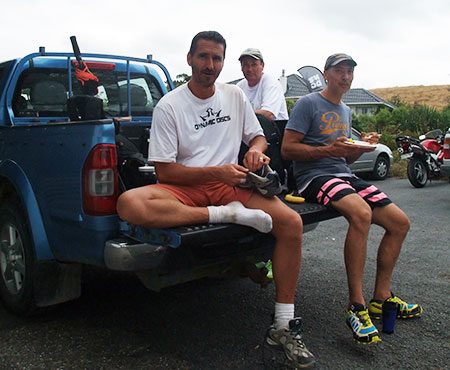 Maintenance - Lunch break and a chance to pull the 'spear grass' seeds out of your socks.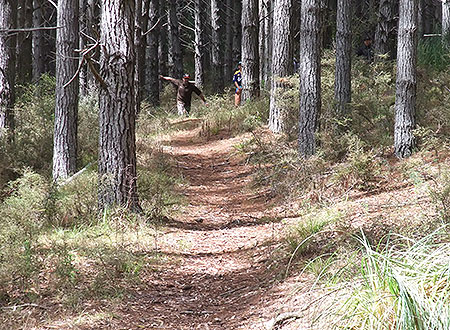 Direct Drive - Dave Feldberg sends his drive on 8 at Woodhill over the cameraman's head to parks it under the basket.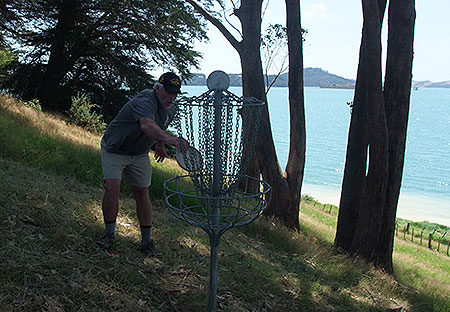 Silver Surfer - All the way from Hawaii with a passion for NZ Doug Macllroy putts out on the scenic basket 21.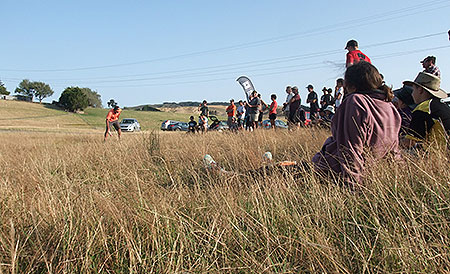 Learning from the Pro - The Feldberg Driving clinic on the Saturday afternoon.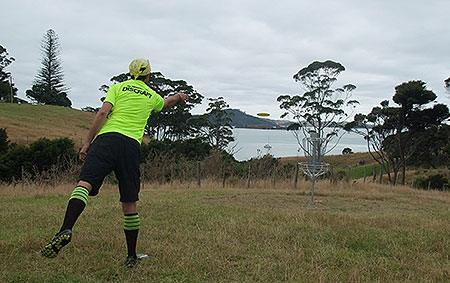 Bright Future - Ever improving Wellington Disc Golfer Brady Keuch putts out #25 on his way to a top 5 Open finish.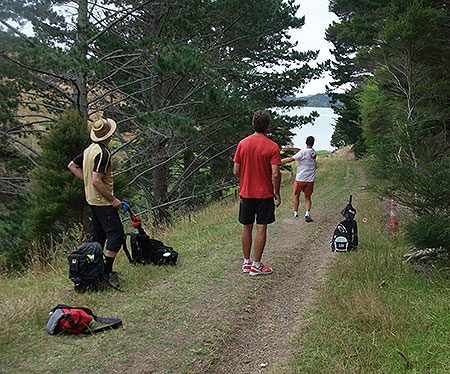 Masters to the Max - German Mo Dorkin and Simon Feasey watch Canadian Mark Dakiv drive the scary #20.

Berlin Grin - A regular visitor to summers down under German Mo Dorkin was loving Waitawa.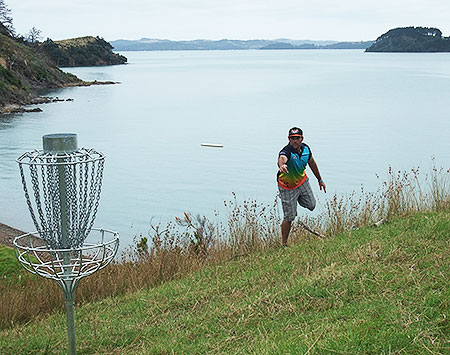 Dock of the Bay - David Feldberg putts out 20m on the hardest DG course he's ever played.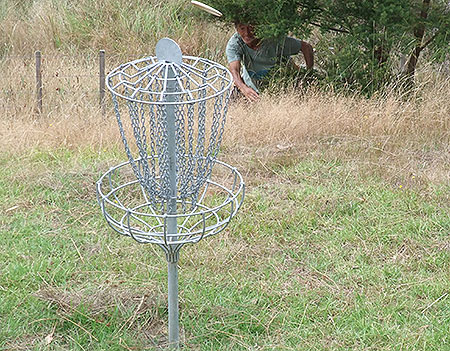 Spot the Golfer - Wellington Disc Golfer Chris Sinai found some interesting spots to play from.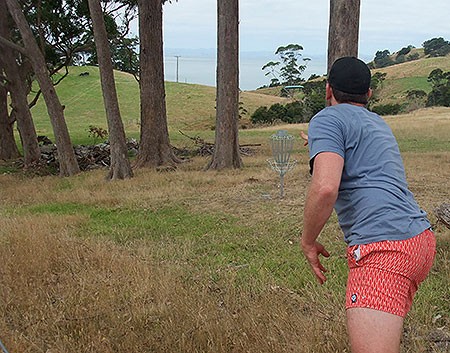 Pajama Drama - Whangarei golfer Andrew Le Breton in only his second ever tournament wondering what struck him. Nice putt too!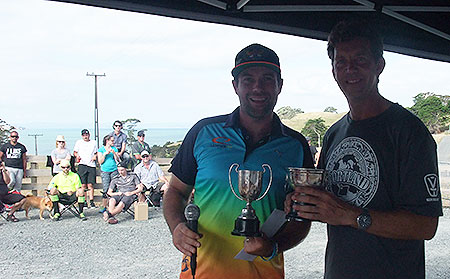 Champion - TD and course designer Simon Feasey hands the silverware to the 2015 NZ Champ David Feldberg.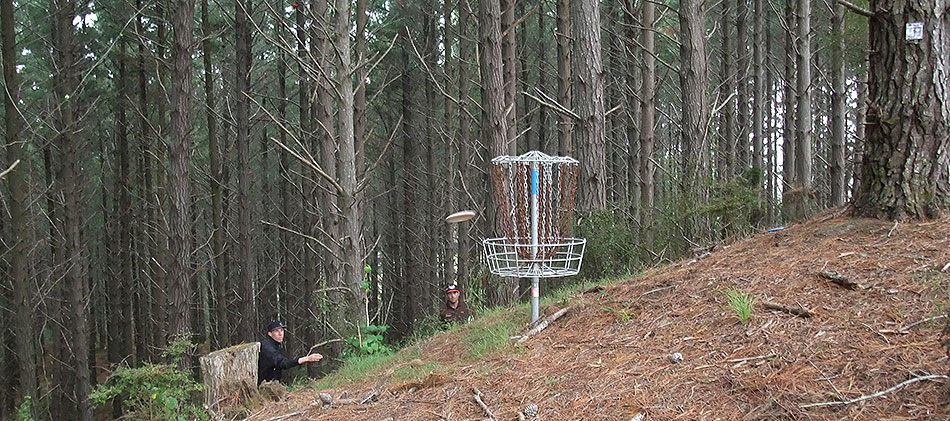 Lost in the Woods - The Team Latitude doubles paring of Chris Addiego and David Feldberg on their way to taking out the title.



Sunshine Session - TD Simon Feasey thanks the sponsors ahead of the trophy presentation and handing out the prize money after NZ's first Professional PDGA event.



Gritty Crew - Wary golfers after 3 days of extreme Disc Golf.



Old Hand - Local and experienced Auckland Disc Golfer Chris Kingsnorth hoping if it doesn't go in it won't roll.



Jacko Attacko - Levin Disc Golfer Jackson Sullivan earned the right to play with the top group on the Sunday.



Amazing Grazing - Hawaiian Disc Golfer Doug Macllroy plays across the bone dry hill top.



Smart Golf - David Feldberg took the safe route on 25 and lays up downhill for a par.



Double 1 Makes for Fun - Steady as she goes. Chris Kingsnorth with a downhill putt on 11.



Sulpher Shooter - Rotorua and now Auckland golfer Logan Papuni shot consistent golf all weekend.



Don't step back! - World distance record holder German Simon Lizotte slots his putt on 20.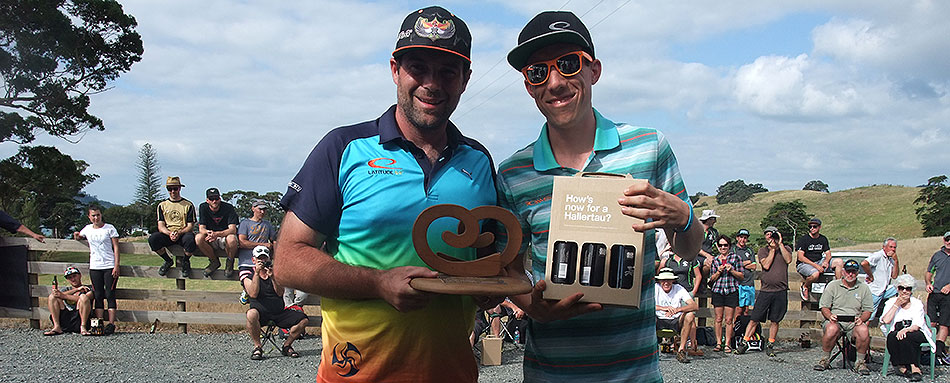 Hard to beat! - 2015 NZ Doubles Champs David Feldberg and Chris Addiego.

back to top
The Results for 2015 New Zealand Disc Golf Championships
Waitawa Regional Park Disc Golf Course. February 6 thru 8 2015
| Place | Player | Div. | R1 | R2 | R3 | R4 | Total | Points |
| --- | --- | --- | --- | --- | --- | --- | --- | --- |
| 1 | David Feldberg | O | | | | | 166 | 60.00 |
| 2 | Chris Addiego | O | | | | | 174 | 58.84 |
| 3 | Simon Feasey | M | | | | | 179 | 57.69 |
| 4 | Martin Doerken | M | | | | | 180 | 56.53 |
| 5 | Simon Lizotte | O | | | | | 183 | 55.37 |
| 6 | Jackson Sullivan | O | | | | | 184 | 54.22 |
| 7 | Mark Dakiv | M | | | | | 192 | 52.48 |
| 7 | Brady Kuech | O | | | | | 192 | 52.48 |
| 9 | Brad Muir | O | | | | | 193 | 50.75 |
| 10 | Sean Kapalko | O | | | | | 195 | 49.59 |
| 11 | Rhys Kruger | O | | | | | 197 | 48.43 |
| 12 | Blair Joines | M | | | | | 199 | 46.70 |
| 12 | Logan Papuni | O | | | | | 199 | 46.70 |
| 14 | Pete Boyle | SGM | | | | | 200 | 44.96 |
| 15 | Scott Ceasar | M | | | | | 201 | 43.80 |
| 16 | Douglas MacIlroy | M | | | | | 202 | 42.07 |
| 16 | Hemi Te Awhitu | O | | | | | 202 | 42.07 |
| 18 | Siep Van Vliet | M | | | | | 203 | 40.33 |
| 19 | Gemma Sullivan | W | | | | | 204 | 38.02 |
| 19 | Lance Hartwell | M | | | | | 204 | 38.02 |
| 19 | Chris Kingsnorth | M | | | | | 204 | 38.02 |
| 22 | Chris Finn | O | | | | | 205 | 35.71 |
| 23 | Ben Wiel-Lake | J | | | | | 206 | 34.55 |
| 24 | Gregor Marter | M | | | | | 207 | 33.39 |
| 25 | Keith Woody Inwood | M | | | | | 210 | 32.24 |
| 26 | Nik Eisel | O | | | | | 211 | 30.50 |
| 26 | Toby Gentil | J | | | | | 211 | 30.50 |
| 28 | Keerti Ji | O | | | | | 212 | 28.76 |
| 29 | Lisa Te Awhitu | W | | | | | 214 | 27.61 |
| 30 | Juan Unda | GM | | | | | 215 | 26.45 |
| 31 | Paul Cohen | GM | | | | | 216 | 25.29 |
| 32 | Chris Dickson | M | | | | | 217 | 24.14 |
| 33 | Ryan Kitto | O | | | | | 220 | 22.98 |
| 34 | Chris Sinai | GM | | | | | 221 | 21.82 |
| 35 | Andrew Le Breton | O | | | | | 223 | 20.67 |
| 36 | Des Cooper | GM | | | | | 225 | 19.51 |
| 37 | Martin Galley | M | | | | | 227 | 18.35 |
| 38 | Fiona Ming Menzies | WGM | | | | | 228 | 17.20 |
| 39 | Matthew Hamilton | O | | | | | 230 | 16.04 |
| 40 | Paula Wilson | W | | | | | 231 | 14.88 |
| 41 | Karl Jolley | M | | | | | 233 | 13.73 |
| 42 | Eran Blumenthal | M | | | | | 234 | 12.57 |
| 43 | Robyn Agnew | WGM | | | | | 235 | 11.41 |
| 44 | Jenny Joynt | WGM | | | | | 236 | 10.25 |
| 45 | Synthia Whitaker | W | | | | | 237 | 9.10 |
| 46 | Stephen Fargher | O | | | | | 241 | 7.94 |
| 47 | Chris Almario | O | | | | | 250 | 6.78 |
| 48 | Coby Woller | W | | | | | 257 | 5.63 |
| 49 | Bodene Tuatara | O | | | | | 277 | 4.47 |
| 50 | Bob Gentil | GM | | | | | 113 | 3.31 |
| 51 | Michael Proctor | GM | | | | | 115 | 2.16 |
| 52 | Peter Creighton | M | | | | | 123 | 1.00 |