Jellie Park, Christchurch, February 7/8/9

The 2014 New Zealand Disc Golf Championships.
Organiser's Report by Chris Davies (http://www.youtube.com/user/M0b1u5)
This was the first time in many years I had been involved in the Nationals, the last being as helper to James Smithells.
Having now completed the 2014 Disc Golf Champs, I now have a fuller understanding of the amount of work, and stress involved. My sincerest gratitude to HOF'er Bob Gentil and all the others for their efforts in past years!
Initially, I had planned on a competition for 60+ competitors, but with only 25 registrations four days from the event, I was forced to cancel all the nice-to-have things for the contest. With a total of 30 people for the singles, we missed the company of many prominent northern players.
Thanks are however due to Bob & Toby Gentil, Logan Papuni, Haydn Shore, Brian O'Neil, Brady Keuch, Nigel Hailstone, Simon Feasey, Moe Doerken and Paul Cohen who made the effort to get down south. Thank you! I did receive some apologies from a few fine North Island players, and I hope to see some of them in Queenstown next month.
In good attendance were the Southern Stalwarts who put on an especially good show for us at Jellie Park.Special thanks are due to Vortica's Martin and Hazen, and to those who loaned baskets.
Early in the week leading up to the contest, the forecast looked extremely poor, with heavy rain predicted for all 3 days of competition. This left me with a heavy heart, as February weather in Canterbury is usually scorching hot with North-West winds. The forecast did eventually come good and the conditions for the Friday doubles started out cool and almost calm, with a slight east-south-easterly breeze developing at the start of Round 1, which swung to the south and picked up to around 20 kph for Round 2.
Leading up to the comp, I had played about 40 rounds on the course, and thrown at least 4 drivers at every hole each time. This allowed me to tweak the course a few times, and extend the challenges – particularly in the wind. Even though the course measured out at just 1656 metres, I felt it played a bit longer and tougher than the par 55 I put on it - especially if you are a right hander without a sidearm! I designed it to be very hard for me with most holes being beyond my ability to birdie without freakish luck or gigantic and dangerous long-distance basket runs. In practice and with no baskets, I estimated a very good score was 50, an average score was 53, and a truly awesome score was 48 with me being able to take 49 if I performed at my absolute best. I had played the course in my head at least 100 times before going to sleep at night, too!
So, an effective 160-round build up should have seen me firing on all cylinders in Friday's Doubles.
But no.
A combination of no warm up, comp-nerves and the intense activity of the morning's preparations left me unable to perform to my normal level. Gotta blame something – right? ;)
During the round I expected to hear a big cheer thrown up, as two holes over water measured just 57 and 44 metres, with both baskets equally open and accessible for left or right handed players, but it wasn't until Sunday afternoon when Queenstown's Hemi Te Awhitu, in his march up the singles leader-board smacked the chains on the 57-metre Hole 7 with a beautiful leftie hyzer line. Hemi collected $102 for his pin-point accuracy. Well done that southern man!
I was very excited to see 30 players at Jellie Park. Usually on a busy Sunday we might be lucky to see 3 other groups playing pretty poorly, so my mood lifted, even if our golf was average. Improving my mood all the time was seeing some brilliant golf from Moe and Simon, and also some magic shots from other players, too. Doubles is a wonderfully freeing form of the game, and I saw Waihekian Paul Cohen calmly drain two putts from a remarkably long way out, straight into the heart of the chains.
Wide-open Hole 12, at 148 metres, had a brisk headwind that morning and caused some grief, with many people's shots turning over and swinging wide to the right, blocking their RH hyzer line to the basket. I made sure I went left. Local knowledge. :) But many people did manage to get their angles right, and I saw some mighty finely shaped drives penetrate deep towards the hump-back whale where the basket sat just in front of the tree line. Martin D in particular, launched a Moehand drive which seemingly hung forever, performing aerial ballet before landing barely 25 metres from the chains. Awesome power Moe, just wait 'til you hit the other end of the Masters division! ;)
Adding up the cards saw the battle for the lead tied with three teams handing in 7-under cards, [48]. Queenstown's Eran Blumenthal and Wellington's Brady Keuch's "Hebrew Highlighter" were shooting with clinical and deadly efficiency, while QT buddies Hemi and Chris Dickson ("Shake'n'Bake") backed each other up nicely. Simon and Moe also on 48, rounded out the top 3.
As Simon was to point out later; the course looked like it should yield a lot of birdies, but they were surprisingly elusive with lots of OB to cause trouble, and many restricted shots making it hard to get par at times.
Wellington resident Brian O'Neil had arrived without a doubles partner and with none available, persuaded his partner Rachel (a novice player) to make up a team. Turning in a deeply impressive 57 showed this man to be a true Dark Horse, and someone to be aware of during the singles. I resolved to watch his play whenever possible – and before the weekend was out, I saw some truly magnificent shots from this American import, who surely must be a 1000+ rated player.
With the wind swinging 90 degrees to the south and picking up somewhat, the course began to play significantly differently for the afternoon round. Doubles scores are usually fairly low, and normally don't change a whole lot in the second round – and this maxim held true for the afternoon, with one very notable exception; Paul Cohen and Haydn Shore, who got all gigantic on the course, and managed a remarkable 48, being 7 strokes better than their morning effort. What a terrific round they had, pulling themselves from 9th all the way to a clear 5th!
Plenty of players would go OB this round and, indeed, in every round, but the luxury of doubles meant only 7 OB strokes were recorded during the day. There was plenty of nail biting tension on the lead card, too, with Hemi and Chris rocketing off 2 strokes clear in the first two holes, then losing one on the 3rd. At the tricky Hole 4, where the basket is tucked into a V shape surrounded by OB asphalt, and the park boundary, with a very fast green of pine needles, Hemi's drive yielded a birdie, pulling another stroke.
The notoriously difficult Hole 5 "Sweet Chariot", at 165 metres, has no easy way from the tee to the target and Shake'n'Bake had to rely on Hemi's mando drive to make par (the only par 4 on the course), while Hebrew Highlighter pulled another stroke back with a brilliant birdie, causing them to go Mando with Brady driving on Hole 6.
Trading blows all the way through, Hemi and Chris edged ahead on the front nine, with a sterling 22, while Brady and Eran managed to hold on to a 3-under 25. This must have steeled Brady and Eran because they came back strongly on the back nine, finishing with birdie-par-birdie, while Hemi and Chris took birdie, bogey, par to make 22 vs. 25 – this levelling them at 95 total score. The playoff went to the second hole, where Brady was able to place a lovely drive for an easy birdie, and Shake'n'Bake Shook'n'Broke; misplacing both drives. Chris made a valiant long-range run, and bounced out of the basket, leaving the dynamic duo of Eran and Brady the New Zealand Doubles Champions for 2014.
Ladies Doubles champs went to Jess Guy and Robyn Agnew of Wanaka, with a score of 114, while the mixed doubles was won by Brain and Rachel, on a frankly stunning 112.
I had a minor panic attack at 3:05 pm on the playing fields, as school kids started pouring across the course. I hadn't added 2 and 2 together in my course design – we only have competitions on weekends – right? Fortunately they cleared the area in about 15 minutes, and only caused a few delays.
With knee surgery in just a few weeks, SG-Master Bob took the day off from playing, to photograph the event and this article is liberally seeded with the fruits of those labours. Thanks Bob!
Feeling pretty tired after Day 1, and another 2 huge days of golf coming up saw a quiet evening, and plenty of sleep ahead of Setup #2 on Day #2. Thanks to those who took down some baskets each night. Saturday dawned cool and cloudy, with the forecast for increasing southerly winds, up to 25 kph later in the day. The scene was set for the first round of singles stroke play, and the players headed out onto the course. I had seeded people in the order of their PDGA ratings, and then on the order in which they registered. So for future competitions, if you want to be seeded with the top groups, either register early, or get yourself a PDGA membership – as this is how I intend to seed all my competitions from now on. I did make an exception, sending out all 5 ladies in a single, low-testosterone group.
Starting from Hole 1, with Moe, Simon and Bob, no one was tearing off with the score, as we all pared the first two holes, with Simon and Moe taking a birdie on #3 (Mando) and me bogeying. *sigh* Simon continued to take the odd birdie, while carding just one bogey on #4 due to going OB long and left. At 5, Martin took an uncharacteristic bogey 5 as did Bob, while a poor drive and a bit of local knowledge let me hold par. The game then settled down, but the only player in our group really shining was Moe, who was able to use his devastating forehand to great effect throughout the round.
Bob and I came in with 1-over 56s, while Simon handed in a 52, and the talented German achieved the lowest score of the day, an excellent 49, which I had picked as a "great" score prior to the comp. Hazen Simson showed his class with a 51, while the Dark Horse Brian O'Neil made an impressive 52, as did my arch nemesis Nigel Hailstone, damn his eyes! Chris Dickson from QT squeezed out a par round, as did Hemi – both probably a bit disappointed (as was I) not to have done better. Round 2 began with great expectations on the part of all players, having got rid of the jitters, becoming familiar with the course (and all the OB) and wanting to put good rounds together. Who would be able to control their mental game, lock down some form, and produce the goods? Simon must have felt more relaxed and improved by 4 strokes, carding a 7-under 48 with just one OB (managing to hold par on the hole) and one bogey on #17 – his nemesis for the weekend. Having acquired the lead, Simon wouldn't relinquish it, despite the best efforts of Moe and Hemi to bridge the gap. Brady turned in a stupendous 5-under, 50, hauling himself into the top group, while Queenstowner Robin Lilley tore up the course, improving 7 shots, on a 50 as well. Brian managed to lower his score by 1, with a very credible 51, while Hemi threw one better on 54, with Chris Dickson staying on par.
Moe couldn't quite hang on to Simon, yielding 5 strokes in Round 2. Hazen Simson wasn't able to able to capitalise on his early success, and limped home with a 5-over, 60, a full 9 strokes off his first round score, dropping him from 2nd to 10th. Karl Jolley dug deep after finishing 26th in the first round, with a 9-over, 64, to finish 18th for the day, having found 6 strokes he left out there in Round 1! Saturday evening saw me pick up 31 pizzas from Christchurch's best Pizza joint; Pepperoni! Sadly, this was a last hurrah for them, as they close this week after disappointing results in their post-earthquake location. Dinner was served at my Woodham road home, where I'd set up a double-height basket for some putting fun. Everyone was very well behaved, well, mostly everyone – and long-suffering wife Jai was very happy with the disc golf crowd. Thanks guys! It was a pleasure to play host, and thanks to everyone for taking their rubbish away, not leaving a huge mess, and for not losing any of the discs I had lying around the place! G1 peeps: You are all welcome back to my home when you next visit town.
Sunday morning was cooler and windier than Saturday, with a 20k breeze from early in the day. This was "more of the same" – and players did not have to contend with unknown conditions for the 2nd day of singles. No positions changed hands in the top 4, although Simon extended his lead to 7 strokes, with Brian and Moe tied for 2nd on 155. Hemi continued his march up the leader board into 6th place with a terrific 51, and Hazen's 54 allowed him to climb 2 more places towards the top, now in 8th after his disappointing second round. Logan Papuni, the quiet achiever, gained back his two lost places from round two, now 6th, on 162. By this time the women's competition was heating up too, with Wanakan Jess Guy holding a 2-stroke lead on QT's Lisa Te Awhitu – on 184 and 186 respectively. In the WGM division, Jenny Joynt was just one stroke ahead of Robyn Agnew – so in the final round, it was all up for grabs!
Toby Gentil, sadly competing alone in the Junior division was not performing to his usual standard, turning in an 18-over, 73, in round 3, and I reminded him that when you are down, there's only one way to go – and that's UP! I was dead right about that: In round 4, Toby took advantage of the experimental throws he'd made in round 3, to card a par round of 55 – a full 18 strokes better than the morning – and by far the greatest improvement of any player in the tournament. Great job Toby. Just play more golf to avoid those big scores, mate!
In the Masters, Martin/Moe had an almost unassailable 8-stroke lead over Nigel, with myself and the other Chris D tied 2 strokes further back. Eran was 2-strokes behind us while Karl and Dom appeared to be locked in their own battle, separated by just 2 strokes also. During the weekend, I was lucky enough to play 4 rounds with Bob G, and 3 with Chris Dickson (The Other Chris D) – which I enjoyed immensely; two better blokes you'd be hard-pressed to find anywhere. No insult intended to the mighty Nige, the hard-running Paul or the always-convivial and very talented Hazen, or the disc-addicted QT pair of Aaron and Karl – whose company and play style was also much appreciated by me. Thanks muchly gents, one and all! Having put in 1-over, par and 1-over, I felt it was time to start playing some proper golf in order to beat Nigel, and overcome Chris, who was playing at my exact level. I went par, par, & par, while Chris scored par, birdie, and circle-bogey. Sadly for Nigel, he got off on the wrong foot, going bogey, bogey and double bogey. I can't say I was sad about that – but was sad FOR him, as he started the comp well, but slid down the order thereafter. That turned out to be the recipe for the rest of the afternoon for us, with Nigel having shocking luck, even going OB-to-OB for a circle-5 on hole 18. At the end of the round I thought I might have made 1 stroke better than Chris, with a 4-under 51, but he handed me his card to check, and it read 53! I had to hassle him a bit though, he'd added the card wrongly, and we'd both scored 51 – and remained all tied up with a total of 218. The birdie countback went my way though, so I ended 2nd in the Masters, and top Kiwi Master, so was pretty happy with that! I eagerly anticipate the rematch with Chris down in QT. See you on your home turf, buddy.
We were all concentrating so hard, that I didn't see too many other players shots, with a few notable exceptions. On Hole 11, I watched someone shaping up on the tee pad of 148-metre, wide-open hole 12. It was Lisa! What on earth was she doing??? Turned out, she was preparing to throw the longest and most beautiful sidearm I have ever seen from a woman! It popped out of her hand like a laser-guided missile, and flew in a perfect flight shape, at a perfect altitude for an extreme distance, before coming to rest at a spot I felt very envious of, and never achieved the whole weekend! If she had played that shot from the "B" tee, like she was supposed to, she'd have parked it for an awesome birdie, instead of merely a damned good par 3. Awesome to watch Lisa – thank you so much for showing me that form! And Hemi, mate, we need to ask Lisa (nicely) to give us lessons – I need a sidearm like that! Seriously – I'm going down a week early for the QT comp – any chance of after-work tutorials?
When our group arrived at Hole 16, some kids had knocked over the basket, so I put it back up, taking care to locate it directly in the middle of the pink-painted circle I'd created for each basket. Bob noted that I'd better get it millimetre perfect, otherwise his ace wouldn't go in. Well, I must have been 3mm off, because Bob's awesome hyzer bounced off the rim, saving Hemi $51 in the process. Sorry about that, Bob! Great shot though, sir!
Bob's a real inspiration, and while age and injury have robbed him of ultimate distance, he still bangs things in from all over the place, and specialises in giving himself a half-metre putt from a long way out. If I'm playing that well at 60, I'll be ecstatic! Another apology; we both added his card wrongly, and Bob was penalised 2 strokes to end on 57, instead of the par he actually threw. A reminder folks: even the best TD can make an error – and it's easy for a checker to make the same mistake! I always ask two other people to check my card – as I have been known to be mathetragic at the conclusion of a round.
Plenty of players were on the move, both up and down in the final round: Brian yielding a place to hard-charging Hemi, who powered past Brian and Brady into 3rd place (2nd in the Open), leaving Brian in 3rd. Logan continued his challenge by ascending to 5th overall (4th Open), beating me by just one stroke on 217. Simon increased his lead to 8, to take 1st place overall and 1st in the Open, on 202 with a 4th round 3-under, 52. Moe settled for 2nd place on 210, with a credible 2-under while Brady Keuch exploded and fell to 8th, overall and 5th in the Open with an uncharacteristic 4-over, 59. Toby gained 8 places with his stupendous 18-shot improvement, while Aaron hauled himself up from 22nd overall to 19th, and Karl continued his progress reaching 15th place, having started out 26th after Round 1. In the end Jenny was able to sneak past Robyn for a 1-stroke victory (on 260) in the Women's Senior Grand Masters, while Lisa turned in her best round of 1-over (56) to streak past Jess for the win in the Women's Open on 242, leaving Jess 6 strokes back on 248. Develop an X-Step Jess, or that will be the story next time, too! SGM Bob, playing under his age in GM division, held out Paul Cohen for the Grand Masters title, after realising half way through the final round that it DID matter if he did poorly. Bob was the only player not to give or take a place throughout the tournament: starting out 12th overall, and staying there.
Local rookies Cameron Hubbard and Edwin Munoz put in great performances for their first tournament, with Edwin taking 10th in the Open on 249, and Cam getting 12th on 263. These guys have only played for 3 months, and had only ever spent about an hour putting into a basket in my backyard, before showing up for the Nationals. Well done gentlemen!
Last year's Nationals TD, Haydn Shore away from his home turf of Woodhill DGC, came in at 14th overall and 8th in the Open. He'll be wanting to get some revenge on this course, and I can confirm that the next Pete Crowther Memorial will use the same course as the Nationals, so come on back Haydn! round-chart All in all, a brilliant weekend of Disc Golf, where the weather stayed cool, but dry, and the players also kept mostly cool, and also mostly dry. :P
Thanks to every single person who came along this year, it was a genuine pleasure – and if I did not offer you my personal thanks during the competition, please accept it now. I look forward to seeing you all again soon, at various NZDG Tour events up and down the country.
It was a great experience to hold the champs in Christchurch, and I hope to repeat the process at a later date, hopefully attracting a bunch more players from around the country and even the world.
Cheers all, Chris
The Tournament disc, the "Stormtrooper" MVP Neutron Servo, with custom stamp at 173 and 174 gms is still available. Contact Chris.
Click here to see pages for past NZ Disc Golf Nationals and 2013 | 2012 | 2011 | 2010 | 2009 | 2008 | 2007 | 2006 | 2005 | 2004 and past Christchurch events: 2013 | 2012 | 2011 | 2010
Watch this space!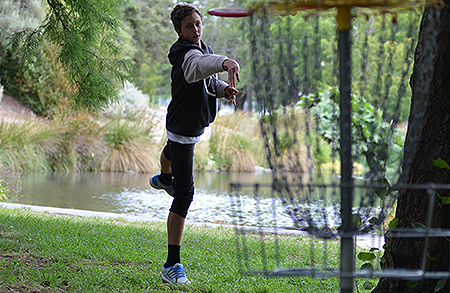 Class Act - On his way to having his name engraved on the NZDG Junior Trophy for yet another year, Toby Gentil showing he's a 'chip of the ol' block'.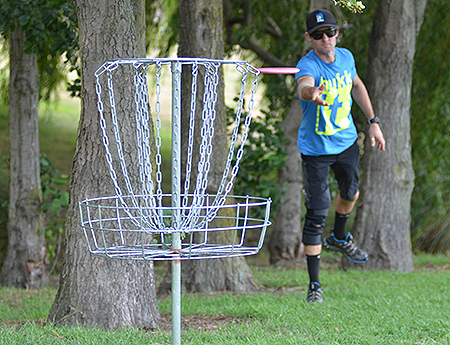 From the 'Hill - Woodhill course Pro Hadyn Shore is all concentration as he sends one at the chains.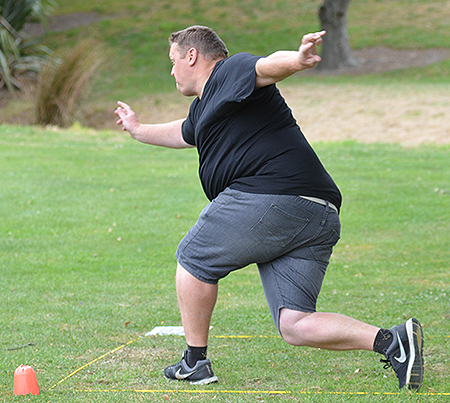 First timer - Local ChCh golfer Cameron Hubbard gives his all, playing in his first tournament and showing great technique on the tee.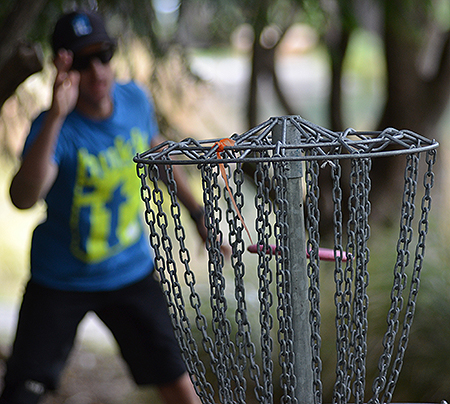 That beautiful sound - Haydn Shore smashed his putt into the chains.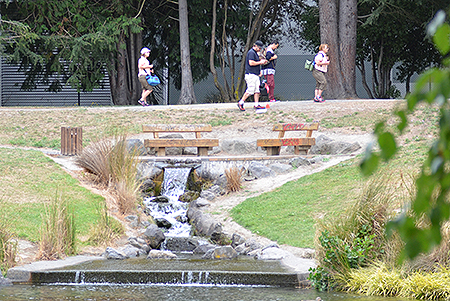 Seventh Heven - The waterfall and seats on hole 7 Tee.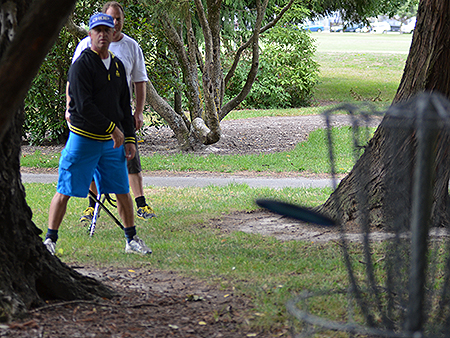 Putt and approach - Wanaka Disc Golfer Dom Hayden sends his putt towards the basket as TD Chris Davies checks out the line.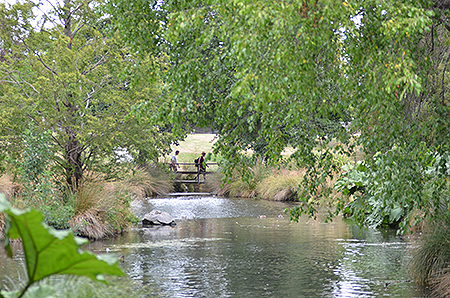 Water Crossing - The bridge that took you from the Tee to the Green on the beautiful hole 7.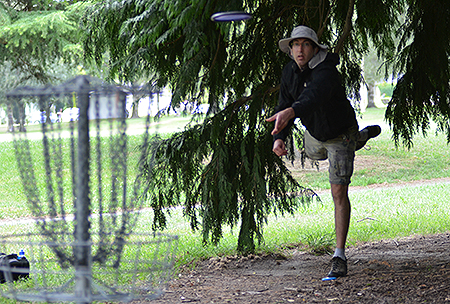 Balanced Act - Half of the 'Hebrew Highlighter' doubles team. Queenstown Gardens golfer Eran Blumenthal.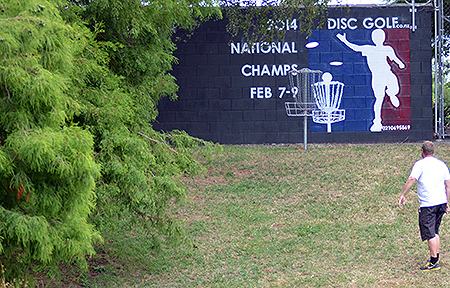 Which is the 'real' disc? - TD Chris Davies shoots at the basket in front of the art on the wall behind basket 15.

Wait for it! .... Kaching!

Putting like an old hand - First time event player Edwin Munoz on his home course.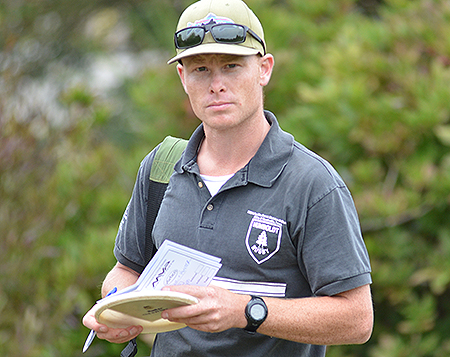 Calculated - Hunter Harril does the maths.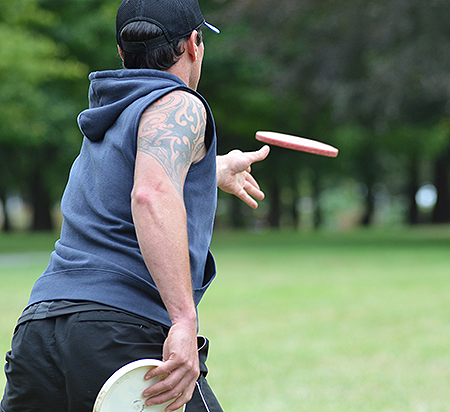 The Tattooed Stonemason - Queenstown golfer Hemi Te Awhitu.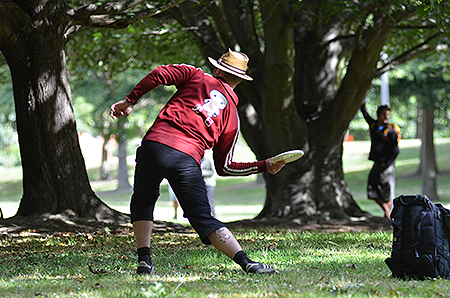 Natural Position? - The master of the side arm Moe Doerken playing up to 17.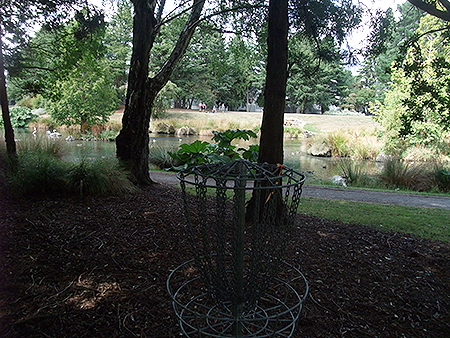 Scary uBeaty - Hole 7 across the water made for some scary golf.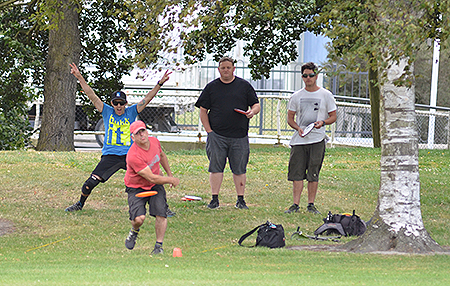 There's one at every party - Haydz encourages Waiheke Island's Paul Cohen driving hole 18.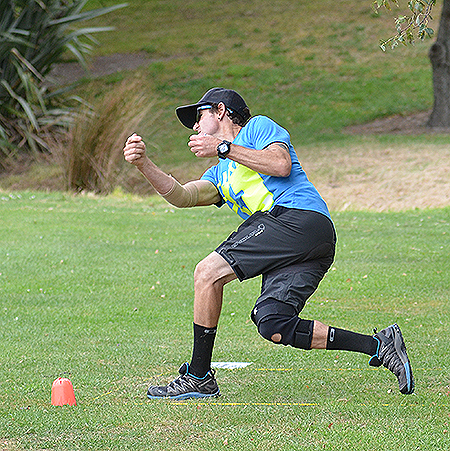 Woodhillbilly - Haydz in driving mode.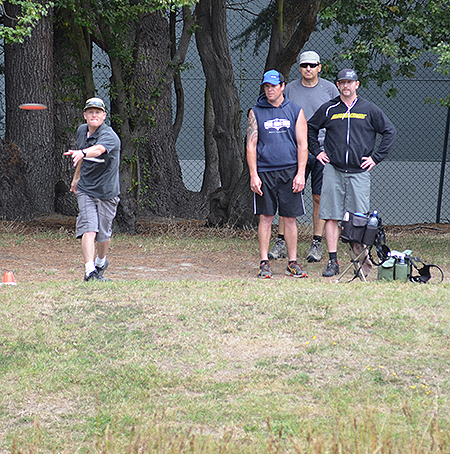 Hunting Birdies - South Island golfer Hunter Harril sends his drive across the water on 7 as the crowd goes wild.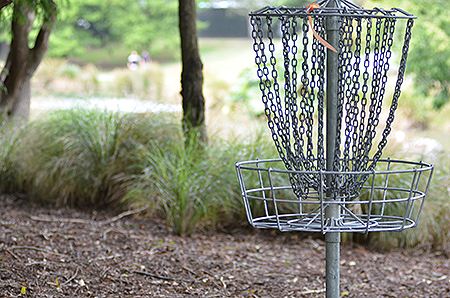 Kaching Kaching - It's a beautiful thing!.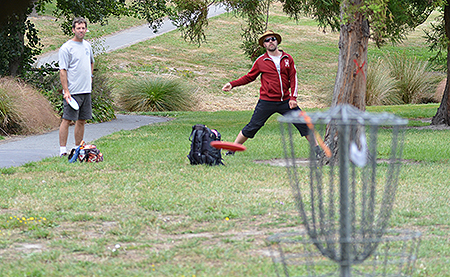 Team Play - On their way to taking 3rd in the Doubles, Simon Feasey watches German Pro Martin Doerken run at the basket.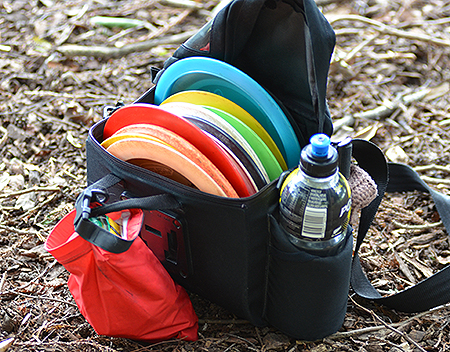 Discs and Water, Check! - They come in all shapes, sizes and colours.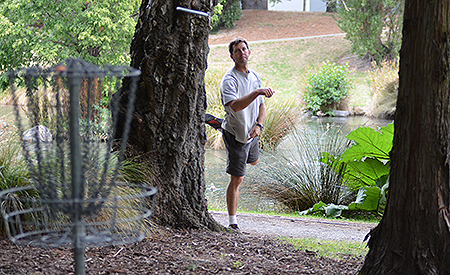 Champion Form- He started slowly but soon engaged overdrive. Eventual NZ Champ Simon Feasey shows how it's done.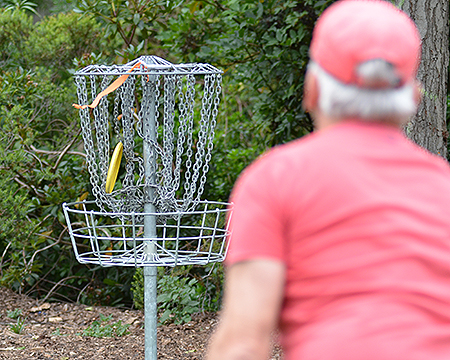 Cohen In - Paul Cohen making the chains dance with a solid birdie in 16.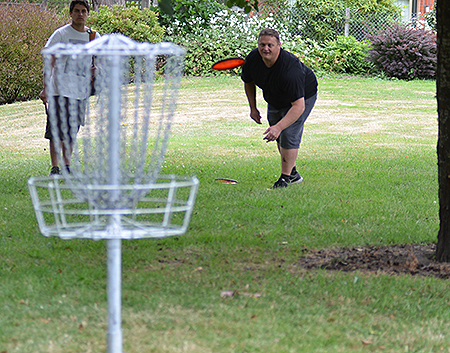 Crouching Cameron, hidden Edwin - playing the tricky 17.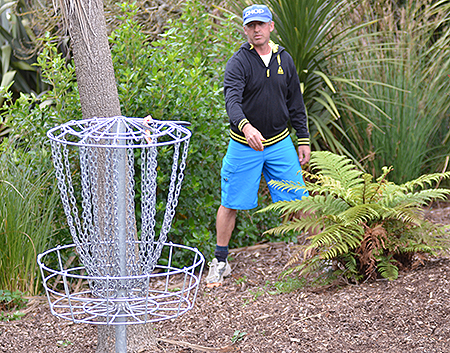 Classic Kiwi. - Pungas, Cabbage trees and Dom Hayden putting out 18.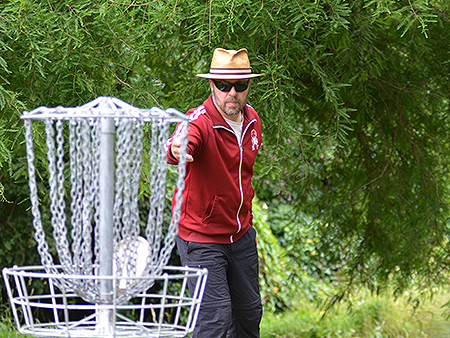 The German, in serious mode - Regular summer visitor Mo Doerken slots his putt.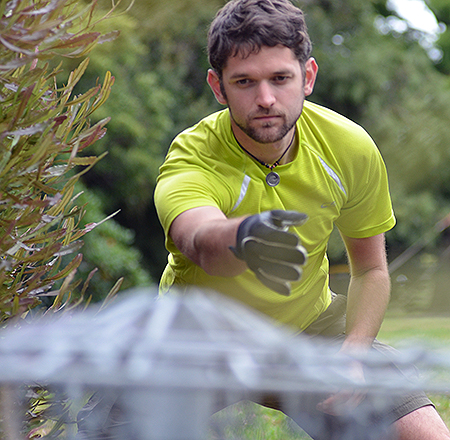 The Gloved One - Wellington Disc Golfer Brady Keuch with his eye firmly locked on 'that' link.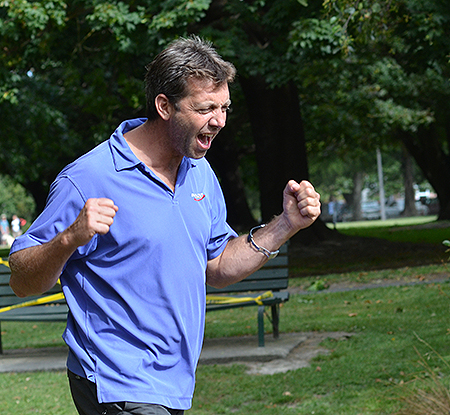 On Point - The champ's reaction after parking 17.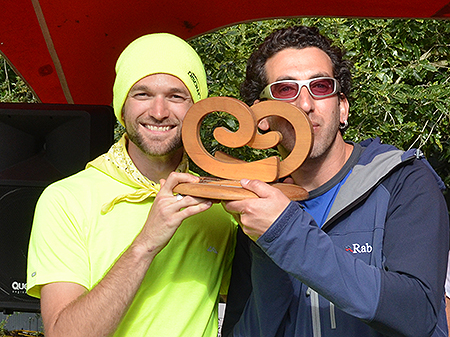 Team 'Hebrew Highlighter' - Brady Keuch and Eran Blumenthal pick up the 2014 Doubles Title.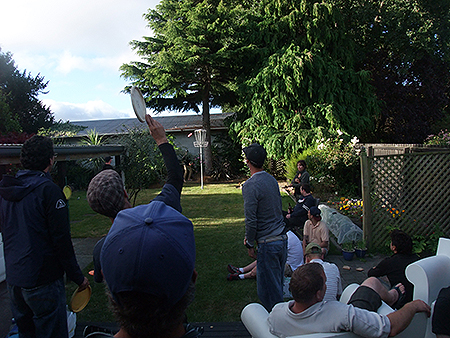 Heightened Awareness - Saturday night putting comp, with a difference, in the TD's back yard.


Island Disc Golf style - on the Mainland - Paul Cohen plays up to the basket on 12.


Six of the Best - Plenty got wet on 6. NZDG Prez Nigel Hailstone has a run at the basket.


Pin pricking - Paul Cohen plays out of the foliage.


Stay Dry- Event organiser extraordinaire Chris Davies drives 18 while Aaron Myers, Karl Jolley and Dom Hayden wait for the splash!


Trunk Call - Lost in the woods.


Spinning Disc...Player - The human highlighter Brady Keuch impresses the gallery with his dance moves.


Mo v Basket. 0-1! - Too high! I blame the M&M's..


A stroll in the park - Wellington duo Brian O'Neil and Rachel wander in after the round with Wanaka's Jess Guy.


Careful As She Goes - Chris Davies does his best to stay out of the big trouble on 11.


'A' is for Awesome, 'J' is for Joynt! - The girls enjoy a moment during their doubles match.


Happy Disc Golfers - Doubles winners Eran Blumenthal & Brady Keuch, Masters Champ Martin Doerken, GM Woman's Champ Jenny Joynt,  GM and Junior winners Bob & Toby Gentil, Open and overall Champ Simon Feasey, Woman's Champ and half of the mixed doubles championship team Lisa Te Awhitu beside doubles partner Robin Lilley and winners of the Woman's Doubles Championship Jess Guy and Robyn Agnew.
back to top
The Results for 2014 New Zealand Disc Golf Championships
Jellie Park, Christchurch, February 7/8/9

| Place | Player | Div. | R1 | R2 | R3 | R4 | Total | Points |
| --- | --- | --- | --- | --- | --- | --- | --- | --- |
| 1 | Simon Feasey | M | 52 | 48 | 50 | 52 | 202 | 60.00 |
| 2 | Martin Doerken | M | 49 | 53 | 55 | 53 | 210 | 57.97 |
| 3 | Hemi Te Awhitu | O | 55 | 54 | 51 | 51 | 211 | 55.93 |
| 4 | Brian O'Neil | O | 52 | 51 | 54 | 56 | 213 | 53.90 |
| 5 | Logan Papuni | O | 54 | 56 | 52 | 55 | 217 | 51.86 |
| 6 | Chris Davies | M | 56 | 55 | 56 | 51 | 218 | 47.79 |
| 6 | Chris Dickson | O | 55 | 55 | 57 | 51 | 218 | 47.79 |
| 6 | Brady Kuech | O | 54 | 50 | 55 | 59 | 218 | 47.79 |
| 9 | Hazen Simson | O | 51 | 60 | 54 | 55 | 220 | 43.72 |
| 10 | Robin Lilley | O | 57 | 50 | 56 | 60 | 223 | 41.69 |
| 11 | Eran Blumenthal | M | 57 | 58 | 55 | 55 | 225 | 39.66 |
| 12 | Bob Gentil | SGM | 56 | 57 | 56 | 57 | 226 | 37.62 |
| 13 | Nigel Hailstone | M | 52 | 54 | 59 | 64 | 229 | 35.59 |
| 14 | Haydn Shore | O | 58 | 59 | 58 | 61 | 236 | 33.55 |
| 15 | Karl Jolley | M | 64 | 58 | 58 | 59 | 239 | 31.52 |
| 16 | Stuart Gilchrist | O | 59 | 61 | 59 | 61 | 240 | 29.48 |
| 17 | Lisa Te Awhitu | W | 61 | 62 | 63 | 56 | 242 | 27.45 |
| 18 | Paul Cohen | GM | 55 | 61 | 62 | 65 | 243 | 25.41 |
| 19 | Aaron Miers | O | 62 | 66 | 58 | 62 | 248 | 22.36 |
| 19 | Jess Guy | W | 60 | 64 | 60 | 64 | 248 | 22.36 |
| 21 | Martin Galley | M | 61 | 63 | 62 | 63 | 249 | 18.29 |
| 21 | Dom Hayden | M | 60 | 61 | 61 | 67 | 249 | 18.29 |
| 23 | Edwin Munoz | O | 63 | 64 | 66 | 58 | 251 | 15.24 |
| 24 | Tarrant Matthews | O | 63 | 61 | 68 | 62 | 254 | 13.21 |
| 25 | Toby Gentil | J | 65 | 62 | 73 | 55 | 255 | 11.17 |
| 26 | Jenny Joynt | WGM | 63 | 66 | 65 | 66 | 260 | 9.14 |
| 27 | Robyn Agnew | WGM | 63 | 65 | 67 | 66 | 261 | 7.10 |
| 28 | Cameron Hubbard | O | 65 | 62 | 68 | 68 | 263 | 5.07 |
| 29 | Hunter Harril | O | 67 | 60 | 68 | 69 | 264 | 3.03 |
| 30 | Hannah Joynt | W | 70 | 66 | 64 | 67 | 267 | 1.00 |