Jellie Park, Christchurch 17th-18th September

PDGA C-Tier event Presented by Chris Davies and Vorticasport.

TD Chris Davies tells the story
It was a bit stressful leading up to this year's Peter Crowther Memorial, but not for the usual reasons. On Monday my new concrete driveway was poured, so we couldn't use it for 5 days. On Tuesday the weather forecast was showing rain for BOTH days of the event – and as you well know, I have spent many hours (years, in fact!) boasting about how great the disc golfing weather is in Christchurch. If it rained, I was going to be very unhappy – even with the undercover area at the Jellie Park pool as our secure base for the event.
Then on Wednesday my brand new wireless printer died. Later in the day, my Internet connection died, and after hours on the phone a technician was dispatched, and on Thursday they reported NO FAULTS. Turned out to be a dead DSL router. *sigh*
Also, my full-colour players manuals had been apparently lost by PBT couriers, and frantic phone calls to fellow Vorticasport director Martin Galley were needed to re-print and be sent up with the Wanaka crew. (Thanks Paz!)
Racing around Thursday afternoon trying to mark the course, I just about froze myself, and had to abandon it – and then beg/steal/borrow a DSL router to resurrect my Internet…
Having a laptop disaster in 2015 lead me to check my laptop on Friday night, and in typical fashion, it decided now was a good time to throw a BCD file boot error, which means at least 3 hours to repair… So I snuck into Jai's study and stole her laptop right out from under her fingers!
Despite the angst of these problems, I was extremely happy not to have to organise either baskets or teepads, thanks to Dave Rose and a dedicated team of players who had taken on the massive task of installing the teepads, just a couple of weeks prior. What an amazing job they did, and the course was looking simply fantastic in her lovely colourful and skimpy Spring outfit.
Hosting an event is a totally different thing when all you need do is paint some marks on the course, and do some sweeping up. (Thanks Phil, Leon and Calum!)
Of course, I had been preparing for months – in particular, I had put about 100 hours or more into the designs for, and the manufacture of the you-keep-'em trophies for the event. I was very satisfied with the way they came out, and hope I can truthfully say I am lifting the bar for trophies in New Zealand, each and every time I host an event in honour of Peter's memory.
As Saturday dawned, the forecast had been in abeyance, and rain was now only scheduled for Saturday night, andSunday morning. And of course, this is Christchurch, so we had none at all. :)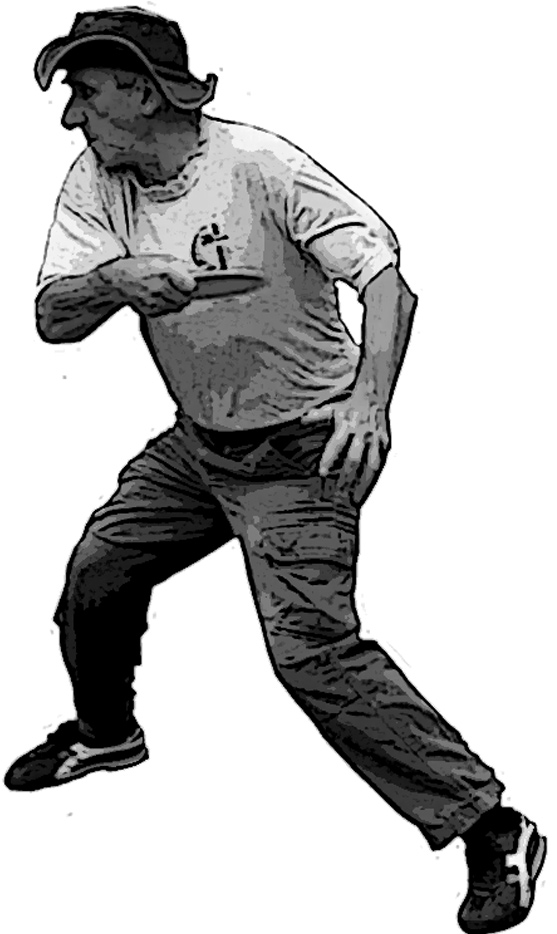 With the course marked, the only thing remaining was to pick up buddy Bob Gentil, and to promise my wonderful wife she could have her husband back on Sunday evening, after the event.  Having a loving and supportive wife makes all the difference in the world to an event like this. I want to thank Jai unreservedly for putting up with Absolute Disc Golf Mania for the 7 days the competition basically monopolises my attention.
With 36 competitors from around the country, we had representatives from Auckland, Wellington, Christchurch, Dunedin, Wanaka, and Queenstown. All the Usual Suspects were lined up, along with some new players, and some new faces, imported from Ultimate – that weird foreign country!
My plan was to play my absolutely regular game, on my absolutely regular course, and turn in an absolutely regular 10-under for the morning, on the short course. 8 or better would result in a good look at the super six, and not eliminate me from the hunt for the overall title. Which frankly, I wanted. A lot. But of course, that would mean overcoming The TD's Curse. I almost managed it, too!
Starting out with the excellent individuals Ming Menzies, Quentin Golder and Hayley Flintoft (NOT FLINTOFF!), I underwhelmed myself on the 3 starting holes with par, but par is OK. Bogies are not OK. 
With conditions exactly and precisely like I constantly boast about on Facebook, I managed to stay bogie-free, while finding 8 birds, and duffing only three longer putts, I was fairly happy walking back to turn in my card. On our card, all three of my playing partners pulled out some amazing throws. Both Quentin and Ming impressed me greatly, with Ming smashing 2 putts from outside the circle, and at least three right at the edge. She brought the smackdown, and added some pressure to my own putts – so I happily awarded her my traditional "Most Impressive" trophy on Sunday evening.
Quentin has improved his driving form dramatically in the last year, and that is extremely good to see. QH is one of the staunchest supporters of the NZ Disc Golf Tour, and it's always good to see him. He is the very first person, however, to ever leave a dent in the Jellie Park Pool building – a real testament to his increased power. I have marked the dent "QH, 17-9-2016" with a sharpie. :)
Hayley, fresh from her World Teams success in Canada, was in fine form, as always, but let herself down a couple of times, with a few wayward throws.
Ben Wiel-Lake, legitimately playing in the Open division this year, forgot to return his Juniors trophy, and needs to keep working on his maths – but this did not stop him from handing in an impressive 11-under for round 1. Just 3 shots back, I was sitting in 2nd= and it looked like my plan just needed a little more execution, and for Ben to get too confident on my little course!
Wanaka's Paz Maslen showed fine form, matching my 8-under, while veteran Bob Gentil showed why you can never count out the older guys, just one stroke back. Bob could not come to the event in 2015, as he was recovering from having two bionic parts fitted, to bring his total to three. They seem to be working well, Bob!
Queenstown Disc Golf stalwart Hemi came in with a credible 7-under, and definitely in the hunt for the trophy. Pregnant wife Lisa was there, but only as an observer and supporter – wisely choosing to have a more relaxing weekend than would otherwise be the case.
Sadly our German import, Allesa Schwarz turned up in a wheelchair – the result of blood clots in her leg after taking a nasty fall onto her knee. Thanks to Alessa, we have a very large number of lovely photographs of the event. Get well soon, girl!
All the Usual Suspects like Wanakans Dom Hayden and Kyle Martin, and Queenstowners Luke Jorgensen and Stuart Gilchrist were bunched up with only 4 strokes separating the places between 2nd and 17th!
Players who did not perform to their expected level included locals Calum MacKenzie, Cameron Hubbard and Tomas Dolezel – all of whom had spent significant time down at JP, practicing in the weeks ahead of the event. Aaron Miers, Hayley Flintoft, Tom McKay, and Allen Gorthy also struggled in that first round.
With the field bunched up due to the very short nature of the normal Jellie Park Course, the stage was set for a fascinating afternoon, as the wind picked up for our first round on the extended "Championship" course, which adds over 300 metres to the total length.
With the wind being inconsistent and swirly, many players found it hard to execute their plan, and I personally was deeply disappointed to find many of my upshots not quite within my easily puttable range, and instead of the 8 under I was aiming for, handed in a disappointing 4-under, 53 – which I thought was acceptable. Thought being the operative word…
… the TD's curse struck me, and for the very first time ever, I added my score card wrongly, and so did Ben. So, my actual score of 54, plus two penalty strokes left me with a 1-under, and lagging down in 6th place, on 102, along with 6 others on 102 and 103. Hmmm.
Despite the wind, locals Calum, Cameron H and Tomas managed to find some Mojo hidden under a bush, and behind a tree, and they turned in good rounds of 8-under, 4-under, and 3-under, to salvage some pride for the day.
Other successful rounds were turned in by Allen (53), Brady (49 – the hot round), and Hayley (52). Bob went from strength to strength, handing in a 53. See the scores matrix to track player's progress over the weekend.
Failing to follow up early success was Hemi, who had a shocker (like me, on 56, 1-under), Luke (59), Novice Local Cameron Chappel (dropping from 6-under to a 2-over), Local Master Leon Botha (1-over), Shaun Hilton (3-over), Local Craig McNab (3-over) and Ming (5-over).
So, the day ended with many players having shifted substantially from their initial placings, with me now in 3rd= place, just 3 strokes off the lead after Ben turned in a hardly stellar 3-under. Damn your eyes Ben – I'd have been 2nd equal with Calum if you could bloody well add! ;)
That evening, most of the players descended on my home to play silly putting games and eat pizza. This is my favourite part of the tournament; the social get together after day one.  I want to encourage other TDs to arrange things at a local home, rather than bars and restaurants – which are nasty impersonal places, which are far too loud, far too expensive and not much fun.
Everyone was very well behaved, and the evening was very enjoyable. Thanks to everyone who came along! Amazingly, I still had Pizza left over, and a ton of undrinkable rubbish with the letters P, E, P, S, and I on them. :P
I slept like the dead, but woke at 6am, already buzzing for the third round. The day dawned cold and overcast, and even though the rain had held off, it was a bit dismal early in the day. The wind was holding off though, and so conditions were ideal to collect a decent score.
As it turned out, 20 minutes into the round, the sun came out, and the temperature seemed to skyrocket, especially in my over-dressed state. It remained beautiful, with light winds for the rest of the day.
With Ben still out in the lead, and with fellow Grand Master Dom Hayden tied with me on 102, 7 strokes behind the leader, there was still everything except an outright win to play for – with the last 4 slots in the Super Six effectively up for grabs.
My plan was to play conservatively, and to avoid bogies at all costs – and take my opportunities on the holes I knew I could birdie. On the chase card was myself, Paz Maslen, Dom and Hemi - a very fine card indeed – I was really looking forward to playing with these most excellent dudes!
Well, I did actually manage to stay bogie free the whole round, and with 7 birds, handed in a (correctly totalled!) 50 – second for the round, just one shot off the hot round, thrown by Canadian/local man Calum MacKenzie – who was desperately clawing his way back after a lacklustre first round. That was enough to secure my place in the Super Six. Yay!
Despite Hemi's talent and power, he missed several opportunities, and got unlucky a few times, to card a 52, and Paz, the quiet achiever, pipped him to the post for the last birth in the Super Six.
Cameron Hubbard put in a credible 6-under, 51, to snatch 8th= overall, while local teepad digger and Grand Master, Craig McNab bettered his Saturday afternoon score by a massive 8 strokes, to card a 52, the same score as SGM Bob Gentil, who cemented his Super Six spot.
Brady Keuch must have liked his chances of an Overall and Open victory going into round three, as he was in 2nd place on 97, just two strokes behind young Ben, and three clear of Bob, in third. But it wasn't to be, The old Disc Golf God Drappuhio did not smile on him that morning, and he struggled to find his rhythm, dropping 7-strokes from the previous day to hand in a 1-under, 56. However, this was enough to take the 5th spot in the Super Six playoff, which was to feature Ben (149), Calum (150), myself (152), Bob (152), Brady (153) and Paz (154).
Dom, Cam, Stuart and Luke must have been thinking they could have made it but for that one rotten bit of luck.
After some cold pizza and juice, the field assembled to watch the final six holes, which we played in the South-West corner of the park. They featured some of the same holes we played at PCM3, with three modified and challenging new options. I had purposely designed the holes to be very capable of creating a lot of separation, and hence the 5 strokes from 1st to 6th did not look like an especially large gap – so all the glory was still definitely undecided.
I spazzed it into a tree off the tee on the very first hole, gifting Bob outright 3rd – and so he was just going to play conservatively to defend that, and with Bob's depth I was basically done for, and just wanted to hold off Brady and Paz.
But Brady and Calum and Ben were on a mission, and with a big gallery they tried to put on a good show. Ben's attempt to excel on hole one resulted in a dismal 6, while Bob and Brady took the 4, and Paz had to settle for a circle 5.
The next hole was a very short one; the tee of 3C (the road) to the basket of No.2 next to the creek. An easy three, but a tricky two. Both Brady and Ben were able to birdie, while Bob, myself and Paz made the par. Calum must have been kicking himself, as his aggressive shot ended up OB in the creek, and he bogied, putting him two strokes behind Ben, and now, surely, the outright win would elude him, barring some disastrous play by Ben.
The third hole, a carryover from last year played from an elevated position, down to the No. 1 basket, some 140 metres away. This should have given the big arms a chance to make a 2, and Ben went pin-high but blew past on the putt, to take a 3, along with everyone else except Paz who went 4.
No.4 which played from the teepad of No.1 to the basket of 17, on the other side of the creek, and guarded by a massive willow, huge cabbage trees, and three tall guardians, offered a sucker's option; the big sky annie for birdie… and they fell for it, with the big arms of Ben, Calum and Brady all taking an OB stroke on the hole. Circle 4.  Paz, Bob, and myself opting for the totally safe hyzer drive, upshot and putt, for the 3.
The fifth hole was another to offer risk, reward, and a chance to go OB, or lose a disc with a wayward shot into the swamp. At around 125 metres, it should have been within the range of the gents who'd just found OB. It played from adjacent the teepad of 18 to the basket of 14, down the OB road. Sadly Brady found some OB and took a shocking circle 5, while Ben's shot was almost pin high to make an easy 3 after missing his long putt, thus virtually ensuring his win. Paz took a 4, and the rest of us put in for 3.
With Brady 2 strokes behind me, I felt relaxed on the 6th tee, which was our normal hole #15, and threw my normal shot, which failed to check up on the berm close to the road, and it slid over into OB. Brady offered up perhaps the best shot of his afternoon, placing his disc squarely in putting range, which he subsequently sank. I then duffed my putt, and took a circle 4 to drop level with Brady and end 4th= overall, handily taking the GM trophy I'd spent so much time making.
Everyone else played safe, taking the par three, and bringing the competition almost to an end. I say almost, because back at DG Central, I still had a bag with the Ace Kitty in it, and I was very surprised no one knocked one off in the 3 regular rounds. I was so confident at least one would be shot, I even made an "Ace Maker!" trophy.
We set up a basket and everyone had a crack at it, again with no luck – so Kyle Martin's disc was closest to the pin – so he took the cash – some small consolation after a good start to the weekend, but failing to fire on the championship course.
So, Bob took home the SGM trophy, Hayley took out the Womens Open, Ming the Womens Senior Grand Masters title, and the Most Impressive trophy, Phil Botha, the only Junior playing, took home the Juniors trophy.
Queenstown's Akira Kuroe took another Masters title, and the trophy that went with it, taking out local man Leon Botha by just 2 strokes. Local American import Jess Blagen, in her first competition I believe, was the only Womens Masters player, and thus took that trophy home.
For the first time in the history of the Memorial, I failed to retain the gigantic Trophy for the top local player, this time won by Calum MacKenzie. So, congratulations that man! The margin was tragically, the same as my badly-added scorecard penalty – 2 strokes. D'OH!
In a sad twist of fate, Calum flies out of Christchurch in just four days, and it is unknown when, or if, he will return. So, he has already handed the trophy back to me, to take care of until PCM#5 in 2017. We've asked him to post to our facebook page letting us know what tournaments he's playing – and I wouldn't be surprised to see him feature in a few DG videos in the coming years. Best of luck Calum!
I need to thank some people for their help and support coming up to the tournament; Vorticasport for donating the discs given away as prizes for the winners of the divisions. Jellie Park staff and management, who are always very kind to us – and to Rob Gibbs, the man who runs the park, and who always lets us use the outside area for our base, and all with no fee whatsoever!
Vorticasport's Martin Galley took the time to print our players manuals TWICE, and without those our players meetings would have been far too long. Wife Jai, of course – her extreme love and understanding is what allows this event to take place!
Massive props to the big crew who so diligently installed all 18 teepads ahead of the comp included Craig (who brought his digger!), Tomas, Dave, Ales, Calum, Cameron, Leon and Phil, Hunter, Noah and Chantel!
Since PCM4, I have created a new SuperChamp course of 1,987 metres in length, which we have played this last weekend, and it offers far greater challenges and risks than the version we played in the competition. It still needs some refinements before it is ready to be played by 40 people at once, but a derivation of it will feature in PCM5 in 2017. Thanks everyone, for a great weekend, and excellent company. Cheers!
The Pictures
Check out pics from past Christchurch events: 2016, 2015, 2014, 2014 Nationals, 2013, 2012, 2011, 2010, 2009, 2008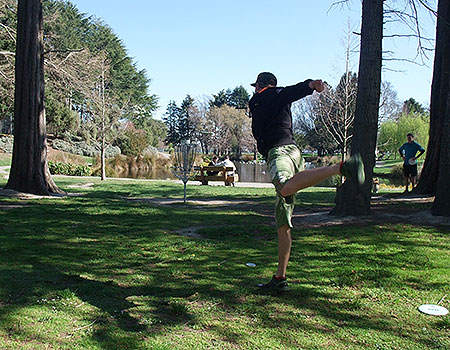 International Style - Just back from representing NZ and the World Team Champs in Canada Kyle Martin sends his put at the chains.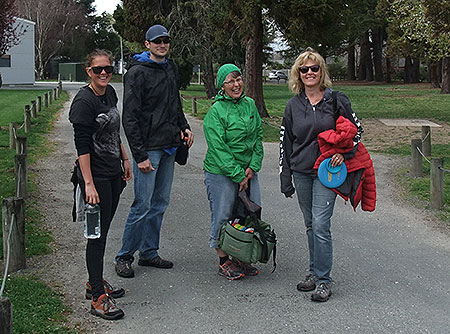 Day in the Park - Veronica, Daniel, Jenny and Jess enjoying their day in the park.



Lakeside MacKenzie - Calum MacKenzie a visiting North American golfer finds the chains with his putt.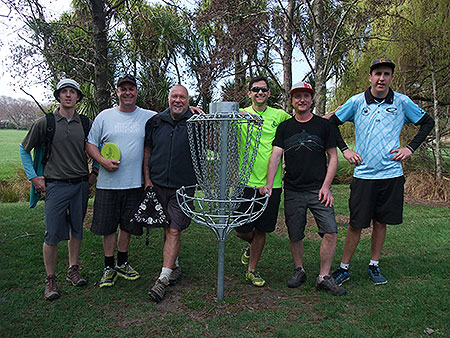 Six of the Best - The 'Super 6'. Calum MacKenzie, Chris Davies, the GM, Brady Keuch, Paz Maslen & Ben Weil-Lake.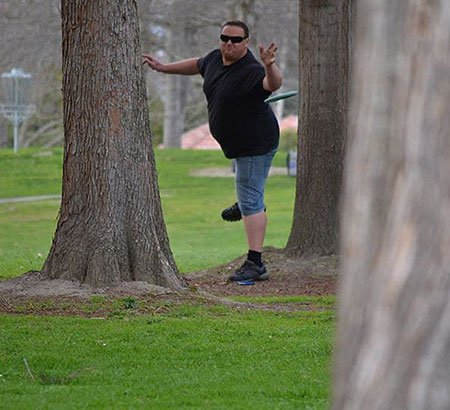 Timber Negotiation - Christchurch local Cameron Hubbard takes a run at the basket.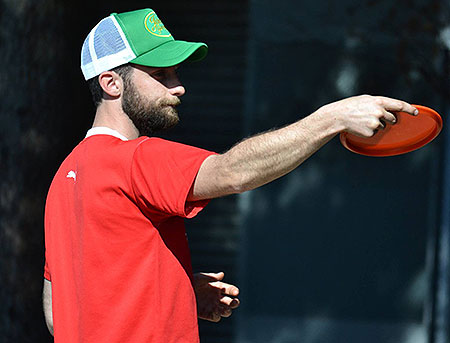 Famous Five - Local golfer Daniel Quinn lines up his shot.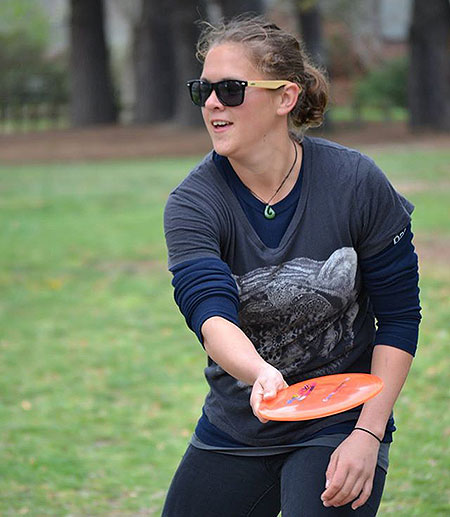 Spirit of the Game - Local player Veronica smiled all around the course.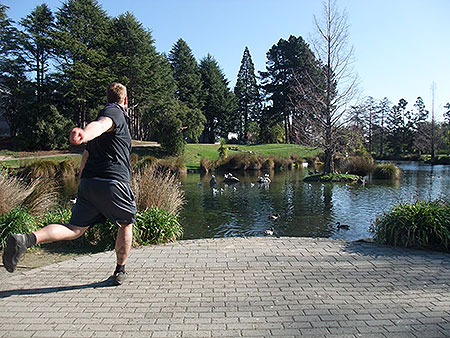 H2Throw - Comfortable playing near a water, Queenstown golfer Luke Jorgensen puts in an effort.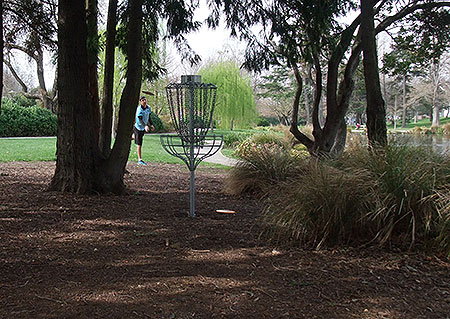 Champ at Work - Ben Wiel-Lake on his way to winning the 2016 PC Memorial.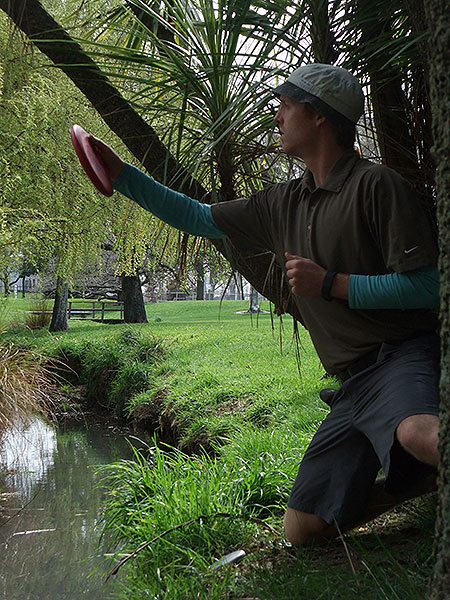 Lakeside Cal - Could have been worse. Calum MacKenzie pleased his drive was dry.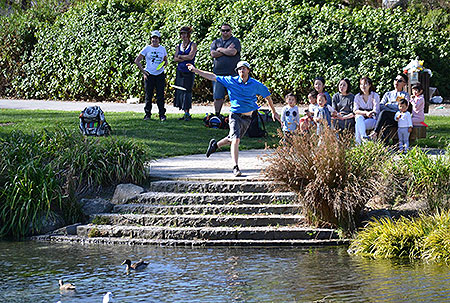 Stepping Up - Canadian golfer Calum MacKenzie impresses the gallery.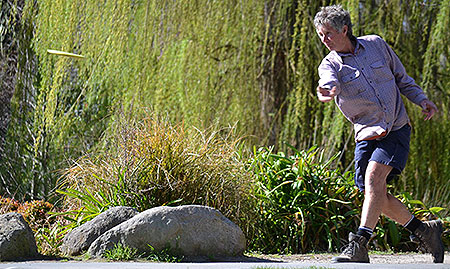 Fab McNab - Local Disc Golf shaker & mover Craig McNab flicks off the Tee.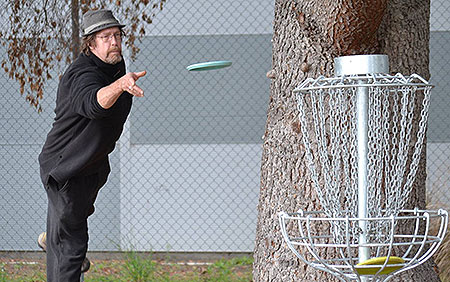 Familarity Breeds Birdies - Tauranga's Dazz Switalla visiting his old home town for a spot of golf.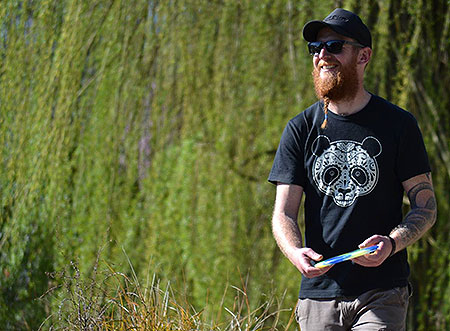 Colourful Plastic - Shaun Hilton contemplates his up-shot.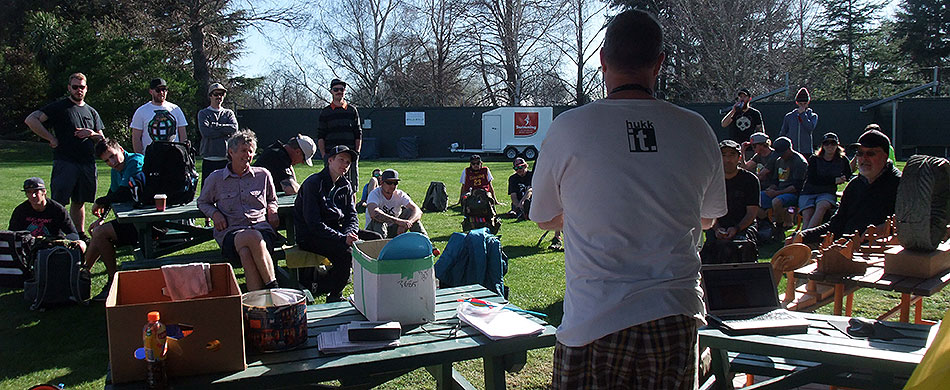 Remembering Peter Crowther - TD Chris Davies share a memory of a friend lost.


xxx - Wellington Disc Golfer Brady Keuch finds himself a little close to the water.


Slotted - Christopher H watches as his putt finds chains.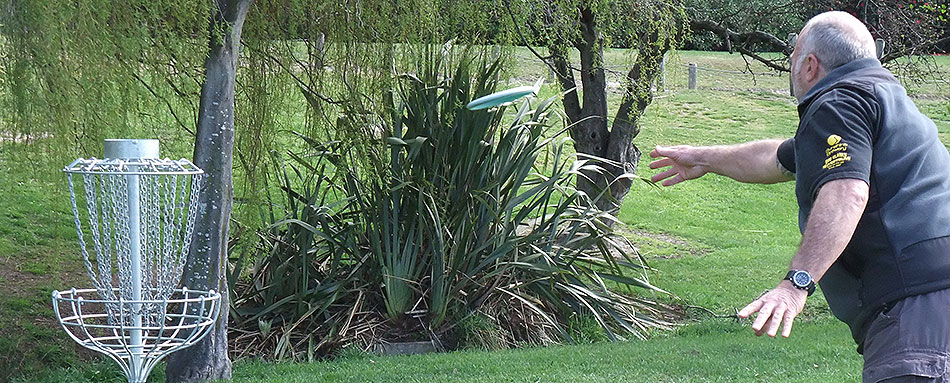 Hi Bob, I'm Aviar - The GM Bob Gentil breaking in a new putter.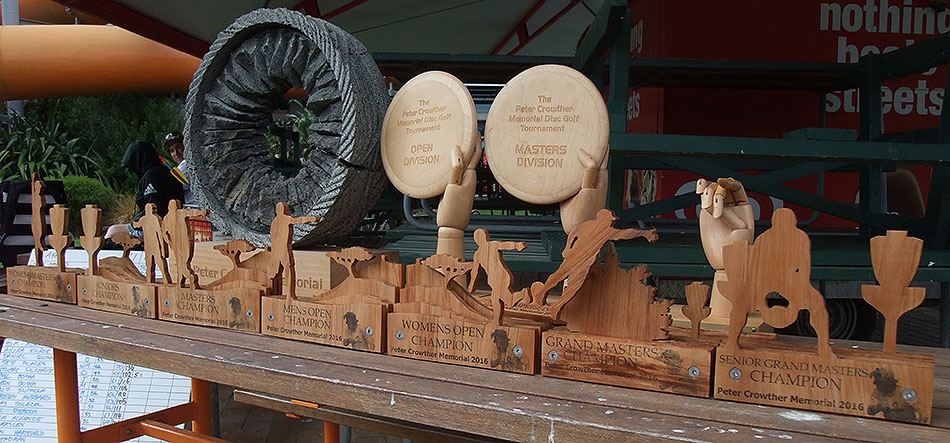 Wow - Chris had done an amazing job on the trophies. Fantastic art for the mantle.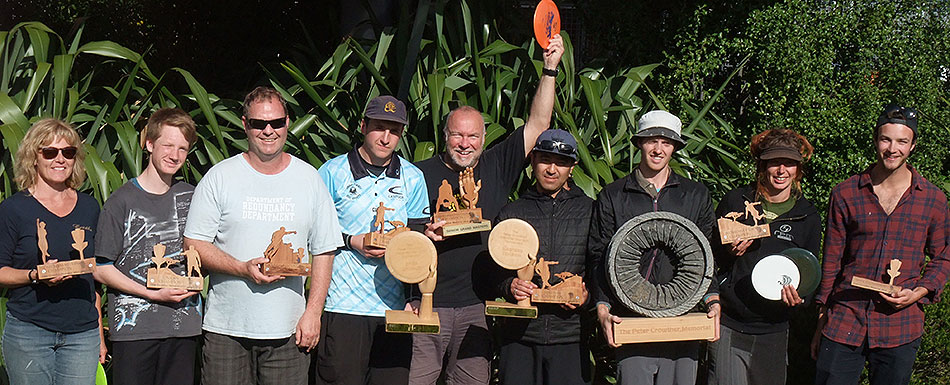 The winners for 2016 - Jess Blagen Masters Woman, Phil Botha Junior, Chris Davies GM, Ben Weil-Lake Open, Bob Gentil SGM, Akira Kuroe Masters, Calum MacKenzie [Locals only Memorial], Hayley Flintoft Womans Open & Cameron Chappell Novice.


Sunny Outlook - Queenstown's Stewart Gilchrist putts out in the beautiful Jellie Park.


The Lads - Paz Maslen watched Dom Hayden slam his putt into the chains.


Reed About It - All concentration, Queenstown regular Akira Kuroe sends a solid putt at the chaines.
back to topThe Results for The Fourth Peter Crowther Memorial Disc Golf Tournament 2016
Jellie Park, Christchurch 17th-18th September
| Place | Player | Div. | R1 | R2 | R3 | R4 | Total | Points |
| --- | --- | --- | --- | --- | --- | --- | --- | --- |
| 1 | Ben Wiel-Lake | O | 43 | 52 | 54 | 20 | 169 | 50.00 |
| 2 | Calum Mackenzie | O | 52 | 49 | 49 | 21 | 171 | 47.77 |
| 2 | Bob Gentil | SGM | 47 | 53 | 52 | 19 | 171 | 47.77 |
| 4 | Chris Davies | GM | 46 | 56 | 50 | 21 | 173 | 44.80 |
| 4 | Brady Kuech | O | 48 | 49 | 56 | 20 | 173 | 44.80 |
| 6 | Patrick Maslen | O | 46 | 55 | 53 | 22 | 176 | 42.58 |
| 7 | Hemi Te Awhitu | O | 47 | 56 | 52 | | 155 | 41.09 |
| 8 | Dom Hayden | GM | 47 | 55 | 54 | | 156 | 38.86 |
| 8 | Cameron Hubbard | O | 52 | 53 | 51 | | 156 | 38.86 |
| 10 | Stuart Gilchrist | O | 47 | 55 | 55 | | 157 | 36.64 |
| 11 | Luke Jorgensen | O | 47 | 59 | 52 | | 158 | 35.15 |
| 12 | Roddy Mckay | O | 49 | 57 | 53 | | 159 | 33.67 |
| 13 | Cameron Chappel | O | 48 | 59 | 53 | | 160 | 32.18 |
| 14 | Allen Gorthy | O | 52 | 53 | 56 | | 161 | 29.21 |
| 14 | Kyle Martin | O | 47 | 56 | 58 | | 161 | 29.21 |
| 14 | Hayley May Flintoft | W | 50 | 52 | 59 | | 161 | 29.21 |
| 17 | Akira Kuroe | M | 49 | 57 | 56 | | 162 | 25.50 |
| 17 | Craig McNab | GM | 50 | 60 | 52 | | 162 | 25.50 |
| 19 | Aaron Miers | O | 54 | 53 | 57 | | 164 | 21.79 |
| 19 | Tom MacKay | O | 53 | 56 | 55 | | 164 | 21.79 |
| 19 | Leon Botha | M | 48 | 58 | 58 | | 164 | 21.79 |
| 22 | Ales Mladenka | O | 55 | 59 | 53 | | 167 | 18.82 |
| 23 | Shaun Hilton | O | 49 | 60 | 60 | | 169 | 16.59 |
| 23 | Tomas Dolezel | O | 57 | 54 | 58 | | 169 | 16.59 |
| 25 | Paul Deacon | GM | 53 | 61 | 60 | | 174 | 13.62 |
| 25 | Morgan Harteveld | O | 53 | 61 | 60 | | 174 | 13.62 |
| 27 | Quentin Golder | SGM | 53 | 62 | 60 | | 175 | 11.39 |
| 28 | Phil Botha | J | 55 | 61 | 60 | | 176 | 9.17 |
| 28 | Fiona Ming Menzies | WGM | 51 | 62 | 63 | | 176 | 9.17 |
| 30 | Dan Quinn | O | 55 | 60 | 62 | | 177 | 6.94 |
| 31 | Darryl Dazz Switalla | GM | 56 | 64 | 60 | | 180 | 5.45 |
| 32 | Rob Tadman | O | 58 | 64 | 64 | | 186 | 3.97 |
| 33 | Jenny Joynt | WGM | 57 | 68 | 66 | | 191 | 2.48 |
| 34 | Jess Blagen | WM | 66 | 70 | 69 | | 205 | 1.00 |