Jellie Park Christchurch 24th/25th May 2014
The 2014 Christchurch Disc Golf Championships.
TD Chris Davies sums up the weekend...
The weeks leading up this year's Memorial were a whirlwind of emotions for your TD; having spent 69 days on crutches after my arthroscopic arthrodesis (left ankle fusion) I had not thrown a single disc in 10 weeks, nor taken a single step until Tuesday afternoon, 3 days prior to the beginning of the comp'.
The frustration of spending so long on crutches, was matched by my inability to throw, or practice – and I did not even know if I would be able to compete at all, let alone complete 3 rounds at Jellie Park.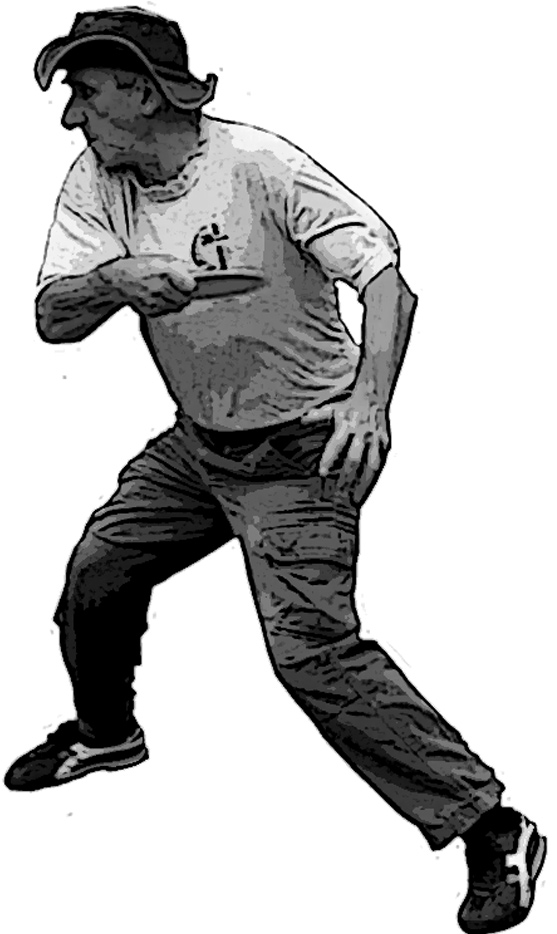 At just 54 weeks since Peter's tragic death somewhere in Arthurs Pass, the memories of playing each weekend with him are still sharp and clear in my mind. Peter's death still hits me hard sometimes, and I miss his silly hat, his huge smile, big laugh and his great company. We are all poorer of spirit because of his absence.
I was tremendously keen to compete in his memorial, and not to only organise the tournament. So I was extremely delighted to be able to not only compete, but to somehow sneak into the Super Six. Without the mobility scooter laid on by ACC for me, it is certain I could not have completed a single round.
Saturday 24th May dawned bright and clear, and I breathed a huge sigh of relief, as Christchurch in May can be lovely, or hideous depending on your luck. This weekend we were spectacularly lucky with the weather, which held off until the Super Six play was complete.
Being in a moonboot and pretty much incapable of doing much of anything at all, I leaned very heavily on Christchurch's Hunter Harril, fellow Vorticasport partners Hazen and Martin, and perennial Auckland stalwart and Disc Golf Hall-of-Famer Bob Gentil for assistance in setting up, laying out, relaying, and tearing down the courses. Thanks very much to each of these fine gentlemen; the tournament could not have taken place without their efforts.
Thanks too, to the Queenstown and Wanaka residents for loaning the baskets required for the event – as I only have 9 available here.
This should be the last year in which baskets need to be brought along, or set-up for the competition, as in the week prior to the event, I received confirmation that funding for 18 permanent baskets and temporary tees has been secured! With 16 months until I host another event (PCM3 in September 2015) that leaves me time to concentrate on getting approval to install a course in Christchurch, and as per the request from the sponsor, I will be pushing hard for Jellie Park to be the location of that course.
I was familiar with every face at the event, and it was a genuine pleasure to host everyone for the comp, and at our home on Saturday night for Rugby and Pizza. Long-Suffering Wife Jai was very impressed with everyone, and the lack of rubbish and mess afterwards, so you are all welcome back again next year! :)
The Jellie Park outside pool complex was our base of operations for the weekend, as it was for the inaugural Memorial in 2013. Thanks are due to all the JP staff, who took great care of us, and provided us a secure area to leave all our gear, and parking/charging for my scooter.
With the soccer fields being used on Saturday morning, I was forced to set an altered version of the tweaked Nationals course. As it turned out, soccer was over before we began playing – so we needn't have bothered! Hazen and Hunter did a fantastic job resetting the tees and baskets in the playing fields area before Round 2 on Saturday afternoon.
Round 1 began in lovely warm conditions, with most players in T-shirts. The warm North West wind Christchurch is famous for, providing unseasonably warm weather. It is however notoriously gusty, and yet we managed to complete round 1 without the wind being a big factor in the scores.
Queenstown's own Hemi Te Awhitu put in the hot round of 52 to lead the field. Par for the course was 55, but there are so many opportunities to go OB, that having a bogie-free round is very difficult. I had spoken with Hemi at the end of the 19th Queenstown Classic in March, and he expressed a strong desire to take his first National Tour Event win, and had been disappointed in QT, to have not achieved that goal on his home turf. I had a good feeling for Hemi this weekend, and told him this could well be his chance to take home the Open trophy…
…Starting out with 2 bogies, therefore, probably wasn't in his plan! Fortunately, he settled down and pulled 3 birdies on the front 9, to take 1-under par 27, and only a single OB stroke coming in along with 2 birdies.
Wanaka's Hazen Simson came in 1-shot back with 5 birdies on a skilful 53, while Queenstown Master Eran Blumenthal, fresh from 2 months holiday, turned in a very strong 1-under 54, which included a great run on the back nine, with one birdie, and no bogies – one of the only bogie-free nines of the competition.
Except for one circle, Bob stayed out of the crap and turned in a very par-like 55.
Queenstown's highly talented Junior, Ben Wiel-Lake, at just 14 years old, turned in a brilliant 58 – including a great run of 3 birdies on 15, 16 & 17. A birdie on 17 is no mean feat, even from the B-tee! I managed to birdie it as well, with an Axis from 30+ metres in Round 2.
As TD, I get to set the initial groups. I elected to join Lisa Te Awhitu, having not been in a group with her for a long time. Cananadian Robin Lilley is always great fun to play with, and Chris Dickson's passion can't be questioned. I also chose fellow surgery survivor Bob – and we set off from Hole 5. Bob went OB from the tee, and I followed suit on the up-shot, along with Chris Dickson – the #5 green consisting of nothing but pine needles – very fast indeed… Robin showed us how to start, with par, and the rest of us took bogies.
As the round concluded, I was surprised to be only 3-over, 58, having taken very nice birdies on 3, 9 and the challenging 18th. The other Chris D had an up and down morning, being heavily penalised on the front 9 with 3 OB shots, while pulling some semblance of control back on the back 9, but coming out with a disappointing 5-over, 61. Playing with Chris is always fun, because he is so passionate for the game: he never makes you guess how he's feeling about his round, and he does it all in a delightfully Canadian way.
Robin's experience at the Jellie Park champ course was evident, with him managing a fantastic 5 birdies, including the par-4 163-metre Basket 6, the most challenging hole on the course. However, he also went OB twice and took 7 bogies, leaving him on 2-over, 57.
Lisa played her regular game – switching between forehand and backhand with ease and confidence – something I greatly aspire to. Her solid round was marred only by a double-bogie, circle 6 on basket 6, "Sweet Chariot", and another OB stroke on the over-water #16, "The Odyssey". She demonstrated beautifully why she is NZ's top-ranked female golfer, with a stunning birdie, 2, on #18 – where the basket is directly in front of the creek. Lisa's fine form produced very consistent golf throughout the weekend, with a score spread of only 3 strokes.
With everyone back under cover at Disc Golf Central, the scores were tallied up, and Hemi was in the lead by a single stroke, ahead of Hazen Simson on 53, with Eran one further back, and Bob one further adrift on 55. The top four split by 4 strokes.
Robin's excellent 57 put him 5th, while Ben Wiel-Lake, teeing from the B-tees claimed 6th equal on the same score as me, 58. Everyone seemed to be enjoying themselves, despite failing to shoot what they wanted. The sunny weather, and light North-West winds working to ensure a lovely day of Disc Golf for all.
After lunch, and in groups of 3 and 4 to speed up play, we all headed out, into changing conditions: the Nor'West picking up and becoming stronger with some major gusts. The wind in the afternoon was worth about 5-6 strokes at most – and not the 10 strokes Wanaka's Hazen Simson would have you believe… Perhaps it was the fact he added 10 strokes to his morning's score, along with 9 Bogies. Ouchies! Still, Hazen's never one to let a bad round get him down!
Hemi continued his dominance at the head of the scoreboard, with a 58, to make 110 – a full 5 strokes ahead of the next player on 115. Hemi must have completely mastered the mental game in competition, as he overcame the awful start he made; 3 bogies in a row!
That "next player" was none other than Queenstown Junior, Ben, who carded the second best score of the afternoon – a stunning 57. This was a great achievement in the challenging conditions, and shows Ben's depth of skill at just 14. If he continues playing, there is no doubt in my mind he can win the National Open title. Ben's tall frame and long arms make him a natural disc golfer, and with a healthy dose of added adult strength, the rest of us won't get a look in!
Bob Gentil, by far the most experienced competition player in the field, on a knee only just recovered from major surgery, produced a decent 5-over to lie 3rd equal along with Hazen and Queenstown's Felipe Stein, who produced a solid 60.
The man on the move though, was left-hander Chris Dickson, whose disappointing morning was thoroughly eclipsed, taking the lowest score of the afternoon – a very credible par round – 55, which included 4 bogies and 4 birdies. This hauled him up six places, from 11th to 5th! Of particular note was a stunning birdie on the 90-metre Basket 2, "Pete's Pleasure", where the fairway is well protected by trees. This hole only yielded two birdies the entire weekend, with myself being the only other recipient, with a perfectly placed 18-metre putt through dangling silver birch branches. Chris also took a brilliant birdie 2 on the 100-metre Hole 7, where the elevated tee makes the range easy to achieve, but judging the wind is not so easy – even for the natural left-hand hyzer. To wrap it up, the leftie-friendly Hole 12 also yielded a great birdie for him, as the basket there was liable to let discs slip through the back of the chains.
Lisa's consistency saw her climb 2 places as did Martin Galley, who had barely been back in the country 36 hours when he flew into Christchurch on Saturday morning, and with a huge dose of jet lag, Martin managed to be the most consistent player of the tournament, with only a 1-stroke swing in 3 rounds.
Hunter Harril climbed one place, and it would have been a great many more but for a horrible circle 6 on the wide open 148-metre "Don't hold Back", and a truly nightmarish circle 9 on Basket 17, "Phardenhast"!
Queenstowner Aaron Miers' morning score of 59 showed 6-strokes of wind with a 65 in the afternoon, to stay 9th, and he would retain that position for the rest of the weekend. Aaron's enthusiasm and philosophical nature make a game with him a lot of fun. Thanks for the round, dude! Robin Lilley joined us, and his infectious laugh ensured we had a truly great time, and even though we were not exactly performing like champions, I felt like one.
Robin did well in the afternoon, avoiding all the OB until the end of the round at Basket 2, where asphalt cost him dearly, twice in a row, and this resulted in a double-circle, quadruple-bogie, 7. Sadly, incorrect card addition saw him turn in a 66, when his correct score was in fact 65, and thus a two-stroke penalty saw him with a 67. As a TD and golfer, I hate to impose penalties on any player, but the rules are extremely clear on this point. COUNT VERY CAREFULLY PEOPLE!
Local lady Emma McIntosh started the weekend with a hiss and a roar: two OBs, three fives and three fours yielding a 36 going out, but a very good back nine, with all pars, and just a single Bogie on Hole 15, the mandatory, "May Decieve". Emma, like most players, lost six strokes in the afternoon's play, but did manage a stunning birdie 2, on Basket 8, the intimidating "Jellie Deep".
Queenstown's legendary Senior Grand Master, James "Jaguar" Smithells was in typically fine form, and despite the course challenging him strongly throughout the weekend, he did achieve a fine birdie on Hole 18. That was to be the scoring highlight for his weekend. But we know James plays for a lot more than the score. Thanks for coming to celebrate Peter's life, James!
Queenstowner Akira Kuroe had a very good back nine on Saturday morning, taking birdies on 11, 12 and 18, which he also birdied in the 2nd round. Akira was the best dressed man on the course, and I greatly covet his MQUM-brand open weave hunters cap.
Felipe Stein is a player I had not ever played a round with, so it was a pleasure to watch him throw. He managed 6 birdies for the weekend, and threw the single greatest get-out-of-trouble roller I have ever seen! Stuck on the edge of the creek on Basket 17, and blocked by a fallen willow, Felipe's situation looked grim. There were no nice throwing options at all, and when he put down a very powerful roller, it looked like it was going to be a disaster: the fairway was clear, but 20 metres on, the grass was over 100mm tall – and that is usually the kiss of death for a roller. However, Felipe had weighted it perfectly, and the disc rolled out onto the fairway at high speed, and gracefully curved around to point right at the basket, and then it gently rolled around the base, and lay down for a drop-in bogie. What an awesome shot!
As always, it was a genuine pleasure to have Women's Grand Master Jenny Joynt in our midst; a more dedicated National Tour Event player you could not find, I think! Jenny's an inspiration to the rest of us who feel the tug of time on our bodies, and is a great demonstration of how we can play this game and enjoy it, at any age! Thanks for being the best role model we could hope for Jenny!
It should be added that Jenny's daughter Hannah, has just had confirmation for funding and permission to install Dunedin's first basket disc golf course – so congratulations to her for her perseverance, and efforts to build Disc Golf in our southern city!
A CTP was held on both days, at Basket 3, with myself taking it out on Saturday, pipping the other Chris D for the prize, which I passed to Felipe for his terrific roller. Sunday saw Chris get the CTP shot right, to pick up the remaining cap.
Round 3 on Saturday morning began with light winds, which built during the morning, but did not achieve the hurricane-like proportions that it looked like it would.
Bob produced the hot round of 2-under, 53, to take the lead by one stroke from Hemi, who was on track for a 5-under, 50, before having 4 horror holes on 14 through 17, taking bogie, circle double bogie, circle double bogie and a triple bogie! Dark thoughts must have been threatening to engulf him, but with just 1 stroke down, and a very long set of holes for the Super Six, he had a very good chance of gaining the stroke back.
Hazen put in a fine 57 for third, while Chris Dickson turned in 58 for 4th. Ben was unable to continue his storming form from round 2, and had to settle for an 11-over 66, while I carded a 61 to draw even with him on 5th equal.
After a leisurely lunch of hot pizza, we had relaxed sufficiently to regenerate the vital juices, the six of us set out on the (very long) super six course I had published previously.
Of course, I had no idea that Bob or myself would make it into the Super Six, but with the absence of both Simon Feasey and David Keene, super six spots were up for grabs. If I had had any inkling I might make the Super Six I might have made the holes somewhat shorter, to give myself a chance! :)
Predictably, the big arms came to the fore, with Hemi, the other Chris D, and Bob all taking 4 on Basket 1, with myself, Ben and Hazen taking 5. With length disadvantaging myself, Ben and Bob, the others slowly pulled ahead, and Hemi's consistent form of 3s and 4s was too much for the rest of us.
So, Hemi took out the Open, Chris Dickson the Masters, Bob Gentil won the Senior Grand Masters, Ben Wiel-Lake the Juniors and Lisa Te Awhitu retained her Women's Open title.
The weather held out just long enough for us to tear the course down, and then the heavens opened and the temperature plummeted! The southern stalwarts had a helluva time getting home, with the Lindis Pass closed due to snow, and I believe the trip home took close to 12 hours for them having to go through Dunedin.
I want to express my deepest thanks to everyone who came along for PCM2, and encourage you to come to next years event – PCM3, which will be back in its regular spot, of mid-September, in 2015.


The Pictures
Check out pics from past Christchurch events: 2014 Nationals, 2013, 2012, 2011, 2010, 2009, 2008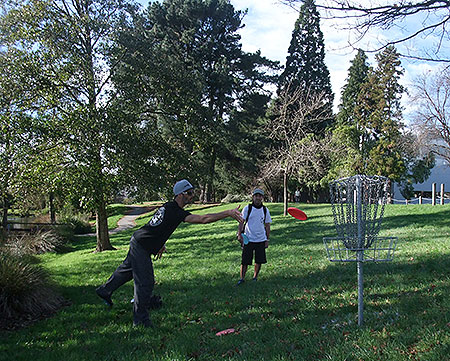 That's In - Aaron Miers drops one in on 101-metre, Basket 4 "Monumental", while Akira Kuroe waits patiently.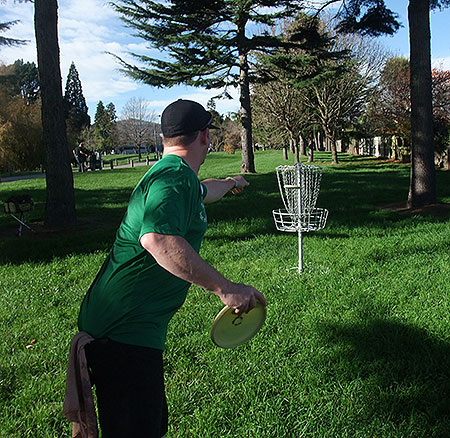 Balanced - No mistake here! Chris Dickson sends one straight into the heart of the chains at Sweet Chariot.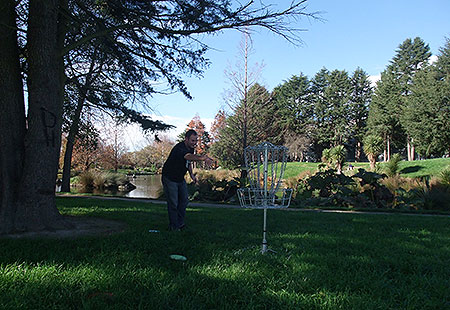 WTF - Tournament Director and event organiser Chris Davies makes a shortie into the basket for Hole 7, WTF? (Where's The Fade?), for par. The feared "Jellie Trench" is in the background.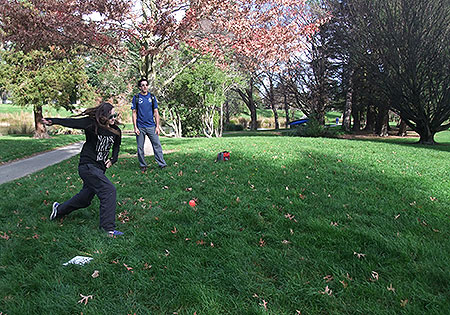 Local Follow Through - Christchurchian Emma McIntosh, shows her driving style. Looking good Emma!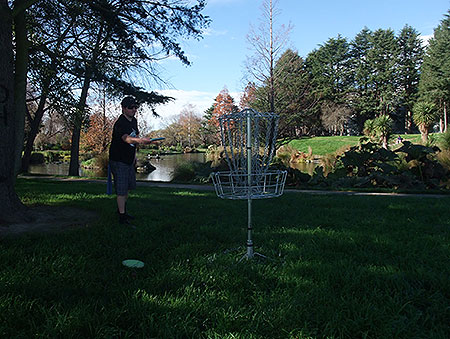 Seen at the Green- Robin shaping up for a straight forward putt on Where's The Fade?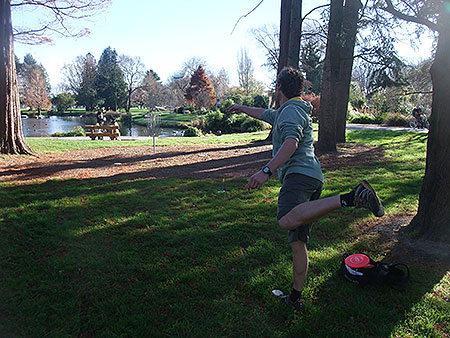 Get Up There! - Vorticasport's Hazen Simson balances cleanly, on Basket 3, "Pond Scum", looking for that elusive birdie. Sadly, this one wasn't to be.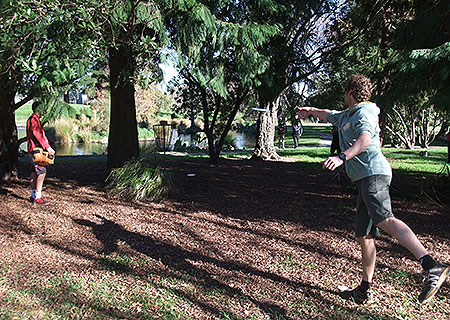 Accuracy- Hazen  slots one in on Hole 14, "Tucked Away" on Saturday afternoon, while Ben takes notes.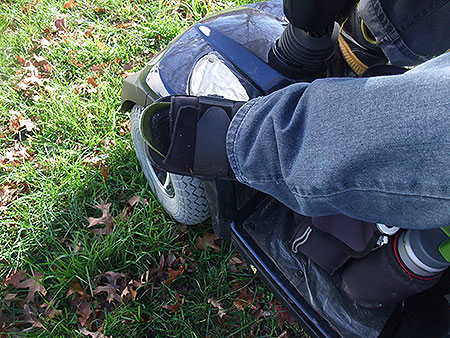 Stiff Competition - The Moonboot: without it, and the scooter laid on by ACC, TD Chris Davies would not have been able to compete in the tournament. He enjoyed it so much, he wants More Mobility to sponsor a 20-player-only Mobility Scooter competition sometime in the future!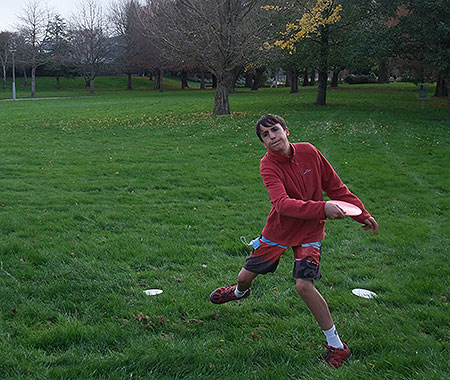 Rippin' It - Ben, about to plant his foot and begin his pullthrough, on the final hole of the Super Six. Keep your eyes on Ben in the future!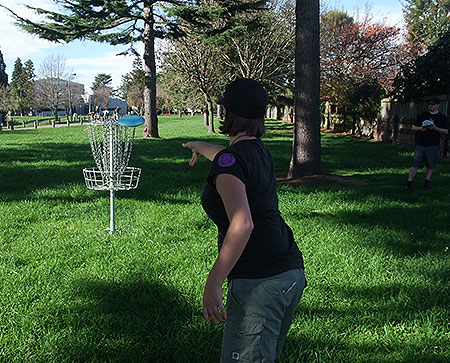 Lush - The longest hole on the course, "Sweet Chariot" at 163-metres caused some headaches. Here we see Queenstowner Lisa Te Awhitu making her par putt on the lush green.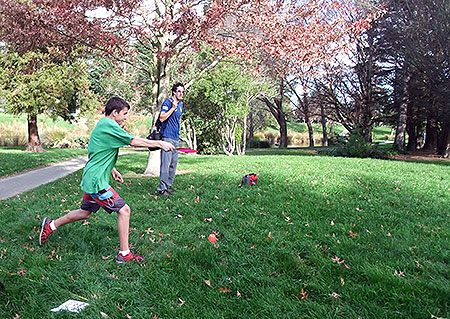 Junior Power - Ben Wiel-Lake showing his devastating driving form at Hole 9, "Pathfinder II", while fellow Queenstowner Eran B looks on.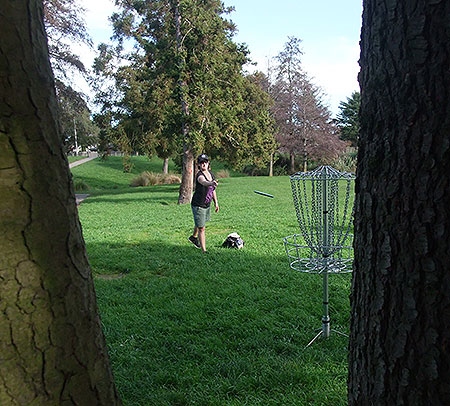 Trunk Call - Lisa sinks a lovely hyzer putt on Where's the Fade.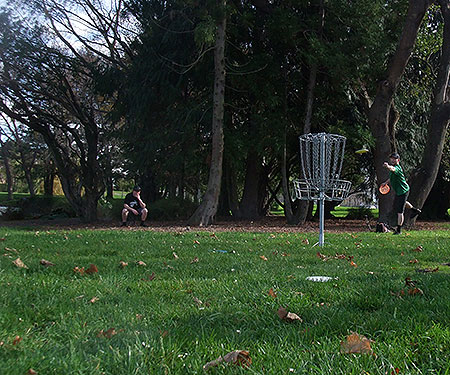 Scene at the Green - Chris Dickson nails a sweet birdie on Hole 8 "Jellie Deep", while Robin Lilley looks on.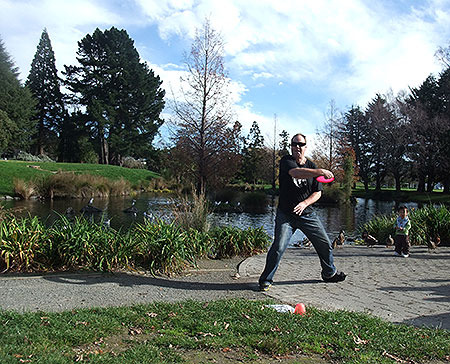 Lakeside Pride - Watched on by his coach, TD-CD is doing his best gimpersonation of a disc golfer, on Hole 16, "The Odyssey". This one lay nicely for a birdie putt. Note the styley Moonboot accessory. All the hot golfers are wearing them this year!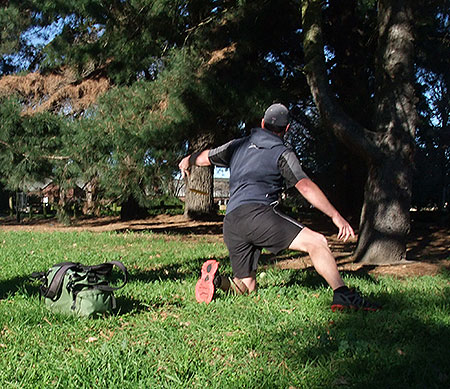 Lots to Think About - With his drive on Basket 5 hitting the low branch in the middle of the fairway, Hemi's forced to get low, and take into account the very fast nature of the pine-needle green here, and the tightening green with OB on either side, and long!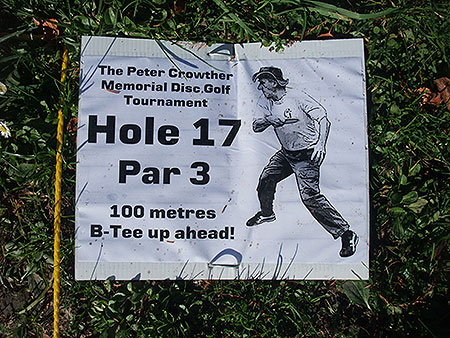 Pete - Tee off in style! All the tees were roped up, with individual tee markers featuring a video-snap of Peter in the Power Pocket. We sure do miss you Peter!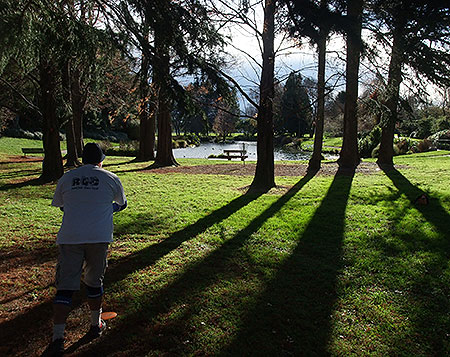 Count the Comma - Bob Rocking It; with the sun reflecting off the pond, and through the basket, Bob has a tough putt ahead of him, on Basket 3, which by rights, should be very simple, but catches many people out.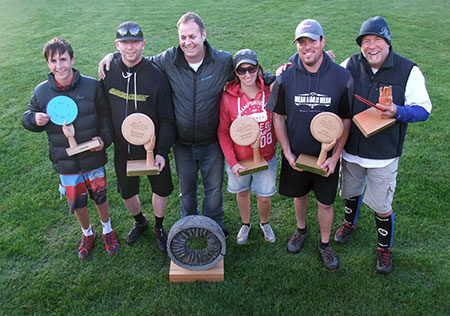 The Victors! - Ben won the Junior title, Chris Dickson the Masters, Chris Davies the massive Locals trophy, Lisa the Women's title and her husband Hemi taking his first National Tour Open victory! Well done Hemi! Bob retained the Senior Grand Masters trophy, to add to his very long list of victories over the decades.



Stein Larger - Felipe Stein, from one knee, snaps a wicked forehand recovery after his initial throw on Basket 6 "Sweet Chariot" went a little left of where he wanted. Hunter Harril (L) and James Smithells (R) as well as local man Dave Sanders (and daughter) look on in admiration.



Galley Ree - Lismore Park DGC co-creator Martin Galley slides one into the basket on Monumental, while Aaron, Akira and Jenny wait their turn.



Cart Path - Robin Lilley on the notorious Hole 6, makes his par and lets out a big sigh of relief. He only bogied this once - a great effort. Note the stools, and the scooter. The civilised way to play Disc Golf!



Over Juiced - Chris Davies puts one over the top of the basket on Saturday morning's Basket 12, "Leftie Heaven". There's a creek just 2.5 metres behind the basket. Chris Dickson's great drive is visible in the foreground.



GM - Bob eyes up the line on 128-metre, Basket #2 of the Super Six. From L to R; Hemi, Akira, Chris Dickson, Bob, Martin, Hazen, Ben, Chris Davies and Robin.

back to top
The Results for 2014 Christchurch Disc Golf Championships
Jellie Park Christchurch 24th/25th May 2014
| | | | | | | | | | |
| --- | --- | --- | --- | --- | --- | --- | --- | --- | --- |
| | First name | Last name | Division. | Rnd.1 | Rnd.2 | Rnd.3 | Rnd.4 | Total | Div Place |
| 1 | Hemi | Te Awhitu | o | 52 | 58 | 60 | 22 | 192 | 1 |
| 2 | Chris | Dickson | m | 61 | 55 | 58 | 23 | 197 | 1 |
| 3 | Bob | Gentil | sgm | 55 | 61 | 53 | 29 | 198 | 1 |
| 4 | Hazen | Simson | o | 53 | 63 | 57 | 26 | 199 | 2 |
| 5 | Ben | Wiel-Lake | j | 58 | 57 | 66 | 24 | 205 | 1 |
| 6 | Chris | Davies | m | 58 | 62 | 61 | 26 | 207 | 2 |
| 7 | Felipe | Stein | m | 59 | 60 | 64 | | 183 | 3 |
| 8 | Eran | Blumenthal | m | 54 | 65 | 68 | | 187 | 4 |
| 9 | Aaron | Miers | o | 59 | 65 | 64 | | 188 | 3 |
| 10 | Akira | Kuroe | m | 60 | 66 | 62 | | 188 | 5 |
| 11 | Robin | Lilley | o | 57 | 67 | 65 | | 189 | 4 |
| 12 | Lisa | Te Awhitu | w | 66 | 66 | 69 | | 201 | 1 |
| 13 | Martin | Galley | m | 67 | 67 | 68 | | 202 | 6 |
| 14 | Emma | McIntosh | w | 64 | 71 | 70 | | 205 | 2 |
| 15 | Hunter | Harril | o | 69 | 70 | 66 | | 205 | 5 |
| 16 | James | Smithells | sgm | 64 | 70 | 74 | | 208 | 2 |
| 17 | Jenny | Joynt | wgm | 70 | 74 | 70 | | 214 | 1 |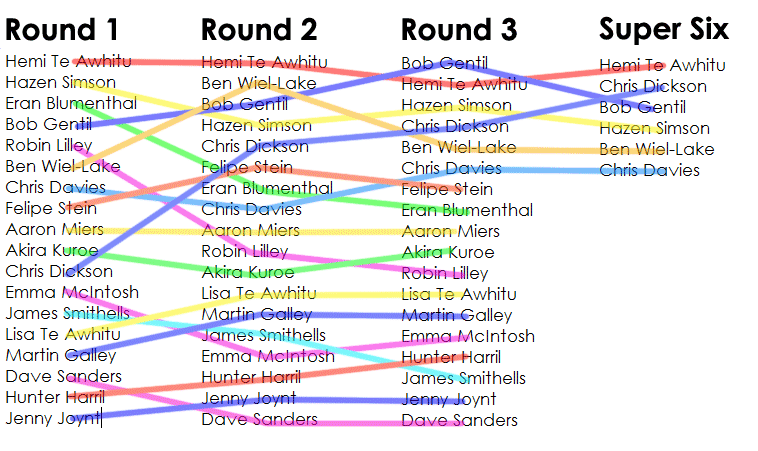 The End