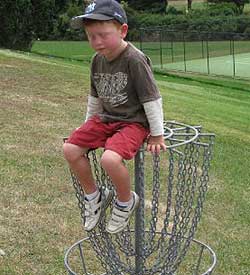 January 16 & 17 Onetangi Sports Park Waiheke Island
20 players young and old attended the opening event of the 2010 New Zealand Disc Golf Tour out on Waiheke Island in the beautiful Hauraki Gulf in blistering hot conditions.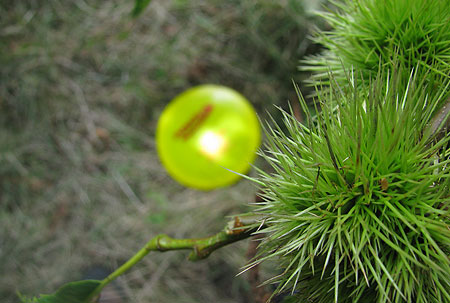 Rotorua Scion Tree Nursery course Feby 5 - 7 2010
Touches of consistency, touches of brilliance. That's what was needed for Taumarunui top seed Blair Joines to become the 2010 New Zealand Championship, held on yet another uniquely Kiwi disc golf course.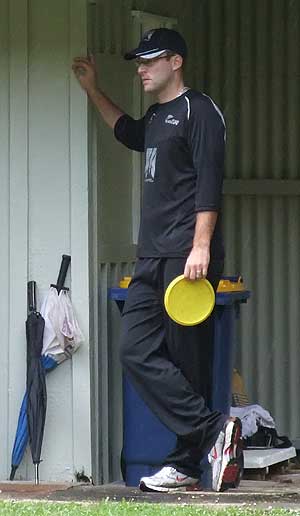 Daniel Vettori and the lads visit Bella Rakha to play Frisbee Golf
The Black Caps started their 2010 season off with a day of Disc Golf fun at Simon Feasey's beautiful Bella Rakha course in Auckland's Waitakere Ranges. Hosted by new Black Cap sponsors HRV, players got a taste of the challenges and skills required for 'frisbee golf'.
discgolf.co.nz reporter Howie Zatt was there and captured the fun and action.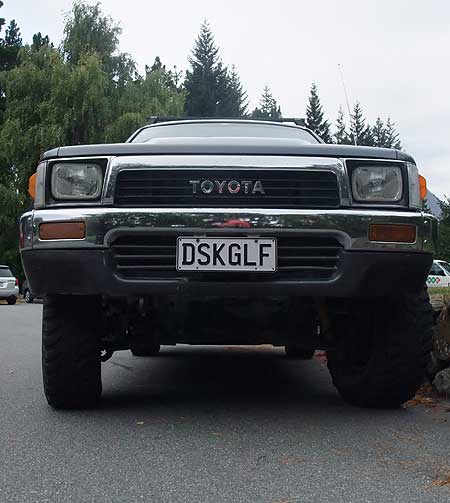 Queenstown Gardens & Paradise DG Course - Mar 13 & 14 2010
Another amazing weekend in the Wakatipu Basin with a record number of players for the 15th annual 'Classic' and the 12th 'Paradise Plates' events.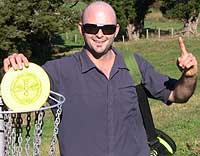 The Hill, Taumarunui - Apr 17 & 18 2010
Why is this man smiling?
To find out and to read a report on the 2010 Lost Tribe event from a first time contributor.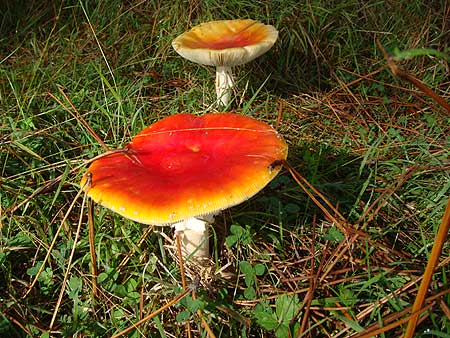 McLaren Falls Park, Tauranga - May 1 & 2 2010.
There is something pleasing to the eye when a collection of deciduous trees readies for winter in a park bejewelled with lakes and vistas.  The leaves transform from their verdant normality to blazing showpieces duelling with the sunset.  And so McLaren Falls Park is a particularly pretty place to gather for an Autumnal disc golf tourney.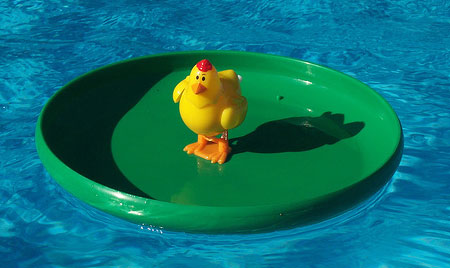 One Tree Hill, Auckland - Jun 12 & 13 2010
This mid-winter tournament can feature the many styles of weather that Auckland can offer. And boy oh boy did it deliver with some of the country's top players pulling out after scoring 12+ on one windy hole! A hole in which the eventual winner scored a 15, yes FIFTEEN!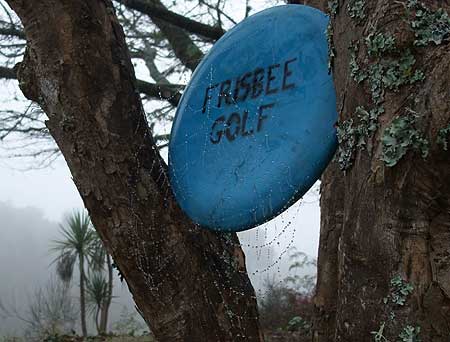 Spa Park, Taupo, New Zealand July 3 & 4 2010.
A mid-winter tournament in the Central North Island always has the possibility of some tough play, but there is no better venue than the beautiful gentle rolling fairways of Taupo's Spa Park. And the weather played ball this year!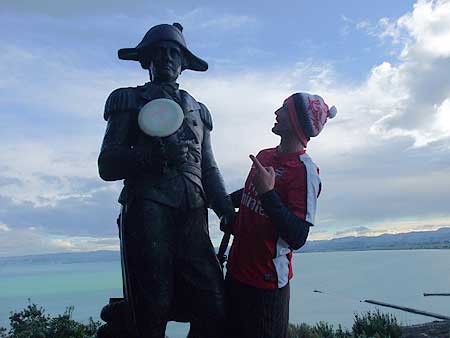 Alfred Cox Park, Gisborne - Aug 7 & 8 2010.
Located at the northern end of Poverty Bay, Gisborne is yet another of New Zealand's gem locations - for living, visiting and of course for disc golf!
This fact was proven with a great First Light tournament in August of 2010. Our intrepid reporter Bob G headed down early to provide some support to the locals in growing the sport there, to play the tournament, take some pics and to write a few words.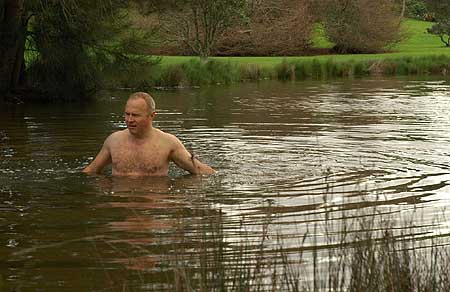 Onepoto Domain - Sep 11 & 12 2010.
A little wet under foot would be an understatement but no-one complained as 30 Disc Golfers took on the Onepoto Lakes course and the condies.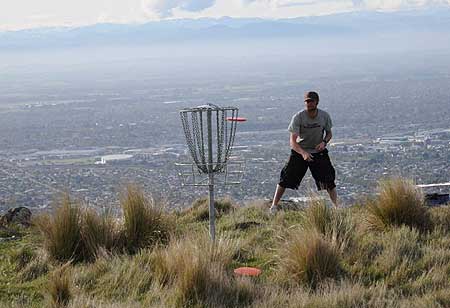 Port Hills, Christchurch - Oct 23 & 24 2010
The 3rd Christchurch Fling came after the city has been shuddering with the September earthquakes and many after shocks. Super golfer Simon Feasey didn't help things by shaking things up with yet another opposition shattering performance.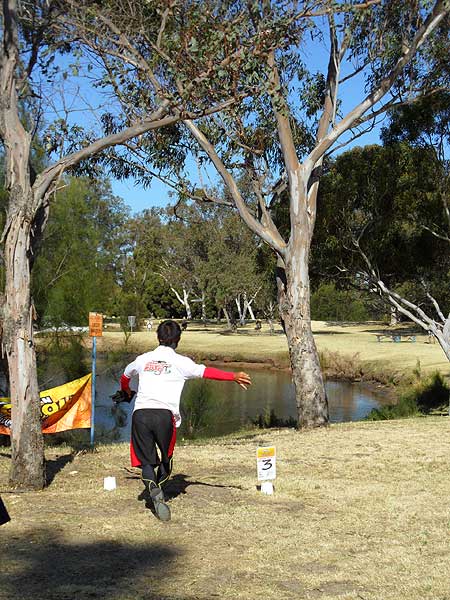 Perth, Australia - Oct 22 - 24 2010.
Over the long Labour weekend a contingent of New Zealand Disc Golfers headed across the Tasman and the Nullarbor to Western Australia where the Perth Disc Golf Club hosted the 2010 Australian Championships. Along with the Oz Champs the ANZAC Cup was on the line as well.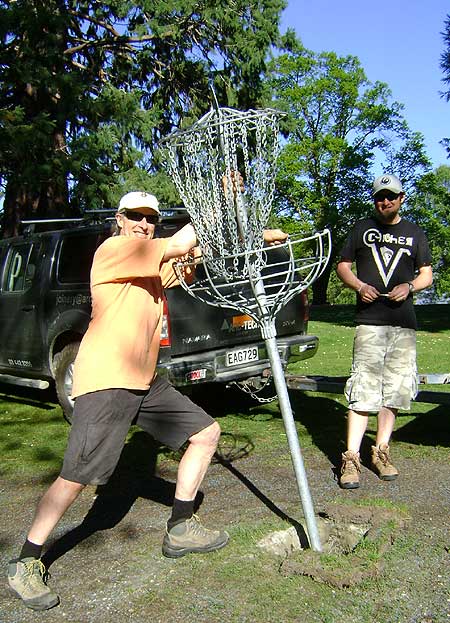 NZDG makes it 18 baskets for Queenstown Gardens
Thirty years on and the dream become reality
Originally set up in the early 80's the Queenstown Gardens Disc Golf Course was like most courses around the country, an 'object' course.
But after James Smithells shifted to the area in the mid 90's the disc catcher baskets started to appear.
Gentil Sport was proud to donate the first one which was one of the early NZ prototypes and from there slowly but surely as funding became available more and more have been added.
And now with New Zealand Disc Golf coming to the party the Queenstown Gardens course finally has 18 permanent baskets!
A big well done to James and his troopers, we all look forward to playing a round at The Gardens.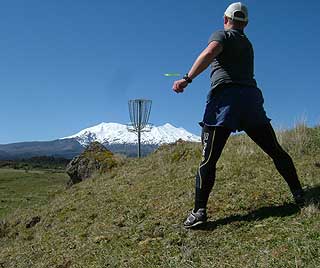 Discovery Lodge. State Highway 47 National Park. Nov 6 & 7 2010
When the weather is half decent this has to be one of the most spectacular places in the country to play Disc Golf. Always good to bring your gumboots as back-up to your golf shoes though as did the winner by 7 strokes the ever-on-fire Simon Feasey.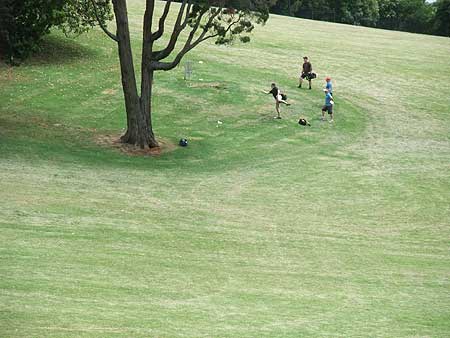 Monte Cecilia Park, Hillsborough, Auckland - Dec 4 & 5 2010.
It's the end of another year of the NZDG Tour and the top 16 points earners along with the Top Woman finishers are invited to compete in this prestigious event.