add to facebook

January 14/15 2012 - best ever
Wet under foot but great weather and a great time!


A great weekend!
This was the second of the annual National Tour events at Rotorua's Scion Tree Nursery course.
Click here for all the pics and results from the inaugural 2011 tournament.
This report in from our intrepid Central reporter Tab Llyod.
WHEN IN VEGAS!
With the summer holidays resembling monsoon season, it was a hardy group of brave souls that ventured into the first NZFDA tour event of 2012 in Rota "Vegas". With such an amazing introduction to the tour last year there were plenty of players ready for another rumble in the jungle!
The dynamic duo of Juan Unda and Marty de Haas arrived early on Friday to be confronted with the course looking more like the Polynesian spa pools that a Discgolf course. After some quick thinking, mountain bike scouting and ignorance of many a well intentioned snippet of advice, the Tournament Director had little option but to alter the course just to make it playable. So thankfully with some new terrain being unlocked due to the removal of some fences/ blackberry the trusty brain trust managed to get the course to be just as daunting as last year.
With the arrival of familiar faces on the course and the banter being at it's impeccable best, the word must have got out about how great this tournament is as it managed to lure in four touring international disc golfers. Matthew Scott, Dan Watson, Nick Harrel all from the U.S.A and the Famous Forearm of Martin "MOE" Dorkin returning from Germany visiting New Zealand shores to partake in the opening tour event of 2012. Not to forget a notable mention for severe commitment from Riki Elston for driving up from Levin after midnight!
With the players paired up into their groups for the first round most eyes were on the two top seeds from both divisions. The return of Simon Feasey going up against defending champion Dean Marshall, and could Ming "Kaching" Menzies avenge her loss last year to defending champion Karoline Jonsson. With testing conditions underfoot and a tough course the players got to jump straight in the deep end.  Sprinting out the blocks early was Jackson Sullivan with a birdie on his first hole while defending champion Dean Marshall looked on. Jackson started the year as he intends to carry on shooting an impressive 56 winning his group, while Marshall was finding the going a little tougher bringing home a 58 and only just holding off another powerful up and comer in Brad Muir hot on his heels producing a 59.  The lost tribe team of Blair Joines and Sir Peter Boyle bought in a solid 57/ 59 repsectively to put themselves firmly in the running and leading the Masters and Grand Masters divisions. Meanwhile the toughness of the course didn't bother international Matt Scott shooting an impressive sub-par round of 56 to place himself in the top group.  However it would yet again be a case of catching The Fease who was leading the field after the first round  with 53 just ahead of leftie David Keene right on his heels with a 54.
The afternoon round saw most of the top 6 improve on their first round and continue to fight for the title. Simon Feasey produced something special, putting on a Disc Golf display shooting a -9 under 48. This despite shooting a double bogie on his first hole, and to then follow it up with a bogie on the very next hole the players in the top group thought maybe he is human after all. For the matter of one hole Feasey surrendered the lead to 'Speedo' Keene. However after taking a moment between holes you could see the switch being turned on, and his drive on the difficult hole 3 put him a mere 5 meters away with a gimmie putt for a rare birdie on that hole to take a two shot swing and back into the lead.   The front nine saw him card a solid 27but it was the back nine where he taught the rest of the field how to play on this challenging course. Producing 3 birdies in the first three holes on the back nine he decided to save his best till last stepping up to the tee on 18 after moments ago joking about an Ace.
In Babe Ruth like fashion he drove through his Excalibur getting it to fade out the right before locking on and following the tree line down the tight alleyway all the way into the basket smashing nothing but chains for an amazing 110 meter Ace. This saw Feasey producing a 21 on the back nine holes to card a course record 48.  This gave him a comfortable 10 shot lead over American Matt Scott while David Keene was stranded two shots behind on 113 after shooting a 59. 
The battle for the masters was heating up with Dean Marshall fighting back to a share of the lead in the masters division with Blair Joines both locked on 115 and the legend Pete Boyle had taking a stranglehold over the Grand Masters division on 116. Saturday night saw the last supper at the fantastic Redwoods Holiday Park for it's discgolf community - due to be demolished over the coming months.
With the sun shining on beautiful Sunday morning the brave returned to go one more time around. Most players were hoping to get one back on the course and produce a personal best while de Haas just figured he would go riding and Tauranga's Brendan Love opted for the Sunday sleep in and beach with the kids.
The real banter was coming in from the Levin lads and who would take out the bragging rights for the tournament. With AB, Shano and Lawton only having 2 shots between them at the start of the round there was everything to play for. After another 18 holes there was only 2 shots difference between the three Levinites. It was Lawton taking bragging rights into the Nationals at Spa Park, Taupo with AB & Shane Sullivan both finishing 2 shots behind on 189.
In the Womans division Ming Menzies managed to hold off Karoline with a fine performance their wonderful contest set to resume at the Nationals as well with more competition in the likes of Levin's Gemma Sullivan set to make the woman's race a major talking point.
There was no change to the placing in the top 6 after the final 18 holes with the status quo being in effect heading into the Super 6 while The Flexable Forearm of Martin "Moe" Dorkin was agonising close to the top 6 and finished a sold 7th place.
The Super Six
With Simon Feasey having one hand on the title most watched on just wanting to know how he makes it look so simple while interest turned to the minor placing's for many. David Speedo Keene was attempting to hunt down the international flair of Matthew Scott who was three shots ahead and sinking putts from everywhere.
Also yet to be decided was who would be having the winning drink from the masters trophy between Blair Joines and Dean Marshall. While the ever youthful Pete Boyle combined to make up the Top 6.  As far as top 6 playoff goes this had a lot of intriguing battles going on, with a series of two shot swings across the board which saw Blair Joines get the jump on Dean only to have his drive on hole 17 fade five metes too early landing him in a tree ("nice TD toss off to decide the 2 metre penalty Juan, grrrr!") which handed the lead back to Marshall for which he didn't relinquish to take out the Masters title for 2012 by one shot.
Meanwhile the battle for second was also down to the wire. With Speedo looking like he 'left' his run too late hitting a bogie on the second of the super 6 holes giving the American Scott a 4 shot buffer. That was until he stepped up and sunk solid 25 meter putt on the par 4 hole 5 to create a two shot swing and then backed it up with a birdie on hole 18 leaving Keene a tough task of needing to find another shot on hole number one to catch the international.  Being first off the tee he gave himself every opportunity Scott put his drive into the trees. A superb upshot by Scott looked to have secured outright second but a rare missed putt allowed Keene to share joint second an pick up valuable early tour points.
All this was happening behind a superb display from the overall winner Simon Feasy who made it all look too easy, especially when you consider his Doctor told him not to play due to a bad back (one wonders is there no way of stopping this man) shooting an 18 in the super 6 to win by a massive 12 shots over Keene and Scott, who both still managed to finish under par for the tournament.
Marshall managed to pip Blair Joines for the Masters title and fourth place overall, Pete Boyle rounded out the 6 with one of the quotes of the tournament being " I can't throw properly unless my bag's on my back ", while also winning the Grand Masters division in a canter.
An amazing weekend had by all and some amazing stories to be told along with some amazing shots. Congratulations too all the winners of their divisions: Toby Gentil (Junior) Simon Feasey (Open & Overall ) Ming Menzies (Womans) Dean Marshall ( Masters) Peter Boyle (Grand Masters), Nigel Barnwell (Senior Grand Masters). 
Also a special word up to our overseas players and of course to the tequila swilling Mexican and tournament director Juan Unda.
Story by
Tab Lloyd


'There may be some water on the course' - Very thankful for a sunny morning, TD Juan Unda (San Juan de los Lagos) informs the field of the obvious (note de V Haas poised to complain - ed.).



Which One is Daisy? - With the calm weather after much rainfall, the grass was making the most of it as well as these seasoned golfers.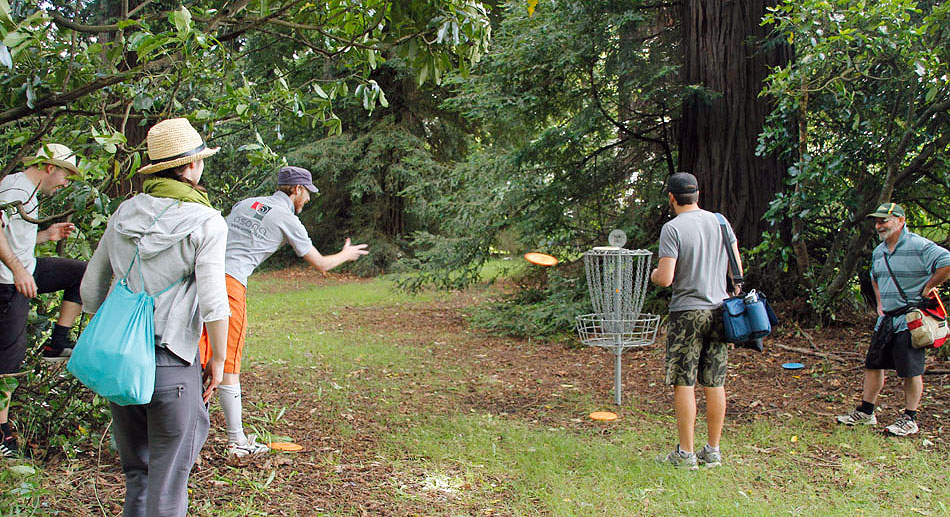 Sponge Nick Orange Pants - If you see Nick McKay (Auckland) on the scorecard, you can bet you'll see those trademark shorts and socks!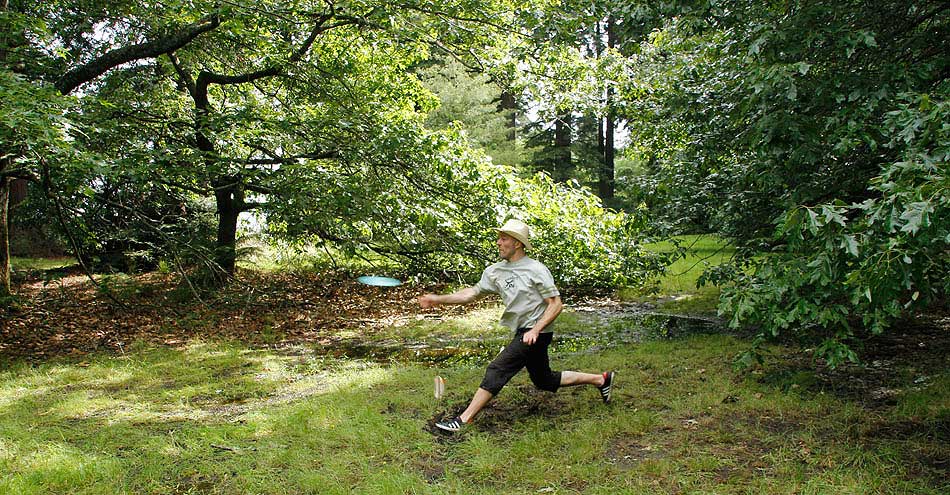 The Tintin of Disc Golf - The ex-Ultimate forearm style of German disc golfer Martin 'Moe' Dörken (Berlin, Germany) is a sight to see on the golf course. Super steady, deadly accurate.



Scott Skills - Surrounded on all sides by Kiwi native (and some rather large California pines), Matt Scott (Santa Cruz, USA) completes hole 9.


Welcome Back Moe! - Visiting German disc golfer Martin 'Moe' Dörken (Berlin, Germany) had such a good time visiting the New Zealand Disc Golf scene in 2010 that he is back for more. Welcome back Moe!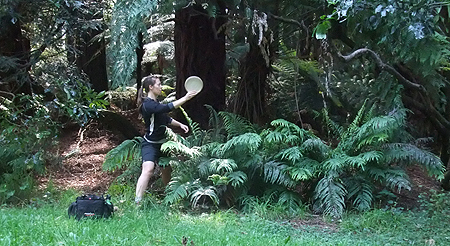 Taking the Karo Line - Top disc golfers need all the shots to get around the tricky Rotorua course. Here Karoline Jonsson (Papamoa, Sweden) eyes up a left curving roller to make it to the green on hole 9.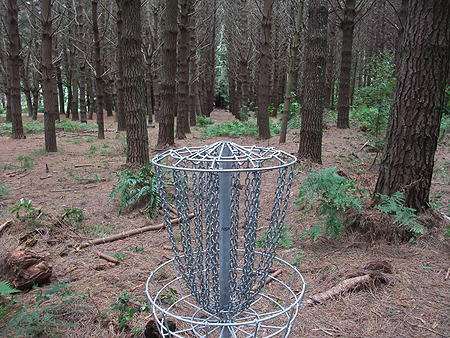 Straight Golf 1 - Hole 10 (hole 11 on the normal course) features the challenge of throwing your disc rather straight - no other option really.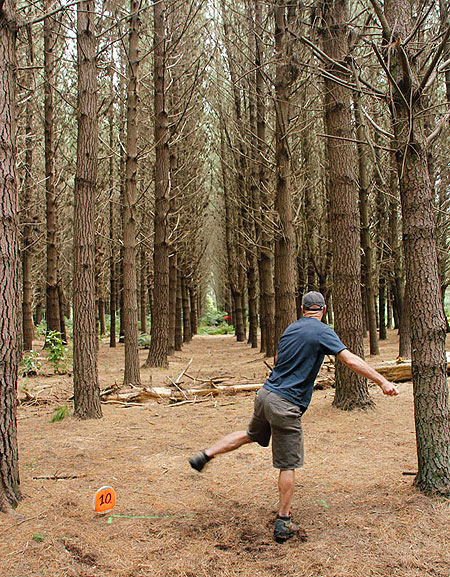 Straight Golf 2 - And here is Hole 10 from behind the tee with Juan Unda (Puerto Vailarta) showing how it is done.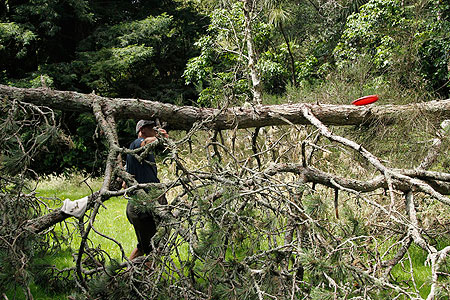 Jagged Hazard - The long narrow fairway of hole 10 was made all the more challenging with a tree coming down over the preceeding week.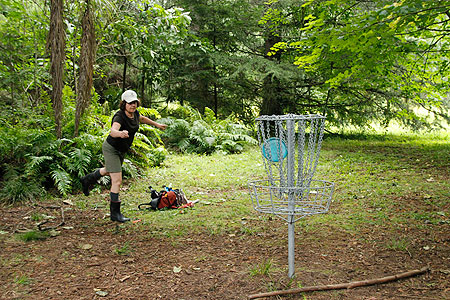 Kaching Ming - Womens Champ Ming 'Kaching' Menzies (Tauranga) was slotting some impressive putts on the way to her victory.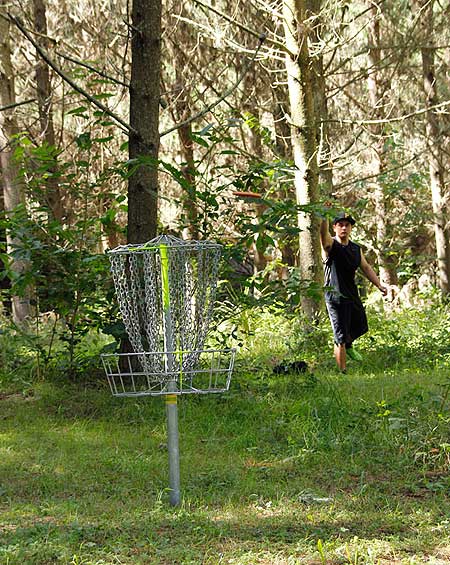 Easy as AB, See - Levin golfer Abe Hartley putts on hole 4 which was inserted into the course just for this tournament due to flooding in the central part of the park.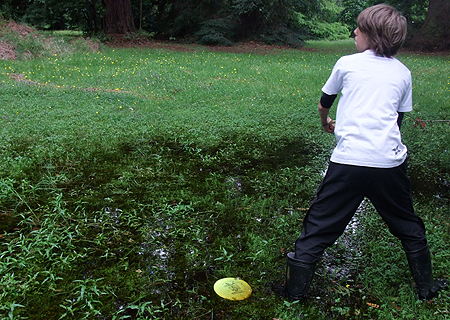 Dunlop Dude - The weather of the preceeding 19 days ensured golfers were prepared for the worst. Fortunately Junior Toby Gentil (Kauri Point) only needed gumboots as the 2 days of golf were played in calm conditions with virtually no rain - thank you Golfing Gods!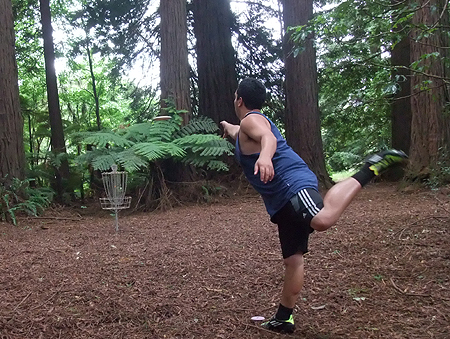 Balancing Act - One of the skilled Levinites Lawton Williams (Levin) shows how it is done with a well balanced putt amounst the ferns and native bush of hole 9.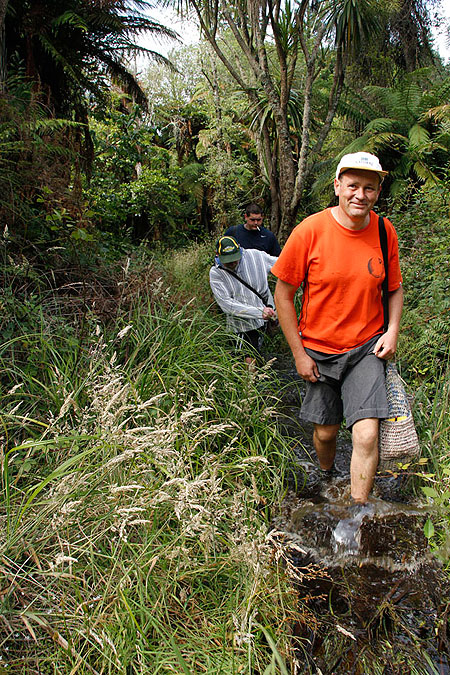 Splish Splash - Some golfers preferred the direct route between the traditional holes 4 and 6 (hole 5 was not used due to...water).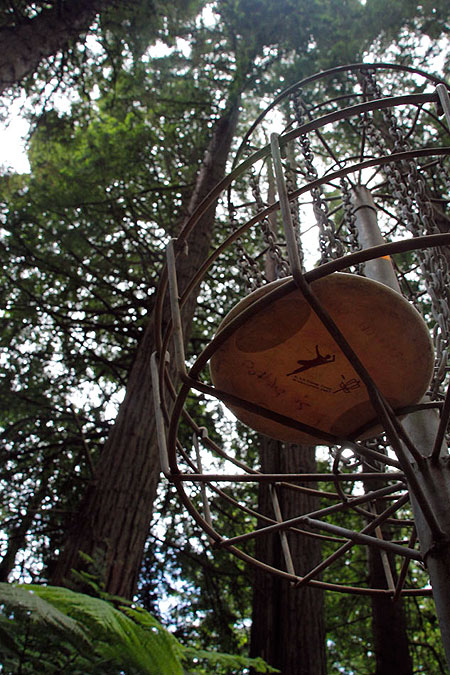 Nature Meets Golf - The towering Redwood Pines are just one of the natural wonders of the Scion Tree Nursery course.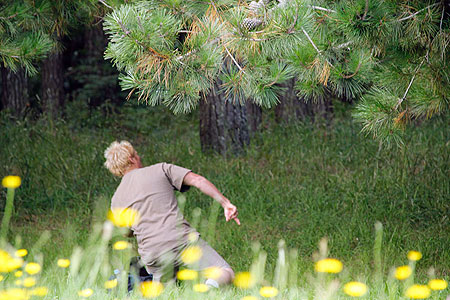 Off Road Leftie - Day One competitor Martin de Haas (Mangakeikei) preferred to play much of his game on his knees.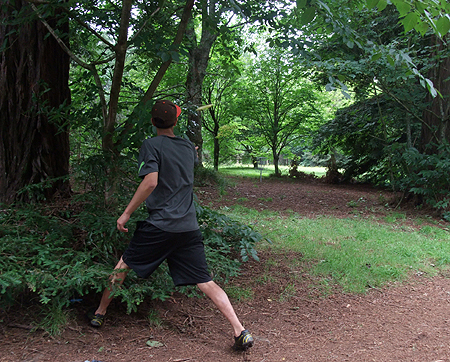 Don't Lose that Number - Levin athlete Riki Elston had a round of 2 halves Saturday afternoon, going from a tough 41 on the front nine to a match winning 26 for the second round. Wow.



Little Legend - Like his Dad, Junior champ Toby Gentil (Kauri Point) is building quite a collection of disc golfing trophies with a wide range of shots and styles in his skill set.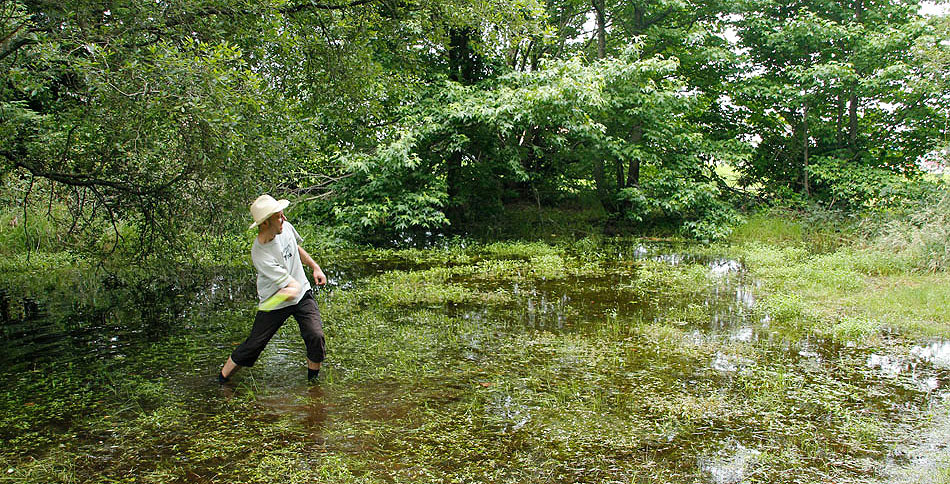 Hardly a Ripple - Visiting German disc golfer Martin 'Moe' Dörken (Berlin, Germany) doesn't mind a bit of ground water, having just arrived from the European winter.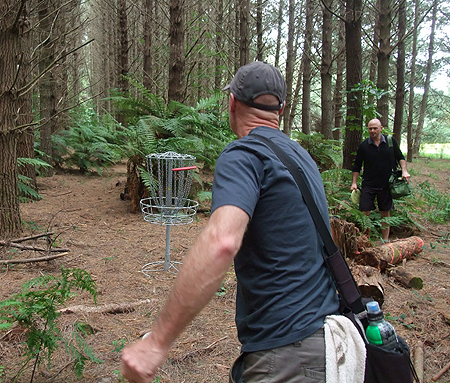 I Wanna Be Like Pete - Mexican TD Juan Unda (Guadalajara) putts Boyle style with bag on shoulder. He couldn't match Pete's scores though!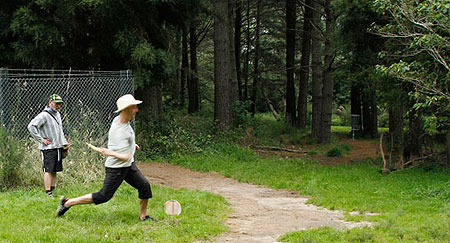 Quesy? Look Away - A graphic display of what stresses the arm goes through when you are a mighty forearm driver as Martin 'Moe' Dörken (Berlin, Germany) heaves one off on the longest hole.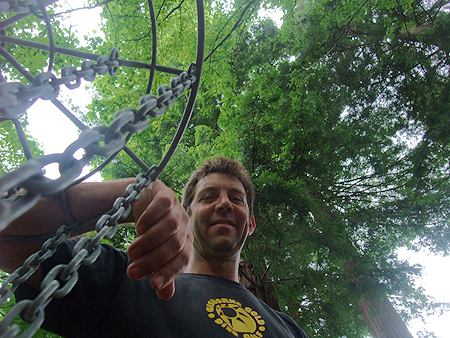 Happy Golfer - Course designer, Ace Kitty winner and overall champion Simon Feasey (Oratia) rated his weekend of golfing as one of the best.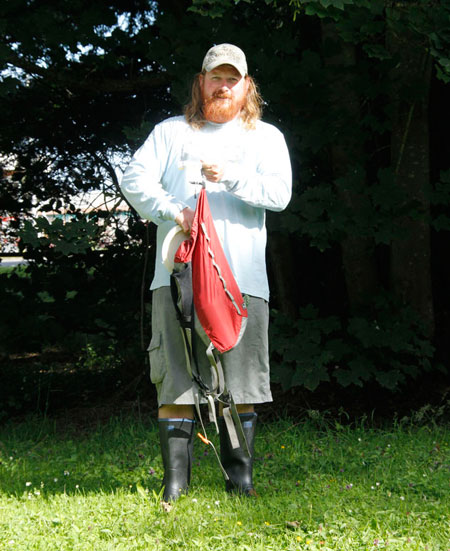 Texan Trooper - Visiting American and Tony Stewart fan Nick Harrel (Texas, USA) made a lot of new friends over the weekend and is looking forward to catching up with many of them as he travels the rest of New Zealand during his holiday.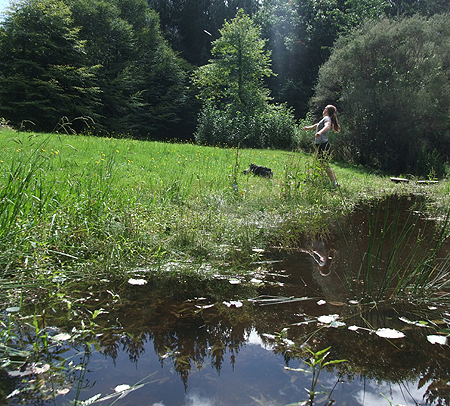 Upon Reflection - Back from a tour of her homeland Sweden, Karoline Jonsson (Papamoa) fires a high accurate forehand lob to drop onto the green on the long 13th.



Marshall Law - In classic step through style defending champion Dean Marshall (Tauranga) lets rip in the Super Six play.



The Ace Hole - When you consider the people in this shot are not even back at the tee, it is hard to believe that anyone could ace the 18th. But then up stepped Simon Feasey. Hole in One!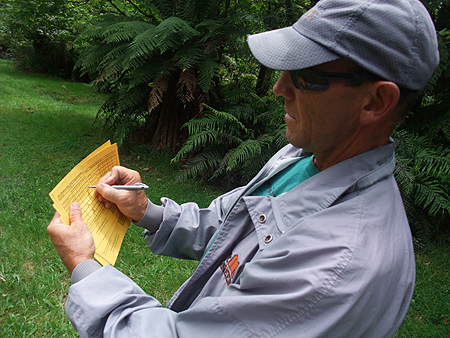 Cairnes Caddy - Visiting Canadian golfer currently residing in across the ditch Dan Watson (Cairnes, Australia) volunteered to keep the scores for the final Super Six which saw some interesting positional changes.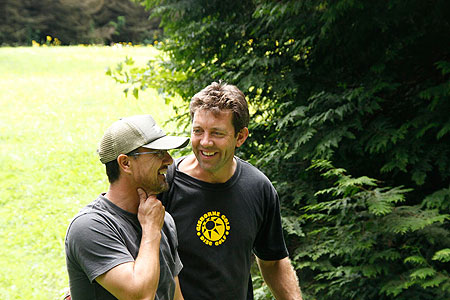 Champs - The two Rotorua champs so far Dean Marshall (2011) and Simon Feasey (2012) share a laugh during the Super Six.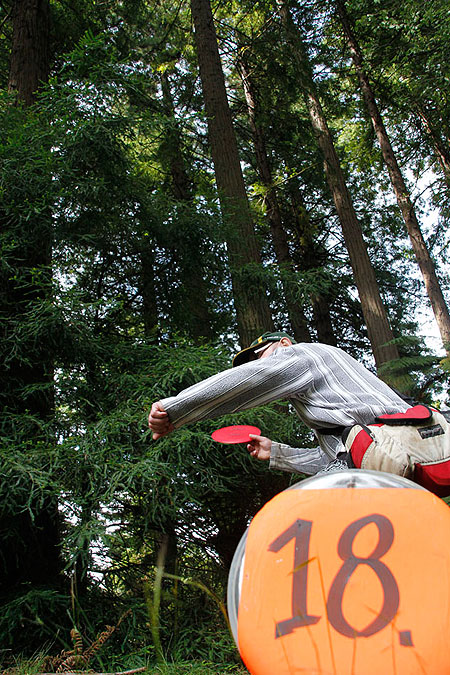 Tower of Power 1 - The mighty Redwoods are something else. And so is Taumarunui Disc Golfing King Pete Boyle.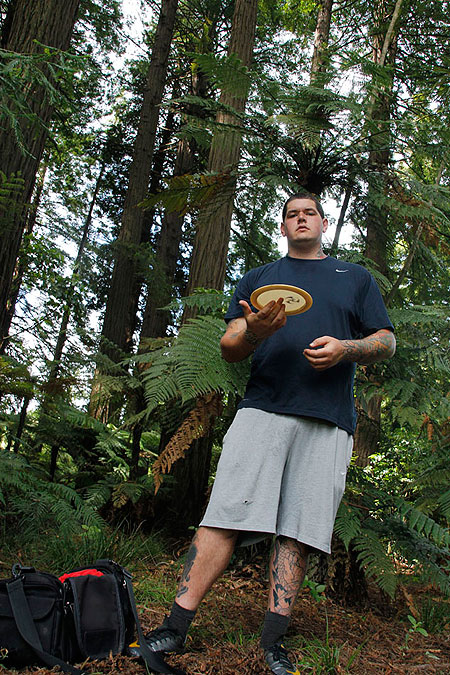 Tower of Power 2 - One of Levin's finest Jackson 'Jacko' Sullivan can tear it up with the best, regularly making the Super Six on the tour.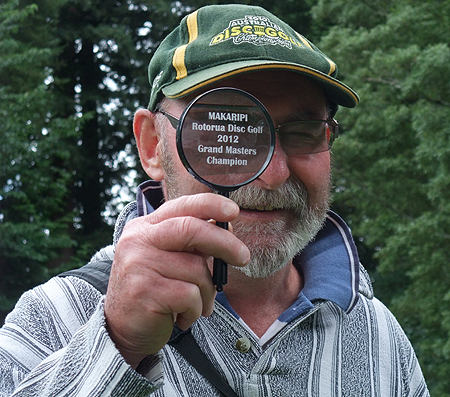 Now I Can Read the Scorecard - Grand Masters champ Pete Boyle (Taumarunui) sees the practical use of his covetted trophy.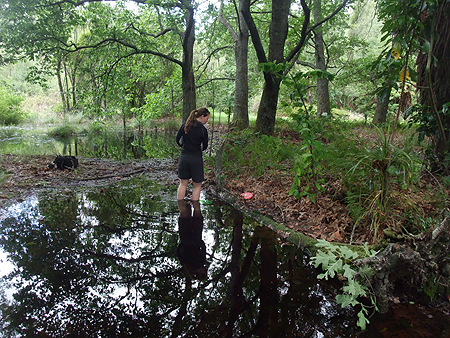 Final Dip - Karoline Jonsson (Papamoa) managed to avoid getting her feet wet until her final - yes final - throw of the first round when she found herself left of the pin on the 7th green. That's what you could call a bunker. Yikes!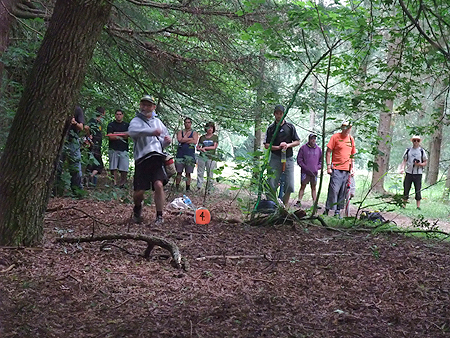 Coming at Ya - Super Six time and bag toting warrior Pete Boyle (Taumarunui) lets cameraman Len Skap know he's not quite out of shot.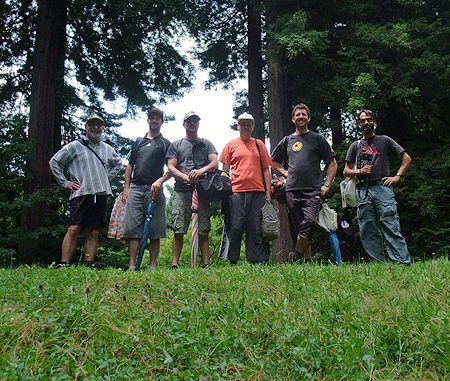 The Best - Super Six golfers from left: Pete Boyle (Taumarunui), Dave 'Speedo' Keene (Auckland), Dean 'Pente' Marshall (Tauranga), Blair Joines (Taumarunui), Simon Feasey (Oratia) and Matt Scott (Santa Cruz, USA) prepare to do final battle over six of the course's holes.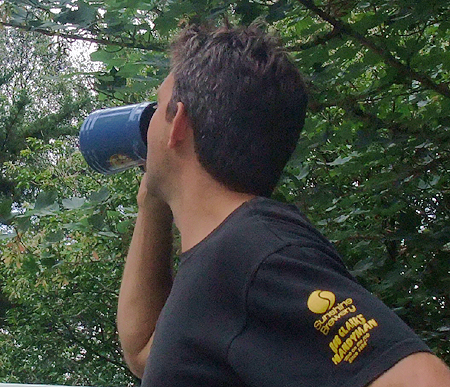 Sweet Taste of Victory - Enjoying his first cold beer from the unique Open Men's trophy - Simon Feasey.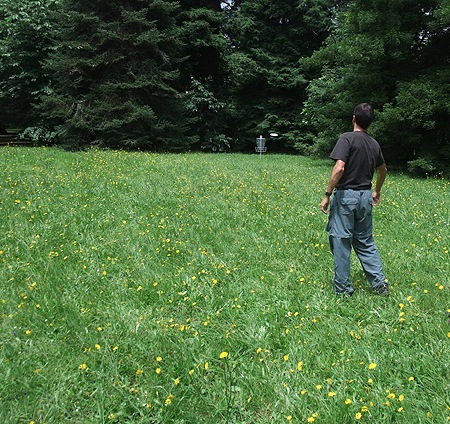 Grassy Greens - Visiting American Matt Scott (Santa Cruz, USA) showed great putting style to be the closest to The Fease in regular play, shooting [scores here].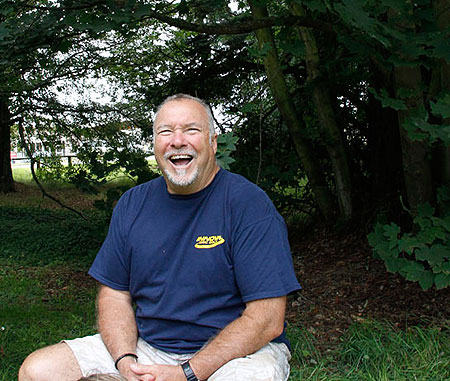 Any Round is a Good Round - Happy to be playing the Rotorua course again is the Grand Master himself Bob Gentil (Kauri Point, Auckland) who has put his hand up yet again to run the New Zealand Nationals, this time on the stunning Spa Park course in Taupo.



Round the Outside - Leftie Dave 'Speedo' Keene (Auckland) required a forehand to complete the curve around the dogleg on the Super Six playing of hole 5.



Hard Work Done - The gallery were treated to the excellent form that champion Simon Feasey (Bella Rakha) displayed all weekend with this easy putt for two on 2 - a hole that saw many 4's and 5's!!! What a drive!



Escape - Even when stuck in the bush, champion Simon Feasey was on fire, holing this shot on the Super Six 4th from a seemingly impossible position.

| | | | | | | | | |
| --- | --- | --- | --- | --- | --- | --- | --- | --- |
| | | Div. | Round 1 | Round 2 | Round 3 | Total | Super 6 | Total |
| Feasey | Simon | O | 53 | 48 | 53 | 154 | 18 | 172 |
| Keene | David | O | 54 | 59 | 53 | 166 | 18 | 184 |
| Scott | Matthew | O | 56 | 55 | 52 | 163 | 21 | 184 |
| Marshall | Dean | M | 58 | 57 | 56 | 171 | 20 | 191 |
| Joines | Blair | M | 57 | 58 | 56 | 171 | 21 | 192 |
| Boyle | Pete | GM | 59 | 57 | 57 | 173 | 21 | 194 |
| Doerken | Martin | M | 58 | 58 | 60 | 176 | | |
| Sullivan | Jackson | O | 56 | 60 | 62 | 178 | | |
| Muir | Brad | O | 59 | 62 | 58 | 179 | | |
| Taylor | Andrew | O | 60 | 61 | 61 | 182 | | |
| Gentil | Bob | GM | 63 | 60 | 62 | 185 | | |
| Williams | Lawton | O | 65 | 61 | 61 | 187 | | |
| Watson | Dan | M | 61 | 63 | 64 | 188 | | |
| Hartley | Abraham | O | 63 | 64 | 62 | 189 | | |
| Sullivan | Shane | GM | 61 | 65 | 63 | 189 | | |
| Unda | Juan | M | 59 | 65 | 66 | 190 | | |
| Menzies | Ming | W | 62 | 65 | 63 | 190 | | |
| Jonsson | Karoline | W | 67 | 62 | 69 | 198 | | |
| MacKay | Nick | O | 70 | 69 | 64 | 203 | | |
| Elston | Riki | O | 65 | 70 | 68 | 203 | | |
| Gentil | Toby | J14 | 69 | 72 | 69 | 210 | | |
| Joynt | Jenny | W | 70 | 70 | 72 | 212 | | |
| Harrel | Nicholas | O | 77 | 72 | 68 | 217 | | |
| Love | Brendon | O | 61 | 62 | 999 | 1122 | | |
| de Haas | Marty | GM | 61 | 65 | 999 | 1125 | | |
| Harrison | Jeremy | O | 71 | 999 | 999 | 2069 | | |
| Barnwell | Nigel | SGM | 78 | 999 | 999 | 2076 | | |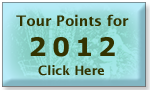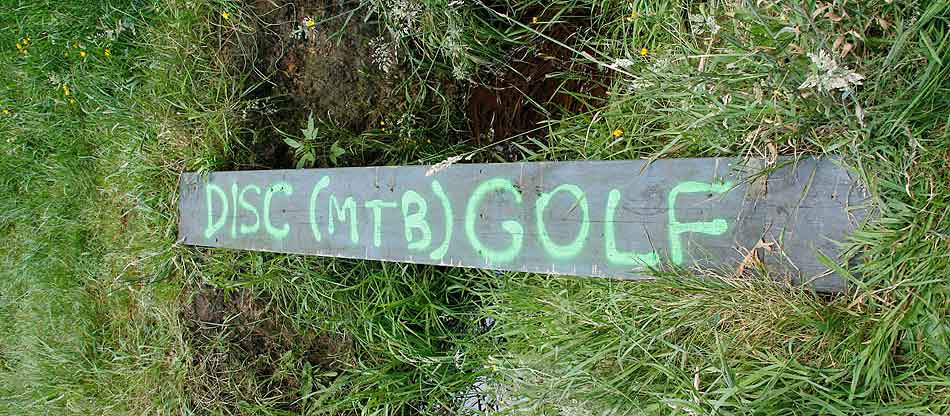 See you next time!
back to top