Hole 1 - "Underway" - 106m Par 3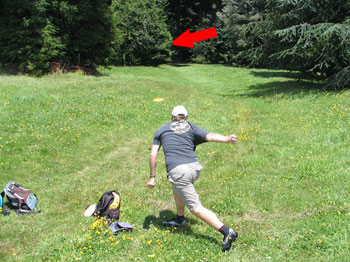 Underway - The first - a classic disc golf hole.
What a start to a round! The fairway is pretty plain to see, but it's a question of whether you can get your disc to travel the required distance before fading nicely into the shaded green. Fail on this count and you are soon struggling for par...
Hole 2 - "Leftez Luv It" - 104m Par 4

Shank Baby, Shank! - Scoobie Doo makes it look easy, but puts everything into forcing his disc right from the tee.->->->

The name of the second hole - 'Leftez Luv It' - is a precursor to what is to come. Doglegs that curve to the right, tree placements that reward the physical handicap of being left handed. From the tee at the second, you must choose a channel between the mighty trees and then curve around to the right to face the green. Not a long distance for a par 4, but once you have experienced the amount of nasty bush that you can land in, you will appreciate having 4 shots to try and get the par.
Hard Worker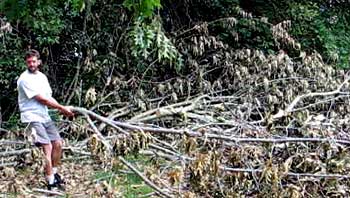 Hard Worker - After the great work in getting this course approved by Scott Caesar, Simon Feasey poured much effort into design and then spent a whole day marking it out solo. His efforts continue...so much so that he cannot even find time to shave!
Hole 3 - "Easy With an F" - 101m Par 4

Made It! - If you have the above view after 1 or 2 shots, then you would have to be pleased. The targets are currently taped poles - you must hit the tape or above. Simon Feasey surprised all (right) by choosing the high line from the tee. Sure enough, he had spied a path for his precise 'S-bend' throw that almost made it all the way to the tee.

As you stand at the third tee, you can be excused for thinking 'How a I ever gonna get my disc there?!'. Never fear, there is a way and you have 4 shots to get there. The current thinking is a low shank, resulting in an 'S' bend arc. We've seen it work - but admittedly that was after 6 attempts that ended in disaster!
Hole 4 - "Styley Freaky" - 120m Par 4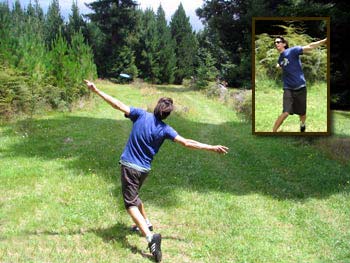 Fly My Pretty - Scoobie Doo does all he can to to curve to the right and set himself up for a birdie on the second par 4 of the course.
Hole 4 - Styley Freaky - seems like everything is in reverse. This dog leg par 4 is a classic case of trying to place your shot twice to set up for the birdie. But, as you will find with the Redwood Revenge Disc Golf Course, there are plenty of mature trees to jump out at you at force the par recovery.
Hole 5 - "Bomb It" - 71m Par 3


Check out our Freaky Styley pan shot as Scoobie Doo sets off his bomb towards the target that, like him, is around the bend!
CLICK HERE FOR A HIGH RESOLUTION VERSION OF THIS PIC
This is one you want to birdie. But get it wrong and you are trying to recover from some tough scrub. At 71 metres, hole 5 is the third shortest on the course. Named Bomb It because there is little choice but to hurl your disc high and predict the distance to the fade as it drops (hopefully) onto the green for a birdie attempt. If you're a leftie, its a completely different story - ha ha ha!
Hole 6 - "Framed" - 90m Par 3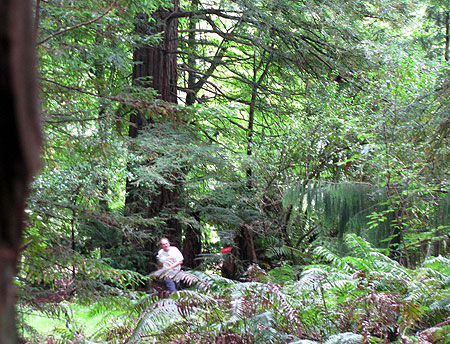 Blair Joines the Revolution - 2010 National Champion (on this very course!) Blair Joines is drawfed by the mighty Redwoods on the majestic (and nicely shaded) 6th tee..
You can see the target nicely 'framed' through a corridor of palms and natives. Drive with control and you should be able to land in the clear. Beware - its not that easy and the target is further away than it looks. A par here can be considered a very good result.
Hole 7 - "Where's Spanky?" - 92m Par 3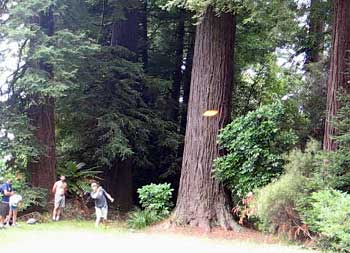 Nigel 'Waiheke' Hailstone tries one of his trademark forehands in an attempt to circumvent the fairway bunkers (read: trees) on the 7th fairway for a decent attempt at the target.
By this stage, most golfers are wondering 'Where's Spanky?' - that lunatic mountainbiking legend that has been known to throw a disc more than often is bound not to show up as he embarks on his out-of-the-closet moto career.
At 92 metres, the 7th rewards a good drive with the remote opportunity of a birdie. But realistically, like many of the Redwood Revenge holes, a par is a good result.
Hole 8 - "Total Blank" - 63m Par 3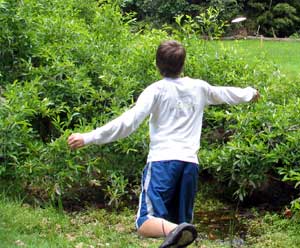 Swamp Hop - American youngster Enoch Gawain is improves every time we see him - it's only a matter of time before he starts beating us all!. Here he has dropped short of the tricky little swamp on hole 8 so he can chip in and record a nice par 3.
There are all sorts of theories why this hole is called 'Total Blank' - suffice to say leftie Marty de Haas was involved and one look at his dumbfounded face tells the story. Whilst shortish, the eighth has its own unique challenge in that there is a little nasty swamp just before the green at about the 50 metre mark. And, due to the stunning overhanging foliage of the trees, one cannot bomb in from the tee, but has to choose a delicately judged drive that brings the swamp into play every time. Good luck!
Hole 9 - "The Sleepless Grove" - 80m Par 3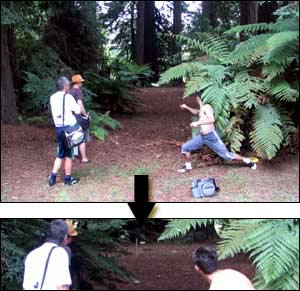 Yoga Comes In Handy - 4 time National Champ and course designer Simon Feasey shows mastery recovery on hole 9 to hit the post from over 30 metres.
'The Sleepless Grove' is no doubt a reference to Freaky Stylist No Sleep Pete, who's first shot on this very tricky hole had it all - ground skim, tree bounce and a roller that eventually ended up in the right place. The tree placements for the ninth turn it into a hidden dogleg that is very tough to negotiate due to lots of lovely native bush that reaches out to turn your game around for the worst.
Hole 10 - "Into The Open" - 127m Par 3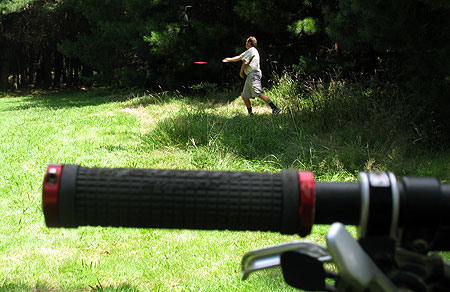 Riding the Shot - Taumarunuian Blair Joines is lucky to be in the open for his 2nd shot.
On this tree intensive course it is not until the aptly named tenth that you walk out onto an open field to try and see who has the biggest arm. That doesn't mean you don't have to be accurate. At 85m from the tee is a line of trees ready to stop the perfect target-bound flight in its tracks.
Hole 11 - "Tongue 'n' Groove" - 85m Par 3
| | | |
| --- | --- | --- |
| Pinball Wizard - Another hole that features a nice open fairway, however at the end of your drive is a tricky forest of pines (right) to negotiate through to the target. It can be like playing pinball with frisbees. A lucky drive can get you close to the green, but either way you will need a high level of accuracy to make it to that target in 3. | | |
Hole 12 - "Crossfire" - 127m Par 4


One in the Bag - Taumarunuian Pete Boyle forehands the drive, ensuring he stays in the clear for his approach.
Another hole in the open and one that the bigger arms will be hoping to make the green in one. The objective is to curve left towards the green after a good 80-90m.
Hole 13 - "Burn Up" - 56m Par 3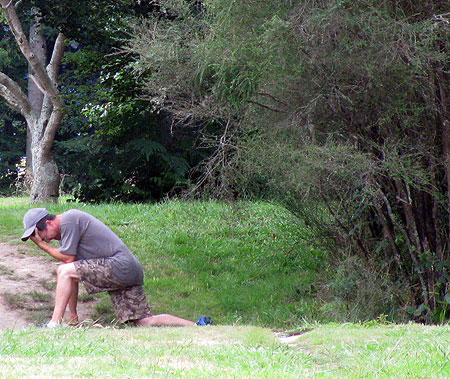 Disappointment - One of the many top Tauranga players Dean Marshall is in despair during the Top Siz playoff for the 2010 Nationals as his 'chip shot' catches and overhang virtually ending his title hopes..
At last! A nice short, straight hole. The 13th would have to be deemed most-likely-to-be-aced. A short 56 metres to the target, which is tucked in a group of trees, but highly accessible. Look to fire an easy birdie to make up for some of those previous bogies.
Hole 14 - "Under Fire" - 150m Par 4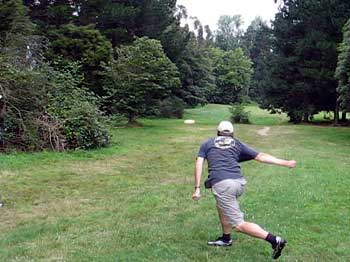 Waiheke Wonderment - All the way from the mighty island of Waiheke, Nigel Hailstone shoots the gap on the longest hole of the course.
No sooner do you feel good about yourself with a birdie on the 13th, you walk to the 14th tee and are presented with a 150 metre behemoth of a challenge. Named 'Under Fire' as you will be crisscrossing the fairway of the 12th, this hole has at least been made a little more bearable due to the par 4 status. The aim here is to get out into the shared fairway to give yourself an uninterrupted second shot to the green. Easier said than done!
Hole 15 - "Nokin da Coken" - 76m Par 3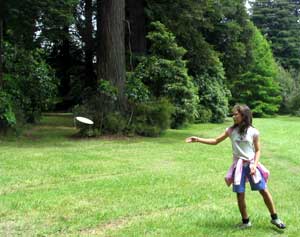 One for the Kids - 12 year old budding kiwi disc golfer Bridget Rogers makes a relaxed recovery on the 15th
Only three left and if you are hoping to improve your score, best you do it here. Mind you, with a strand of tall, thin tree trunks between you and the target, cross your fingers. However, some players have been seen to try the bomb here to great effect.
Hole 16 - "Go Ridin'" - 85m Par 3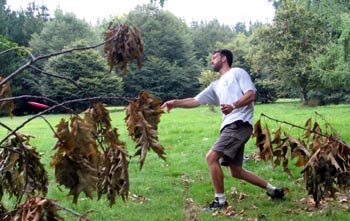 'Leave' Me Alone! - Course designer and 4-times New Zealand Disc Golf Champion Simon Feasey shows all the tricks with a casual forearm drive on 15.
This hole was named 'Go Ridin' by legendary mountainbiker Gabb as he looked at his dismal scorecard and decided he'd rather be in the mighty Whakarewarewa Forest, only metres away, riding some of the best trails in the world.
Hole 17 - "Redwood Revenge" - 96m Par 3

"Where Are The Nightclubs?" - Trendy golfer Pete 'No Sleep' Anderson is already thinking about the Rotorua nightlife as he nears the end of his round ->->->

So you're having a great round. All looks good. And then you hit the 17th, with its innocent looking fairway alongside the Rotorua highway. Beware, because we have already seen this hole bite some players in the butt and spit them out with a triple bogie. Take a tip from

Bob

: 'Don't go for the pin - work out the best spot to give you an easy second and aim for that".
Hole 18 - "Sweet" - 93m Par 3

Shoot the Gap - Local mountainbiking legend Scoobie Doo makes it look easy, but believe you me - the eighteenth has plenty of trouble waiting for you,,,.->->->

Set to decide the match, the eighteenth is yet another hole that seems to call for the freaky disc that can break both ways. From the tee, you must shoot the gap between two trees at 25 metres, clear the next 40 metres, clear over the ditch (that could be a water hazard depending on conditions) and fade left into the green. Simple really - NOT!
"I Am Simon Feasey"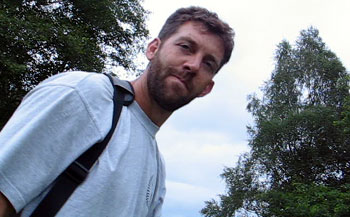 "I Am Feasey" - many of us champion-wanna-bees mutter this under their breath as we try and picture ourselves letting loose a whopping 130 metre drive. Well, this is one fella who can say it with conviction, 'cos this IS Simon Feasey, 4 times New Zealand Disc Golf Champion and designer of this challenging course. Married to the lovely Yvette, proud dad of Talia with another on the way (call it Frisbee Simon! - ed), Simon also has a tough little course on his dad's farm in Kaukapakapa in North Auckland.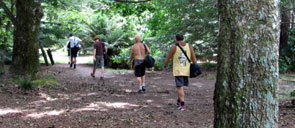 "Thanks for the round!"