pics | resultsQueenstown 2nd-3rd April 2017

Story by new TD Paul Child
The 22nd Annual Queenstown Classic Disc Golf Tournament was a time of farewells and new beginnings. After running the Classic for 21 consecutive years, local legend James 'Jaguar' Smithells finally stepped off his pedestal and retired as as tournament director. Not only did he run the tournament for so many years, he was also the founder and creator of the Queenstown Gardens course. So it was with a heartfelt goodbye that James made his farewells and stepped down, leaving myself - Paul Child - to fill the now vacant void as TD. The crowds' applause and cheers conveyed their gratitude for all James has done for the course and the Queenstown Disc Golf Club. We all hope to see him as a competitor in Classics to come and we wish him all the best in his new life up north!
Dawn had not yet crept over Queenstown on Saturday as the first competitors hucked their way onto the Gardens in relative darkness.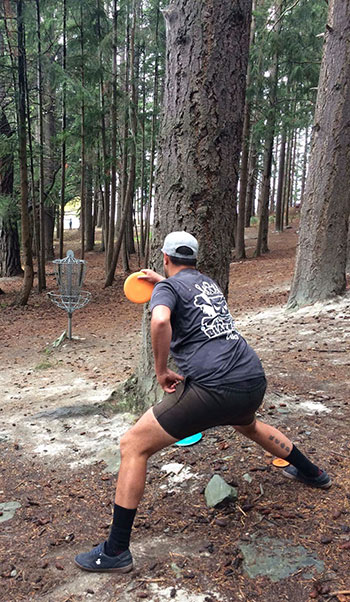 Now, on to the tournament! Along with a change of TD, the tournament was set for a change of format too. For the first time ever, the Classic was being conducted as a 2 day, 4 round event. For the past 18 years the Queenstown Classic has been just one side of a shiny coin; a single day comprising of just 2 rounds at the Gardens followed by a day out at the spectacular Paradise course for the Paradise Plates. So 2017 truly marked the beginning of a new era. Henceforth, the Queenstown Classic will now be its own beast!
Day 1
Dawn had not yet crept over Queenstown on Saturday as the first competitors hucked their way onto the Gardens in relative darkness. Saturday shaped up with fine weather, thanks to all the offerings to the Sun totems (i.e. birdies in practise rounds!). A fantastic turnout boasting record numbers assembled to see if the newcomer TD had what it took to run a tournament worthy of being a successor to the mighty Jaguar!
First round got under way with players dispersing for a shotgun start. The random draw had folks playing with new faces as they settled into tournament mode. There were some hot and cold rounds as the players finished, with the hot round being 44 by 17 year old local gun, Ben Wiel-Lake, followed closely by Hemi Te Awhitu on 46 and Morgan Harteveld on 47. With 3 rounds still to go, however, no one was pegging winners yet!
Lunchtime was a carnival of disc golf games with 3 novelty holes played, requiring mandatory rollers, mini throws and thumbers! These 3 extra holes were honorary extra holes to the normal round of 18, making it a round of 21 in spirit: 21 holes to commemorate the 21 years of Classic orchestrated by James the Jaguar! Then it was back to the action with round 2. Scorecards filtered their way in that afternoon telling of a battle to be had on day 2 between lead card placers Ben Wiel-Lake, Hemi Te Awhite, Morgan Harteveld and Paul Child, who was refusing to succumb to the TD curse!
Day 2
Sunday morning came with some drizzle, though the birdie offerings had been plentiful the day before. Perhaps they were now demanding eagle offerings! But spirits were not dampened. There were 2 more wonderful rounds of disc golf to play and today was moving day! Round 3 got underway and the drizzle quickly abated. Lunchtime came as a welcome break for some, getting to distract themselves with a series of putting games. Tales of woe and triumph were told as the scores were tallied up. It seemed the lead card would maintain places above the field, with the exception of myself, who was bumped into chase card by newcomer Jakub Trojanek, who shot a smoking round of 44.
Round 4 turned out to be an epic battle between Ben and Hemi as they vied for the title. Birdies and bogeys were flying as a crowd of spectators followed the action around the course. The lead swayed back and forth, with Hemi fighting his way to a 2 stroke lead at one point. In the end, however, the day was won by Ben Wiel-Lake, who shot a 45 in his final round to claim his first ever victory in the Queenstown Classic. Open division. Runner up Hemi Te Awhitu placed second after a valiant battle, shooting a respectable 48. Coming in 3rd overall and 1st in his debut in the Masters was none other than yours truly, Paul Child, who came home strong with a satisfying 44. What TD curse! The women of Wanaka cleaned up the the Women's titles with Hayley Flintoff claiming the Women's Open and Robyn Agnew taking the Women's Masters. Chris Davies of Christchurch defended his Grandmaster's trophy, striding ahead of the division with a 9 stroke lead over 2nd place. Paul Deacon dominated the Senior Grandmaster's division, which was, in typical Classic fashion, competed in as a solo event. And finally, Phil Botha conquered the Junior division.
Another fantastic weekend of epic disc golf in one of New Zealand's most beautiful locations. Thanks to all who travelled near and far to participate and making the 2017 Classic the roaring success that it was. Keep those birdies flying and I'll see you at the next tournament!