add to facebook

Polo X grounds course, Mananui, Taumarunui April 27 & 28

The King Country Disc Golf Classic 2013.
Although the Seasons have officially changed it seems irrelevant as the weather continues to impress across the tour events that have occurred so far in 2013 and Taumarunui was no exception.  Beautiful weather greeted players from far and wide on the Saturday morning as TD Pete Boyle completed his last minute duties; with a record turn out to the '2013King Country Classic' it was sure to be another stunning weekend of Disc Golf and friendship.
With some tricky holes to overcome there were a few different ideas as to who would be sitting at the top of the field, with NZ's highest rated player Simon Feasey missing from action it left the door wide open for a number of other players to add their name to the trophy.
Carrying on his good form was Levin Brotherhood's Jackson Sullivan shooting an impressive opening round of three under 52. While dusting off the cobwebs was the 2012 New Zealand Tour Champion Damien Peters only one shot behind   after the first round and looking a different competitor than the one that played the Taupo Classic (after just returning to NZ from a snowboarding holiday in Japan) earlier in the month. The local contenders didn't get off to the start they had hoped for with both Pete Boyle and Blair Joines finding themselves a few shots off the pace. However finding himself at the front of his GM division for the very first time was Michael Proctor who shot a stunning par round to nab a spot in the top group alongside Jackson Sullivan, Damien Peters and David Keene. Though Keene found himself in hot water over leading his group astray during the round meaning that the TD was called into action early-on to start handing out the penalty strokes which saw his round of 51 increased though still good enough to hold off the chasing pack of Pete Boyle, Jymi  Best , A.B Hartly  and Blair Joines in the Second group. Notable mentions must go to A.B who played some amazing golf on the Saturday morning then went out and played even better in the afternoon shooting a personal best one under 54 which turned out to be the best score of the afternoon putting him right amongst the leaders. He wasn't the only golfer to improve in the afternoon round with National Park's Des Cooper also carding a near perfect 54 along with Myles Darrell all the way from Tauranga getting amongst the "under par" action.  Newcomer Logan Papanui from Rotorua scored his best round at par 55 and has really shown some major improvements over his short time in the game. Hot on Mike Proctor's heels in the Grand Masters division was Marty de Haas who carded a well earnt 55, and in the Woman's division Gemma Sullivan saw her first round lead of 4 shots cut to just one from the ever-green Fiona "Ming" Menzies, after "Ming" hit back with a hard fought 60 in the afternoon after a disappointing 67 in the first round, that gave her an opening day total of 127, just one shot off the overnight leader Gemma. In holding that lead it meant that a little piece of Disc Golf History was made, for the first time we were to see a brother and sister combination going in as overnight leaders which had the banter going all through the night.
However that was not the only record being set on the days play with TD Pete Boyle having his hand forced into dealing out a staggering 37 penalty strokes  he was hereby knighted by fellow Disc Golfer Nigel Hailstone as Pete 'The Penaliser' Boyle, a lesson for all here when it comes to checking your card before signing it and handing it in.
Having a four round tournament meant for an early start come the Sunday to allow for the travelling bodies to make it back at a reasonable hour. The TD also added another twist by having a random drawn third round to enable players of all abilities to get to play with each other, which all players seemed to enjoy. One person who didn't mind the early start was Damien Peters, who shot out of blocks with a stunning 5 under 50 to promote himself to the top of the leader board. With overnight leader Jackson finding the going a little tougher and jotting down more bogies than birdies to see his lead slip away throughout the round. A.B Hartley was in a similar boat as his fellow Levin Brotherhood member, as he too was unable to continue his from the previous day slipped back into a dog fight with the chasing pack.
Sunday lunch saw another stunning banquet style feed from local legend Corryn Boyle, however with one round left it was time to put one's course knowledge to the test one final time.  Auckland's Damien Peters had a commanding 4 shot lead over David Keene in second while only a shot behind was overnight leader Jackson Sullivan with local Blair Joines leading the Masters Division and doing the local contingent proud. Further adrift but not out of the picture was Mike Proctor who had a battle on his hands with Pete Boyle as they both went into the final round all tied up and were both after the bragging rights of GM Champion.
Another fast start from Damien Peters saw him getting 5 birdies in the first 7 holes and putting daylight between himself and most of the chasing pack with only David Keene being able to keep him honest, Keene also picking up a bunch of birdies but  his double bogie start  meant it was only a minor threat to the title and enabled Damien to relax and play some amazing controlled golf.
Local Blair Joines held off a fast finishing Nigel Hailstone to take out the Masters Division, and in the tightest of battles the Grand Masters Division went to a play off with both Pete and "The Doctor" trading punch for punch on the last round with neither being able to get their noses in front.  With a bumper gallery watching it took three extra playoff holes with some beautiful golf played by both players until on the tricky 11th hole Pete put his drive outside the putting green while a beautiful drive from "The Doctor" saw him land 4 metres from the basket.  Forcing Pete's hand almost produced the shot of the tournament, only for it to hit the rim and drop to the ground. Michael made his birdie putt to claim his first Grand Masters Title on the tour. In the Woman's Division, despite Ming's best efforts Gemma Sullivan was able to extend her lead back out to the four shots she started the day with to have her name engraved on the trophy for 2013. 
Congratulations to all division winners, and epically good to see the return of the tour 2012 champion back to form. Well-done Damien Peters on a great weekend.
All in all it was a fantastic weekend with 5 star hospitality, a testing and quality course with some amazing legends of the sport in this country. It is fantastic to see the sport growing with plenty of new faces turning up to the events. To Michael Grondsma, Trevor Bloor, Mike Bloor, Andy George of the Rotorua Crew, it's truly inspiring to see the addiction you have to the game and a special mention to the "rent a crowd " crew from Levin of Shane & Jill Sullivan , Jackson Sullivan, Lawton Williams, A.B Hartley, Paula Wilson & Gemma Sullivan. [We missed you Riki.] The effort you guys go to on the tour is immense and it's fantastic to always see you at events all across the country. Not to forget the fantastic showpiece put on by the Lost Tribes Pete Boyle, Blair Joines , Des Cooper , Victor Keriopa, and of course Corryn Boyle for the amazing catering.
It's the people that make the sport and for this we want to say thank you!
Can't wait to see you at the next event…..So off to the 'Tauranga Extreme' we go.
Check out pics from previous Taumarunui tournaments: 2012, 2011, 2010 and 2009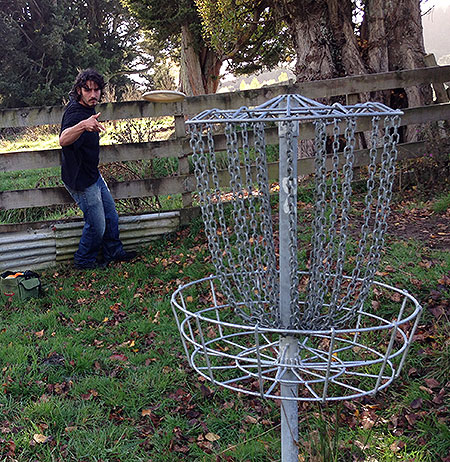 How Fargher Ya Putt? - Wellington Builder and Tour Disc Golfer Steve Fargher putts out hole 2 at the testing Taumarunui Polo Cross course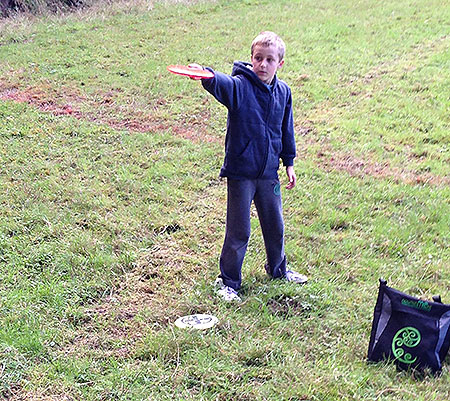 Great Bag Design Ryan - Junior Ryan Kent from Wellington made the trip with his family and loved his first tournament

Konichi Won - Eventual King Country Classic winner Damian Peters back to form after a snowboarding holiday in Japan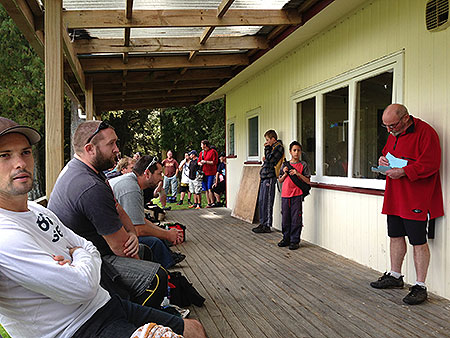 The Round that Counts - King Country Classic TD Pete Boyle announcing the fours for the Sunday afternoon round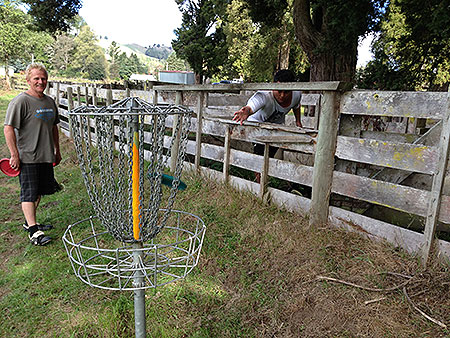 Don't Fence Me In - Levin Brotherhood's Lawton Williams putts through the fence to par hole 10, to the amusement of de Dev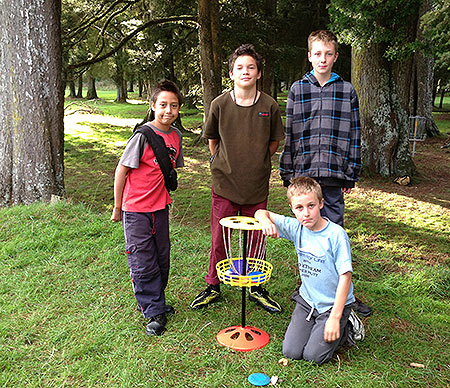 Junior Academy - Always great to see the juniors. Tui TeWiki, Keran Pere, Ryan Kent and Liam Kent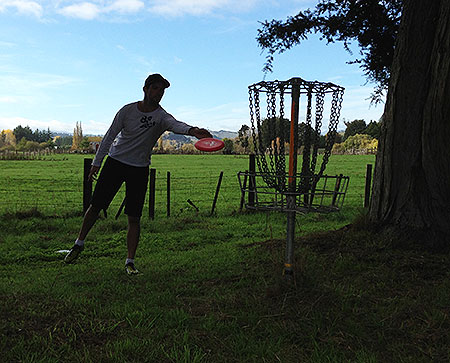 Timeless Speed - Auckland Disc Golfer Speedo Keene lines up his putt eclipsed by the stunning King Country vista.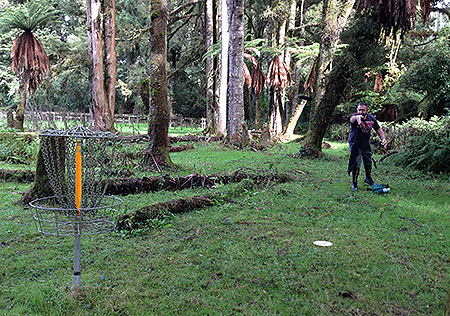 Nice to play without wind - Matt Bradley from Wellington putts out 14.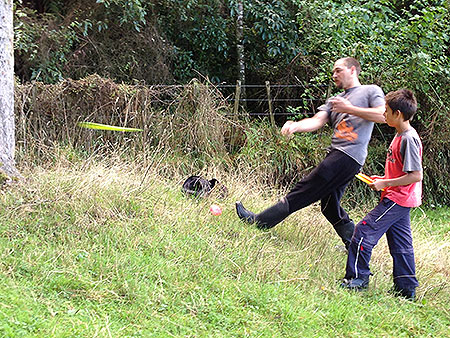 The Long Lost Gumboot Toss - Local 'Lost Tribe' Disc Golfer Shane TeWiki demonstrates the art of side-arm to his son and playing partner Tui.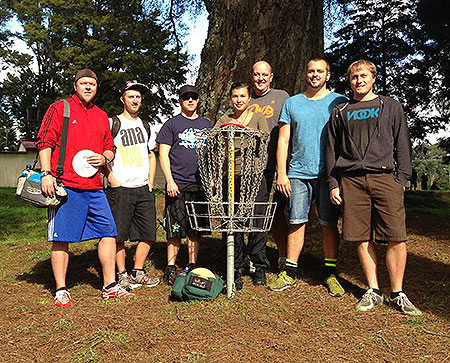 Team Sulphur - Here's a great indication of what having a course in a town can do. Meet the Rotorua crew of Andy George, Logan Papuni, Mike Grondsma, Coby Woller, Trevor Bloor, Mike Bloor, Geoffrey Nijhuis. The competition amongst this group is fiercer than an angry Tuatara.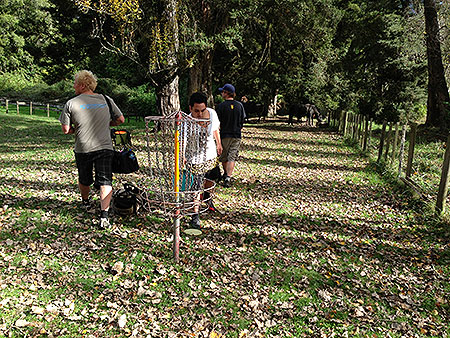 Leaving Party - Autumn leaves, a great time to be in the King Country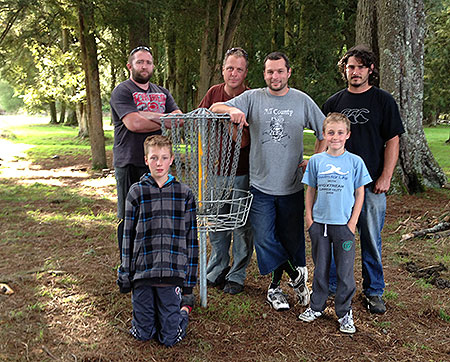 Capital Punishment - Up from the Nation's capital city, meet Team Wellington. Matt Bradley, Tommy Kent, Sky Highway, Steve Fargher, and in front Tommy's sons Ryan and Liam. (Missing is Tommy's wife Kerensa.)


Taikokonuts - always there for the golf is the Sulligang, meet the Levin Brotherhood. Paula Wilson, Gemma Sullivan, Shane Sullivan, Jackson Sullivan, Jill Sullivan, Lawton Williams & AB Hartley


Lean Local does the Local Lean - Lost Tribe club president Pete Boyle doing what he does best


Jacko not so Slacko - Levin Brotherhood number 1 Jackson Sullivan getting better with each tournament


Ancient Deciduous - Auckland's Flying Dutchman Marty de Haas sends his putt crashing into the chains


Disc a la Tarte - Enjoying a weekend away from the restaurant, Marty de Haas played some great golf.


This could be bad... - Levin's AB Hartley watching closely as his putt hits the top of the chains and … drops in!


No Mucking About Cooper - No snail paced golf here as National Park Disc Golfer Des Cooper giving it heaps off the tee with playing partners Nigel Hailstone and Jymi Best both from Auckland.
back to top
The Results for King Country Disc Golf Classic 2013
Polo X grounds course, Mananui, Taumarunui April 27 & 28

| | | | | | | | |
| --- | --- | --- | --- | --- | --- | --- | --- |
| Player | | Division | Round 1 | Round 2 | Round 3 | Round 4 | Total |
| Damien  | Peters | O | 53 | 55 | 50 | 50 | 208 |
| David | Keene | O | 54 | 55 | 51 | 52 | 212 |
| Jackson | Sullivan | O | 52 | 54 | 57 | 56 | 219 |
| Blair | Joines | M | 59 | 54 | 54 | 52 | 219 |
| Peter | Boyle | GM | 56 | 59 | 56 | 57 | 228 |
| Michael | Proctor | GM | 55 | 58 | 58 | 57 | 228 |
| Logan | Papanui | O | 60 | 55 | 57 | 58 | 230 |
| A B  | Hartley | O | 58 | 54 | 61 | 58 | 231 |
| Marty  | De Hass | GM | 62 | 55 | 59 | 56 | 232 |
| Lawton | Williams | O | 60 | 59 | 59 | 55 | 233 |
| Des | Cooper | GM | 62 | 54 | 60 | 58 | 234 |
| Nigel | Hailstone | M | 61 | 61 | 54 | 58 | 234 |
| Victor  | Keriopa | M | 59 | 59 | 58 | 59 | 235 |
| Jymi | Best | O | 58 | 59 | 57 | 61 | 235 |
| Bob  | Gentil | GM | 60 | 59 | 59 | 60 | 238 |
| Jacob | Cochran | O | 62 | 59 | 57 | 61 | 239 |
| Shane | Sullivan | M | 63 | 59 | 58 | 60 | 240 |
| Myles  | Darryl | O | 66 | 54 | 61 | 61 | 242 |
| Gemma | Sullivan | W | 63 | 63 | 58 | 59 | 243 |
| Tom | Kent | M | 65 | 66 | 59 | 56 | 246 |
| Fiona  | Menzies | WGM | 67 | 60 | 61 | 60 | 248 |
| Quan  | Weston | O | 62 | 71 | 65 | 58 | 256 |
| Mike  | Bloor | O | 65 | 69 | 60 | 63 | 257 |
| Steve | Fargher | O | 65 | 65 | 62 | 65 | 257 |
| Shane | TeWiki | O | 66 | 62 | 65 | 67 | 260 |
| Matt | Bradley | O | 66 | 63 | 68 | 65 | 262 |
| Mike | Grondsma | O | 72 | 66 | 66 | 66 | 270 |
| Andrew | George | O | 71 | 63 | 67 | 69 | 270 |
| Geoffrey | Nijhuis | O | 71 | 65 | 69 | 67 | 272 |
| Keran | Pere | J | 71 | 71 | 68 | 65 | 275 |
| Trevor | Bloor | GM | 74 | 70 | 64 | 71 | 279 |
| Sky | Highway | O | 71 | 69 | 69 | 70 | 279 |
| Daz | Swatella | GM | 75 | 76 | 71 | 70 | 292 |
| Paula | Wilson | W | 85 | 72 | 79 | 84 | 320 |
| Hannah | Robertson | W | 86 | 91 | 73 | 74 | 324 |
| Liam | Kent | J | 80 | 73 | 87 | 84 | 324 |
| Kerensa | Kent | W | 87 | 91 | 128 | 128 | 434 |
| Ian | Robertson | SGM | 92 | 88 | 128 | 128 | 436 |
| Ryan | Kent | J | 122 | 125 | 119 | 113 | 479 |
| Tui | TeWiki | J | 141 | 113 | 140 | 110 | 504 |