The Hill [Mk II] 2009
March 28 & 29

It's called The Hill, but with true Kiwi ingenuity and flexibility we saw this tournament played on it's 3rd course. The course enjoyed by all in the last few years was deemed unplayable and so the Lost Tribe pulled out some #8 wire and shifted focus to the ever-popular Polo-Cross Grounds.
The locals were going to redesign a course especially for the occasion, and what a brilliant course it was. Nice tight fairways, plenty of tree protection for the baskets, OB everywhere and not just for the big arms.
The nice thing about our events over summer is that with daylight-saving the casual Friday late-afternoon doubles round gives travellers a chance to suss out the course, not to mention add value to their weekend golfing.
Saturday morning and with 7-time National Champ Simon Feasey and regular NZDG Masters contender (but slightly emotional - ed.) Marty de Haas not being able to make it there was some pressure on for the 50 NZDG tour points on offer.
Carson Boone and Sam Burke had made the trip up from the capital, Dean Marshall, Andrew Taylor and Karoline Jonsson had come across from the Bay of Plenty, Hamiltonian's Josh and Ally with new baby Leon [3 weeks] were their along with the ever improving James Page, add to that the GM, Keith 'Woody' Inwood, Michael Proctor and Damien Peters from Auckland, Jenny and Robyn from Tokoroa along with a good turnout from the locals and the scene was set for another great golfing weekend in the King Country.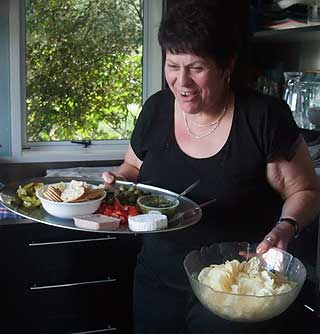 To be honest points were just a bonus really; most were really there for a chance to partake of the legendary Boyle hospitality. Thanks again Pete and Corynne.
The conclusion of round 1 in ideal golf conditions saw local legend and Grand Master Pete Boyle take a 3 shot lead over another GM, National Parks Des Cooper with Carson Boone and Josh Smith just 4 shots off the pace. It seems those with the most accurate game were coming off best.
After round 2 on the Saturday afternoon Pete had extended his side arming lead to 3 but this time over Carson Boone on 107 and Josh Smith on 108 with Grand Master Bob, local Blair Joines and Mt Maunganui's Andrew Taylor all on 109. In fact the top 10 players in the field were all in with a chance going into Sunday.
After another fantastic Saturday night at Chateau Boyle the scene was set for a grand stand run to the finish line on Sunday. The day dawned a little overcast with a touch of drizzle first thing but not a scrap of wind.
As the scores came in at lunch Josh Smith had carded a 50 and in doing so took the lead by 2 over Pete Boyle now tied with Blair Joines followed a couple of shots back by the GM and Andrew Taylor.
During the final round the lead changed several times. With OB coming into play regularly the cat was really amongst the pidgins. It was real Masters at Augusta type stuff!
By the end of the day the Lost Tribes #1 Blair Joines nabbed the 50 points followed 2 shots back [bloody hole 5] by Hamilton's Josh Smith, then another 2 to GM Pete Boyle with Tauranga's Dean Marshall equalling the course record to jump into 4th. The woman's competition was shared between Karoline Jonsson and Jenny Joynt with Cherie Blackburn and Robyn Joynt not too far off the pace.
Thanks to the Lost Tribe for another memorable weekend of Disc Golf, friends and food!
Pictures
| | |
| --- | --- |
| Even the Polo-Cross horses were interested in what was going on. | Hole #6 looked so simple. Here lumberjack Bruno Whale slots one through the branches. |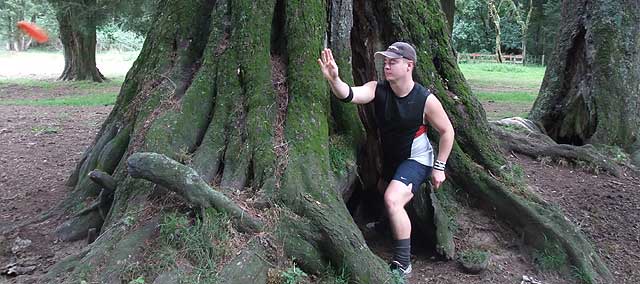 Josh Smith
deciding that from where his drive landed he may as well shoot with his eyes closed.

Auckland's Damien Peters putts out hole #10.


The lunch burgers on the Saturday were delicious. Gastronome Bruno Whale shows off his creation.


With bag in hand a-la BoylePoint Bruno Whale makes sure of his 5.


James Page heads for the next tee as Shane Te Wiki putts out.


They came from far and wide. Here local Dave Routley teamed up with Karoline Jonsson from the Bay of Plenty and Damien Peters from Auckland.
| | |
| --- | --- |
| The Lost Tribes Shane Te Wiki sends a long putt at the chains on hole #14. | Ladies first! The tournament dinner at 'Chateau Boyle' on the Saturday evening. Brilliant! |


The GM tries to float one round the corner on the well protected hole 11.
| | |
| --- | --- |
| Team Wellington. Sam Burke and Carson take time out at lunch to smile for the camera. | National Park's Des Cooper was looking good, but then came rounds 2, 3 & 4. |


Hole 15 was well guarded by a tall stand of native timber. Here Josh Smith putts out watched by playing partners Pete Boyle and Blair Joines.


Hamilton's Josh Smith putted confidently and solidly all weekend.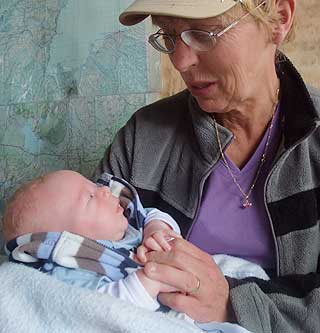 Grand Master and Grand Mother Jenny Joynt with the newest edition to the NZDG family Leon John Smith. Congratulations Josh and Allie.

Name

Dvn

Rnd 1

Rnd 2

Rnd 3

Rnd 4

Total

1

Blair Joines

M

56

53

51

51

211

2

Josh Smith

O

55

53

50

55

213

3

Pete Boyle

GM

51

53

56

56

216

4

Dean Marshal

M

56

55

56

50

217

5

Bob Gentil

GM

56

53

53

57

219

6

Andrew Taylor

O

57

52

53

58

220

7

Damien Peters

O

56

56

59

52

223

8

Carson Boon

O

55

52

56

60

223

9

Bruno Whale

O

58

62

56

54

230

10

Des Cooper

GM

53

57

59

61

230

11

James Page

O

61

59

57

64

241

12

Vic Kereopa

O

60

56

65

60

241

13

Keith Inwood

M

63

60

62

56

241

14

Shane Te Wiki

O

57

65

59

61

242

15

Mike Proctor

O

61

59

60

66

246

16

Chad Josephs

O

64

58

62

63

247

17

GM

56

63

65

65

249

18

Sam Burke

O

62

64

63

61

250

19

Karoline Jonsson

W

63

65

64

72

264

20

Jenny Joynt

W

68

64

63

69

264

21

Cherie Blackburn

W

64

70

69

69

272

22

Robyn Joynt

W

74

68

68

71

281