Scion Tree Nursery course, January 17/18

The 2015 Rotorua Disc Golf Championships.
The Scion Redwood course in Rotorua is probably the very best place to kick off the NZDG Tour. At the height of summer if offers ample picturesque shade and challenges every Disc Golf skill you have. Since we started playing there a few years back a lot of the blackberry and rough areas of the course have been cleaned up and with no rain for the past month even the traditionally wet areas of the park were bone dry.
At the players meeting first time TD Brad Muir welcomed attendees from as far away as Wellington in the south and Whangarei in the north, and as is becoming the norm now even a few faces this reporter hasn't seen on the tour before, especially from Wellington where the two permanent courses are bringing new players out of the woodwork.
At the beginning of the year it's always interesting to see who's taken their Disc Golf skills to a new level, so as the cards came in after the Saturday morning round it seemed like not a lot had changed with West Auckland's Simon Feasey on a 55, Taumarunui's Pete Boyle on a 56 and Waiheke Island's Siep Van Vliet [back on the tour after a break away] on a 57.
But ... round 2 is where the cat really got amongst the pigeons. One time Rotorua local and now Auckland North Shore Disc Golfer Logan Papuni showed that the impressive performances he'd had in 2014 were just a taste of what's to come in the year ahead. This reporter had the privilege of playing in the same group as him on the Saturday afternoon and was blown away by the Disc Golf display he put on. At one stage he went on a run of 8 birdies in a row to come in with a course record 48 [10 under the card.] It was a thrill to witness Logan's skills and attitude as he put on a Disc Golf lesson for his playing partners. [insert .. picture Rotorua2015-012]
With Simon shooting a consistent 52 in his second round and Pete Boyle a 55 it was very tight at the top, Sunday's27 holes were going to be very interesting. TD Brad had decided on a slightly different format for the Sunday. Instead of a full 18 followed by a 'Super 6' he had everyone playing a final 9 after their morning round of 18. Going in to this final 9 Simon on a 162 had a 1 shot lead over the hard charging Logan with the Lost Tribes Pete Boyle and  Blair Joines making up the top foursome. It would have been nice to watch these guys play but it was also nice to head back out into the Redwoods to play a final 9 ourselves.
When it came time to hand out the silverware Logan had piped Simon by one shot over the Final 9  to take the Championship with Pete Boyle third [1st in GM] and Siep Van Vliet fourth [1'st Master].
Great event, well run on a beautiful course. Thanks to everyone involved for a great weekend.
The Pictures
Click here to see pages for past Makaripi and Rotorua events: 2014 | 2013 | 2012 | 2011 | 2010 | 2010 NZ Nationals | 2008 NZ Match Play Championships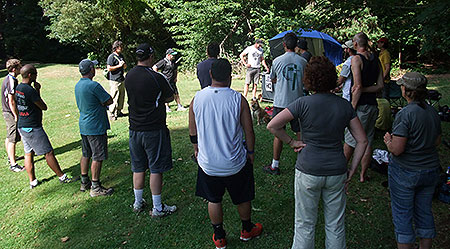 Shaded Advice - TD Brad Muir runs through the do's and don'ts ahead of play getting underway on the Saturday morning.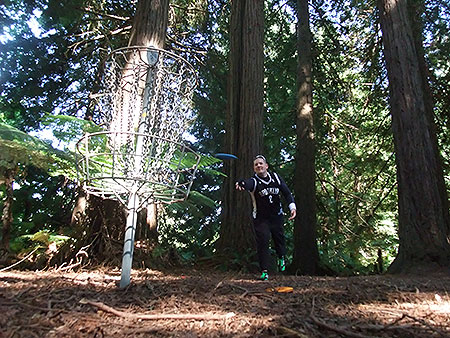 See the light - Wellington Disc Golfer Ryan Kitto putts at the spotlighted basket on 9.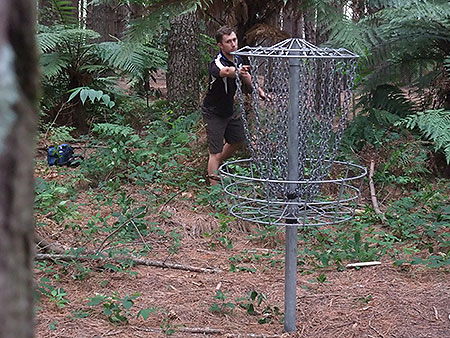 Thread like a pine needle - On his way to a course record 48 Logan Papuni is all concentration as he putts out 11.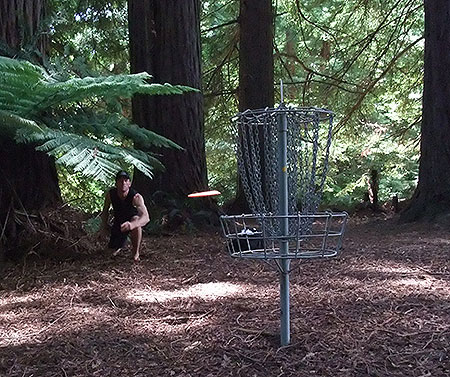 Crouching tiger - Down on one knee .. Lance Hartwell slam's his putt into the chains.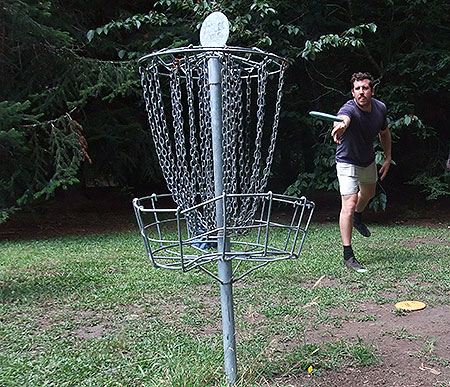 Bent - A bit like the basket ... Whangarei 's Andrew Le Breton was feeling just a little 'bent' on the Sunday morning.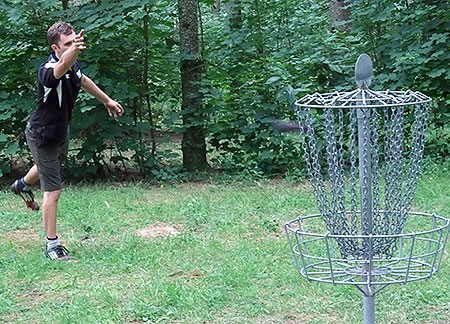 Winner - Hole 4 and Logan Papuni putts out for a course record round of 48. [10 under the card]..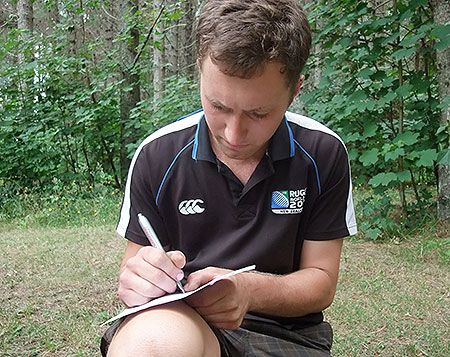 All done - Overall winner Logan Papuni checks and signs his round of 48.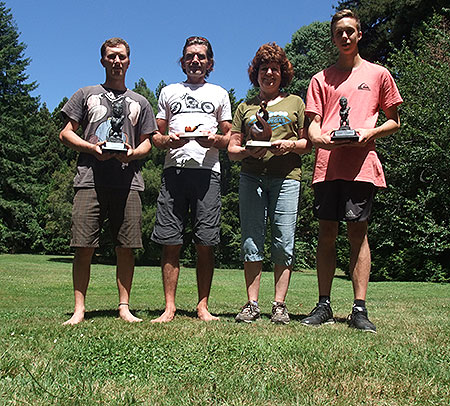 Makaripi 2015 Winners .. Logan Papuni Open & Overall, Siep Van Vliet Masters, Ming Menzies Woman's & Toby Gentil Juniors. [Missing Pete Boyle GM's].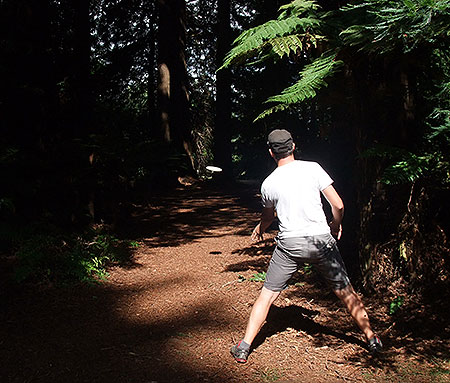 TD Flick - Brad sends his left arm flick into the Redwood cavern towering above basket 9.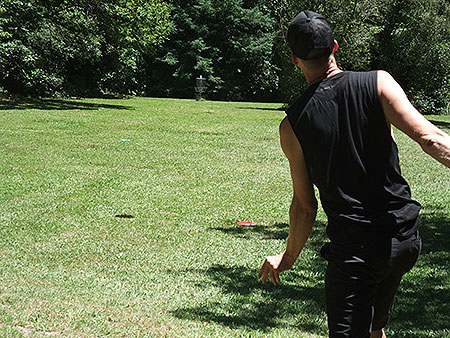 Beautiful fairways - Auckland golfer Lance Hartwell plays up to the basket on 2.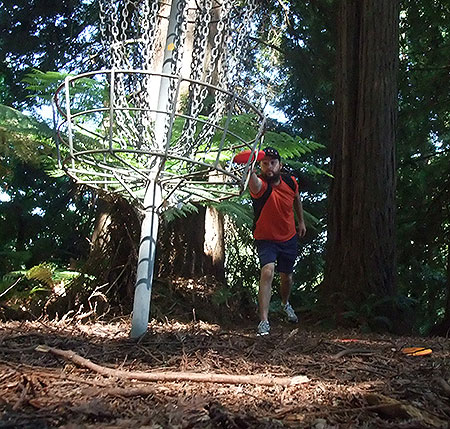 First injury - Hutt Valley Disc Golfer Sky Highway playing well until the arm blew out during round 3.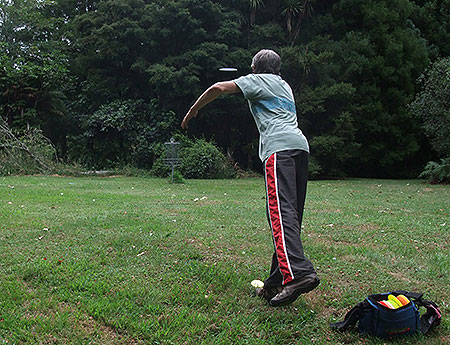 Sunburnt armpits? - Upper Hutt's Chris Sinai makes sure his left arm is well clear of the action as he putts out 5.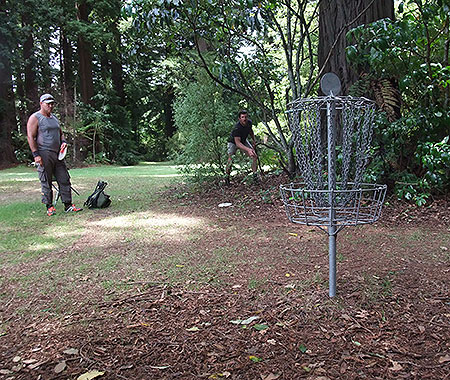 TD star - Michael Proctor watches Brad make his putt from an awkward stance.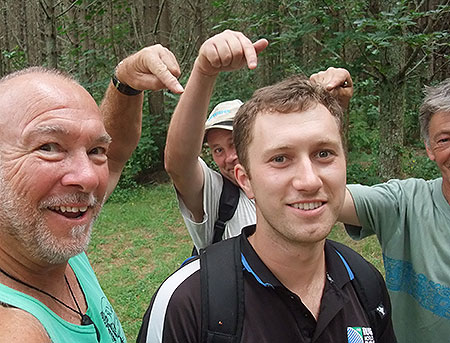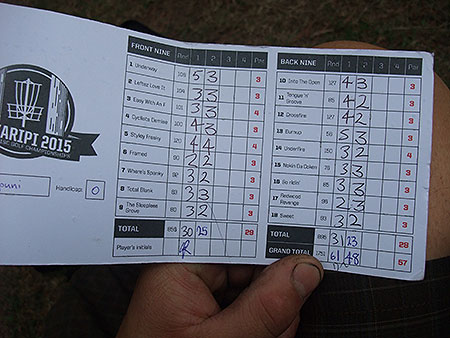 Native - Tokoroa Disc Golfer Jenny Joynt plays out of the ferns.



Chip n chase - Not a 'jump putt' but a 'jump hammer' was the only option for Keerti Ji from Waiheke Island after finding trouble on hole 6..


Always learning - Whangarei school teacher Andrew Le Breton playing his first tournament and lovin it!.


What a course - A group make their way down 17.


What a park - Heading home. Brad, Lance and Michael make their way back to Frisbee Central after the morning round.


Punga putt - Champ Logan Papuni ponders on the round to come as Wellington's Chris Sinai attacks the chains on 9.
back to top
The Results for 2015 Rotorua Disc Golf Championships
Scion Tree Nursery course, January 17/18
| | | | | | | | |
| --- | --- | --- | --- | --- | --- | --- | --- |
| Place | Player Name  | Division | Round 1 | Round 2 | Round 3 | Final 9 | Total |
| 1 | Logan Papuni | O | 61 | 48 | 54 | 29 | 192 |
| 2 | Simon Feasey | O | 55 | 52 | 55 | 31 | 193 |
| 3 | Pete Boyle | GM | 56 | 55 | 57 | 29 | 197 |
| 4 | Siep Van Vliet | M | 57 | 60 | 60 | 26 | 203 |
| 5 | Blair  Joines | M | 62 | 57 | 57 | 28 | 204 |
| 6 | Jackson Sullivan | O | 60 | 58 | 58 | 29 | 205 |
| 7= | Chris Kingsnorth | M | 60 | 58 | 58 | 31 | 207 |
| 7= | Brad Muir | O | 60 | 59 | 57 | 31 | 207 |
| 9 | Bob Gentil | GM | 61 | 58 | 61 | 30 | 210 |
| 10= | Ryan Kitto | O | 63 | 57 | 66 | 28 | 214 |
| 10= | Keerti Ji | O | 60 | 61 | 62 | 31 | 214 |
| 12 | Lance Hartwell | O | 59 | 64 | 60 | 34 | 217 |
| 13 | Andrew Le Breton | O | 64 | 64 | 58 | 34 | 220 |
| 14 | Mike Proctor | GM | 62 | 62 | 66 | 31 | 221 |
| 15= | Toby Gentil | J18 | 66 | 69 | 58 | 33 | 226 |
| 15= | Shane Sullivan | GM | 64 | 67 | 61 | 34 | 226 |
| 15= | Chris Sinai | GM | 62 | 67 | 67 | 30 | 226 |
| 18 | Paul Cohen | GM | 63 | 69 | 67 | 31 | 230 |
| 19 | Steve Fargher | O | 67 | 65 | 72 | 32 | 236 |
| 20 | Ming Menzies | W | 64 | 69 | 69 | 38 | 240 |
| 21 | Jenny Joynt | W | 66 | 72 | 68 | 37 | 243 |
| 22 | Jack Moka | O | 68 | 66 | 71 | 39 | 244 |
| 23 | Chris Almario | O | 80 | 76 | 70 | 38 | 264 |
| 24 | Reuben Warren | O | 78 | 72 | 72 | 43 | 265 |
| 25 | Quentin Golder | O | 77 | 76 | 76 | 42 | 271 |
| 26 | Chris Greer | O | 74 | 81 | 82 | 40 | 277 |
| 27 | Hana Robertson | W | 75 | 73 | 73 | 999 | DNF |
| 28 | Sky Heighway | O | 68 | 70 | 84 | 999 | DNF |