add to facebook

Polo Cross Disc Golf Course, Mananui, Taumarunui - December 7 & 8

The 2013 New Zealand Disc Golf Match Play Championships.
With the tour complete the New Zealand Disc Golf community had it's final hoorah for the year.
The 2013 New Zealand Match Play Championships had embarked upon the tough and testing Polo-Cross grounds in Taumarunui for the Disc Golf showpiece.
Match Play is a great format, which enables many upsets and leaves no one safe. This format dishes up some amazing shots not to mention some amazing outcomes. With many of the top 16 from the tour unable to make the weekend it opened up the door for some fringe players to have a go at the format and shake things up in the process.
The first round saw one of the matches of the tournament occur when Damien Peters was to take on Dean Marshall, one time doubles partners were now going toe to toe for a place in the second round. With the much anticipated match up being forced into extra holes to decide a winner it was the wisdom and dominant putting of Dean Marshall that prevailed on the forth extra playoff hole.
The top three seeds all over came their first round opponents with the battle of the Freaky Stylists catching a few eyes and a few texts as Juan "The Pesky Mexican" Unda had a strong start against David Keene and was two up after four holes forcing Keene to claw his way back into the match. Local legend Blair Joines was unable to shake off the resilience of the South Island representative Chris Davies with Joines only getting him in the end 2 holes up with one to play. Other exciting first round matches saw Pete Boyle get the better of The Human Highlighter Brady Kuetch while Levin's Lawton Williams prevailed over Auckland's Mike "The Doctor" Proctor.
Special Mention must go to Des Cooper for finally chalking up his first ever win in the first round at NZ Match Play Champs after almost ten years of trying (WELL DONE DES)! For his heroic efforts against first time competitor Logan Papuni, he was rewarded with a match up in the second round against defending Champion Simon Feasey. If that wasn't challenging enough the match they got to play along side was Dean Marshall taking on Pete Boyle was living up to all the hype of a brilliant match. The local Pete had all but put Marshall's giant killing efforts to rest while being 3 up with four holes to play. Time to cue the comeback kid Dean Marshall, and what happened next you had to see to believe according to the players that witnessed it, as he not only pegged back two holes in a row, but managed to force the match into extra holes again by winning the last hole of the match. What was to come was pure pressure golf as both players missed opportunities to take the match on the first and second holes, while Marshall was finally able to put the nail in Pete's coffin on the third extra playoff hole with Pete missing his birdie opportunity to hand it to Marshall.
Other winners from the second round saw Simon Feasey dismantle Des Cooper, while Des was apparently in a giving mood. Blair Joines wasn't in the same mood as he was able to get the edge over the tough Brett Hailstone. Making up the final four was David Keene after securing another come-from-behind win over Lawton Williams.
The Sunday morning saw the beauty of match play show it's true colours yet again with a massive plate division upset of newcomer Logan Papuni taking down Damien Peters to advance to the plate final against South Island Stalwart Chris Davies. As for the pesky Mexican Juan Unda was going to be locked in for a battle to avoid the dreaded four L's. The Championship semi finals were a case of Christmas coming early for David Keene as local legend Blair Joines threw OB not only on hole one, but then again on hole two in order to give Keene a two shot jump on him. A lead he was quick in clawing it back however and by hole 6 was all square again only for Keene to take back the advantage on the very next hole. It was a slender lead that Keene continued to build on heading into the back section of the course and on hole 13 Keene pulled out something special, putting his drive a long way down the fairway while Blair Joines could only watch as he put his drive into some solid wood work and relinquishing the hole. Keene was able to hold off the fast finishing Joines to advance to his second final in two years, but against whom would it be?
The giant killer Dean Marshall had the toughest of draws to even get to this stage and he was presented with an almighty challenge of Simon Feasey. The match was tight throughout the early stages with Feasey going one up early on in the piece and when Dean missed a 7 meter putt he was able to extend the lead forcing Dean into catch up mode from hole 7 onwards. As he had done in his previous two matches Dean hung tough when he needed to and created chances to reduce the score which fluxuated between even and 2 up to Simon. It wasn't until hole 13 where Feasey had gained a clear advantage going into hole 14 3 up. It was looking for all money's worth as if that would be the last hole of their match until Dean sunk a 12 meter putt to half the hole and force Simon to keep going. Was it to be the same script as all his other matches? It was looking that way as Dean then took the next two holes and forced the defending Champion to hole 18. Unable to give himself a position for a birdie, Simon laid up to put an end to Dean Marshall's great run in this tournament and book his place in the Match Play final against David Keene.
Keene started the stronger in the final forcing the defending champion into a couple of early mistakes however he was unable to capitalise. When it comes to sporting showcases we all know the underdog needs to take what opportunities they get and after missing two early opportunities Feasey dealt a double blow with back to back holes going two up after 6 holes. Keene then responded straight back by taking hole 7 to reduce the deficit to one. Keene then gifted Feasey a point on hole 9 before both players went into their bag of tricks to pull out some quality golf on the long and tricky hole 10. Both getting Birdies although a big boost for Keene as it was a right handed hole. This allowed Keene to gain some momentum heading into the trickier part of the course. The pressure paid off on hole 13 as Feasey sent his drive into a tree allowing Keene to once again to claw his way back into the match.
On the very next hole Feasey, again found himself in trouble with a seemingly impossible upshot to save a par. It looked like Keene was going to draw level, however with the shot of the tournament in this reporters eyes he sent an unbelievable second shot through the thinnest of gaps, through a cluster of trees , then around another set of trees and almost sunk the shot from a good 50 meters away. You could see this hurt Keene as they halved the hole. The tussle went on as both players halved the next two holes until hole 17 where Keene, being first up on the tee, had his drive horribly dumped by the wind leaving him with a horrible approach. The smart play was by Feasey playing safe and leaving Keene with all the work to do if he was going to wrestle the title off him. An unlucky second by Keene, that clipped the thinnest of branches left him with a 25 meter putt through a wooded forest to force the tie to the last hole. Alas he was unable to sink the required putt handing Simon Feasey back-to-back Match Play titles, once again confirming his dominance on the sport for another year (at least). Final standings ;
Simon Feasey
David Keene
Dean Marshall
Blair Joines
Pete Boyle
Brett Hailstone
Des Copper
Lawton Williams
Chris Davies
Logan Papuni
Damien Peters
Brady Keuch
Siep Van Vliet
Mike Proctor
Juan Unda
Mike Bloor
Check out pics from past Taumarunui events: King Country Classic 2013, King Country Classic 2011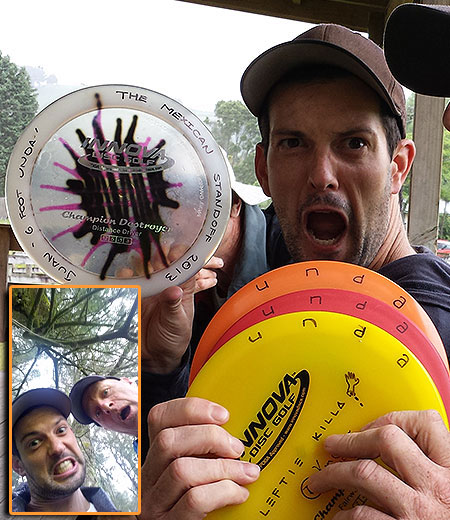 The Mexican Disc Golf Standoff 2013© - 2nd favourite Speedo Keene was smart enough to not let the Pesky Mexican© Juan Unda know his adversary until Saturday morning, thus avoiding the inevitable Mexican slander. Speedo was therefore able to rest well by rooming with an unnamed player who - despite being 70km inland - kept shipping at bay with a self powered fog horn. Note Speedo's tension from our Puttercam© after power putting through the chains and going two down after two to the SombreBro© who was forever over his shoulder providing positive encouragement. ©©©


Sun Burst - Christchurch golfer Chris Davies bursts through the shade of the Hobbitzone to seriously threaten the chains on the tricky 11th.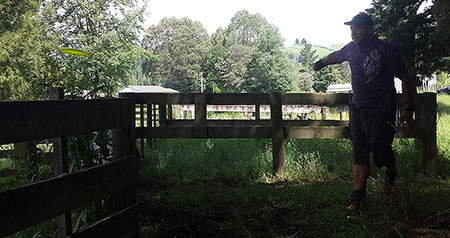 Fenced In - Auckland's Mike Proctor does well in a tricky second shot situation, wary of the out-of-bounds to the right as he succesfully saves a point on the 2nd whilst battling Juan Unda.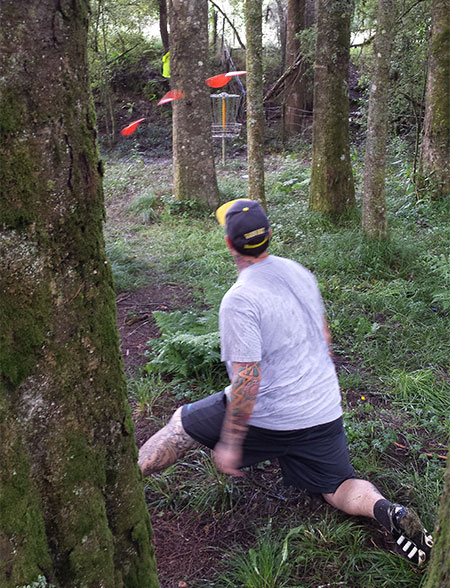 Totally Bent - Levinite Jacko Sullivan always seems to be the feature of cameraman Len Skap's special frame-by-frame sequence. Here we see how much flex there is in his putter as he smacks a tree attempting to enter the well protected green of the 15th.


Incoming - Match Play is a mighty way to play disc golf. One on one, hole by hole meant we saw some great runs at the chains. And it was great to see many of those do the job. Kaching!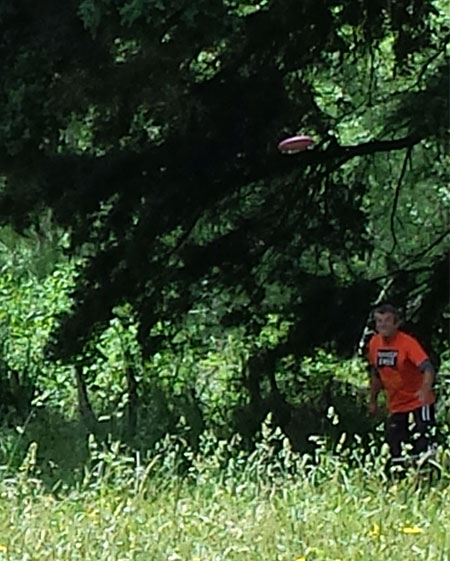 Incredible Hulk - Local lad Des Cooper (Volcanic Plateau) knows when it's needed, enjoying the tactical nature of Match Play to go into the second round undefeated and matched up against the mighty Fease. At times Deadly Des puts so much into it, he looks reminiscent of Lou Ferrigno!


Memories - It seems so long ago that there were no baskets to play at this course. Well done to all involved.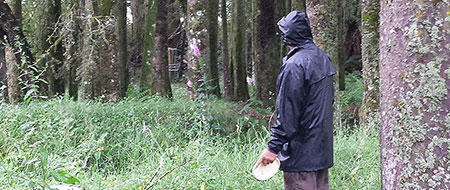 More trunks than a parade of Elephants - Pondering putter Mike Proctor wonders how on earth he might weave his putter through the dense parade of trunks that is the 15th.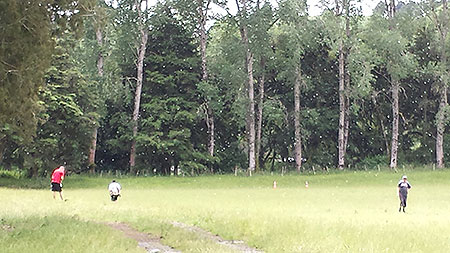 White Christmas - That's what it felt like on the front nine as the 2013 Disc Golf Match Play Championships occured as the surrounding trees the grounds spawned millions of snow-like pollen. It was somewhat surreal. And - as some observant golfers noted - gave a great indication of wind currents many meters away.

Stumped - Look closely and you see Seip's disc on its way to the rattle the chains yet again. Match Play format saw shots like this: a terrible backdrop, but nothing to lose. Needing a birdie to half the sixth with Juan Unda, he guides his putter to slam the chains.


Spotting - With this event being outside the polocrosse season, the grass was not it's usual short self. Whilst pleasant to the eye, the long grass ensured players had to be on the ball pinpointing where their discs landed. Many groups were seen partaking of the Taumarunui Grid Search Shuffle as discs managed to slide completely under clumps of grass. Jackson Sullivan (Levin) found that the best method was to simply park the disc right next to the basket!


On Edge on the Edge - Wellington man of theatre Brady Kuech would enter a zen-like state of mind for any putts from the edge of the green and even beyond, resulting in superb putting accuracy.


Foxglove Fairy Fingers - No, that's not Chris Davies' psuedo on-screen name, that's the name of this pretty plant that vied for his attention. But it was all focus for the Christchurch golfer as he slotted his pearler on the 16th to half with Seip.


Grassy Knoll I - Seip van Vliet (Waiheke Island) does his best to place his driver on the grassy knoll that is the green for holes 3 and 9. With the basket sitting atop a narrow ridge protected by stumps and trees, these two holes made for some exciting putts due to the Match Play format.


Grassy Knoll II - And here Seip shows just how it is done. Needing the birdie to halve the hole, he fires with power and smacks it right into the chains during his all-Waiheke clash with Brett Hailstone (Waiheke Island). Oh yeah!


As Easy as Picking Daisies - As Simon Feasey (Oratia) continued his seemingly easy romp towards the final - here on the 12th - a fair maiden was seen skipping through the fields collecting flowers for the Festival of Frisbees.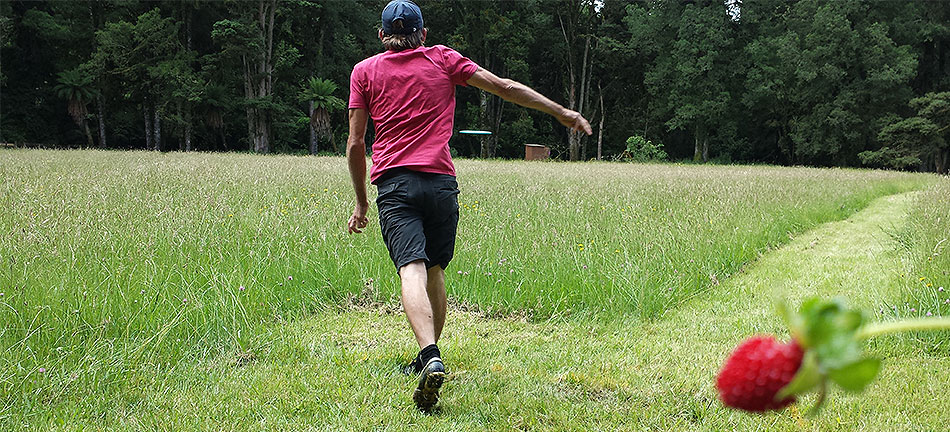 Strawberry Fields Forever - Stylishly straight was the drive of Seip van Vliet (Waiheke Island), hoping to get within putting distance on the 16th to seal the deal against a fading Juan Unda.


Green of Envy - Depending on where you landed your drive, you were presented with one of many challenges on the 10th. Here, TD Blair Joines threw a mighty drive but now needs to curve around some low hanging branches to even get close to the basket for par against Brett Hailstone.


Highlight Package - Human highlighter Brady Kuech (Wellington) fires another well controlled forehand drive on the 13th.


Snow and Hailstones - Another view of the snow-like pollen falling on Hole 7 as Waihekean Brett Hailstone lets one rip from the tee.
back to top
The Results for 2013 New Zealand Disc Golf Match Play Championships
Polo Cross Disc Golf Course, Mananui, Taumarunui - December 7 & 8

Simon Feasey
David Keene
Dean Marshall
Blair Joines
Pete Boyle
Brett Hailstone
Des Copper
Lawton Williams
Chris Davies
Logan Papuni
Damien Peters
Brady Keuch
Siep Van Vliet
Mike Proctor
Juan Unda
Mike Bloor
Women
Gemma Sullivan
Fiona "Ming" Menzies
Jenny Joynt
Paula Wilson