Wairepo Road, Twizel. 30 October - 1 November 2015

The 2015 Moonbase South Island Disc Golf Championships.
Christchurch tour player Chris Davies tells the story.
It's amazing how much you can fit in a 911 race car if you are prepared to wriggle around a bit – and I somehow managed to fit in my large grinder and small espresso machine in, for 5 nights in Twizel, for the inaugural Twizel National Tour Event.
The run down to Twizel is one of the world's great roads, once you get off Thompson's Track, and leave the Canterbury Plains behind, and it all happened rather quickly too, once I found some earplugs, to stop the car permanently damaging my hearing. The Slack's Valley Road was incredible, with a totally clear run, and no police on the radar!
Twizel is always a lovely place, but so few people do more than clamber over the machines used to make the canals and damns which are the reason for Twizel's existence; as a workers township during the years 1965 to 1983 when the hydroelectric power scheme in the MacKenzie basin was in full swing. At the time 188,612 trees were planted around Twizel. Thank goodness they did!
The sun is strong in the MacKenzie Basin, and the shade is a welcome relief from even the spring sunshine there. Throughout the tournament, players often huddled under the double-wide Easy-Ups for protection.
The traditional Twizel course has 5 baskets, made by Simon Feasey, a beautiful Tone Hole, which rings in G-sharp (Thanks Paul C!) for up to 39 seconds, and 12 objects, varying from trees, to tree knots, to forks in trees. It is quite short however, and Vorticasport's Hazen Simson made several trips to Twizel to design a championship course worthy of the NZ National Tour, and in so doing, tried to honour the traditional course as much as possible.
What a tremendous job he did! Hazen has created a course which will yield many birdies for the skilful and powerful player, and many bogies too, if one does not keep one's mind totally focused, and their arm completely under control. No one left the tournament thinking they could not do 5-strokes better at least. And this is just one reason why there MUST be another 50-point Twizel NT Event next year. :-)
The green border of Twizel, has two distinct halves; an open side, with mostly long holes, and a tighter shorter side with mostly technical holes. Both sides have holes which flirt with State Highway 1, with Hole 15 being the most sphincter-tightening, with a good RH shot fading towards the road, but with a steep bank protecting it.
On Saturday afternoon, on the lead card, course designer and co-organiser Hazen demonstrated the ultimate SH1 road trip, by turning his Ballista over at Hole 3, landing in the south-bound lane, and being run over by a bus, and then a semi-truck, which flipped it into the north-bound lane, where it got hit by a van, another car, and finally an old Citroen ID19. The retrieved disc had some rubber marks, but no apparent damage, and it continued to serve Hazen well for the rest of the competition. Latitude64's Snowline plastic is super tough!
Not being the sort of player who can play a course cold, and do well, I arrived on Wednesday afternoon, and immediately joined the crew for a preview round. The course proved challenging and interesting, and requires nine maximum distance throws if your maximum distance is 100-110 metres. I threw a lot more than 9, however.
Thursday's practice round was cold, and wet, with my bag disassembled and all my gear piled around the fire ahead of Friday's Doubles – which saw myself and Senior Grand Master James Smithells (Team Queenstown Old School) play with Hazen and Queenstown's Russel King. I can't remember having a more fun round of Disc Golf, with a great many laughs. James is ageing gracefully and despite a short drive, he nailed several ultra-long putts, and we did as well as could be expected. I was still working on what shots to play on what holes, and Friday was perfect for that.
Being totally unable to reach the long baskets for a potential 2, and the course having a challenging Par 54, makes the upshots in Twizel very important, as many of the baskets are protected in one way or another. The signature Hole 18, plays over the machines and with a double-mando through the Penstock to a basket 12 metres in front of the truck, being a case in point.
If your upshot game is on, then you will do well in Twizel, even if you don't drive terribly far. Queenstown Master Akira Kuroe brilliantly demonstrated that keeping everything tight, and putting well was the key; the only player to equal Simon Feasey in the Super Six (on 19) while the rest of us threw 20.
Friday dawned crisp and still with clear skies, and a fresh coating of snow, almost down to the basin itself. Much ice was scraped from windows by the early risers from Wanaka who had to complete the course setup.
The rule in Twizel seems to be, that no matter what time of year it is – if the day is clear, and starts out cold – then it will get hot. And so it was for the doubles; cool in the morning and wonderful in the afternoon, with temperatures hitting the mid twenties, and we all basked like lizards.
Most people consider doubles to be a wonderful form of the game (I certainly do!) but also, that it is more important as a warm-up for the singles – and yet all eyes were on the pairing of Auckland's Simon Feasey and Queenstown's Ben Wiel-Lake. Simon is the undisputed NZ Tour Leader, with 269.42 points out of a possible 270 for the year after the final round in Auckland!
Young Ben, is advancing in great leaps and bounds, being the youngest NT event winner in New Zealand history, and coming off back-to-back NT wins at Tucker Beach and Christchurch.
The field was therefore expecting them to absolutely slaughter not just the competition, but also the course…
James takes doubles very seriously, and we developed some sort of system which didn't work very well, and at least three times we arrived at long holes where we had to take James' drive due to the failures of aging brains. :P But we had a fantastic time, and we saw some brilliant golf – most of it from other players. :P Thanks James!
Doubles was mostly remarkable for two reasons: the return of Jess Guy to Disc Golf, playing in a moon boot, after a protracted battle with severe foot and leg problems. Jess was able to complete both rounds successfully, and then the second reason:
The Womens doubles tied, with Jess and Robyn Agnew (Team Awesome) and Jenny and Hannah Joynt on the same score. An epic playoff battle ensued with 4 additional holes being played before the TD decided the 5th would be a CTP to decide the winners. This was welcome, as both the players and the substantial gallery were worn out by all the excitement.  Jess placed a lovely drive down the middle to claim victory for Team Awesome. What a truly great day Friday was!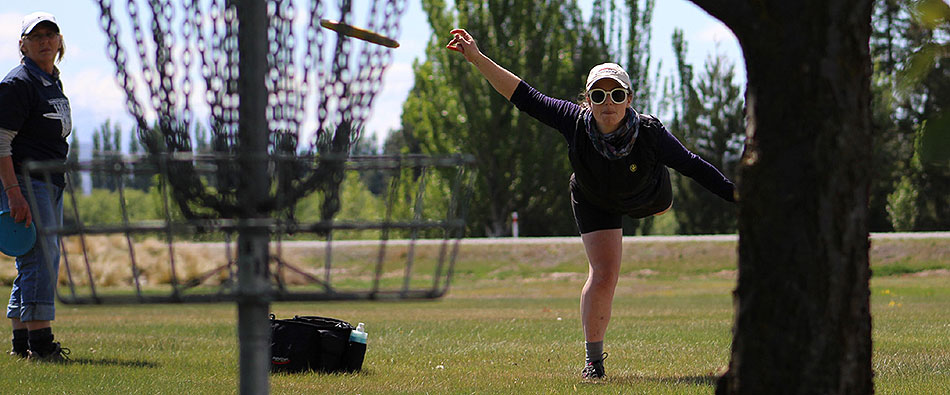 Hanna Joynt from Dunedin shows her Mum Jenny what she's learned

Saturday saw 39 competitors including a record-equalling 6 women for a South Island NT event. Players travelled from Auckland, Christchurch (a record 7 people!), Queenstown, Wanaka, Twizel, Dunedin, and Denmark.
The day began lazily, with Twizel-Time being a factor, and the weather looking like being absolutely perfect, with the sky behaving very nicely indeed, with the dramatic twin-peaks of Aoraki commanding one's attention from the breakfast table.
Having practiced quite a bit, and played at least 20 full rounds in my head at night, battling insomnia, and a low-quality bunk bed, I was sure a Par 54 score was actually pretty decent, and predicted 3 rounds of par would put a player in the Super Six playoff. I said to myself I would be OK with Par, happy with 2 under, and stoked with 4 under.
The initial groupings were a random draw, and I was lucky enough to have two locals in my group. Kelvin Firman, who I mentally gave the Indian Name OneDiscSixBeers. He had brought his lovely six year old daughter, pretty-in-pink Isabella along for the round. I christened her OneDiscNoBear. Bella turned in scores of 5, 6, 7, 8 and 9. And then Granny came to take her home, because she was a bit tired.  Great job Isabella! I greatly look forward to your score in Twizel in 2025. J
The other local, a Master with a simply unbelievable name, was Eddy Stead! For those of you who were raised in a cave, Steady Ed was the father of disc golf, and Holy Fatal Frisbees - you can still buy a commemorative disc with some of his ashes embedded in them!
Eddie took golf a little more seriously than Kelvin… which is to say, he was quite  casual about it. Eddie didn't lend himself to an Indian name, and it took me three holes to find his: TallinPain – as he was playing with some hernia pain, and I once again thanked my lucky stars and more importantly, my surgeons, for my pain-free disc golfing these days.
It was at our first hole (12) I was reminded that Disc Golf is so many different things to so many different people; it's a pastime, recreation, family fun, gentle exercise, a fun activity, as well as being a serious sport, and highly competitive. And it can be all those things within a single group of golfers. WOW!
Having now played the equivalent of about 5 or 6 rounds of  the  competition course, and never scoring much below 60, I was determined to play well, and the conditions suited my straight-game; gentle breezes under 10 klicks, with cool-ish temperatures.
Now, for many years I have been working on my mental game, and it used to be the case that one or two bad holes would destroy my game – and prior to me discovering some "Inner Game" techniques, I developed my own: in tournament play I physically forget every shot as soon as I arrive at my lie, and I do not beat myself up on the walk to a lie if it is bad. That is a recipe for disaster. What it means, is that by the end of a competition round, I have virtually no idea what my score is, and only a sense of whether I have done well or not.
So I was surprised and delighted to add up the card and find a 50 – 4 under par. I was stoked. And third. Awesome.

Hazen turned in a stunning 47 on his own course, Simon a creditable 49, with Akira Kuroe on 52, Bob Gentil (on two new joints!) on 54 and a whole bunch of people on 55 and 56 – most notably, Wanakan Womens Open player Hayley Flintoff with a 55 – beating her partner Kyle by a single stroke.
I was stoked to see Akira in the top group with me for the afternoon. He has a solid game, but not a long drive – and I keep telling people you don't need to drive long to do well – you just have to keep putting discs up the middle, and cashing your putts. And that's exactly what he did – and continued to do…
Ben, after winning the doubles with Simon, was expected (and no doubt *expecting*!) to do well, but only managed a 59, after multiple bogies.
My simple plan was to throw no bogies, and in round one, I was consistently landing discs close to the basket, and dropping them in. All I had to do was maintain my strategy, keep my head in the game, and execute my plan…
It was not to be however; my putting was awful, and I hit metal constantly, but failed to go in. Not only missing birdies by missing pars as well. It was my turn to hand in a 59. Ouch. Feeling a little dejected about the high score, I was later buoyed somewhat to discover that many of my fellow competitors had also had shocking rounds: the wind had come up, but it was all thermal based, so the winds were flukey, and swirling, and on holes 2 and 3 we faced headwinds, despite running in opposite directions!
Not so for Hazen, who continued to dominate, with a 3-under, 51, while Simon eased back to 50 to be one stroke back going into the 3rd round. Bob was on fire turning in a 51 to snatch 3rd – doing what Akira was doing: being accurate. He went one-over playing rock solid golf, and I dropped to 5th – still with a chance to hang on, and make the Super Six.
Ben had exploded on the course, and looked fairly down after round 2; he'd carded a 64 – a shocking 10 over par, which had put him well out the back door. He and Allan Gorthy were both staying in a rented home, and they had found a very old can of budget fruit salad in the back of a cupboard. They figured it was so scary, no one would touch it. So, with all thoughts of a victory, Super Six or Big Points now gone, Ben made a bet with Allan to use only putters in round 3, and the loser would have to eat the can of fruit salad. Can you say "Stomach Pump"?
As always, Simon Feasey was amazing to watch – with him throwing pure hyzer shots out beyond 130 metres, and making some amazing plays – but his putting let him down a little, and clearly everyone was leaving a lot of strokes out there on the course. Simon kindly took me aside and told me I'd been trying to muscle the disc – and he was absolutely right! I was feeling a little tired (but not sore!) and I had reverted to pulling hard at the start of the throw, instead of waiting until very late, and smashing it super hard.
I spent quite some time standing 4 metres out from a basket, repeatedly trying to make stand-still full-power driving motions, with very late acceleration, into the chains. After 100 or so throws, I wasn't feeling any more tired, or sore, and the discs were leaving my hand so fast – it felt great. And they were smashing the basket with incredible force, which was encouraging.
So, the plan for Sunday was to slow down to speed up! Smash the disc hard – and late – and NOT TRY HARD. It was my intention to sleep through the AB's World Cup Final – but even with a pillow on my head, I was roused with 5 minutes left to play.
Falling to 5th, and into the chase card for the 3rd round, I was joined by Roddy McKay and Paul Child (QT) and Toby Gentil (AK) – so this was sure to be a fierce battle  for the remaining two spots in the Super Six – one I hoped would go my way!
It was a genuine pleasure to play with this group of fine gentlemen: Roddy, the hilarious Scot with the St. Andrews cap, and the strangest driving form I think I have ever seen – like a spring winding up, and uncoiling. Paul, the self-critical guy for whom no shot ever seems to be good enough, and Toby, the young-gun from Auckland. With the blood of a Disc Golf Hall of Famer surging in his teenage veins, I was most excited to see how he would do. The last time I had a round with him, he showed massive potential, and I was sure he would show us The Good Stuff.
What a fascinating contest we had, with Toby showing us some amazingly long drives with his superb and effortless-looking backhand form. Paul who had thrown 2-over twice, was champing at the bit, and demonstrated some truly stunning running forehand throws which reached 120 metres. He dropped in a couple of massive putts too – and walked out with a very creditable 52, securing his spot in the Super Six.
Roddy, started out with a hiss-and-a-roar; taking several birdies, the third of which meant draining a magnificent 14 metre putt over OB. Sadly it was not to be Roddy's day however, with a few inconsistent shots resulting in him handing in a 5-over, 59, to drop to 9th overall.
Toby demonstrated his talent and skill with massive distance and many masterful shots from someone who can't yet vote, and if it hadn't been for the final two holes, he'd have turned in a great score, and it would have been a Double-Gentil Super Six for the first time ever. As it was, he showed a slight lack of match mental fitness, and made an unfortunate call on the last hole – the double-mando No. 7  – carding a 7 there, IIRC.
However - there's no doubt in my mind both Toby and Ben are the finest young disc golfers in the country, and both are to be commended for playing in the Open Division. I expect so see some absolutely insanely great disc golf from these two in the future. They are so exciting to watch, and I thoroughly recommend doing whatever you have to do to ensure you get a round in with these rising stars.
Speaking of young Ben – his putter round was by far his best, making a 1-over, 55, the best he'd done all weekend, and 9 strokes better than when he played with a full bag! This is the best evidence yet, that slower discs are often better: they deviate from their thrown line so little, that there is very little chance of getting into trouble, unless you really push the envelope.
This led to Allan carrying the can of fruit salad, and a spoon, eating and spectating his way around the Super Six holes. One of the funnier moments of the tournament.
As for myself, I managed to salvage some pride, but not a lot – handing in a 3-over 57, which was just enough to hang onto 6th place, although I really felt I had not done enough to stay there; at one point I rode the bogie train through 5 stops in a row. Thank goodness for the odd unexpected birdie!
In Round 3, Senior Grand Master Bob, playing down in the GM Division, was able to repeat his outstanding Saturday afternoon 3-under, to end up in a solid 3rd place overall, effectively chucking down the gauntlet for next year's NZDG Tour!  So, all Masters, Grand Masters and Senior Grand Masters better watch out: BOB'S BACK!
Rather Sadly, Toby's last ever day of school was the following day, and Bob had to drive him back to Queenstown early for his flight, thus missing the Super Six. It's an advertised round of play, so missing it results in a DNF in round 4, and dropping down to 6th place. Ooh bugger.
My prediction of 3 rounds of par making the playoff was easily correct. The cutoff actually being 4 strokes higher, at 166.
In the Womens divisions, Hayley, who so dominated in Round 1, exploded in Round 2, coughing up a 66, 11 strokes worse! Still, she was well ahead of Germany's Allessa Schwarz, who has such a lovely putting style, and a powerful drive. Allessa continued to improve over the weekend, improving by 5 strokes in R2 and another 4 in R3. Mother and Daughter, Jenny and Hannah Joynt had a right royal slugfest, and ended up equal for the tournament, with Robyn Agnew just 4 strokes back.
12-year old Phil Botha from Christchurch did extremely well in only his second ever competition, carding 67, 71 and a 72.  But he wasn't able to hold out 17-year old Wanakan Bruce Riley who took out the Junior title. But, don't worry Phil, next year he will have to play in Open!
There are many players I have not mentioned in this story – but I simply do not have the time to visit everyone's performance – so I will suffice it to say that everyone did worse than they thought they would – except perhaps Simon – who had a fantastic day on Sunday: he watched the ABs win the World Cup, took another National Tour Win, *and* celebrated his 48th birthday – HBD Simon! Dear god – that means I only have 1 more year of GM play before Simon arrives and kills us all! ;)
This was perhaps the best National Tour Event I have ever attended: Twizel is a fantastic place, the course is outstanding, and tough, the social side was unbeatable, the weather was 100% pure awesome, the organisation was top-notch, and the scenery is spectacular beyond words.
Basically, you'd be insane to miss it next year! Martin???
The Pictures
Check out pics from past Twizel events: This is the first!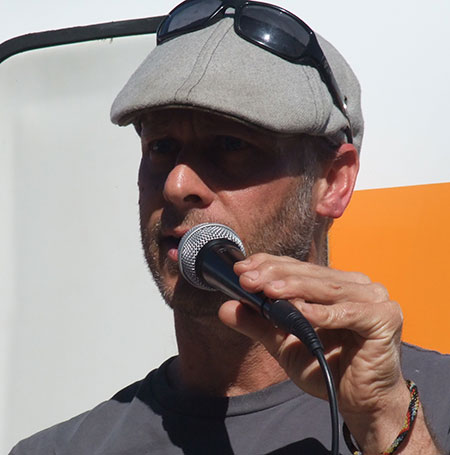 "And now I will do a bit of Paul Weller..." - TD / MC Martin Galley works the crowd.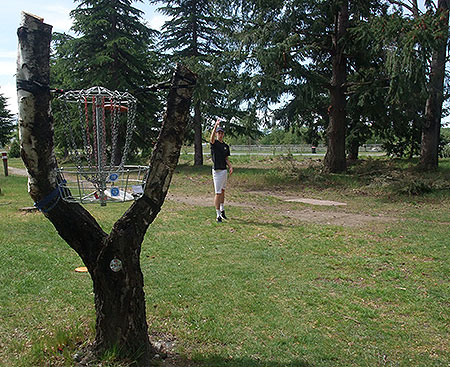 From T to Y - Auckland's Toby Gentil and the basket in the tree.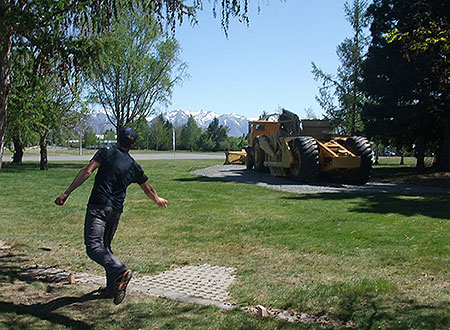 Original Bunker - Wanaka's Hazen Simpson on the hole protected by some heavy metal.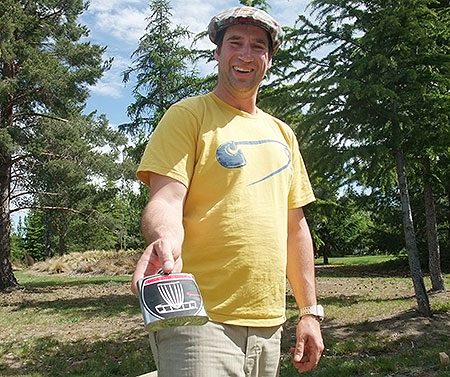 Now that's my kind of hipster - "Would ya like a wee dram?" Gotta love playing with a Scotsman. Thanks Roddy McKay!.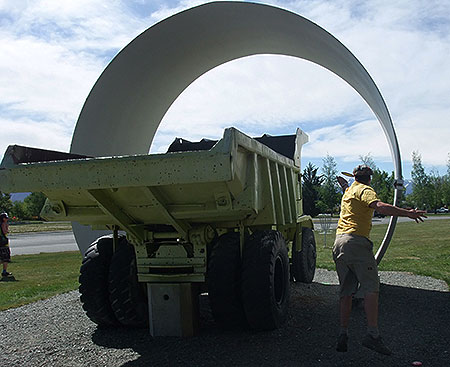 Pipe Dreams -"Oh truck!" ... Roddy McKay missed the mando but can see the basket.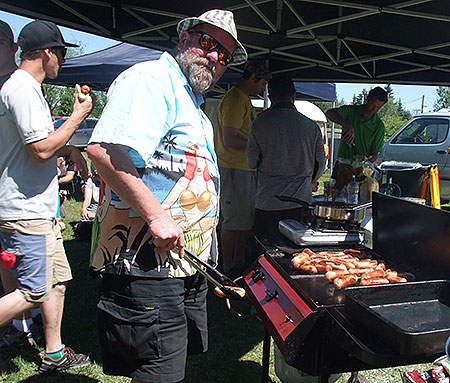 Southern Snarlers - Craig McNab .. the South Island's version of the legendary Pete Boyle.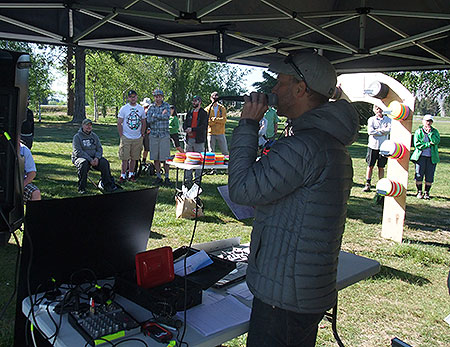 Wanaka as a prize? - "If you miss the mando you must unwind", Martin sets the rules.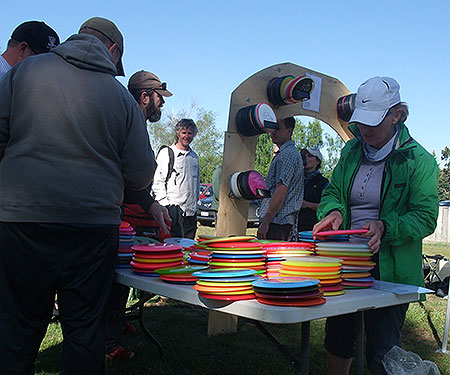 Colourful Arrangement - As a veteran Kiwi disc golfer, Jenny knows it is always good to check out the new plastic.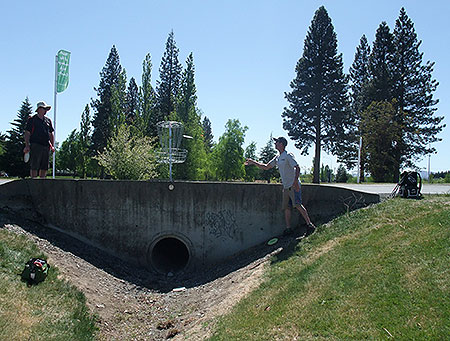 A Shot to Ad'mire' - Aaron Mires putts out the basket over the drain.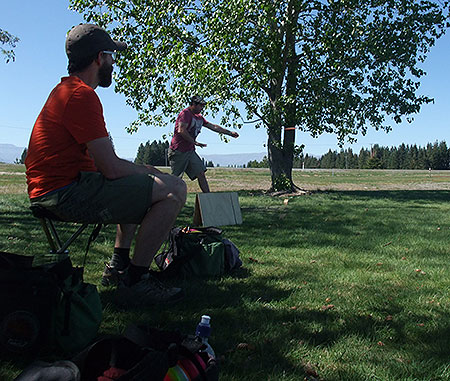 Shady Tee - Paul Child makes himself comfortable as Roddy McKay sets one alight.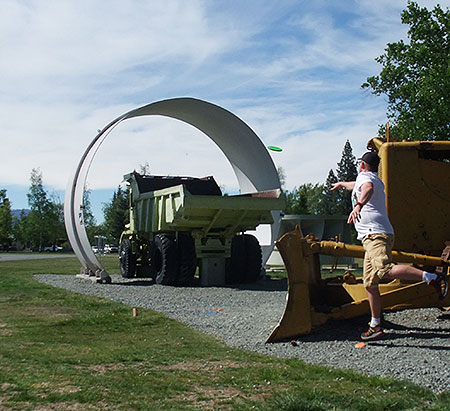 Taking a Dump - Stuart Gilchrist plays through the mando on the heavy metal hole.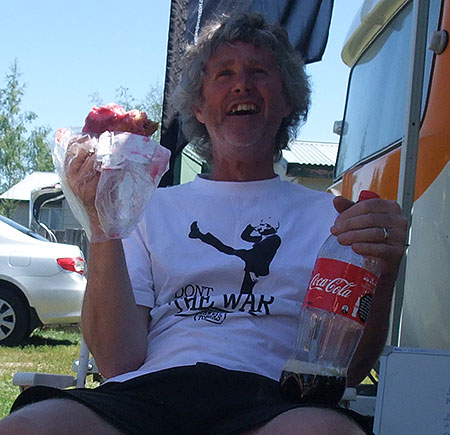 Second Round Diet - Craig McNab, the South Island's version of the legendary Pete Boyle.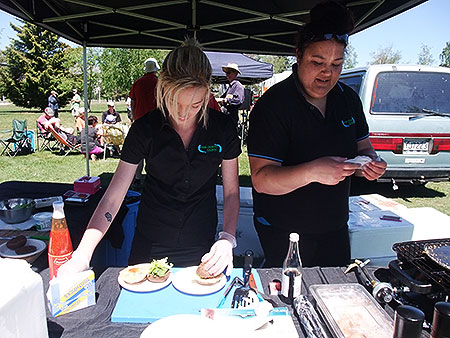 Cuisine a la Frisbee - Sunday lunch featured beautiful South Island Salmon burgers.


Tight Green - Basket in the trees.



Dizzy Dozer - Stuart Gilchrist and Hayley Flintoff watch Roddy take a run at the basket.



Fielding Calls - Queenstown's Hayley Flintoff makes use of the open space for a big throw.



Suspended Flight - Stuart lines up the hanging basket on 8.

The Results for 2015 Moonbase South Island Disc Golf Championships
Wairepo Road, Twizel. 30 October - 1 November 2015
| Place | Player | Div. | R1 | R2 | R3 | R4 | Total | Points |
| --- | --- | --- | --- | --- | --- | --- | --- | --- |
| 1 | Simon Feasey | M | | | | | 165 | 60.00 |
| 2 | Hazen Simson | O | | | | | 167 | 58.45 |
| 3 | Akira Kuroe | M | | | | | 183 | 56.89 |
| 4 | Paul Child | O | | | | | 184 | 55.34 |
| 5 | Chris Davies | GM | | | | | 186 | 53.79 |
| 6 | Bob Gentil | SGM | | | | | 156 | 52.24 |
| 7 | Toby Gentil | O | | | | | 168 | 50.68 |
| 8 | Kyle Martin | O | | | | | 169 | 49.13 |
| 9 | Roddy Mckay | O | | | | | 171 | 47.58 |
| 10 | Stuart Gilchrist | O | | | | | 172 | 46.03 |
| 11 | Rando Pahn | O | | | | | 173 | 44.47 |
| 12 | Craig McNab | GM | | | | | 174 | 42.92 |
| 13 | Aaron Miers | O | | | | | 175 | 40.59 |
| 13 | Chip Morgan | O | | | | | 175 | 40.59 |
| 15 | Kelvin Firman | O | | | | | 176 | 35.16 |
| 15 | Tom MacKay | O | | | | | 176 | 35.16 |
| 15 | Ben Thomson | O | | | | | 176 | 35.16 |
| 15 | Cameron Hubbard | O | | | | | 176 | 35.16 |
| 15 | Dom Hayden | M | | | | | 176 | 35.16 |
| 20 | Russel King | O | | | | | 177 | 30.50 |
| 21 | Ben Wiel-Lake | O | | | | | 178 | 28.95 |
| 22 | Hunter Harril | O | | | | | 181 | 27.39 |
| 23 | David Rose | O | | | | | 182 | 25.84 |
| 24 | Ed Waddington | M | | | | | 183 | 23.51 |
| 24 | Rene Mikkelsen | M | | | | | 183 | 23.51 |
| 26 | Hayley Flintoff | W | | | | | 184 | 20.41 |
| 26 | James Smithells | SGM | | | | | 184 | 20.41 |
| 28 | Alex Mladanka | O | | | | | 185 | 17.30 |
| 28 | Allan Gorthy | O | | | | | 185 | 17.30 |
| 30 | Alessa Schwarz | W | | | | | 187 | 14.97 |
| 31 | Martin Galley | M | | | | | 188 | 13.42 |
| 32 | Eddy Stead | M | | | | | 193 | 11.87 |
| 33 | Bruce Riley | J | | | | | 194 | 10.32 |
| 34 | Jenny Joynt | WGM | | | | | 204 | 7.99 |
| 34 | Hannah Joynt | W | | | | | 204 | 7.99 |
| 36 | Robyn Agnew | WGM | | | | | 208 | 5.66 |
| 37 | Phil Botha | J | | | | | 210 | 4.11 |
| 38 | Scott Pulver | M | | | | | 222 | 2.55 |
| 39 | Katie Lucero | W | | | | | 90 | 1.00 |

back to topThe END