add to facebook

June 2 & 3 2012 - Spa Park, Taupo
Better par at the Spa

It was officially the first weekend of Winter so there was every chance there would be southerly winds and icy rain coming straight off the snow capped mountains of National Park and across the lake to freeze the golfers playing the stunning Spa Park Competition course .. but .. to the contrary, Queen's Birthday weekend, not to mention her Diamond Jubilee was a stunning weekend weather-wise with not a breath of wind and the temperature soaring to a beautiful 9 degrees both afternoons.
Spa Park had taken a bit of a hammering from what looked like a tornado that had ripped the tops out of trees and flattened a tract through the park making numerous holes of the 2012 Classic a bit of an obstacle course.
Thanks to the basket providers, Pete and Blair from LTD, Juan from Freaky Styley and Hayden from Woodhill all the baskets were installed by early afternoon so the course was ready to practice on as players arrived.
Saturday morning late registrations saw the field grow to 22 and come 10am we were under way in glorious conditions.
At the lunch break One Tree Hill golfer Brad Muir - on his first time on the Spa Park course - had ripped it up coming in with a 4 under the card 52, a score not to be beaten for the rest of the weekend. Joining him for the seeded afternoon round would be Blair Joines (M) on a 54, the GM on 55 and the rapidly improving Junior Toby Gentil (14yrs) tied with his Dad (a bit more than 14yrs) on 55.
At the end of the second Saturday round Brad had held on to his overall lead with an afternoon round of 55 but thanks to a 53 from West Auckland golfer Damian Peters the gap was just 2 shots.
Sunday morning and it's another perfect day for disc golf as the players head to their starting Tees. The top group starting on number 1 were all in with a chance at over all honours. Brad on 107, Damian 109, Nigel Hailstone on 111 and Junior [off the shortened Tees] Toby Gentil also on a 111. The Lost Tribe's Blair Joines and Levin's Lawton Williams headed the second group also on 111.
As the cards come in after the last full round it seems the top group had all had a pretty average round, the best scores of the morning came from the second group with Blair Joines' s (M) 54 seeing him tied for the lead with Damian Peters (O) on 165 and Pete Boyles 53 saw him jump into the 'Super 6' Final along with The Brotherhood's Lawton Williams (O) from the second group as well. They joined Auckland's Brad Muir (O) and Nigel Hailstone (M) for the 'Super 6' battle for the championship.
The first 4 holes of the 'Super 6' didn't see too much change to the top of the leader-board, that came on the 5th Super 6 hole [15 on the course] when Blair's drive slid out to the right of the basket, Damian's was also on a similar route but clipped the tree overhanging the basket and dropped underneath, the rest as they say "is history."
Congratulations to everyone who took part in the 2012 Taupo Classic and of course our winners; Damian Peters Open & Overall, Blair Joines Masters, Gema Sullivan Woman's, Pete Boyle Grand Masters, Jenny Joynt Woman's Grand Masters and Toby Gentil Junior.
Another Disc Golfing, Mountain Biking, coffee drinking weekend with a fantastic bunch of friends comes to a close.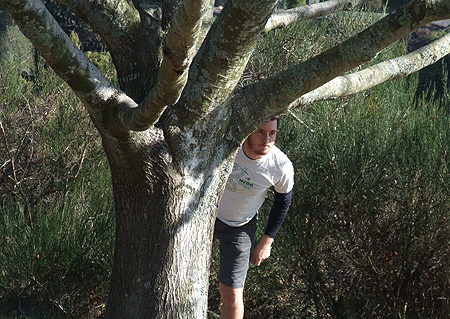 Leftie Focus - One Tree Hill golfer Brad Muir all concentration on his way to shooting the weekend's best round of 52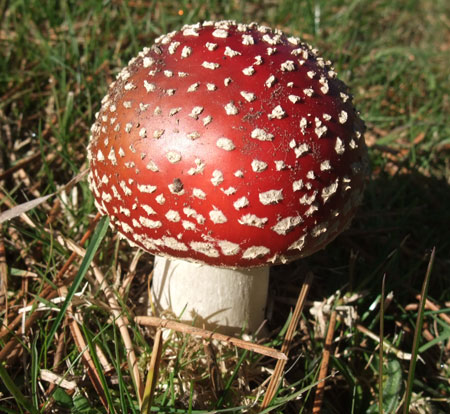 'Shroom for Improvement - All the indications were we were in for a magic weekend...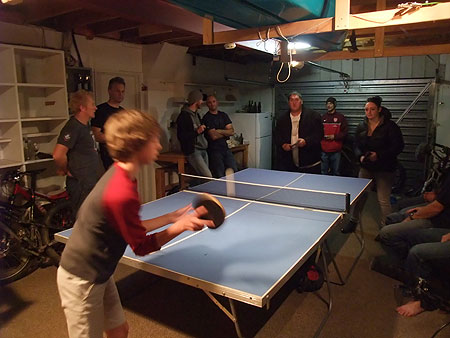 We know who's Pong, but who's Ping? - Saturday evening and the Freaky Styley 'Rent a Bach' became the scene of more deadly serious competition. Father/daughter disc golfing combination of Shane and Gemma held the table longest as teams lined up to try again.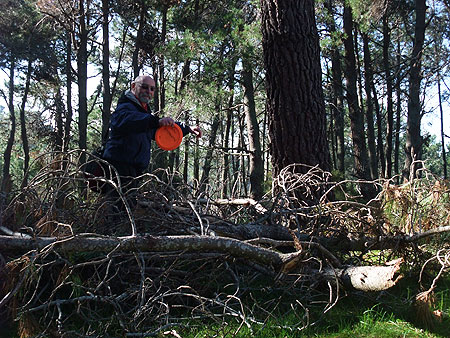 Twig What I Mean? - Taumarunui legend Pete Boyle who spent a bit of time over the weekend playing out of the rough. Didn't seem to hinder him though!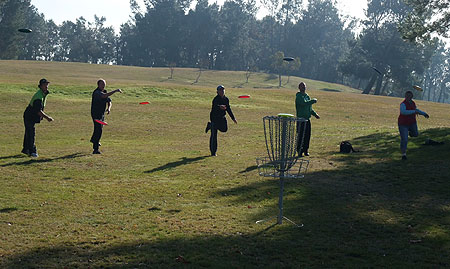 Here's to You, Johnny - The Saturday lunchtime 'Ring of Fire' competition saw Nigel Hailstone pick up a brand new Innova Dart for his skills.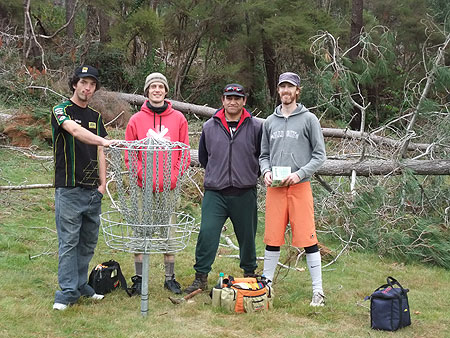 Tall Timber - Surrounded by the wind damage are some likely lads as Bruno Whale, Leroy Windle, Victor Kereopa and Nick McKay smile for the camera on hole 11.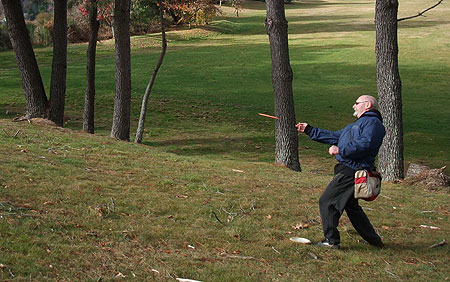 On the Beat Pete - Classic Pete Boyle. The bag stayed on the shoulder all weekend


'Johnny Cash'ing In- The lunchtime Saturday 'Ring-of-Fire' competition saw Nigel Hailstone with the most gas, picking up the prize from Gentil Sport

Autumn Shot Mate! - Brad Muir (Auckland) showing the skills that will see him have his name engraved on many trophies in the not too distant future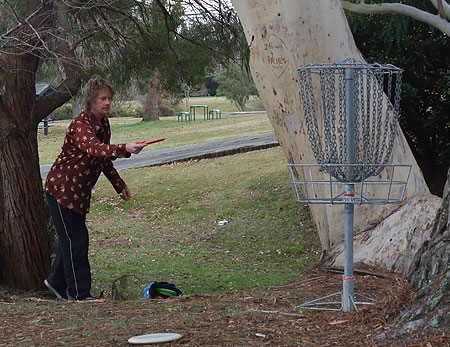 Bob's Tip #26 - Sunday morning and Waiheke's Malcolm McMartin arrived at the course straight from a big night out. It worked as he shot his best score on that round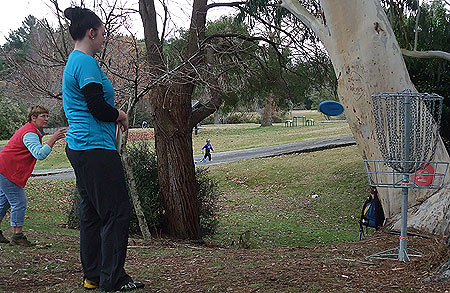 Contrasting Disc/Shirt Colour Combo - The girls. Grand Master Jenny Joint from Tokoroa putts out as eventual Woman's champion; Levin's Gemma Sullivan looks on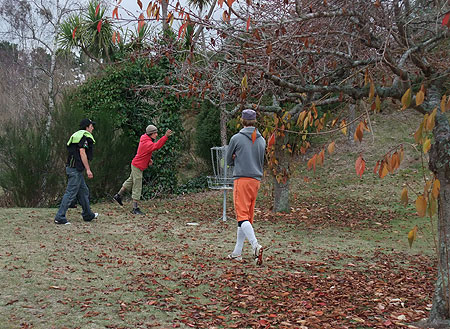 Joy for Leroy - Waiheke Island's Leroy Windle slams his putt into the chains on 10 as Taumarunui's Bruno Whale and One Tree Hill's Nick McKay look on


Not Bad Brad - Brad Muir confidently putts out hole 4 as Pete Boyle and the GM look on


Tricky Vic - Taumarunui's Victor Kereopa shows his putting style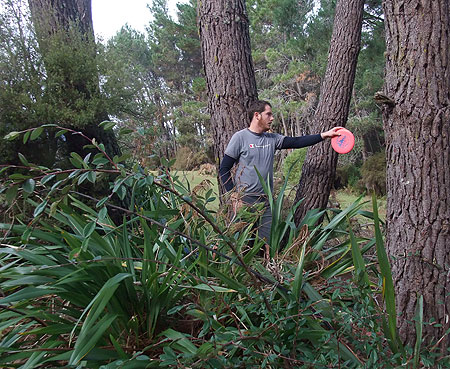 Disc, I Command You to Do This - Brad Muir lines up his putt on 13.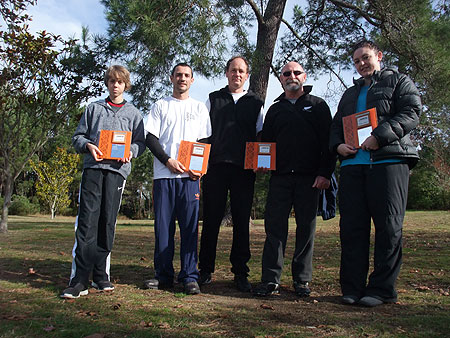 Spa Giants - And the winners were; Toby Gentil Junior, Damian Peters Open, Blair Joines Masters, Pete Boyle Grand Masters, Gemma Sullivan Woman's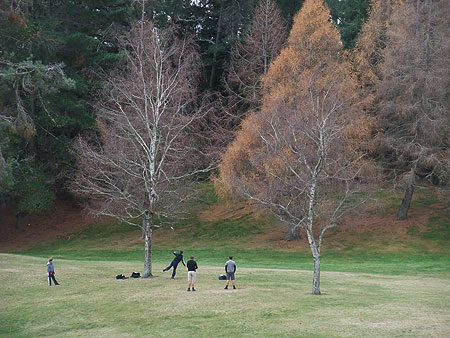 I'll Just Roll This Up There for Two Thanks - The stunning Autumn colours of Spa Park. Eventual winner Damian Peters drives watched by Toby Gentil, Nigel Hailstone and Brad Muir.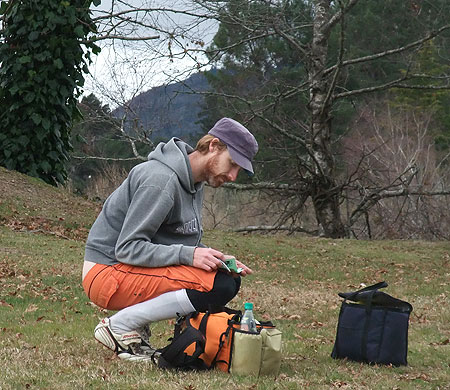 Congratulations - Auckland Disc Golfer and recently married [on hole 9 at Monte] Nick McKay get's the scores down.


Trapped, Yeti Recovered - Taumarunui Disc Golfer Pete Boyle finds himself in a tough position on the opening hole of the 'Super 6'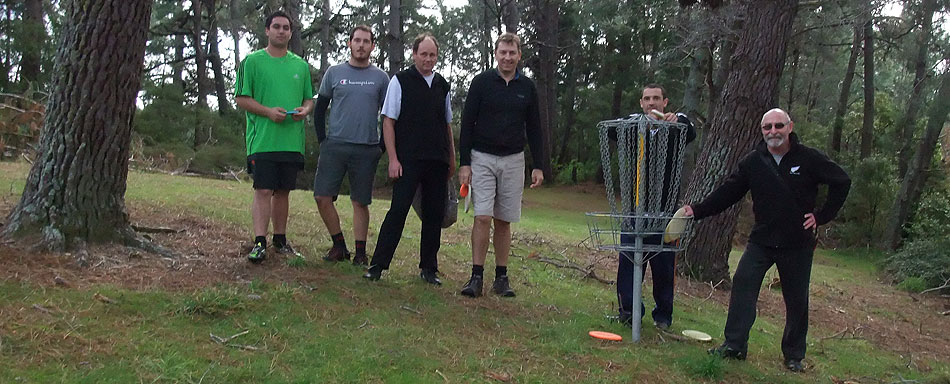 Super Dooper - The 2012 Taupo Classic 'Super 6'. Lawton Williams, Brad Muir, Blair Joines, Nigel Hailstone, Damian Peters and Pete Boyle.
back to top
The Results
Taupo Classic 2012 June 2 & 3 2012 - Spa Park, Taupo: Results
Player

Dvn.

R1

R2

R3

S6

Total

Div Place

1

Damian
Peters

O 

56

53

56

17

182

1

2

Blair
Joines

M

54

57

54

19

184

1

3=

Brad
Muir

O 

52

55

60

19

186

2

3=

Pete
Boyle

GM

56

58

53

19

186

1

5=

Nigel
Hailstone

M

56

55

60

17

188

2

5=

Lawton
Williams

O 

57

54

57

20

188

3

7

Toby
Gentil

J15

55

56

61

172

1

8

Bob
Gentil

GM

55

61

57

173

2

9

Seip
Van Vliet

O 

58

61

57

176

4

10

Des
Cooper

GM

63

55

60

178

3

11

Bruno
Whale

O 

62

59

58

179

5

12=

Shane
Sullivan

GM

59

59

62

180

4

12=

Victor
Kereopa

O 

60

60

60

180

6

12=

Paul
Cohen

GM

57

61

62

180

5

15

Nick
McKay

O 

59

61

64

184

7

16=

Leroy
Windle

O 

59

65

63

187

8

16=

Gemma
Sullivan

W

60

64

63

187

1

18

Jenny
Joynt

GMW

65

66

70

201

1

19

Malcolm
McMartin

O 

71

71

68

210

9

20

Hayden
Shore

O 

68

67

DNF

999

10

21

Andrew
Taylor

O 

58

DNF

DNF

999

11

22

Karoline
Jonsson

W

69

DNF

DNF

999

2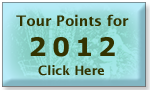 One hour out of the Big Spoke and the GM is thinking this might just be the tournament weather I had dreamed of.