add to facebook

Monte Cecilia Park, Hillsborough, Auckland July 20 & 21

The 2013 Crater View Cup Disc Golf Tournament.
NZDG Tour event number 9
The Freaky Styley Crater Cup is one of the longest running Disc Golf events in the Southern hemisphere. Initially it was a FS invite only event but since 1990 it's been open to all. What made this tournament so special was sadly lost a few years back when we were only given permission to run the event if we stayed off the hill and out of the craters. Seems they are only for people who don't apply for permission, stock and rock re-arrangers these days, which blows this reporter away as one 500+ kg cow will do more damage to this precious archaeological site than 1000 Disc Golfers over 1000 years. Oh and of course we're running an event for Auckland City that gets people off their backsides and away from computer/TV screens and out into a healthy environment and exercising and we really don't want that do we?!
This year one of the 'stake holders' decided that we now can't even use the flat part of the park so I'm guessing it's only fair to say the Crater Cup as we knew it is officially 'no more'. But sad considering the park was bequeathed for the 'recreation' of New Zealanders .. not the 'passive use of'. Looks to us like just more proof of this PC gone mad politics.
In saying that Monte Cecilia is a stunning environment to play Disc Golf in as the 28 competitors in this year's Crater Cup can attest too I'm sure.
The venue was not the only thing that was different from the norm as the Crater Cup weekend is usually about the worst Auckland winter weather you could imagine with lashing wind and horizontal rain .. but .. the weekend of July 20 & 21 was stunning weather. No wind to speak of and t-shirt & shorts sunshine for most of the weekend.
The only one who really cashed in on these stunning conditions was David [Speedo] Keene who gave the rest of the field a lesson in tournament Disc Golf. Great skills Speedo and congratulations to not just the winners but everybody who once again made this a great Disc Golfing weekend.
Check out pics from past Crater Cups: 2012, 2011, 2010, 2009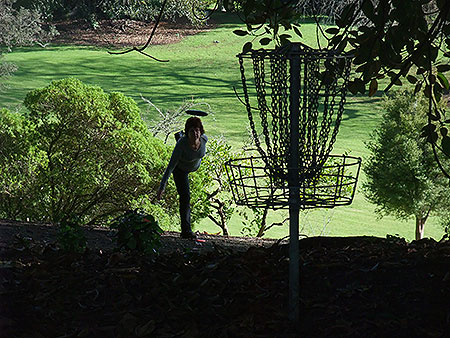 One of our Best - Tauranga Disc Golfer Ming Menzies with style right out of the Disc Golf manual.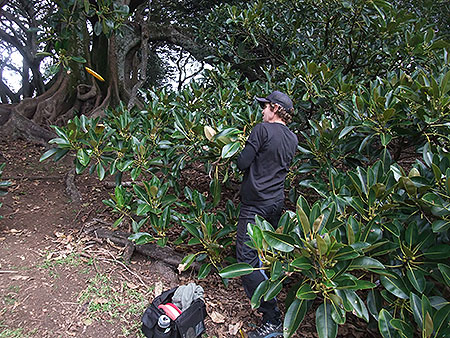 It's a Shore Thing - Totally at home in the forest, Woodhill Mountain Bike Park manager Haydn Shore takes on one of the many giant Morton Bay Fig trees in this stunning park.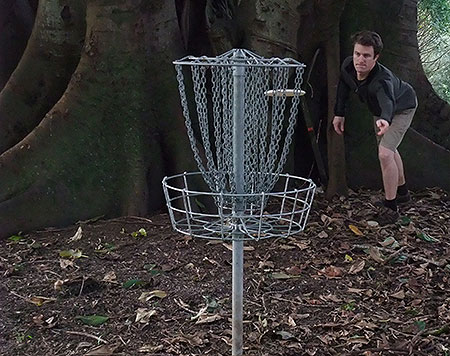 A-Mayson - Surrounded by the amazing Morton Bay Fig tree roots One Tree Hill golfer Tim Mayson slams his putt into the chains.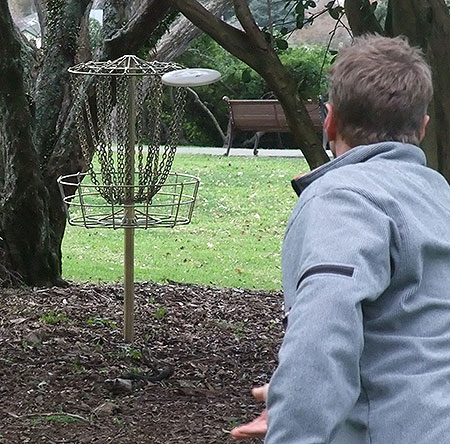 Golden Boy - New father Chris Kingsnorth from Auckland's North Shore going for gold. 'Doctor P' had painted his basket gold for the occasion.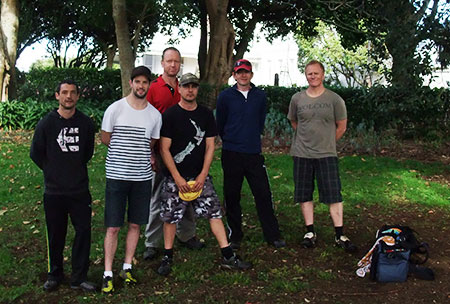 Mixed Final - The 2013 Crater Cup Super 6. Damian Peters, Speedo Keene, Brett Hailstone, Dean Marshall, Siep van Vliet & Marty de Haas, about to battle for second.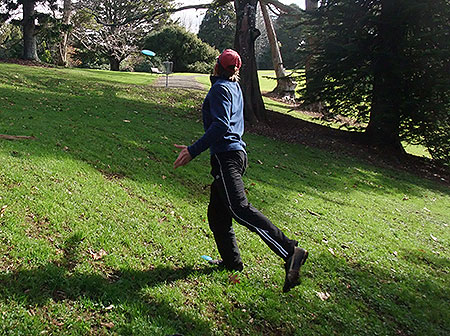 Four on the Floor - Siep Van Vliet lays up to basket 4. A roll here could see his next shot from 100 metres away at the bottom of the hill.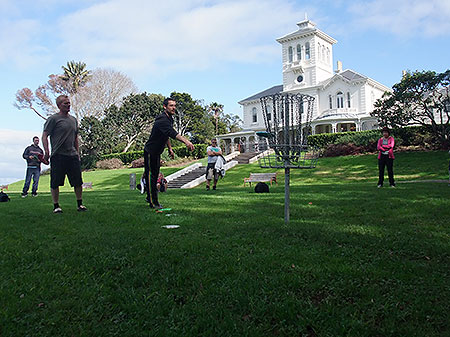 Top Knotch - Defending Champ Damian Peters putts out hole 9 under the gaze of the Monte Club rooms.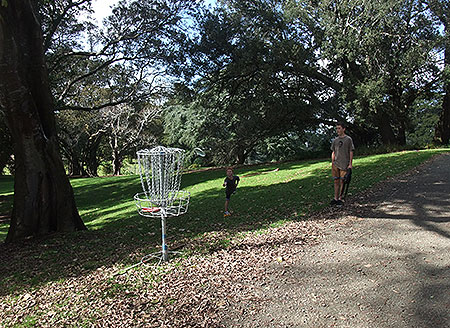 The Full Kit - Waiheke Island Disc Golfer Kip Hailstone putts at the tricky 4th as bro Jacob watched on.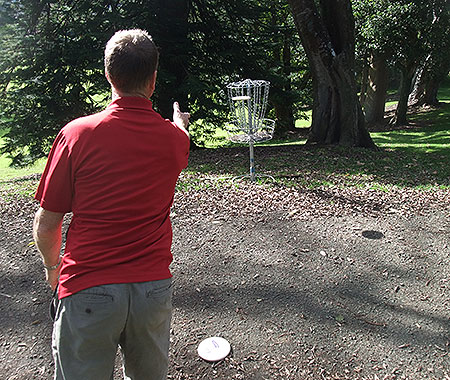 Islander Reminder - Dad Brett Hailstone shows his boys how it's done with a solid downhill putt.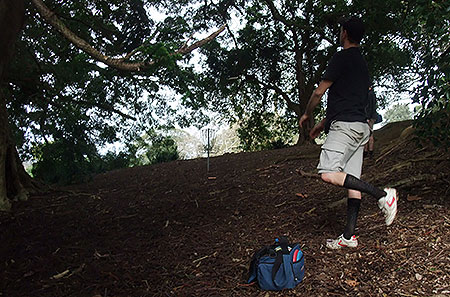 Give your Best - West Auckland Disc Golfer Jymi Best putts under the stunning canopy of Monte Cecilia's natural leafy cathedral.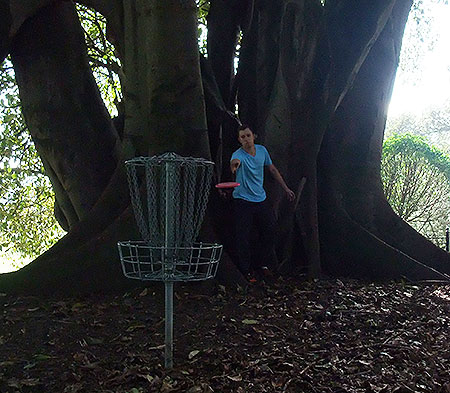 Solid Foundation - Coming from Rotorua Logan Papuni was well used to the tall timber.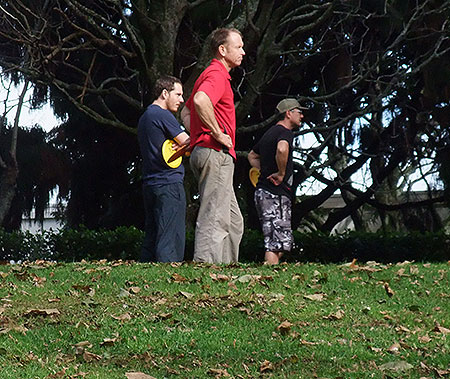 Really?! - Nice shot Speedo! Brad Muir, Brett Hailstone and Tauranga's Dean Marshall wondering how they can match Dave's drive.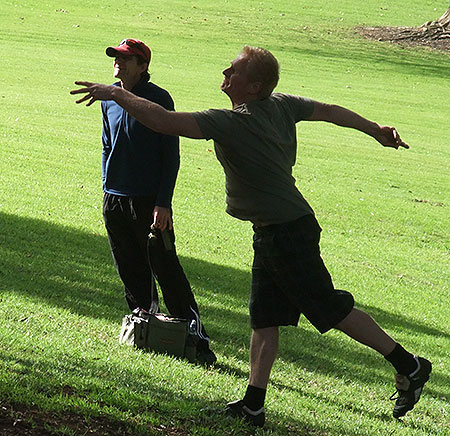 Stepping Up - Maungakeikei Golfer Marty de Haas. Right foot forward, left hand putt. Just doesn't seem right.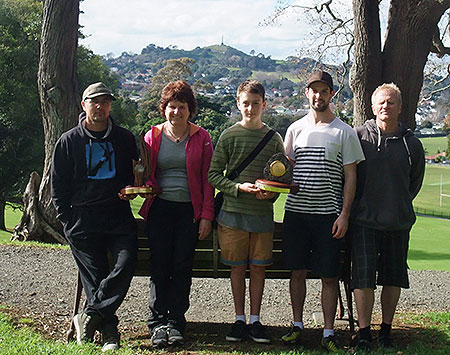 Greater at the Crater -The 2013 Crater Cup Champions; Dean Marshall Masters, Ming Menzies Woman's, Jacob Hailstone Junior's,Speedo Keene Open & Over-all and Marty de Haas who took out the Grand Masters title on the second hole of a play off with Brett Hailstone .


Nice A-Ming - Evergreen Ming Menzies showing the skills and style that saw her runner up at the World Championships a couple of years back.



Taking your time - Jymi Best struggles to find form early in the weekend but it all came good for the final round.



Rooted - Tim Mayson puts out 16 from the roots of one of the many giant Morton Bay Fig trees in the park.



Chef de Mission - The Ginger Ninja Marty de Haas lets fly on hole 1 of the 'Super 6' safari holes.



Total Focus - Disc Golf photographer Len Skap snaps Damian Peters teeing hole 4 of the 'Super 6'.



Evergreen - Brett Hailstone from Waiheke Island showing his style to the gallery following the 'Super 6' around the park.



Art in the park - This is all we want, please Auckland Council; give us permission to install a permanent course in this stunning park. I promise you won't regret it!.

back to top
The Results for 2013 Crater View Cup Disc Golf Tournament
Monte Cecilia Park, Hillsborough, Auckland July 20 & 21

| | | | | | | | | |
| --- | --- | --- | --- | --- | --- | --- | --- | --- |
| | Player | | Division. | Rnd.1 | Rnd.2 | Rnd.3 | Super6 | Total |
| 1 | Keene | David | O | 54 | 53 | 55 | 17 | 179 |
| 2 | Peters | Damian | O | 57 | 57 | 58 | 16 | 188 |
| 3= | Marshall | Dean | M | 61 | 59 | 55 | 19 | 194 |
| 3= | de Haas | Marty | GM | 58 | 56 | 61 | 19 | 194 |
| 3= | Hailstone | Brett | GM | 56 | 61 | 56 | 21 | 194 |
| 6 | van Vliet | Seip | M | 58 | 60 | 57 | 20 | 195 |
| 7 | Corcoran | Jacob | O | 58 | 59 | 61 | | 178 |
| 8= | Muir | Brad | O | 57 | 64 | 59 | | 180 |
| 8= | Gentil | Bob | SGM | 62 | 59 | 59 | | 180 |
| 10 | Papuni | Logan | O | 63 | 58 | 61 | | 182 |
| 11 | Joines | Blair | M | 59 | 62 | 62 | | 183 |
| 12= | Kingsnorth | Chris | M | 63 | 59 | 62 | | 184 |
| 12= | Best | Jymi | O | 62 | 66 | 56 | | 184 |
| 14 | Proctor | Michael | GM | 66 | 60 | 62 | | 188 |
| 15 | Hailstone | Nigel | M | 62 | 63 | 65 | | 190 |
| 16= | Mayson | Tim | O | 62 | 65 | 67 | | 194 |
| 16= | Innwood | Keith [Woody] | M | 66 | 65 | 63 | | 194 |
| 18 | Menzies | Fions [Ming] | W | 73 | 62 | 61 | | 196 |
| 19 | Hoskins | Conrad | M | 57 | 73 | 67 | | 197 |
| 20= | Shore | Hayden | O | 65 | 67 | 70 | | 202 |
| 20= | McKay | Nick | O | 66 | 72 | 64 | | 202 |
| 22 | Fargher | Steve | O | 68 | 69 | 69 | | 206 |
| 23 | Highway | Sky | O | 65 | 68 | 75 | | 208 |
| 24= | Stone | Nate | O | 72 | 69 | 72 | | 213 |
| 24= | Hailstone | Jacob | J16 | 70 | 67 | 76 | | 213 |
| 26 | Huhu | George | O | 57 | DNF | DNF | | 999 |
| 27 | Ambler | Chris | O | 67 | DNF | DNF | | 999 |
| 28 | Hailstone | Kip | J12 | 98 | 94 | | | 192 |