add to facebook

20/21 October Lismore Park Wanaka NZDG Major [60 points]
powered by Discraft

What a terrific weekend of Disc Golf! Thanks to Martin Galley, Hazen Simson, and everyone who had a hand in preparing and running this most excellent tournament.
Lismore Park is the newest, 18-basket Disc Golf course in NZ. Martin Galley and Hazen Simson have done an incredible job: the course is open, and easily accessible for newcomers and professionals alike, and it is only 5 minutes walk from downtown. There is no tiger-country, no water shots, and almost no way to lose a disc! Still, the course offers many challenges, and on a calm day, many deuces are in the offing. It is well supported by local players, and Queenstowners alike.
I can't say enough positive things about Lismore Park. It is everything a course should be, and nothing that it shoudn't – at least in my view. It is not intentionally designed to mess you up, and even wild drives can often be recovered for par. There are no over-water shots, no shrub beds to lose discs in, nor hedges to gobble discs, and precious few trees in the firing line.
It has firm ground from start to finish, with very short grass, and the walking is easy. The baskets are beautifully designed by Simon Feasey, with swooping curves which are far more sympathetic than the square-bottomed traditional items.
Running down, and then back up the park, the elevation changes by around 60 metres or so, with quite a few uphill and downhill tees. All baskets are visible from each tee, and only 5 holes remain to have the full tee-pad laid. The tee pads are well-constructed too, with hardwood beams heading the wood-boardered paving.
Lovely full-colour score cards are available from Outside Sports (Discs too!), and Amigos Mexican Restaurant (Beware the Chilli Tequila!), two major sponsors of the event, and the course. Thanks must go to all the companies which have backed Wanaka Disc Golf, as it is extremely difficult to run a successful tournament or setup a course without commercial backing at almost every level.
The park itself was clearly under-utilised prior to the arrival of Disc Golf, and the rolling post-glacial terrain is ideal, offering elevation without intimidation – a rare combination. Wanaka is richer as a result of this great addition to the national course list.
True to the competitive spirit, the Wanaka tournament offers beautiful hand-made Rimu trophies, crafted by local disc exponent Matt Gunn (and Martin), while a spectacular cresting wave carrying a disc (see photo) was especially created for the Open division, by Rob Inkster of Select Engineering Wanaka. These trophies are truly worth fighting for, and when Martin produced them for inspection on Friday night, I decided I very much wanted to take one home…
The Tournament
Saturday morning dawned with light showers and a cold wind, with earlier weather leaving the mountains surrounding Wanaka with a snow level of around 700 metres, 500 metres above lake level. The showers cleared, to blue skies, well before the start time, which was very welcome, but the wind picked up from the north-west, with gusts in exposed places hitting 40 knots or more at times. This was not so welcome.
The first round saw Simon "Falcon" Feasey (Auckland), John Menzies and Ben Holbrook (from Wanaka) and myself tee off from Hole 11. It became immediately apparent that trying to sink putts from much further out than 4 metres was fraught with peril, with simple putts easily leading to three or more additional throws for some unwary and risk-taking players. I had never played Lismore Park before, and so with no knowledge of the course or wind-flows, I decided to play extremely conservative golf, placing all my concentration on my approach shots, to ensure I could drop each putt into the basket easily.
This proved an effective strategy, as I came in with a 56, one under the card, despite the evil wind, and the 4 championship mens tees, sometimes placed up to 60 metres behind the normal tee.
NZ champion Simon "Falcon" Feasey did not have a great morning, but still walked out with a 51, along with Queenstown's Senior Grand Master and Disc Golf stalwart, James 'Jag' Smithells, just one shy of Damian 'Damo' Peters on a brilliant 50. A stunning round from James, putting him in 2nd equal over-all. But, you can't beat The Fease…
Despite being unhappy with his score, Simon demonstrated to our group several times why he is NZ's most winningest player right now, with some truly jaw-dropping throws into, across and downwind. It was a genuine pleasure to play a tournament round in this group.
Ben came in with a disappointing 7-over, 64, while John turned in a more respectable 4-over, 61.
There were many horror stories of discs caught by the wind, especially at Hole #2, a long downhill hole, across wind, via a gully which funnels the air. Several players were over the road, and in garages, and down driveways. Discretion being the better part of valour, I placed my discs to the right, into safety, for all three rounds. Poor Tom MacKay, took a 10 here.
Eeking out a small lead over the rest of the (very small!) Masters field in the morning, reinforced by belief in my strategy, and heading into the afternoon round, I was feeling good about my chances.
Round #2
Joining me for the seeded round #2 was Calfornia's Ethan Raabe, who made it into the Super Six, young-but-long-time Queenstown player Elliot Menzies, and local man Chris McLean.
The afternoon began with the wind increasing even more, to levels which made the morning round look like a walk in the park. Maintaining par was very tricky, let alone getting birdies, because often I wouldn't even consider trying to stick a 5-metre putt; preferring to try to slide it to within 1-metre of the basket to ensure I could actually make it.
The open-ness of the course means while waiting to tee, you can watch several other groups, and we saw some quite spectacular golf: despite the wind, many players picking lines which worked the wind beautifully on long drives.
We also saw some very sad rolls, skips, bounces and turn-overs.
At one point, 20 metres short of the hole, and playing directly into the howling wind, I found myself completely and utterly unable to decide what to play OR how to play it. The roar of the wind in both ears freaking me out pretty badly!
Relentlessly pursuing my mantra of "stick it under the basket for par", coupled with the experience gained many years ago when I forced myself to play in howling gales in Queenstown, I managed to return a 57 (par) for the afternoon round. This made me very happy, as many players were scoring between 7 and 10 strokes higher than in the morning. Simon estimated the increased wind at being worth "around 4 strokes", but I think it was more like 6, so effectively I'd made a 5-stroke improvement. Falcon had made a two stroke improvement which put him in the lead, after Damian handed in a card with a 54 on it.
Round #3 (Sunday morning)
Carrying a 4-stroke lead in the Masters into the final day, and with less wind, (but not a lot less) I continued to follow my strategy of ultra-conservative play, with Christchurch's impressive Josh McLean, Ethan again, and Queenstown man Akira Kuroe, who despite a short playing career showed genuine talent at some holes, and a nasty right-hook at others. Despite his wayward throws he dropped his score each and every round to draw with me on 167 for the weekend.
Eventually I managed a 54, 3 under the card, which I was extremely happy about, as I had blown three easy putts. I never scored more than a 5 for any hole, and managed to pick up several deuces throughout the rounds, to keep me level-or-under the card.
Super Six
Following the third round, and prior to the prize-giving, the Super Six took place, with Martin creating "Safari holes" on-the-fly for the players. These were all very challenging in one way or another, particularly the final 250-metre-plus hole, across the strong wind.
A large gallery formed of up to about 40 people who followed the vicissitudes of the top 6, with Simon Feasey remaining on top, with Damo chasing hard all the way. Simon clinched his "New Zealand Disc Golf Champion" title, while Damian cemented his "New Zealand Disc Golf Tour Champion" title.
After the Super Six, Simon was kind enough to offer a driving clinic, and almost all the players came along to listen to, and watch both Simon and Damien talk about distance and how to get it. That's on video...
All round, a fantastic weekend, with great competition, lots of camaraderie, and many great Disc Golf stories to tell in the future.
If you haven't played Lismore Park, then get to it! And make sure you come to the next event Martin and Hazen hold – you won't be disappointed.
For me, the highlights of the weekend, in no particular order, were being able to play in a tournament round with Simon; even off his game, he showed his class. Meeting the Wanaka Disc Golf people for the first time, the utterly brilliant course designed and built by Martin and Hazen, and the amazing course location, with incredible views everywhere you look. Then there's watching local lady Jess Guy, who, without a run-up, and with only a very short playing career, made it into the Super Six. Watching her effortless style reminds me you don't need to be big and strong to play Disc Golf well. I eagerly anticipate her scores when she develops a run-up, and a stronger push-putt; surely a future NZ Women's champion in the making.
Then there's the "finest kind" hospitality of Martin G and Robyn A, who kindly had me stay at Disc Golf Central, in Albert Town; a great compound, where the conversation always flows freely, and the talk is often disc-related.
But the two personal highlights for me, are the Masters win, the wicked trophy, which I am determined to defend in 2013, and my newly rediscovered passion for Disc Golf, which had waned somewhat in the last few years. But, now I have my basket set up in the back yard, and a big pile of putters. I'm deadly serious about my defence for the next three years until I am booted into the Grand Masters.
Cheers, Chris "Mobius" Davies
The Pictures
Pics coming soon. These are recent pics of the great new course at Lismore Park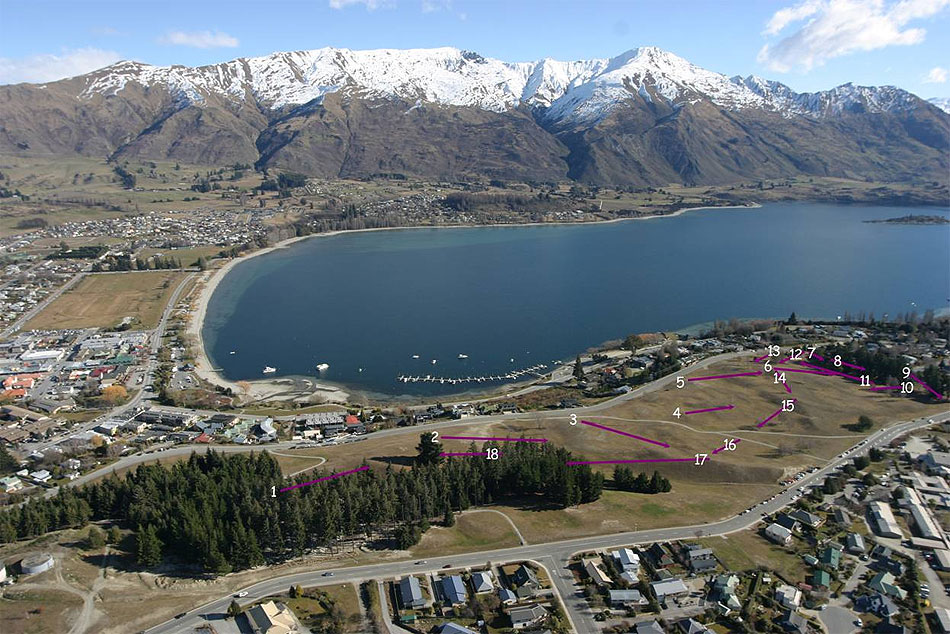 From above - we have some courses in New Zealand with amazing views and now Wanaka's Lismoire Park is another!.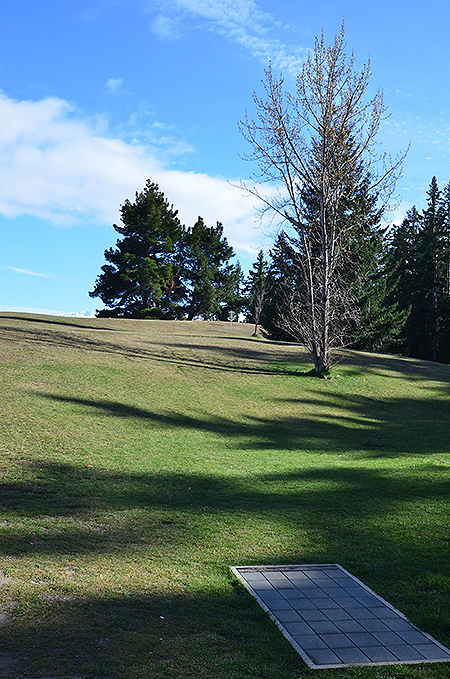 Hole 1 - All weather tee pads have been installed, ensuring the course will be up to grade all throughout the southern year.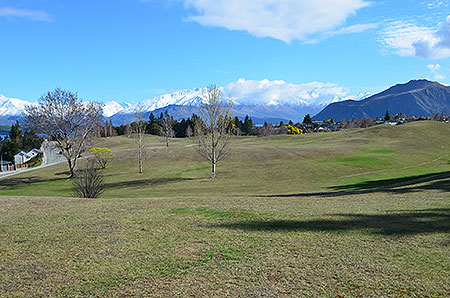 Take it all in - spectacular views are all around you on this beautiful course.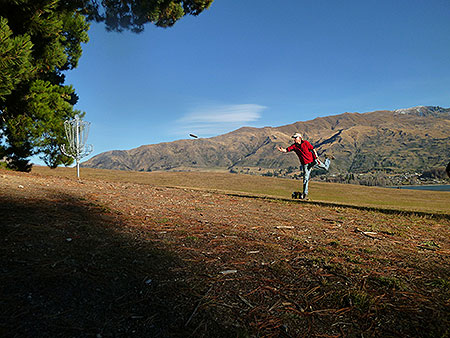 Southern Man - Queenstown golfer extraordinare(y) James 'Jaguar' Smithalls enjoys playing baskets in a new location, only minutes from his home town.
back to top
The Results for South Island Disc Golf Championships 2012
Lismore Park Wanaka 20/21 October
Results coming soon...
| | | | | | | | | | |
| --- | --- | --- | --- | --- | --- | --- | --- | --- | --- |
| Name | O'all | Divn Placing | S6 | Dvn | R1 | R2 | R3 | Total | S6 Tot |
| Simon Feasey | 1 | Open 1st | 18 | O | 51 | 49 | 46 | 146 | 164 |
| Damian Peters | 2 | Open 2nd | 18 | O | 50 | 54 | 47 | 151 | 169 |
| Joshua McLean | 3 | Open 3rd | 24 | O | 56 | 57 | 49 | 162 | 186 |
| Hemi Te Awhitu | 4 | Open 4th | 25 | O | 54 | 61 | 46 | 161 | 186 |
| Ethan Raabe | 5 | Open Joint 5th | 23 | O | 56 | 58 | 50 | 164 | 187 |
| Chris Dickson | 5 | Open Joint 5th | 23 | O | 54 | 61 | 49 | 164 | 187 |
| Jess Guy | 7 | Women 1st | 25 | W | 55 | 59 | 50 | 164 | 189 |
| James Smithells | 8 | SGMasters 1st | | SGM | 51 | 61 | 54 | 166 | |
| Akira Kuroe | 9 | Open 7th | | O | 60 | 54 | 53 | 167 | |
| Chris Davies  | 9 | Masters 1st | | M | 56 | 57 | 54 | 167 | |
| Pete Crowther | 11 | GMasters 1st | | GM | 56 | 60 | 52 | 168 | |
| Russell King | 11 | Open Joint 8th | | O | 49 | 65 | 54 | 168 | |
| Eliot Menzies | 11 | Open Joint 8th | | O | 56 | 63 | 49 | 168 | |
| Dom Hayden | 14 | Masters 2nd | | M | 57 | 62 | 50 | 169 | |
| Martin Galley | 15 | Masters 3rd | | M | 54 | 63 | 53 | 170 | |
| John Menzies | 15 | Open 10th | | O | 61 | 55 | 54 | 170 | |
| Lisa Te Awhitu | 17 | Women  2nd | | W | 57 | 62 | 54 | 173 | |
| Owen Hale | 17 | Open 11th | | O | 58 | 64 | 51 | 173 | |
| Chris McLean | 19 | Open 12th | | O | 57 | 66 | 51 | 174 | |
| Shane Hammitt | 20 | Open 13th | | O | 58 | 64 | 56 | 178 | |
| Hannah Joynt | 21 | Women 3rd | | W | 61 | 62 | 56 | 179 | |
| Tom MacKay | 21 | Open 14th | | O | 53 | 72 | 54 | 179 | |
| Barry Dolman | 21 | GMasters 2nd | | GM | 61 | 62 | 56 | 179 | |
| Aaron Miers | 24 | Open 15th | | O | 57 | 66 | 59 | 182 | |
| Eran Blumenthal | 25 | Open 16th | | O | 59 | 67 | 57 | 183 | |
| Jenny Joynt | 26 | Women 4th | | W | 58 | 68 | 58 | 184 | |
| Alison Adams | 27 | Women 5th | | O | 60 | 72 | 60 | 192 | |
| Dave Evans | 28 | GMasters 3rd | | GM | 64 | 71 | 59 | 194 | |
| Ben Holbrook | 29 | Open 17th | | O | 64 | 73 | 58 | 195 | |
| Robyn Agnew | 30 | Women 6th | | W | 69 | 71 | 60 | 200 | |
| James Halliday | 31 | Open 18th | | O | 69 | 74 | 63 | 206 | |
| Levi Rye | | Local 1st | | L | / | / | 53 | | |
| Craig Hubbard | | Local 2nd  | | L | / | / | 63 | | |
| Allie Joynt | | Local 3rd | | L | 67 | / | / | | |
| | | | | | | | | | |
| Vaughn Pearse | 32 | Open 19th | | O | 53 | 58 | DNF | | |
| Warren Amigos | 33 | Masters 4th | | M | 65 | 60 | DNF | | |
| Greig Howell | 34 | Open 20th | | O | 63 | 67 | DNF | | |