add to facebook

Alfred Cox Park. Gisborne June 22 & 23

The 2013 Gisborne First Light - The Bob Clark Memorial Disc Golf Tournament.
Check out this feature in the Gisborne Herald about the event, plus this album of pictures captured by their photographer Paul Rickard
As the weekend of the Gisborne event got closer so did one of the nastiest 'weather bombs' to hit New Zealand this winter. The predictions were for freezing cold temperatures, heavy rain, hail, high winds and even snow down to sea level in numerous parts of the country And it seems everyone got it. Everyone that is, apart from the East Cape where the only thing that affected the 19 players that made the trip was a slight wind chill factor. Otherwise it was just another stunning weekend of Disc Golf on the wonderful Alfred Cox Park permanent 18 basket Disc Golf course.
Speaking as a Tournament Director, dealing with people regarding Disc Golf courses and Events Gisborne is a joy. The park booking process is simple and easy, they offer to have our events added to their 'What's on in Gisborne' listings and even contacted us a week out to let us know one of the basket tops had been stolen so could they please buy another one to have the course 100% for our event! The park was especially mown and they even built a bridge over a drain to make getting around a damp area easier. So thank you Gisborne Council, Sport Gisborne and also 'big ups' to Darryl and his fine crew at the iSite Information Centre [right beside the course] for your energy and assistance with Disc Golf in Gisborne. Great to have you play the event as well Darryl - be careful, it's addictive.!
Saturday morning and if you're an Auckland Freaky Styley club member surely you know that if you get a text from the club joker Juan Unda saying stay in bed the TD has postponed the start if the tournament by an hour you would know better. Seems One Tree Hill golfer Marty de Haas didn't and turned up half way through the first round - stay tuned for payback details (there has already been one around bike sales, but the wary Mexican read right through that...or missed out on a 75% discount on Specialized bikes! - ed.).  Other than that it was great to see our biggest field so far taking on the short tees for the opening round of four. Both afternoon rounds were played off the B Tees which saw 9 holes lengthened adding close to 350 metres to the course.
The Levin Brotherhood crew showed they had come to play with Jackson Sullivan shooting a 46 and a 45 off the short tees [course record 44 Damian Peters 2010] and a 51 and 48 [New long tee course record] off the long tees to lead from start to finish. For pretty much all of the 3 seeded rounds the top group was made up of mainly Brotherhood members. Great skills!
It's also brilliant to watch players from all parts of the country joining the NZDG Tour and improving event to event, Logan Papuni from Rotorua who ended the weekend tied for 3rd with the GM and Alex Britton from Wellington (and doing great things for the sport there with the help of some of our other Capital Competitors) who shot a great 49 to be sitting second after the opening round to name just a couple.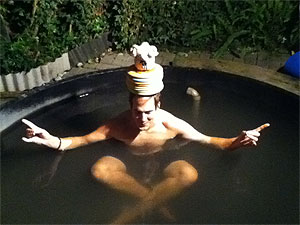 The NZ Tour also enjoys seeing some overseas visitors who manage to appear at many of the tour events for the duration of their visit to our country. This site celebrates travellor who are now our friends: Nic the Texan, Moe the Reverend of Feedback, Arthur the Dutchie, Scott the Emperor. And 2013 sees another American, this fine chap from the eastern state of New Hampshire. We speak of Nate Stone, a connoisseur disc golfer who has managed to show up at most of this year's events.
Having founded a close relationship with a ram by the name of Baabaa O'Riley, Stone has been reaching zen-like levels of skills on the disc golf course. This man's golf is climbing almost as quickly as he does for any tree-trapped Frisbee. Nate's best round was the unofficial Night Round, played with a combination of inventive lighting devices led by the machinations of overpass expert Sky Highway.
Look out for the Granite State's chef de disc golf at upcoming NZ Tour events, along with his manager/menotr Baabaa O'Riley.
In the woman's competition it was awesome to have 4 players doing battle for the tour points. It was all looking good for Tauranga's evergreen Disc Golf diva Fiona 'Ming' Menzies as she headed into the final round with a 5 shot buffer over Levin's Gemma Sullivan, but with all the gals playing the final round together the pressure told and Ming's usual safe and steady play deserted her allowing Gemma to not only close the gap but sneak ahead over the last couple of holes to take the title by a exciting single shot watched on by most of the field.
This was Jackson 'Jacko' Sullivan's first NZ Tour win and it was made all the more special with his sister Gemma taking the womans title. Poppa was watching on we think. Indications are that the Sullivan clan might do to disc golf what they have done for inline hockey: dominate along with their extended family of Top Groupers AB, Lawton and sometimes supreme athlete Riki.
It was great to see a couple of Aces as well with firstly Saltillo's Juan Unda standing in the head wind on the unlikely 8th, predicting his forceful fade to drop into the basket. We did see his drive take an ever-so-slight deflection from a foreground twig but the flight certainly followed the Mexican's prediction to script, actually coming back at the basket to smash convincingly into the chains. Confusion reigned for moments as scorer DV Haas wondered aloud if they were actually on the right tee, until it was confirmed an Ace and a guaranteed 3-hole grin was etched on the Guadalupe Loopie's face for the rest of the round.
Not to be outdone it was Levin's AB Hartley who shared the glory on the Sunday with a solid hyzer shot into the wind and into the chains on the 74m tenth.
NZDG would like to thank:
Tourism Eastland | Gisborne District Council | Sport Gisborne.
Check out pics from previous Gisborne tournaments: 2011, 2010 and the opening of the course here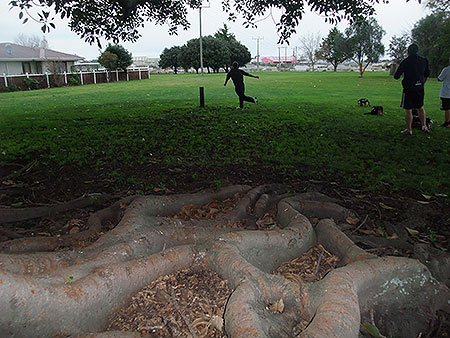 Nice Curves - The abstract art of the Morton Bay Fig Tree roots on the Tee for 13 as Logan Papuni from Rotorua drives the 92 metres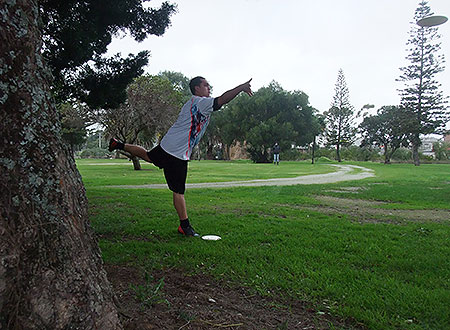 YMCA - All style as Lawton shows the skill acquired after hours of back yard putting in all conditions in his build up to this event.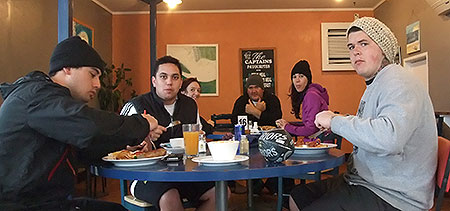 Talking Tactics, Eating Beans - Levin Brotherhood team members carbo-loading ahead of the opening round at the leisurely time of 10:30 Saturday morning. Brotherhood Father Shane acknowledging the nearby community of Whakatane Bro.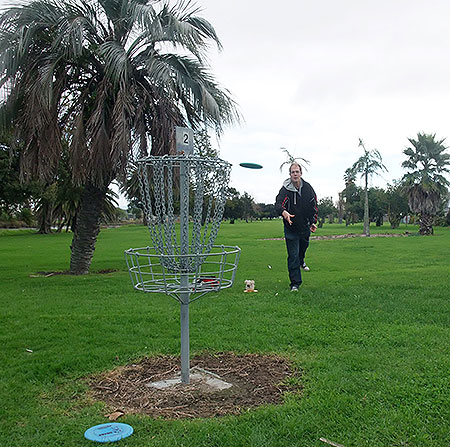 Don't Be Sheepish, Ewe Can Do This - Touring American Disc Golfer Nate Stone follows the instructions of his manager and favourite ram Baabaa O-Riley on hole #2.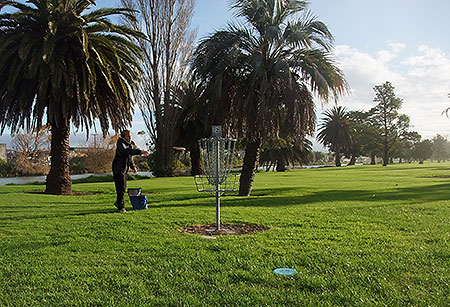 Van Man - Another RotoVegas Disc Golfer to watch out for in times to come, Geoffrey Nijhus. It will come!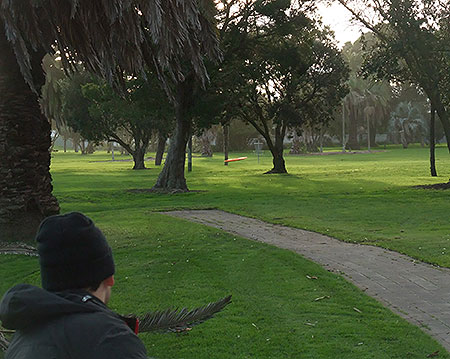 Is There a Plastic Magnet? - Hole 2 on the Alfred Cox Park course looks so easy, but those damn trees just seem to attract plastic. Here Levin's AB Hartley seeks the gap.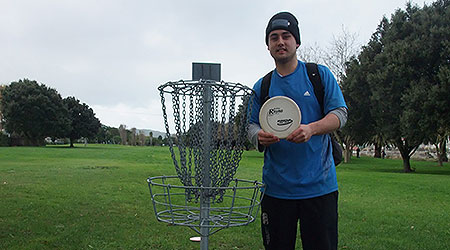 Gotta love that Innova Rhyno - Levin's AB picks his ACE shot outta the basket on 10 splitting the ACE kitty with Juan Unda who slotted #8 the previous day.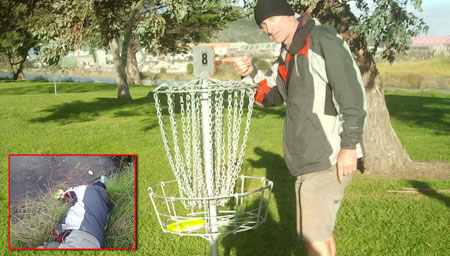 Hypocritical Mass- No sooner had Unda scored a Hole-in-One on the eight than he was recovering the 'trusty' Eagle from the river on the 9th.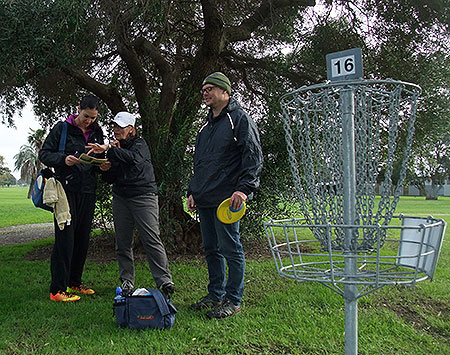 New Addition - Paula Wilson and Jenny Joynt add up the cards as East-Cape tourism boss Darryl Monteith tries to think up an excuse for the family to come back to play day 2.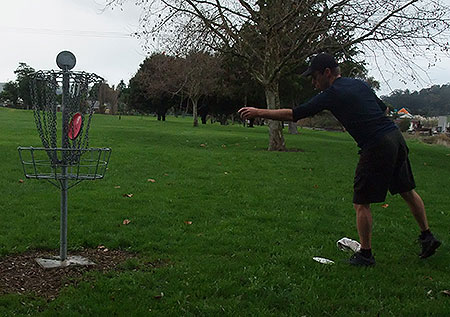 Alex Relaxes - Wellington Disc Golfer and new father Alex Britton shows the style that saw him on outright 2nd place after the opening round.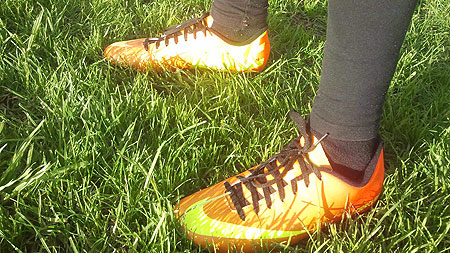 Bright Future - Some players brought the game to an all new level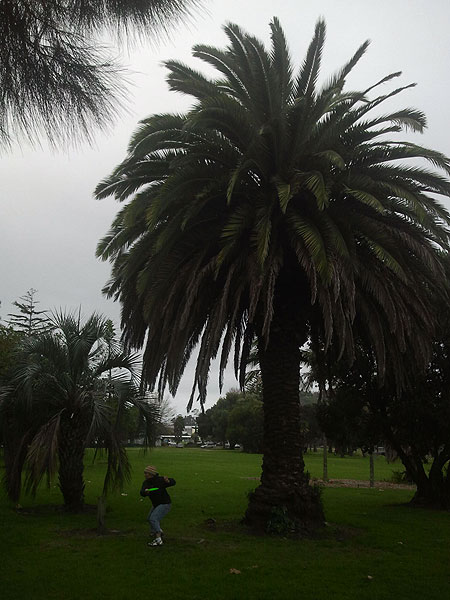 Calm Palm - Tokoroa's Jenny Joynt in zen-like control on the 16th.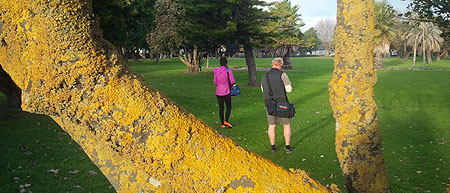 Last Light at First Light - As the sun sets, so does another day of great fun, disc golfing with friends.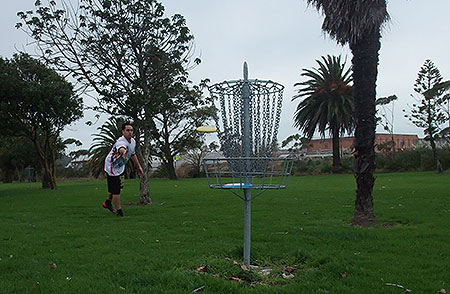 Stroking the Palm - Levin Brotherhood brother Lawton Williams solidly putts for par in the wind on #3.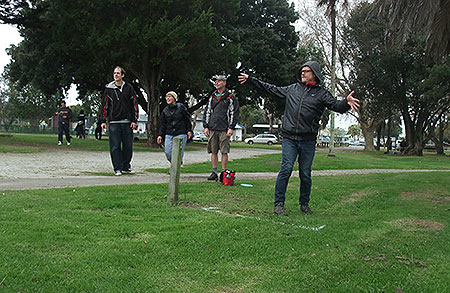 Open Arms - East Cape Tourism boss and about to be addicted Disc Golfer Darryl Monteith impressed his group with his immediate conversion from beach Frisbee throwing style to golf specific skills in his first ever round of the game.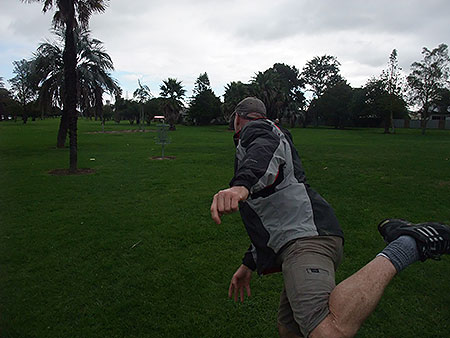 Unda Pressure - Mexican Juan Unda went immediately hunting Aces, losing his trusty Eagle and then it's backup by the fourth hole of the first round. Finishing that round with only a putter, the Tequila Sunriser went on to slam the desired Ace in the second round with his replacement Eagle courtesy of Gentil Sport.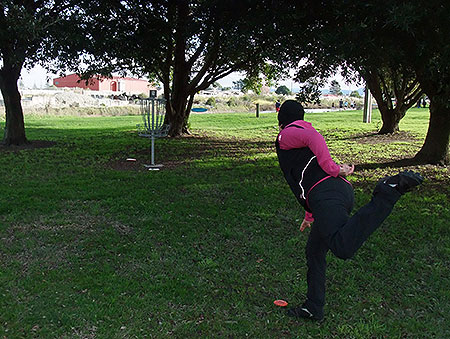 The Fling of Ming - Tauranga Disc Golfer Ming Menzies played 3 great tectical rounds over the weekend only to be pipped in the final round by Gemma Sullivan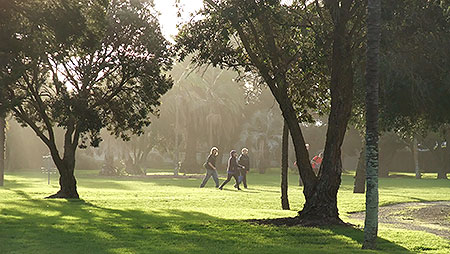 Mist Opportunity - Satisfied Disc Golfers make their way back to Disc Golf central as Saturday draws to a close in the misty light of 'Matariki' - the shortest day down under.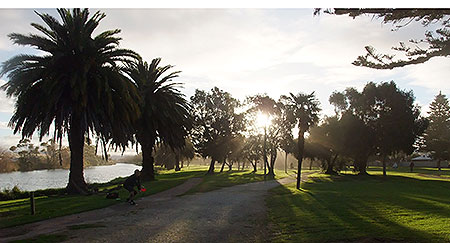 Crouching Jacko - The Winter Solstice sun sets early as Jacko Sullivan lines up a jump putt on 16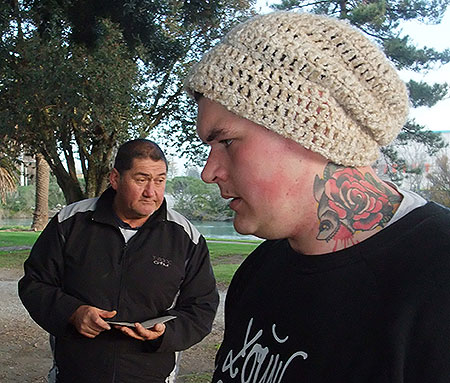 Sullivan study #1 - Dad Shane and Jackson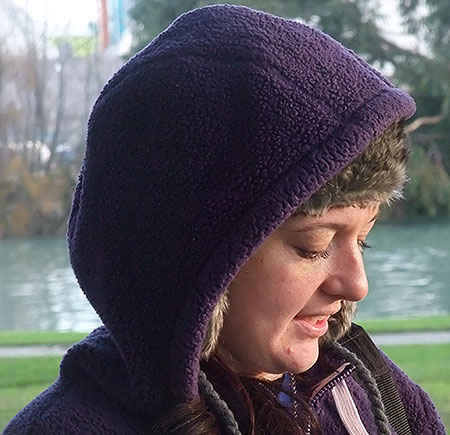 Sullivan study #2 - Gemma dressed for the chill factor of just 5 degrees Celsius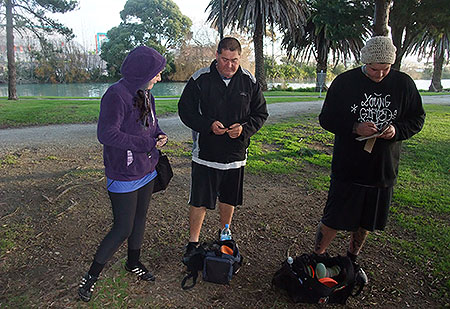 Sullivan study #3 - Checking the cards ahead of handing them in at the end of the tournament.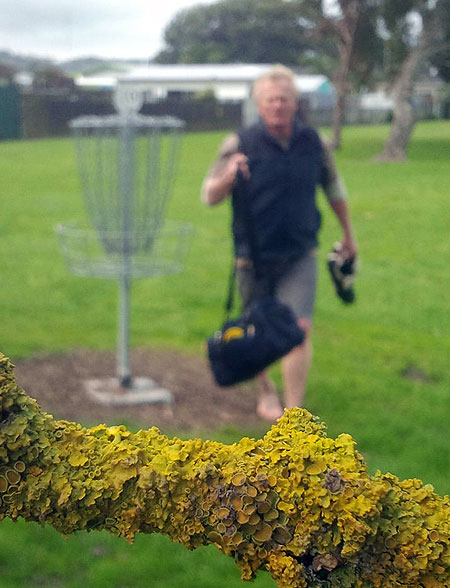 Unconfirmed Sighting - Officials were unsure whether DV Haas played or not. There were a few unconfirmed reports of his lurking unshoed on the 9th.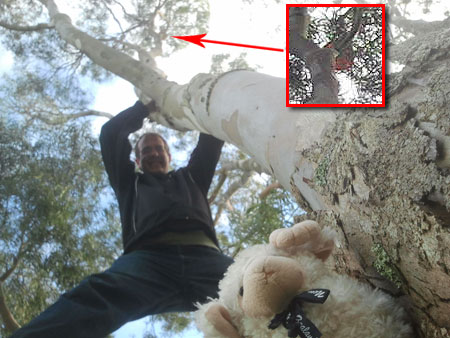 Sheepshape - Taking any opportunity to climb the social rankings (and trees) was New Hampshire's Nate Stone. Egged on by his trusty ram, Nate scaled this tree in seconds to recover Juan Unda's Eagle (inset).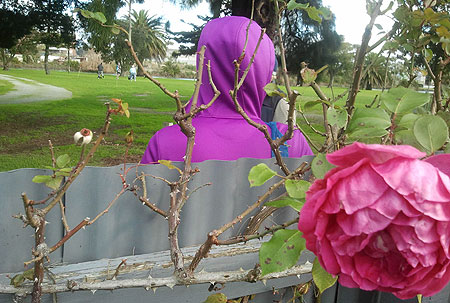 Rosey Future - Another of the delights of the Alfred Cox Disc Golf Park as Jacko's #1 fan Paula Wilson watches her man continue his top form throughout the weekend.



True Champion - First time NZ Tour event winner Jackson Sullivan accepts the covetted Paraihe Toene.



Chain High - Jenny Joynt has introduced siblings to the game and continues to improve her own game.



Sky High - Wellington golfer Sky Highway is thinking "Chain High Sky" as he fires off towards the 16th basket.



Winning Shot - Gemma Sullivan needs to put this close if not in the basket as she's up by one on this final hole.



Chique Technique - Always great to have Paula from Palmey playing tour events and her form continues to improve. Nice putt! Not to mention style.



Back n Forth - Lawton Williams happy to see his disc drop into the basket on #1 after collecting the wrong side of the chains for a clock spin.



Welcome - If you ever find yourself in the vicinity of  the stunning East Cape and Gisborne in particular make a point of getting Darryl out of the i-site office for a round on this beautiful course.



Logan 7 - Rotorua Disc Golfer Logan Papuni lines up his drive on 7 ahead of playing partners Lawton Williams (Levin) and Andy George (Rotorua).



Confidence - Ming about to go 'Kaching' Menzies played some great golf over the weekend.



See AB - Abraham [AB] Hartley lobbs a putt a-la GM style at 6..

back to top
The Results for 2013 Gisborne First Light - The Bob Clark Memorial Disc Golf Tournament
Alfred Cox Park. Gisborne June 22 & 23

| | | | | | | | | | |
| --- | --- | --- | --- | --- | --- | --- | --- | --- | --- |
| | Player | | Division. | Rnd.1 | Rnd.2 | Rnd.3 | Rnd.4 | Total | Div Place |
| 1 | Jackson | Sullivan | O | 46 | 51 | 45 | 48 | 190 | 1 |
| 2 | Lawton | Williams | O | 54 | 54 | 46 | 54 | 208 | 2 |
| 3= | Logan | Papuni | O | 51 | 54 | 49 | 56 | 210 | 3 |
| 3= | Bob | Gentil | GM | 55 | 54 | 49 | 52 | 210 | 1 |
| 5 | Shane | Sullivan | GM | 53 | 56 | 52 | 53 | 214 | 2 |
| 6 | Abraham [AB] | Hartley | O | 54 | 56 | 47 | 59 | 216 | 4 |
| 7 | Alex | Brittan | O | 49 | 62 | 50 | 60 | 221 | 5 |
| 8 | Gemma | Sullivan | W | 60 | 55 | 55 | 56 | 226 | 1 |
| 9 | Fiona [Ming] | Menzies | W | 56 | 56 | 53 | 62 | 227 | 2 |
| 10 | Geoffrey | Nijhus | O | 56 | 63 | 52 | 57 | 228 | 6 |
| 11 | Steve | Fargher | O | 59 | 59 | 54 | 60 | 232 | 7 |
| 12 | Juan | Unda | GM | 62 | 62 | 55 | 54 | 233 | 3 |
| 13 | Sky | Highway | O | 60 | 68 | 54 | 60 | 242 | 8 |
| 14 | Nate | Stone | O | 57 | 61 | 57 | 68 | 243 | 9 |
| 15 | Andy | George | O | 60 | 66 | 56 | 62 | 244 | 10 |
| 16 | Jenny | Joynt | W | 65 | 68 | 62 | 59 | 254 | 3 |
| 17 | Paula | Wilson | W | 75 | 69 | 62 | 69 | 275 | 4 |
| 18 | Darryl | Monteith | O | 81 | 84 | 72 | DNF | DNF | 11 |
| 19 | Marty | deHaas | GM | DNF | 52 | DNF | 63 | DNF | 4 |