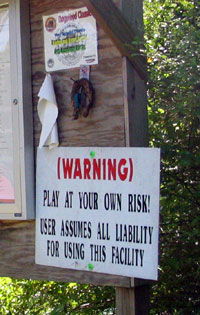 At Yer Own Risk. But all will be well - the lucky horseshoe greets you at the carpark, I mean parking lot.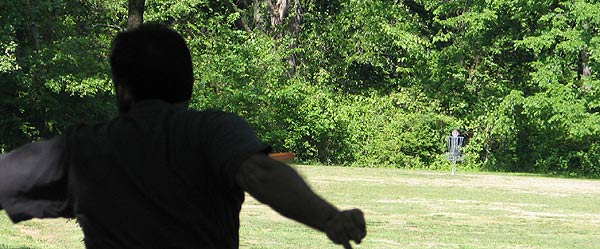 Brad in Action. Hole 2 and Brad is already showing local knowledge.


Welcome to Bud Hill. Brad throws a high putt backdropped by the shelter on the third tee.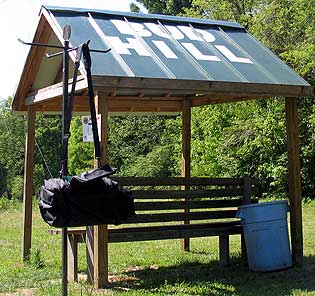 Bag Hangers . Yep, Danny even provides special hangers so you can keep your bag dry in wet conditions and/or save the back from a lift. Awesome.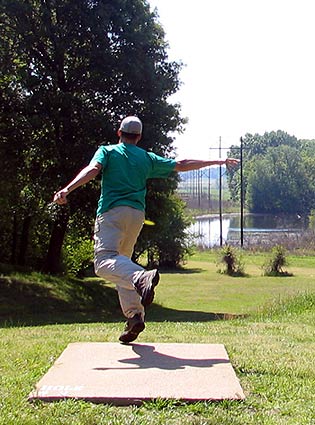 Hop, Skip and Release. Local pro Zac also showed local knowledge - long pants to combat poison ivy. Here he tees off on from the elevated third tee. The Bud Hill course sits right alongside the Mississippi River and there are plenty of water features around.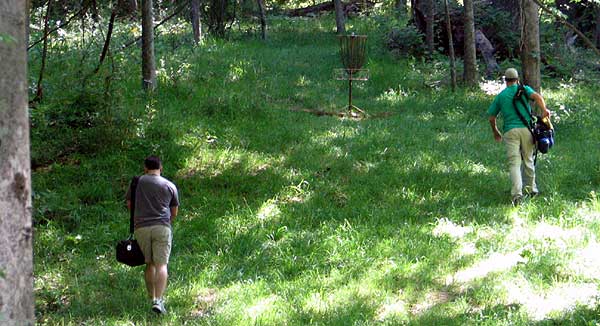 Rusty Basket. No, that's not the name of the other local, that was the characteristic feature of the 4th hole's target, up a slight rise after a couple of hundred feet of flat, narrow fairway.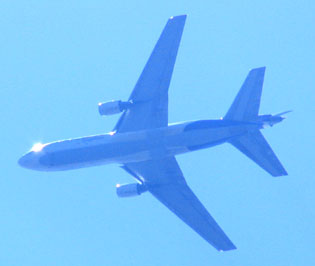 Da Plane! Da Plane. Gabb just cannot stop photographing planes when he's on the golf course. If only he could concentrate on his game!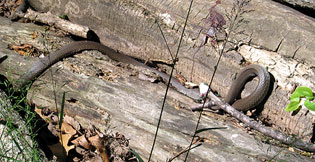 Reptilian Hazard . This rather large fella was discovered along the 7th fairway.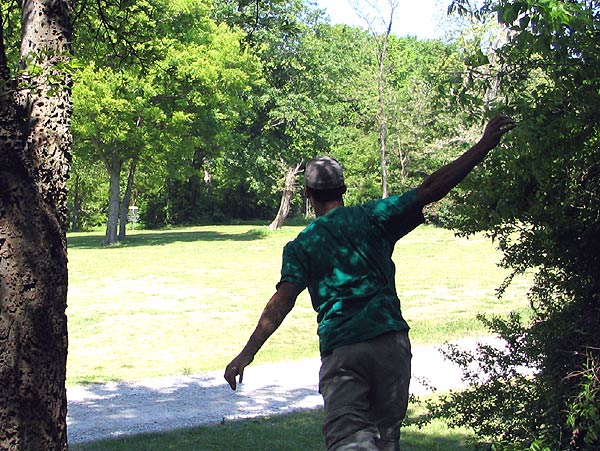 Shady Tee. Zac shows poise and control on the shortish 8th. But the trees surrounding the basket ensure this is no gimme birdie.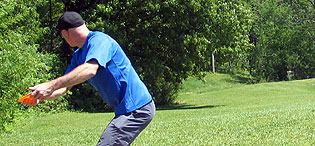 Kiwi Koordination. Gabb demonstrates his patented two handed release on the 12th.


Waterlife. Some golfers are game enough to brave the ponds and find quite a few discs. Unfortunately some non member golfers come along (Bud Hill is Memphis Disc Golf Club Members only) and take off with other players' discs that have found their way into the ponds. There is a box in the clubhouse for disc that have been found to be left in for their owners to recover. And the ponds can be dangerous, hiding a few nasty hazards, like some sharp edged barrels (usually marked by fake ducks).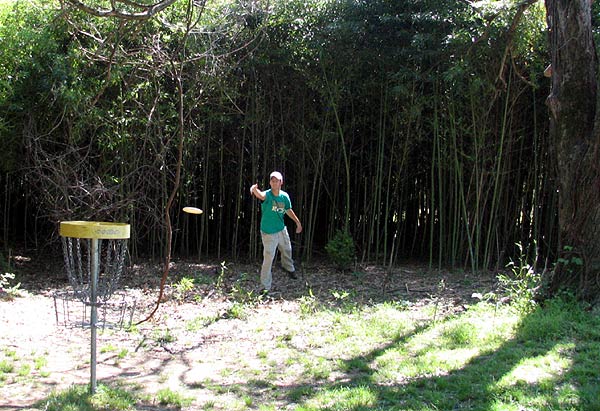 The Bamboo Shoot . On the 10th green, you are surrounded by bamboo that is harvested for the 2 Pandas that are a feature of the Memphis Zoo. Brad can't 'bear' to look as local pro Zac guides his Gateway square into the chains for another birdie.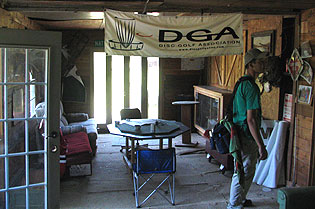 Welcome to the Bud Hill Clubrooms. Scene of many a social gathering - there's a big open fireplace outside surrounded by seats, a nice roomy deck (built using funds donated by local pro Phil ?? with his prizemoney from an event here in 200?), lots of nostalgic stuff on the walls. And even a few bunks where golfer are known to stay over in during some of the tournaments.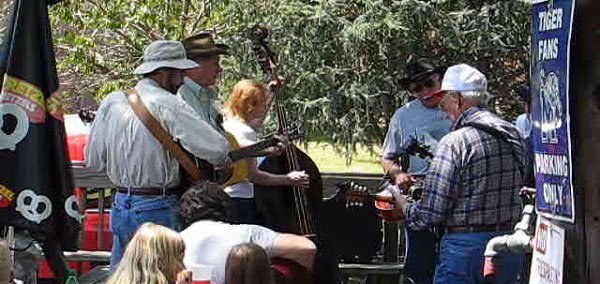 "I Wash My Hands In Muddy Waters". Between courses, you must visit the General Store - its been here for well over 100 years and attracts all sorts. Bikers on Harleys, roadies taking a break from risking life and limb on these roads, general public and, of course, disc golfers. Patron Doug supports the disc golf scene, sponsoring just about every event that happens at Bud Hill or Shelby Forest. And he offers a fine selection of discs too, to compliment his Memphis-famous cheeseburgers and onion rings. Mmm mmm, enough to make you wanna play another round! We were also fortunate enough to time our visit with the local bluegrass band plucking out their rendition of Muddy Waters - classic.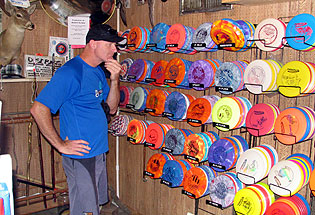 Confused Kiwi . Gabb's never seen so many golf discs in one place! Oh well, another cheeseburger will help. Is that a pot belly we're seeing?!