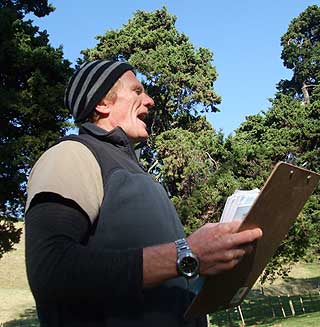 TD Martin de Haas sums up the 09 event
Hosting the 09 cup was indeed a privilege, the right to design a course on what must be one of the most spectacular slices of terra firma in the world to play Disc Golf was not to be taken lightly, the emphasis this year was on pinpoint accuracy from tee to the green. Any errant shot would be harshly punished with some massive rollers eventuating, none more catastrophic then watching a basket roll 150 metres from the summit and disappearing into the bowels of Maungakeikei.
This happened before even a disc was thrown!!! [Thanks to all the helpers who assisted in setting the course up especially Allie and Jenny who were there first thing Sunday morning putting baskets up]
The scores on the 1st round reflected what gnarly teeth Te Taniwha had with any score under 70 being more than reasonable with holes like No 2 aptly named 6's and 7's crushing the aspirations of many. Hole 13 which Brett Hailstone was harshly robbed of an ace in the doubles on Friday Night gave Gene a 17 who unbelievably had twice come to a metre from the basket before being smashed by the wind and back down the hill.
To add to the carnage of wind and tough basket positioning was our special needs friend 'rent free' and dog who took it upon himself to help with course and basket placement throughout the day. Cheers mate; you must be our no 1 fan. Luckily we found most of the hidden basket parts.
Wasn't it great watching other groups driving across craters or down big elevation drops from the many vantage points especially the Ultra star crew from Warkworth who showed tremendous skills.
Skills were also on display from Nigel Hailstone and Paul Cohen, the unlikely co leaders after the first 2 rounds [go the Saturday 2 round Random Draw] who obviously must have had terrific control and disc selection. They were joined in the seeded top group for Sunday morning by Siep and Brett making it an all Waiheke affair. [Well ya used to live there Nigel.]
Sunday brought us light winds and enjoyable golf condies on this spectacular volcanic cone. Walking and playing on Maungakeikei, which was once long ago the site of New Zealand's biggest and busiest Pa, is always breathtaking, even if you're dragging yourself up and down 100 metre craters retrieving plastic. We are indeed very fortunate to be able to hold a tour event here.
Sunday was all about keeping an eye on group 2, Blair Joines, Chris Kingsnorth [great to see ya on the course again], Damian Peters and Mario Cerniar who all had solid rounds. Blair's 3 under 54 showed that the beast could be tamed, with all 4 making the top 6, which became in fact a top 7 because of 3 tied scores. Nigel, after enjoying going to bed Saturday night as a co-leader, suffered a few too many rollers and missed post play.
The 'Super 6' was indeed a worthy finale played around the main crater and with all the players in with a chance a lot of nervous moments were witnessed on the extremely demanding final 6 holes. Great to watch! Masters player Blair Joines from Taumarunui's Lost Tribe club once again showed the tough mental fortitude and consistent golf which is the mantle of his game to become 'King of the Crater' 2009, he narrowly defeated [by 1 shot] the local 'double happy fire cracker' that is Damian Peters who gets his name engraved on the impressive FS Crater Open trophy for the first time. Paul Cohen took out the competitive Grand Masters title and thoroughly deserved it with a fine controlled display. Congratulations to Fiona Ming Dynasty Kaching Menzies who once again showed she's not too far away from a top 6 finish.
A brilliant weekend, thanks everyone especially those Freaky Styley Fellas, Bob, Speedo, Serf, Baz, Virgil and Jim for technical advice and assistance.
P.S. Already looking forward to Blair hosting next years event and coming up with his interpretation of the 2010 Freaky Styley Crater Cup course.