2008 Gentil Sport Taupo Classic

It's always nice to get out of the big city for a weekend and even nicer to be heading for Spa Park in Taupo in spring for a weekend of Disc Golf and friends.
The new management at the Spa Hotel / Motel greeted us with smiling faces and clean and tidy accommodation, which is great as they're so handy to the course.
Friday afternoon and Toby and I are on our bikes marking out the course - Marty, Pete and company are placing out the baskets Thanks all, it wouldn't happen without your assistance. Thanks also to everyone who travelled with baskets to make sure our PDGA 'C Tier' event was up to scratch.
By the players meeting on the Saturday morning we had over 30 golfers ready to go, including five woman and two juniors, not to mention two visiting US golfers from Colorado who had heard the stories of the spectacular Spa Park and just had to be there. Brilliant! Oh yeah!
The 'Ace Kitty' had just hit $500 as well so there was a bit to play for...
Saturday's weather was overcast with a bit of wind from the west which made a few holes a little testing, mind you there were a few who managed sub-par rounds, one of which by Waikato's Josh Smith had seen him put one hand on the $500 Ace Kitty by slotting the short up hill hole #17. By the end of the second round on day one, Josh had a 2 shot lead over Simon Feasey, but his Ace money had been cut in half thanks to a skip ace on hole # 16 by Ace robber Marty de Haas.
Tauranga's Jimmy Conway lead the Masters, Pete Boyle the GM's and Ming 'Kaching' Menzies the Woman's competition.
Sunday morning and we woke to the sound of heavy rain on the roof, but as the players meeting time approached it had all but gone and even the wind from the day before had abated. In fact it would be fair to say ideal Disc Golf condies for all but the last couple of holes played when a couple of heavy showers came through. (If I remember correctly this was exactly the same weather pattern as last year.)
Once the numbers were crunched the big mover was Auckland's Damian Peters who had played a blinder (53) to jump from group 3 to make the 'Super 6". Not to be out done the Ponderosa's Simon Feasey threw a phenominal new course record of 48 (8 under) to head into the playoff 7 shots up on Josh Smith and Tyler Liebman tied for second.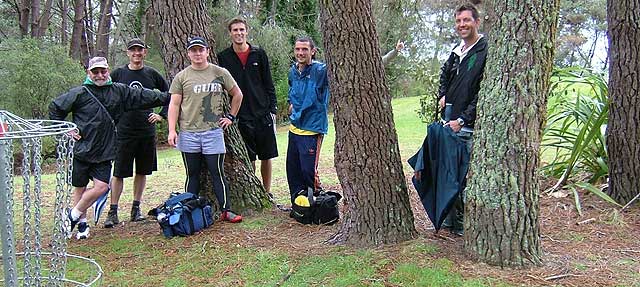 The Gentil Sport Taupo Classic 'Super 6.' Pete Boyle, Jimmy Conway, Josh Smith, one of our visitors from the US Tyler Liebman, Auckland's Damian Peters and Simon Feasey.
It's great to see that even in inclement weather pretty much everybody is still keen to follow the tournaments top 6 players around another 6 holes. That gallery brings out some extra pressure to perform on some of our countries top golfers, and we are never let down. The 'Super 6' is here to stay!
Congratulations and thanks to every one who came along and made the 2008 Gentil Sport Taupo Classic another fantastic weekend.
See the action from previous Taupo events: 2007 | 2006 | 2004



Kiwi players always count down the days till the Taupo Classic, They love playing disc golf in Spa Park, especially in spring, mind you they love playing Disc Golf!
| | |
| --- | --- |
| 'Taumarunui's Paul is not fazed by the spectacular vista of the mighty Waikato River and the natural thermal spa on the river bank as he fires a dead flat putt. | Sartorial elegance! The Lost Tribe's Des Cooper upstages even the cherry blossom as he puts out hole 10. |


Paul's forced to straddle putt on 'lucky for some' 13.


Auckland Ultimate / Golfer Sherif Ibrahim looks for a way around the up-turned protruding legs protecting basket #3.


Eventual winner Simon Feasey putts out hole #1 of the Super 6 as the gallery look on.


Tyler Liebman shows his putting style.


Bazz Keene putts from below the scary basket on the hill #4. As in years past, this hole caused some trouble over the weekend.


Extra pressure for visiting US Disc Golfer Tyler Liebman playing for the first time in a Super 6 situation.


Tauranga Disc Golfer Jimmy Conway didn't let the pressure of playing with the top group or even the Super 6 get to him.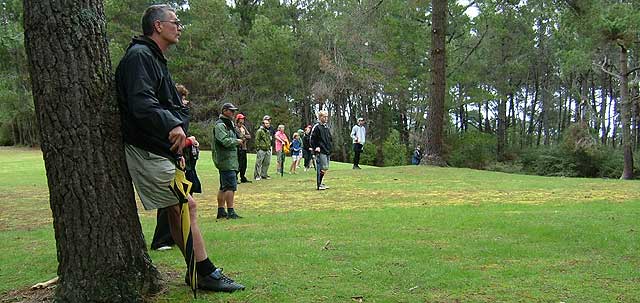 The Super 6 gallery didn't let the conditions worry them as they were treated to some great finals golf.
The 'Super 6' is here to stay!

CTTP! Josh Smith had a great tournament.


No pressure Damo! Damian Peters tees on the final hole of the Super 6.



Check out the putting style of Jimmy Conway as he slots the all down hill #15. Hole 5 of the Super 6.


Three of the Super 6, Pete, Simon and Tyler watch their playing partners play out the final hole.



The Course Record. There it is in all its glory, 24 and 24. The Fease continues to be on fire. And of course he humbly describes (like all of us) how it could have been better: "[It] didn't feel like a course record as I still missed birdies on the relatively easy 2nd and 3rd holes and I carelessly threw away a 3 on the 11th by missing a 3m putt. Just slipped out of my hand!Apart from that it was a solid round with some good birdies."


And the winners were? Jimmy Conway Masters, Fiona 'Kaching Ming' Menzies Woman's, Pete Boyle Grand Masters, Simon Feasey Open and Toby Gentil J10.

2008 Gentil Sport Taupo Classic Results

Name

Dvn


Round 1


Round 2

Round 3

Super 6

Total


1

Simon Feasey

O

53

58

48

21

180

2

Josh Smith

O

53

56

57

19

185

3

Tyler Liebman

O

58

55

53

20

186

4=

Jimmy Conway

M

57

60

58

20

195

4=

Pete Boyle

GM

57

62

57

19

195

4=

Damian Peters

O

61

62

53

19

195

---

7

Marty deHaas

M

58

63

56

177

8

Des Cooper

GM

61

60

59

180

9

Andrew Taylor

O

58

61

62

181

10

Bob Gentil

GM

62

62

58

182

11

Jo 'Fish' Seebeck

O

65

61

57

183

12

Barry 'Bazz' Keene

M

61

62

61

184

13=

Sherif Ibrahim

O

62

63

61

186

13=

Mike Corbett

O

67

60

59

186

15

Paul Cohen

GM

65

65

57

187

16

GM

62

65

61

188

17=

Nigel Hailstone

M

64

64

61

189

17=

Tim Germann

O

63

65

61

189

19=

Keith 'Woody' Innwood

GM

63

65

62

190

19=

Pat Noonan

O

70

58

62

190

21

Carson Boon

O

64

65

63

192

22=

Michael Proctor

GM

67

64

67

198

22=

James Page

R

64

71

63

198

24

Fiona 'Ming' Menzies

W

70

71

59

200

25

Martin Galley

O

66

69

67

202

26

Glen Crofskey

O

65

70

68

203

27

Nathan Moore

O

67

72

67

206

28

Alice Joynt

W

77

77

76

230

29

Jenny Joynt

GMW

76

75

86

237

30

Karoline Jonsson

W

82

83

81

246

31

Robyn Agnew

W

81

88

79

248

Toby Gentil

J10

64

63

127

Sheree Gentil

Casual

63

70

133

Max Conway

J10

74

79

153