The Christchurch Fling
12/13 July 2008
Victoria Park, Christchurch, New Zealand
The Christchurch Fling by Pete Crowther
After a long absence of Christchurch disc golf tour events, this event was almost like an inaugural tournament. The original name for the event was the Canterbury Plains Classic, but as it wasn't really a classic and a change of venue to Victoria Park in the Port Hills meant that we were not going to be on the plains, we tossed around some ideas and Mario came up with the Christchurch Fling.
With July being the only available month in the tour calendar and 15cm of snow falling in Victoria Park on the previous Saturday, we were understandably concerned about the potential for weather related mayhem. As it turned out we had the best weather weekend that Christchurch has seen for the past two months. For this we thank the disc golf gods and anyone else who would like to take credit for it.
Following my decision last year to host a Christchurch tour event and being in the hot seat as TD, I was very happy to have the assistance of Mario Cerniar to design the course. This soon turned into a Co-TD role and it took a weight off my shoulders to share the load. Mario did a fantastic job in designing and preparing the course, with my help only being needed to setup the baskets on the Friday morning. This was followed by a match play practice round with four locals (Mario, Pete, Craig, and Roobie), and three visitors (Allie, Woody, and Paul).
A special thank you goes out to Joe (Fish) Seebeck's company "Target Furniture" for sponsoring the shipment of 12 baskets from Auckland to Christchurch. These, along with a couple of our local baskets and a couple of doubled up holes, enabled us to have 16 basket holes on the course. The course par was set at 58 and this proved to be just right. Thanks also to Trimble Navigation for sponsoring the scorecard printing and sign laminating.
It was great to see a good turnout of visitors, including Bob, Sheree and Toby Gentil, and Michael Proctor from Auckland; Josh Smith and Allie Joynt from Hamilton; Paul Cohen and Woody Inwood from Waiheke Island; and Martin Galley from Twizel. We had five women playing, with two playing in the local Ultrastar division. There were also a good spread of women's and Junior's tees, with Toby, our visiting junior, scoring a 61 and a 64 respectively on Saturday afternoon and Sunday morning.
Tee-off on Saturday morning was nearly on time, with my Co-TD determined to run the event to Swiss time. The day dawned fine and cloudy and stayed that way, although the wind did cause some players (including myself) some grief. Hole 8 was a short par 3, but the wind and a very large drop behind the hole conspired against more than one of us.
Lunchtime on the first day showed Mario Cerniar leading by 2 strokes on 59 to Josh Smith on 61. One stroke back on 62 were Paul Cohen and Chris Davies, followed by Bob Gentil and myself on 64, making for a tight field. Everyone was feeling a bit more comfortable with the course and after a tasty lunch organised by Polly Thomas we set off for the second round. This round was also a random draw to provide more interaction between players of different levels. It was great to see three of our local Ultimate players, Ingrid Kaptein, Grant Bennett, and Polly playing in the local division.
The end of round two showed Mario still leading, now by 3 strokes, to Josh and Bob, with Bob proving that par was achievable with a very creditable 58. Paul and myself dropped off the pace, which was picked up by Roobie Ward with a 62. Welcome back to Roobie after a 5-year or so break from the disc golf tour.
Saturday evening saw most of us heading up to Craig McNab's palatial abode on the hills above Redcliffs for a potluck dinner and to watch the All Blacks play South Africa on a very, very large projection screen. We all had a good night and none of us are prepared to discuss how on earth we lost that game. Thanks to Craig and Rae for hosting us and for providing delicious desserts.
Sunday morning dawned bright and clear with hardly a cloud in the sky and the Southern Alps gleaming in their full glory. The wind was still in evidence though to keep us on our toes for those holes close to steep gullies. Mario started the day with a roar by getting three birdies on holes 1, 4, and 6 giving him a six stroke lead on his competitors. This was evened up a little on hole 8 when Bob's tee throw disappeared into the gully, soon to be followed by Mario's second throw resulting in a 5 for Bob and a 7 for Mario. Fortunately for Mario, he made a comeback by playing birdies on holes 11, 12, and 14 (all par 4's) to secure a comfortable 7 stroke lead and a course record of 57 before going into the Super Six.
After another tasty lunch the Super Six qualifiers (Mario, Josh, Bob, Paul, Roobie, and myself) headed off to hole 13 to play the last six holes on the course. Josh took out the Super Six with a 19, followed by Mario on 20, Bob and Pete on 22, Roobie on 24, and Paul on 26. Valiant efforts by Josh and Bob were not enough however, to take the outright lead from Mario. Paul and myself were battling it out for 4th and 5th overall and 2nd and 3rd in the Grand Masters, and I was fortunate that Paul went out of bounds on the last hole to allow me to change places with him in the Super Six round.
Prize giving followed with a swathe of recycled cups (freshly cleaned and engraved) being presented to the six division winners, along with a larger cup going to Mario as the overall winner. Thanks to everybody for coming and we look forward to seeing you back for another Fling in Christchurch next year.

| | |
| --- | --- |
| Pete and Mario run through the in's and out's of golf on the Port Hills ahead of round 1 of the Christchurch Fling getting under way. | Hamilton's Josh Smith sends his putt at the spotlighted basket. |


Paul Cohen from Waiheke Island sends one at the basket on the spectacular hole #11.

Paul does the smart thing and lays-up on hole # 16.


Lunch break on day one as the sun comes out to warm the players for the afternoon round.


Toby, mum Sheree, Ali and Polly play out hole #1.


Josh and Mario on Tee 17 with the city of Christchurch in the background.


Local golfer Craig McNab sends one at the chains.


Roobie Ward watches Sheree putt out with that distinctive putting style.


Toby, Sheree and Ali watch Ultimate player Polly send her Ultrastar into the chains.


Twizel golfer Martin Galley sends one at the basket as Pete Crowther watches on.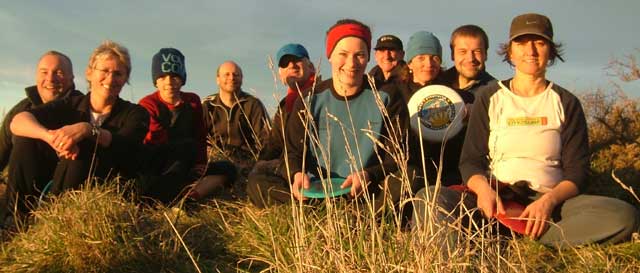 The afternoon light was just too good not to get a group shot of some of the competitors taking a break in the tall grass.
| | |
| --- | --- |
| In his 5th year playing tour events Toby Gentil made the most of the Junior Tees not missing the Super 6 cut by too many shots. | Woody Inwood travelled down from Auckland to play the Christchurch event. |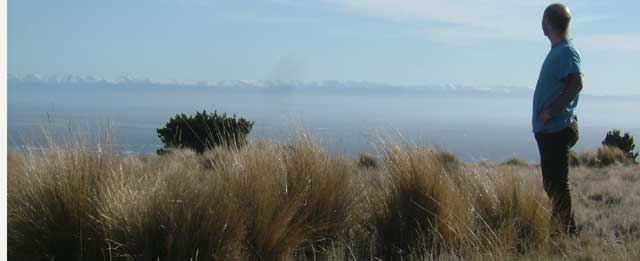 Martin Galley takes time out to take in the spectacular snow capped Southern Alps.

No points for guessing what Roobie Ward has been up to in her 5 year break from Disc Golf.


Craig and Woody pick a handy spot to watch the 'Super 6' action.


Eventual winner, TD Mario Cerniar sends one at the basket.


Team Auckland. Bob, Woody, Toby, Paul, Sheree and Michael. Great effort team!


Ali Joint and Roobie Ward check the scores after the Sunday morning round.


The GM all concentration [not that it helped] as he lines up a putt.


Roobie Ward putts against the clear blue back-drop of the crisp South Island sky.


And the winners were. Bob GM's, Roobie Woman's, Mario Open, Toby Junior's and Craig Masters.


Josh (in tights - ed.), Bob, Roobie, Mario, Pete and Paul about to play the 'Super 6'.
The Christchurch Fling 2008 Results

Name

Division

Round 1


Round 2


Round 3

Top 6

Grand Total


Mario Cerniar

O

59

60

57

20

196

Josh Smith

O

61

61

61

19

202

Bob Gentil

GM

64

58

63

22

207

Pete Crowther

GM

64

67

64

22

217

Paul Cohen

GM

62

67

64

26

219

Roobie Ward

W

69

62

68

24

223

Craig McNab

M

71

65

65

201

Woody Inwood

M

67

69

68

204

Martin Galley

O

65

69

71

205

Toby Gentil

J

86

61

64

211

Sheree Gentil

W

71

70

71

212

Michael Proctor

GM

69

70

83

222

Allie Joynt

W

81

81

78

240

Polly Thomas

W

77

78

90

245

Shane Conlan

O

144

74

73

291

Grant Bennet

O

86

89

144

319

Chris Davies

O

62

144

144

350

Ingrid Kaptein

W

84

144

144

372